Abstract
To understand how genomic heterogeneity of glioblastoma (GBM) contributes to poor therapy response, we performed DNA and RNA sequencing on GBM samples and the neurospheres and orthotopic xenograft models derived from them. We used the resulting dataset to show that somatic driver alterations including single-nucleotide variants, focal DNA alterations and oncogene amplification on extrachromosomal DNA (ecDNA) elements were in majority propagated from tumor to model systems. In several instances, ecDNAs and chromosomal alterations demonstrated divergent inheritance patterns and clonal selection dynamics during cell culture and xenografting. We infer that ecDNA was unevenly inherited by offspring cells, a characteristic that affects the oncogenic potential of cells with more or fewer ecDNAs. Longitudinal patient tumor profiling found that oncogenic ecDNAs are frequently retained throughout the course of disease. Our analysis shows that extrachromosomal elements allow rapid increase of genomic heterogeneity during GBM evolution, independently of chromosomal DNA alterations.
Access options
Subscribe to Journal
Get full journal access for 1 year
$209.00
only $17.42 per issue
All prices are NET prices.
VAT will be added later in the checkout.
Rent or Buy article
Get time limited or full article access on ReadCube.
from$8.99
All prices are NET prices.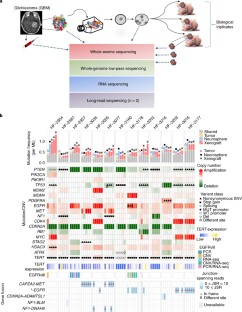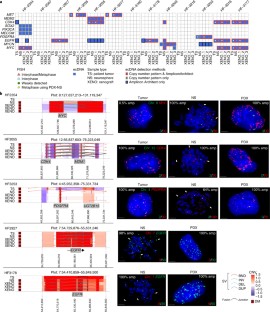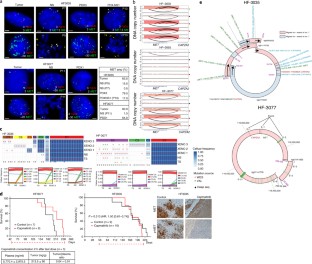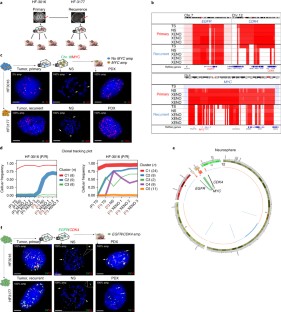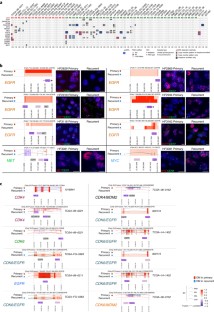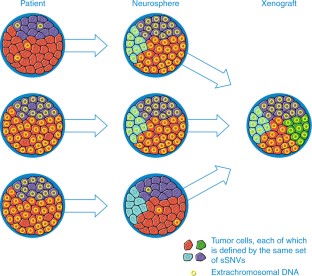 References
1.

Roos, W. P., Thomas, A. D. & Kaina, B. DNA damage and the balance between survival and death in cancer biology. Nat. Rev. Cancer 16, 20–33 (2016).

2.

Yap, T. A., Gerlinger, M., Futreal, P. A., Pusztai, L. & Swanton, C. Intratumor heterogeneity: seeing the wood for the trees. Sci. Transl. Med. 4, 127ps10 (2012).

3.

Aparicio, S. & Caldas, C. The implications of clonal genome evolution for cancer medicine. N. Engl. J. Med. 368, 842–851 (2013).

4.

Kim, H. et al. Whole-genome and multisector exome sequencing of primary and post-treatment glioblastoma reveals patterns of tumor evolution. Genome Res. 25, 316–327 (2015).

5.

Sequist, L. V. et al. Genotypic and histological evolution of lung cancers acquiring resistance to EGFR inhibitors. Sci. Transl. Med. 3, 75ra26 (2011).

6.

Andor, N. et al. Pan-cancer analysis of the extent and consequences of intratumor heterogeneity. Nat. Med. 22, 105–113 (2016).

7.

Roth, A. et al. PyClone: statistical inference of clonal population structure in cancer. Nat. Methods 11, 396–398 (2014).

8.

Dolecek, T. A., Propp, J. M., Stroup, N. E. & Kruchko, C. CBTRUS statistical report: primary brain and central nervous system tumors diagnosed in the United States in 2005–2009. Neuro-oncol. 14, v1–v49 (2012). (Suppl 5).

9.

Ceccarelli, M. et al. Molecular profiling reveals biologically discrete subsets and pathways of progression in diffuse glioma. Cell 164, 550–563 (2016).

10.

Verhaak, R. G. et al. Integrated genomic analysis identifies clinically relevant subtypes of glioblastoma characterized by abnormalities in PDGFRA, IDH1, EGFR, and NF1. Cancer Cell 17, 98–110 (2010).

11.

Brennan, C. W. et al. The somatic genomic landscape of glioblastoma. Cell 155, 462–477 (2013).

12.

Snuderl, M. et al. Mosaic amplification of multiple receptor tyrosine kinase genes in glioblastoma. Cancer Cell 20, 810–817 (2011).

13.

Sottoriva, A. et al. Intratumor heterogeneity in human glioblastoma reflects cancer evolutionary dynamics. Proc. Natl. Acad. Sci. USA 110, 4009–4014 (2013).

14.

Szerlip, N. J. et al. Intratumoral heterogeneity of receptor tyrosine kinases EGFR and PDGFRA amplification in glioblastoma defines subpopulations with distinct growth factor response. Proc. Natl. Acad. Sci. USA 109, 3041–3046 (2012).

15.

Ozawa, T. et al. Most human non-GCIMP glioblastoma subtypes evolve from a common proneural-like precursor glioma. Cancer Cell 26, 288–300 (2014).

16.

Wang, J. et al. c-Myc is required for maintenance of glioma cancer stem cells. PLoS One 3, e3769 (2008).

17.

Annibali, D. et al. Myc inhibition is effective against glioma and reveals a role for Myc in proficient mitosis. Nat. Commun. 5, 4632 (2014).

18.

Cox, D., Yuncken, C. & Spriggs, A. I. Minute chromatin bodies in malignant tumours of childhood. Lancet 1, 55–58 (1965).

19.

Kohl, N. E. et al. Transposition and amplification of oncogene-related sequences in human neuroblastomas. Cell 35, 359–367 (1983).

20.

Turner, K. M. et al. Extrachromosomal oncogene amplification drives tumour evolution and genetic heterogeneity. Nature 543, 122–125 (2017).

21.

Sanborn, J. Z. et al. Double minute chromosomes in glioblastoma multiforme are revealed by precise reconstruction of oncogenic amplicons. Cancer Res. 73, 6036–6045 (2013).

22.

Zheng, S. et al. A survey of intragenic breakpoints in glioblastoma identifies a distinct subset associated with poor survival. Genes Dev. 27, 1462–1472 (2013).

23.

Nikolaev, S. et al. Extrachromosomal driver mutations in glioblastoma and low-grade glioma. Nat. Commun. 5, 5690 (2014).

24.

Organ, S. L. & Tsao, M. S. An overview of the c-MET signaling pathway. Ther. Adv. Med. Oncol. 3, S7–S19 (2011). (Suppl.).

25.

Storlazzi, C. T. et al. Gene amplification as double minutes or homogeneously staining regions in solid tumors: origin and structure. Genome Res. 20, 1198–1206 (2010).

26.

Lundberg, G. et al. Binomial mitotic segregation of MYCN-carrying double minutes in neuroblastoma illustrates the role of randomness in oncogene amplification. PLoS One 3, e3099 (2008).

27.

Liu, X. et al. A novel kinase inhibitor, INCB28060, blocks c-MET-dependent signaling, neoplastic activities, and cross-talk with EGFR and HER-3. Clin. Cancer Res. 17, 7127–7138 (2011).

28.

Tesfay, L., Schulz, V. V., Frank, S. B., Lamb, L. E. & Miranti, C. K. Receptor tyrosine kinase Met promotes cell survival via kinase-independent maintenance of integrin α3β1. Mol. Biol. Cell 27, 2493–2504 (2016).

29.

Arena, S., Pisacane, A., Mazzone, M., Comoglio, P. M. & Bardelli, A. Genetic targeting of the kinase activity of the Met receptor in cancer cells. Proc. Natl. Acad. Sci. USA 104, 11412–11417 (2007).

30.

Vogt, N. et al. Molecular structure of double-minute chromosomes bearing amplified copies of the epidermal growth factor receptor gene in gliomas. Proc. Natl. Acad. Sci. USA 101, 11368–11373 (2004).

31.

Rubio-Perez, C. et al. In silico prescription of anticancer drugs to cohorts of 28 tumor types reveals targeting opportunities. Cancer Cell 27, 382–396 (2015).

32.

Bigner, S. H., Mark, J. & Bigner, D. D. Cytogenetics of human brain tumors. Cancer Genet. Cytogenet. 47, 141–154 (1990).

33.

Nathanson, D. A. et al. Targeted therapy resistance mediated by dynamic regulation of extrachromosomal mutant EGFR DNA. Science 343, 72–76 (2014).

34.

Chi, A. S. et al. Rapid radiographic and clinical improvement after treatment of a MET-amplified recurrent glioblastoma with a mesenchymal–epithelial transition inhibitor. J. Clin. Oncol. 30, e30–e33 (2012).

35.

Humphrey, P. A. et al. Amplification and expression of the epidermal growth factor receptor gene in human glioma xenografts. Cancer Res. 48, 2231–2238 (1988).

36.

Pandita, A., Aldape, K. D., Zadeh, G., Guha, A. & James, C. D. Contrasting in vivo and in vitro fates of glioblastoma cell subpopulations with amplified EGFR. Genes Chromosom. Cancer 39, 29–36 (2004).

37.

Schulte, A. et al. Glioblastoma stem-like cell lines with either maintenance or loss of high-level EGFR amplification, generated via modulation of ligand concentration. Clin. Cancer Res. 18, 1901–1913 (2012).

38.

Giannini, C. et al. Patient tumor EGFR and PDGFRA gene amplifications retained in an invasive intracranial xenograft model of glioblastoma multiforme. Neuro-oncol. 7, 164–176 (2005).

39.

Hasselbach, L. A. et al. Optimization of high grade glioma cell culture from surgical specimens for use in clinically relevant animal models and 3D immunochemistry. J. Vis. Exp. 83, e51088 (2014).

40.

deCarvalho, A. C. et al. Gliosarcoma stem cells undergo glial and mesenchymal differentiation in vivo. Stem Cells 28, 181–190 (2010).

41.

Irtenkauf, S. M. et al. Optimization of glioblastoma mouse orthotopic xenograft models for translational research. Comp. Med. 67, 300–314 (2017).

42.

Graveel, C. et al. Activating Met mutations produce unique tumor profiles in mice with selective duplication of the mutant allele. Proc. Natl. Acad. Sci. USA 101, 17198–17203 (2004).

43.

Li, H. & Durbin, R. Fast and accurate short read alignment with Burrows–Wheeler transform. Bioinformatics 25, 1754–1760 (2009).

44.

McKenna, A. et al. The Genome Analysis Toolkit: a MapReduce framework for analyzing next-generation DNA sequencing data. Genome Res. 20, 1297–1303 (2010).

45.

Torres-García, W. et al. PRADA: pipeline for RNA sequencing data analysis. Bioinformatics 30, 2224–2226 (2014).

46.

Berlin, K. et al. Assembling large genomes with single-molecule sequencing and locality-sensitive hashing. Nat. Biotechnol. 33, 623–630 (2015).

47.

Delcher, A. L. et al. Alignment of whole genomes. Nucleic Acids Res. 27, 2369–2376 (1999).

48.

Altschul, S. F., Gish, W., Miller, W., Myers, E. W. & Lipman, D. J. Basic local alignment search tool. J. Mol. Biol. 215, 403–410 (1990).

49.

Chiang, C. et al. SpeedSeq: ultra-fast personal genome analysis and interpretation. Nat. Methods 12, 966–968 (2015).

50.

Cibulskis, K. et al. Sensitive detection of somatic point mutations in impure and heterogeneous cancer samples. Nat. Biotechnol. 31, 213–219 (2013).

51.

Ye, K., Schulz, M. H., Long, Q., Apweiler, R. & Ning, Z. Pindel: a pattern growth approach to detect break points of large deletions and medium sized insertions from paired-end short reads. Bioinformatics 25, 2865–2871 (2009).

52.

Wang, K., Li, M. & Hakonarson, H. ANNOVAR: functional annotation of genetic variants from high-throughput sequencing data. Nucleic Acids Res. 38, e164 (2010).

53.

Favero, F. et al. Sequenza: allele-specific copy number and mutation profiles from tumor sequencing data. Ann. Oncol. 26, 64–70 (2015).

54.

Conway, T. et al. Xenome—a tool for classifying reads from xenograft samples. Bioinformatics 28, i172–i178 (2012).

55.

Xi, R. et al. Copy number variation detection in whole-genome sequencing data using the Bayesian information criterion. Proc. Natl. Acad. Sci. USA 108, E1128–E1136 (2011).

56.

Kim, J. et al. Spatiotemporal evolution of the primary glioblastoma genome. Cancer Cell 28, 318–328 (2015).

57.

Robinson, J. T. et al. Integrative Genomics Viewer. Nat. Biotechnol. 29, 24–26 (2011).

58.

Turner, K. M. et al. Extrachromosomal oncogene amplification drives tumour evolution and genetic heterogeneity. Nature 543, 122–125 (2017).

59.

Forbes, S. A. et al. COSMIC: exploring the world's knowledge of somatic mutations in human cancer. Nucleic Acids Res. 43, D805–D811 (2015).
Acknowledgements
The authors would like to thank our colleagues at Henry Ford Hospital: N. Lehman and C. Hao for contributions to pathology reviews; L. Scarpace for clinical information; S. Irtenkauf, L.Hasselbach, K. Nelson, K. Bergman and S. Sobiechowski for cell culture and animal work; and A.Transou, Y. Meng and E. Carlton for histology. We are indebted to M. Wimsatt (JAX) for the creative design in Fig. 6. We thank G. Geneau, S. Roland and PacBio platform personnel of the Génome Québec/Genome Canada–funded Innovation Centre for providing Pacific Biosciences sequencing. AmpliconArchitect analysis of TCGA was made possible through the Cancer Genomics Cloud of the Institute for Systems Biology (ISB-CGC). This work was supported by the LIGHT Research Program at the Hermelin Brain Tumor Center (A.C.d., T.M.); grants from the US National Institutes of Health R01 CA190121 (R.G.W.V.); Cancer Center Support Grant P30CA034196; the Cancer Prevention and Research Institute of Texas (CPRIT) R140606 (R.G.W.V.); and the National Brain Tumor Society (R.G.W.V.). This work was also supported by grant HI14C3418 of the Korea Health Technology R&D project through the Korea Health Industry Development Institute funded by the Ministry of Health & Welfare, Republic of Korea (D.N.). We are hugely indebted to the patients who provided biospecimens for the purpose of this study.
Ethics declarations
Competing interests
The authors declare no competing interests.
Additional information
Publisher's note: Springer Nature remains neutral with regard to jurisdictional claims in published maps and institutional affiliations.
Integrated supplementary information
Supplementary information
About this article
Cite this article
deCarvalho, A.C., Kim, H., Poisson, L.M. et al. Discordant inheritance of chromosomal and extrachromosomal DNA elements contributes to dynamic disease evolution in glioblastoma. Nat Genet 50, 708–717 (2018). https://doi.org/10.1038/s41588-018-0105-0
Received:

Accepted:

Published:

Issue Date: