Abstract
Individual risk of type 2 diabetes (T2D) is modified by perturbations to the mass, distribution and function of adipose tissue. To investigate the mechanisms underlying these associations, we explored the molecular, cellular and whole-body effects of T2D-associated alleles near KLF14. We show that KLF14 diabetes-risk alleles act in adipose tissue to reduce KLF14 expression and modulate, in trans, the expression of 385 genes. We demonstrate, in human cellular studies, that reduced KLF14 expression increases pre-adipocyte proliferation but disrupts lipogenesis, and in mice, that adipose tissue–specific deletion of Klf14 partially recapitulates the human phenotype of insulin resistance, dyslipidemia and T2D. We show that carriers of the KLF14 T2D risk allele shift body fat from gynoid stores to abdominal stores and display a marked increase in adipocyte cell size, and that these effects on fat distribution, and the T2D association, are female specific. The metabolic risk associated with variation at this imprinted locus depends on the sex both of the subject and of the parent from whom the risk allele derives.
Relevant articles
Open Access articles citing this article.
Hui Zhou

,

Junru Chen

…

Qingfeng Yan

Journal of Experimental & Clinical Cancer Research Open Access 05 January 2023

Xinran Lyu

,

Xuchao Ding

…

Lili Cao

Discover Oncology Open Access 16 May 2022

Michael J. Gloudemans

,

Brunilda Balliu

…

Ivan Carcamo-Orive

Genome Medicine Open Access 15 March 2022
Access options
Subscribe to Nature+
Get immediate online access to Nature and 55 other Nature journal
Subscribe to Journal
Get full journal access for 1 year
$79.00
only $6.58 per issue
All prices are NET prices.
VAT will be added later in the checkout.
Tax calculation will be finalised during checkout.
Buy article
Get time limited or full article access on ReadCube.
$32.00
All prices are NET prices.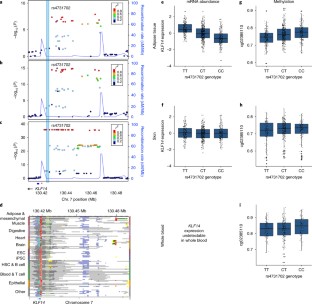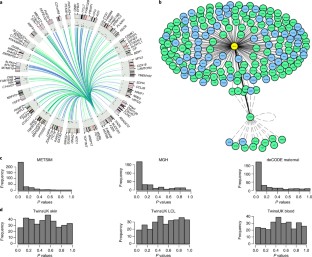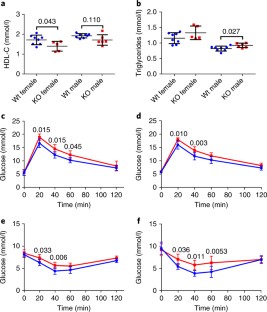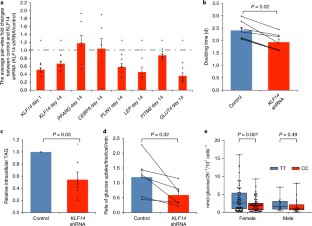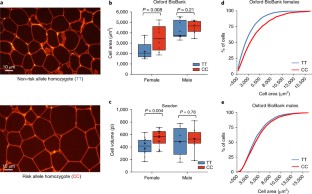 References
Kong, A. et al. Parental origin of sequence variants associated with complex diseases. Nature 462, 868–874 (2009).

Voight, B. F. et al. Twelve type 2 diabetes susceptibility loci identified through large-scale association analysis. Nat. Genet. 42, 579–589 (2010).

Small, K. S. et al. Identification of an imprinted master trans regulator at the KLF14 locus related to multiple metabolic phenotypes. Nat. Genet. 43, 561–564 (2011).

Dang, D. T., Pevsner, J. & Yang, V. W. The biology of the mammalian Kruppel-like family of transcription factors. Int. J. Biochem. Cell Biol. 32, 1103–1121 (2000).

Wu, Z. & Wang, S. Role of kruppel-like transcription factors in adipogenesis. Dev. Biol. 373, 235–243 (2013).

Parker-Katiraee, L. et al. Identification of the imprinted KLF14 transcription factor undergoing human-specific accelerated evolution. PLoS Genet. 3, e65 (2007).

Buil, A. et al. Gene–gene and gene–environment interactions detected by transcriptome sequence analysis in twins. Nat. Genet. 47, 88–91 (2015).

Greenawalt, D. M. et al. A survey of the genetics of stomach, liver, and adipose gene expression from a morbidly obese cohort. Genome Res. 21, 1008–1016 (2011).

Civelek, M. et al. Genetic regulation of adipose gene expression and cardio-metabolic traits. Am. J. Hum. Genet. 100, 428–443 (2017).

Emilsson, V. et al. Genetics of gene expression and its effect on disease. Nature 452, 423–428 (2008).

Keildson, S. et al. Expression of phosphofructokinase in skeletal muscle is influenced by genetic variation and associated with insulin sensitivity. Diabetes 63, 1154–1165 (2014).

Innocenti, F. et al. Identification, replication, and functional fine-mapping of expression quantitative trait loci in primary human liver tissue. PLoS Genet. 7, e1002078 (2011).

van de Bunt, M. et al. Transcript expression data from human islets links regulatory signals from genome-wide association studies for type 2 diabetes and glycemic traits to their downstream effectors. PLoS Genet. 11, e1005694 (2015).

GTEx Consortium. Genetic effects on gene expression across human tissues. Nature 550, 204–213 (2017).

DIAbetes Genetics Replication And Meta-analysis (DIAGRAM) Consortium. Genome-wide trans-ancestry meta-analysis provides insight into the genetic architecture of type 2 diabetes susceptibility. Nat. Genet. 46, 234–244 (2014).

ENCODE Project Consortium. An integrated encyclopedia of DNA elements in the human genome. Nature 489, 57–74 (2012).

Roadmap Epigenomics Consortium. Integrative analysis of 111 reference human epigenomes. Nature 518, 317–330 (2015).

Fairfax, B. P. et al. Genetics of gene expression in primary immune cells identifies cell type–specific master regulators and roles of HLA alleles. Nat. Genet. 44, 502–510 (2012).

Naranbhai, V. et al. Genomic modulators of gene expression in human neutrophils. Nat. Commun. 6, 7545 (2015).

Rotival, M. et al. Integrating genome-wide genetic variations and monocyte expression data reveals trans-regulated gene modules in humans. PLoS Genet. 7, e1002367 (2011).

Hannum, G. et al. Genome-wide methylation profiles reveal quantitative views of human aging rates. Mol. Cell 49, 359–367 (2013).

Ronn, T. et al. Impact of age, BMI and HbA1c levels on the genome-wide DNA methylation and mRNA expression patterns in human adipose tissue and identification of epigenetic biomarkers in blood. Hum. Mol. Genet. 24, 3792–3813 (2015).

Najafabadi, H. S. et al. C2H2 zinc finger proteins greatly expand the human regulatory lexicon. Nat. Biotechnol. 33, 555–562 (2015).

Chen, J., Bardes, E. E., Aronow, B. J. & Jegga, A. G. ToppGene Suite for gene list enrichment analysis and candidate gene prioritization. Nucleic Acids Res. 37, W305–W311 (2009).

Garvey, W. T. et al. Pretranslational suppression of a glucose transporter protein causes insulin resistance in adipocytes from patients with non-insulin-dependent diabetes mellitus and obesity. J. Clin. Invest. 87, 1072–1081 (1991).

Horikoshi, M. et al. Discovery and fine-mapping of glycaemic and obesity-related trait loci using high-density imputation. PLoS Genet. 11, e1005230 (2015).

Global Lipids Genetics Consortium. Discovery and refinement of loci associated with lipid levels. Nat. Genet. 45, 1274–1283 (2013).

Teslovich, T. M. et al. Biological, clinical and population relevance of 95 loci for blood lipids. Nature 466, 707–713 (2010).

Locke, A. E. et al. Genetic studies of body mass index yield new insights for obesity biology. Nature 518, 197–206 (2015).

Morris, A. P. et al. Large-scale association analysis provides insights into the genetic architecture and pathophysiology of type 2 diabetes. Nat. Genet. 44, 981–990 (2012).

Shungin, D. et al. New genetic loci link adipose and insulin biology to body fat distribution. Nature 518, 187–196 (2015).

Dupuis, J. et al. New genetic loci implicated in fasting glucose homeostasis and their impact on type 2 diabetes risk. Nat. Genet. 42, 105–116 (2010).

Speliotes, E. K. et al. Genome-wide association analysis identifies variants associated with nonalcoholic fatty liver disease that have distinct effects on metabolic traits. PLoS Genet. 7, e1001324 (2011).

Chambers, J. C. et al. Genome-wide association study identifies loci influencing concentrations of liver enzymes in plasma. Nat. Genet. 43, 1131–1138 (2011).

Guo, Y. et al. Perhexiline activates KLF14 and reduces atherosclerosis by modulating ApoA-I production. J. Clin. Invest. 125, 3819–3830 (2015).

Arner, E. et al. Adipocyte turnover: relevance to human adipose tissue morphology. Diabetes 59, 105–109 (2010).

Hammarstedt, A., Graham, T. E. & Kahn, B. B. Adipose tissue dysregulation and reduced insulin sensitivity in non-obese individuals with enlarged abdominal adipose cells. Diabetol. Metab. Syndr. 4, 42 (2012).

Lonn, M., Mehlig, K., Bengtsson, C. & Lissner, L. Adipocyte size predicts incidence of type 2 diabetes in women. FASEB J. 24, 326–331 (2010).

Lundgren, M. et al. Fat cell enlargement is an independent marker of insulin resistance and 'hyperleptinaemia'. Diabetologia 50, 625–633 (2007).

Weyer, C., Foley, J. E., Bogardus, C., Tataranni, P. A. & Pratley, R. E. Enlarged subcutaneous abdominal adipocyte size, but not obesity itself, predicts type II diabetes independent of insulin resistance. Diabetologia 43, 1498–1506 (2000).

Snijder, M. B. et al. Independent and opposite associations of waist and hip circumferences with diabetes, hypertension and dyslipidemia: the AusDiab Study. Int. J. Obes. Relat. Metab. Disord. 28, 402–409 (2004).

Yusuf, S. et al. Obesity and the risk of myocardial infarction in 27,000 participants from 52 countries: a case–control study. Lancet 366, 1640–1649 (2005).

Ernst, J. & Kellis, M. ChromHMM: automating chromatin-state discovery and characterization. Nat. Methods 9, 215–216 (2012).

Grundberg, E. et al. Mapping cis- and trans-regulatory effects across multiple tissues in twins. Nat. Genet. 44, 1084–1089 (2012).

Shabalin, A. A. Matrix eQTL: ultra fast eQTL analysis via large matrix operations. Bioinformatics 28, 1353–1358 (2012).

Storey, J. D. & Tibshirani, R. Statistical significance for genomewide studies. Proc. Natl. Acad. Sci. USA 100, 9440–9445 (2003).

Storey, J. D., Bass, A. J., Dabney, A. & Robinson, D. qvalue: Q-valueestimation for false discovery rate control. R package version 2.6.0 http://github.com/jdstorey/qvalue (2015).

Grundberg, E. et al. Global analysis of DNA methylation variation in adipose tissue from twins reveals links to disease-associated variants in distal regulatory elements. Am. J. Hum. Genet. 93, 876–890 (2013).

Tsaprouni, L. G. et al. Cigarette smoking reduces DNA methylation levels at multiple genomic loci but the effect is partially reversible upon cessation. Epigenetics 9, 1382–1396 (2014).

Pierce, B. L. et al. Mediation analysis demonstrates that trans-eQTLs are often explained by cis-mediation: a genome-wide analysis among 1,800 South Asians. PLoS Genet. 10, e1004818 (2014).

Najafabadi, H. S., Albu, M. & Hughes, T. R. Identification of C2H2-ZF binding preferences from ChIP-seq data using RCADE. Bioinformatics 31, 2879–2881 (2015).

Janky, R. et al. iRegulon: from a gene list to a gene regulatory network using large motif and track collections. PLoS Comput. Biol. 10, e1003731 (2014).

Frith, M. C., Li, M. C. & Weng, Z. Cluster-Buster: finding dense clusters of motifs in DNA sequences. Nucleic Acids Res. 31, 3666–3668 (2003).

Welter, D. et al. The NHGRI GWAS Catalog, a curated resource of SNP–trait associations. Nucleic Acids Res. 42, D1001–D1006 (2014).

Parsons, M. J. et al. The regulatory factor ZFHX3 modifies circadian function in SCN via an AT motif-driven axis. Cell 162, 607–621 (2015).

Collins, J. M., Neville, M. J., Hoppa, M. B. & Frayn, K. N. De novo lipogenesis and stearoyl-CoA desaturase are coordinately regulated in the human adipocyte and protect against palmitate-induced cell injury. J. Biol. Chem. 285, 6044–6052 (2010).

Pfaffl, M. W. A new mathematical model for relative quantification in real-time RT–PCR. Nucleic Acids Res. 29, e45 (2001).

Neville, M. J., Collins, J. M., Gloyn, A. L., McCarthy, M. I. & Karpe, F. Comprehensive human adipose tissue mRNA and microRNA endogenous control selection for quantitative real-time-PCR normalization. Obesity 19, 888–892 (2011).

Lofgren, P., Hoffstedt, J., Naslund, E., Wiren, M. & Arner, P. Prospective and controlled studies of the actions of insulin and catecholamine in fat cells of obese women following weight reduction. Diabetologia 48, 2334–2342 (2005).

Marinou, K. et al. Structural and functional properties of deep abdominal subcutaneous adipose tissue explain its association with insulin resistance and cardiovascular risk in men. Diabetes Care 37, 821–829 (2014).

Dahlman, I. et al. Numerous genes in loci associated with body fat distribution are linked to adipose function. Diabetes 65, 433–437 (2016).

Hirsch, J. & Gallian, E. Methods for the determination of adipose cell size in man and animals. J. Lipid Res. 9, 110–119 (1968).
Acknowledgements
This study was supported by MRC grant MR/J010642/1 to K.S.S., R.D.C., F.K. and M.I.M. K.S.S. is supported by an MRC New Investigator Award (MR/L01999X/1). M.I.M. is a Wellcome Senior Investigator and is supported by Wellcome (090532, 106130, 098381, 203141), NIDDK (U01-DK105535) and the MRC (MR/L020149/1). F.K. is supported by the British Heart Foundation (RG/17/1/32663). M.C. is supported by NIH Award R00 HL121172. A.L.G. is a Wellcome Senior Fellow in Basic Biomedical Science (095101/Z/10/Z and 200837/Z/16/Z). K.M. is supported by NIH award R01-DK099571, and A.J.L. is supported by NIH award NIH P01HL28481. R.D.C. is supported by MRC MC_U142661184. J.F. was a Marie Curie Fellow. M.L. is supported by Academy of Finland grants 77299 and 124243, the Finnish Heart Foundation, the Finnish Diabetes Foundation, and Commission of the European Community HEALTH-F2-2007-201681. A.V. and A.B. were supported by the European Union Framework Programme 7 grant EuroBATS (259749). Some computations were performed at the Vital-IT center for high-performance computing of the Swiss Institute of Bioinformatics (SIB; http://www.vital-it.ch/). The TwinsUK study was funded by Wellcome and European Community's Seventh Framework Programme (FP7/2007-2013). The TwinsUK study also receives support from the National Institute for Health Research (NIHR)-funded BioResource, Clinical Research Facility and Biomedical Research Centre based at Guy's and St Thomas' NHS Foundation Trust in partnership with King's College London. We acknowledge excellent technical support for animal husbandry (Mary Lyon Centre), genotyping, histology and pathology. We thank the volunteers from the Oxford Biobank, NIHR Oxford Biomedical Research Centre, for their participation. The Oxford Biobank (http://www.oxfordbiobank.org.uk) is also part of the NIHR National Bioresource, which supported the recalling process of the volunteers. GERA data came from a grant, the Resource for Genetic Epidemiology Research in Adult Health and Aging (RC2 AG033067; C. Schaefer and N. Risch, principal investigators), awarded to the Kaiser Permanente Research Program on Genes, Environment, and Health (RPGEH) and the UCSF Institute for Human Genetics. The RPGEH was supported by grants from the Robert Wood Johnson Foundation, the Wayne and Gladys Valley Foundation, and the Ellison Medical Foundation. This research utilized data from the UK Biobank Resource under application 9161.
Ethics declarations
Competing interests
M.I.M. has received consulting and advisory board honoraria from Pfizer, Lilly and NovoNordisk; and G.T., U.T. and K.S. are employees of deCODE Genetics/Amgen.
Additional information
Publisher's note: Springer Nature remains neutral with regard to jurisdictional claims in published maps and institutional affiliations.
Integrated supplementary information
Supplementary information
Supplementary Figures 1–6, Supplementary Note and Supplementary Tables
Supplementary Tables 1, 5, 6, 8 and 9
About this article
Cite this article
Small, K.S., Todorčević, M., Civelek, M. et al. Regulatory variants at KLF14 influence type 2 diabetes risk via a female-specific effect on adipocyte size and body composition. Nat Genet 50, 572–580 (2018). https://doi.org/10.1038/s41588-018-0088-x
Received:

Accepted:

Published:

Issue Date:

DOI: https://doi.org/10.1038/s41588-018-0088-x