Abstract
Understanding the significance of genetic variants in the noncoding genome is emerging as the next challenge in human genomics. We used the power of 11,257 whole-genome sequences and 16,384 heptamers (7-nt motifs) to build a map of sequence constraint for the human species. This build differed substantially from traditional maps of interspecies conservation and identified regulatory elements among the most constrained regions of the genome. Using new Hi-C experimental data, we describe a strong pattern of coordination over 2 Mb where the most constrained regulatory elements associate with the most essential genes. Constrained regions of the noncoding genome are up to 52-fold enriched for known pathogenic variants as compared to unconstrained regions (21-fold when compared to the genome average). This map of sequence constraint across thousands of individuals is an asset to help interpret noncoding elements in the human genome, prioritize variants and reconsider gene units at a larger scale.
Relevant articles
Open Access articles citing this article.
Zihuai He

,

Linxi Liu

…

Iuliana Ionita-Laza

Nature Communications Open Access 23 November 2022

Margaret Sunitha Selvaraj

,

Xihao Li

…

Pradeep Natarajan

Nature Communications Open Access 11 October 2022

Jessica C. McAfee

,

Jessica L. Bell

…

Hyejung Won

Journal of Neurodevelopmental Disorders Open Access 09 September 2022
Access options
Access Nature and 54 other Nature Portfolio journals
Get Nature+, our best-value online-access subscription
$29.99 / 30 days
cancel any time
Subscribe to this journal
Receive 12 print issues and online access
$209.00 per year
only $17.42 per issue
Rent or buy this article
Prices vary by article type
from$1.95
to$39.95
Prices may be subject to local taxes which are calculated during checkout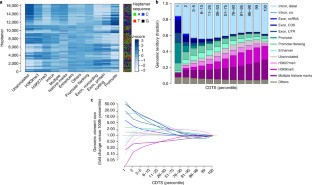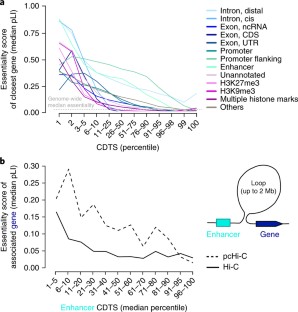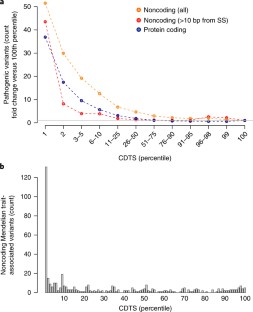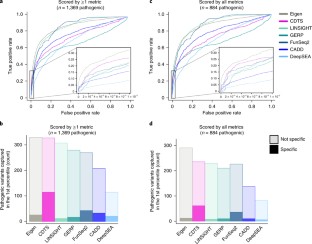 References
Lek, M. et al. Analysis of protein-coding genetic variation in 60,706 humans. Nature 536, 285–291 (2016).

Bouwman, B. A. & de Laat, W. Getting the genome in shape: the formation of loops, domains and compartments. Genome Biol. 16, 154 (2015).

Knight, J. C. Approaches for establishing the function of regulatory genetic variants involved in disease. Genome Med. 6, 92 (2014).

GTEx Consortium. The Genotype–Tissue Expression (GTEx) pilot analysis: multitissue gene regulation in humans. Science 348, 648–660 (2015).

Zhu, Z. et al. Integration of summary data from GWAS and eQTL studies predicts complex trait gene targets. Nat. Genet. 48, 481–487 (2016).

Petrovski, S. et al. The intolerance of regulatory sequence to genetic variation predicts gene dosage sensitivity. PLoS Genet. 11, e1005492 (2015).

Telenti, A. et al. Deep sequencing of 10,000 human genomes. Proc. Natl. Acad. Sci. USA 113, 11901–11906 (2016).

Aggarwala, V. & Voight, B. F. An expanded sequence context model broadly explains variability in polymorphism levels across the human genome. Nat. Genet. 48, 349–355 (2016).

Davydov, E. V. et al. Identifying a high fraction of the human genome to be under selective constraint using GERP++. PLoS Comput. Biol. 6, e1001025 (2010).

Schrider, D. R. & Kern, A. D. Inferring selective constraint from population genomic data suggests recent regulatory turnover in the human brain. Genome Biol. Evol. 7, 3511–3528 (2015).

Bartha, I., di Iulio, J., Venter, J. C. & Telenti, A. Human gene essentiality. Nat. Rev. Genet. 19, 51–62 (2018).

MacArthur, D. G. et al. A systematic survey of loss-of-function variants in human protein-coding genes. Science 335, 823–828 (2012).

Petrovski, S., Wang, Q., Heinzen, E. L., Allen, A. S. & Goldstein, D. B. Genic intolerance to functional variation and the interpretation of personal genomes. PLoS Genet. 9, e1003709 (2013).

Samocha, K. E. et al. A framework for the interpretation of de novo mutation in human disease. Nat. Genet. 46, 944–950 (2014).

Rackham, O. J., Shihab, H. A., Johnson, M. R. & Petretto, E. EvoTol: a protein-sequence-based evolutionary intolerance framework for disease gene prioritization. Nucleic Acids Res. 43, e33 (2015).

Bartha, I. et al. The characteristics of heterozygous protein-truncating variants in the human genome. PLoS Comput. Biol. 11, e1004647 (2015).

Fadista, J., Oskolkov, N., Hansson, O. & Groop, L. LoFtool: a gene intolerance score based on loss-of-function variants in 60,706 individuals. Bioinformatics 33, 471–474 (2017).

Ward, L. D. & Kellis, M. Response to comment on "Evidence of abundant purifying selection in humans for recently acquired regulatory functions". Science 340, 682 (2013).

Hernandez, R. D. et al. Classic selective sweeps were rare in recent human evolution. Science 331, 920–924 (2011).

Ionita-Laza, I., McCallum, K., Xu, B. & Buxbaum, J. D. A spectral approach integrating functional genomic annotations for coding and noncoding variants. Nat. Genet. 48, 214–220 (2016).

Dixon, J. R. et al. Topological domains in mammalian genomes identified by analysis of chromatin interactions. Nature 485, 376–380 (2012).

Rao, S. S. et al. A 3D map of the human genome at kilobase resolution reveals principles of chromatin looping. Cell 159, 1665–1680 (2014).

Shah, N. et al. Identification of misclassified ClinVar variants using disease population prevalence. Am. J. Hum. Genet. (in the press).

Esteller, M. Noncoding RNAs in human disease. Nat. Rev. Genet. 12, 861–874 (2011).

Makrythanasis, P. & Antonarakis, S. E. Pathogenic variants in non-protein-coding sequences. Clin. Genet. 84, 422–428 (2013).

Gordon, C. T. & Lyonnet, S. Enhancer mutations and phenotype modularity. Nat. Genet. 46, 3–4 (2014).

Smedley, D. et al. A whole-genome analysis framework for effective identification of pathogenic regulatory variants in Mendelian disease. Am. J. Hum. Genet. 99, 595–606 (2016).

Kircher, M. et al. A general framework for estimating the relative pathogenicity of human genetic variants. Nat. Genet. 46, 310–315 (2014).

Zhou, J. & Troyanskaya, O. G. Predicting effects of noncoding variants with deep-learning-based sequence model. Nat. Methods 12, 931–934 (2015).

Fu, Y. et al. FunSeq2: a framework for prioritizing noncoding regulatory variants in cancer. Genome Biol. 15, 480 (2014).

Huang, Y. F., Gulko, B. & Siepel, A. Fast, scalable prediction of deleterious noncoding variants from functional and population genomic data. Nat. Genet. 49, 618–624 (2017).

Kellis, M. et al. Defining functional DNA elements in the human genome. Proc. Natl. Acad. Sci. USA 111, 6131–6138 (2014).

Stenson, P. D. et al. Human Gene Mutation Database (HGMD): 2003 update. Hum. Mutat. 21, 577–581 (2003).

Landrum, M. J. et al. ClinVar: public archive of interpretations of clinically relevant variants. Nucleic Acids Res. 44 (D1), D862–D868 (2016).

Landrum, M. J. et al. ClinVar: public archive of relationships among sequence variation and human phenotype. Nucleic Acids Res. 42, D980–D985 (2014).

Sherry, S. T. et al. dbSNP: the NCBI database of genetic variation. Nucleic Acids Res. 29, 308–311 (2001).

Neph, S. et al. BEDOPS: high-performance genomic feature operations. Bioinformatics 28, 1919–1920 (2012).

Quinlan, A. R. & Hall, I. M. BEDTools: a flexible suite of utilities for comparing genomic features. Bioinformatics 26, 841–842 (2010).

Li, H. Tabix: fast retrieval of sequence features from generic TAB-delimited files. Bioinformatics 27, 718–719 (2011).
Acknowledgements
We thank Human Longevity, Inc., for finnancial support.
Ethics declarations
Competing interests
J.d.I., E.H.M.W., H.-C.Y., V.L., M.A.H., N.S., E.F.K., W.H.B. and J.C.V. are employees of Human Longevity, Inc.
Additional information
Publisher's note: Springer Nature remains neutral with regard to jurisdictional claims in published maps and institutional affiliations.
Integrated supplementary information
Supplementary information
About this article
Cite this article
di Iulio, J., Bartha, I., Wong, E.H.M. et al. The human noncoding genome defined by genetic diversity. Nat Genet 50, 333–337 (2018). https://doi.org/10.1038/s41588-018-0062-7
Received:

Accepted:

Published:

Issue Date:

DOI: https://doi.org/10.1038/s41588-018-0062-7