Abstract
Ten-eleven translocation (TET) proteins play key roles in the regulation of DNA-methylation status by oxidizing 5-methylcytosine (5mC) to generate 5-hydroxymethylcytosine (5hmC), which can both serve as a stable epigenetic mark and participate in active demethylation. Unlike the other members of the TET family, TET2 does not contain a DNA-binding domain, and it remains unclear how it is recruited to chromatin. Here we show that TET2 is recruited by the RNA-binding protein Paraspeckle component 1 (PSPC1) through transcriptionally active loci, including endogenous retroviruses (ERVs) whose long terminal repeats (LTRs) have been co-opted by mammalian genomes as stage- and tissue-specific transcriptional regulatory modules. We found that PSPC1 and TET2 contribute to ERVL and ERVL-associated gene regulation by both transcriptional repression via histone deacetylases and post-transcriptional destabilization of RNAs through 5hmC modification. Our findings provide evidence for a functional role of transcriptionally active ERVs as specific docking sites for RNA epigenetic modulation and gene regulation.
Access options
Subscribe to Journal
Get full journal access for 1 year
$225.00
only $18.75 per issue
All prices are NET prices.
VAT will be added later in the checkout.
Rent or Buy article
Get time limited or full article access on ReadCube.
from$8.99
All prices are NET prices.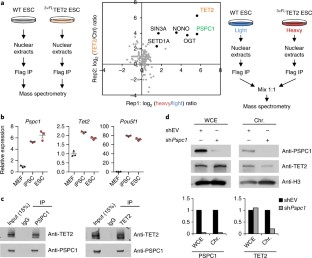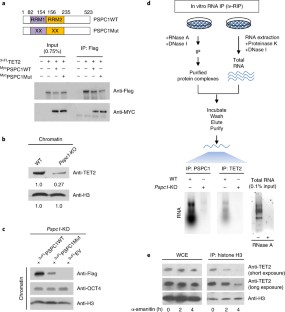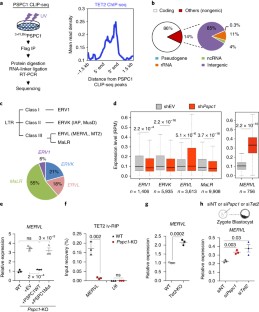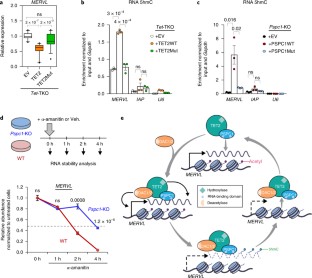 References
1.

Rasmussen, K. D. & Helin, K. Role of TET enzymes in DNA methylation, development, and cancer. Genes Dev. 30, 733–750 (2016).

2.

Wu, X. & Zhang, Y. TET-mediated active DNA demethylation: mechanism, function and beyond. Nat. Rev. Genet. 18, 517–534 (2017).

3.

Frye, M. & Blanco, S. Post-transcriptional modifications in development and stem cells. Development 143, 3871–3881 (2016).

4.

Masiello, I. & Biggiogera, M. Ultrastructural localization of 5-methylcytosine on DNA and RNA. Cell. Mol. Life Sci. 74, 3057–3064 (2017).

5.

Zhang, H. Y., Xiong, J., Qi, B. L., Feng, Y. Q. & Yuan, B. F. The existence of 5-hydroxymethylcytosine and 5-formylcytosine in both DNA and RNA in mammals. Chem. Commun. (Camb.) 52, 737–740 (2016).

6.

Miao, Z. et al. 5-hydroxymethylcytosine is detected in RNA from mouse brain tissues. Brain Res. 1642, 546–552 (2016).

7.

Delatte, B. et al. Transcriptome-wide distribution and function of RNA hydroxymethylcytosine. Science 351, 282–285 (2016).

8.

Fu, L. et al. Tet-mediated formation of 5-hydroxymethylcytosine in RNA. J. Am. Chem. Soc. 136, 11582–11585 (2014).

9.

Schlesinger, S. & Goff, S. P. Retroviral transcriptional regulation and embryonic stem cells: war and peace. Mol. Cell. Biol. 35, 770–777 (2015).

10.

Macfarlan, T. S. et al. Embryonic stem cell potency fluctuates with endogenous retrovirus activity. Nature 487, 57–63 (2012).

11.

Kim, J., Cantor, A. B., Orkin, S. H. & Wang, J. Use of in vivo biotinylation to study protein-protein and protein-DNA interactions in mouse embryonic stem cells. Nat. Protoc. 4, 506–517 (2009).

12.

Wang, J. et al. A protein interaction network for pluripotency of embryonic stem cells. Nature 444, 364–368 (2006).

13.

Huang, Y. et al. Distinct roles of the methylcytosine oxidases Tet1 and Tet2 in mouse embryonic stem cells. Proc. Natl. Acad. Sci. USA 111, 1361–1366 (2014).

14.

Hon, G. C. et al. 5mC oxidation by Tet2 modulates enhancer activity and timing of transcriptome reprogramming during differentiation. Mol. Cell 56, 286–297 (2014).

15.

Sigova, A. A. et al. Transcription factor trapping by RNA in gene regulatory elements. Science 350, 978–981 (2015).

16.

Tsai, M. C. et al. Long noncoding RNA as modular scaffold of histone modification complexes. Science 329, 689–693 (2010).

17.

Fox, A. H., Bond, C. S. & Lamond, A. I. P54nrb forms a heterodimer with PSP1 that localizes to paraspeckles in an RNA-dependent manner. Mol. Biol. Cell 16, 5304–5315 (2005).

18.

Gilbert, S. L., Pehrson, J. R. & Sharp, P. A. XIST RNA associates with specific regions of the inactive X chromatin. J. Biol. Chem. 275, 36491–36494 (2000).

19.

Chen, Q., Chen, Y., Bian, C., Fujiki, R. & Yu, X. TET2 promotes histone O-GlcNAcylation during gene transcription. Nature 493, 561–564 (2013).

20.

Knott, G. J., Bond, C. S. & Fox, A. H. The DBHS proteins SFPQ, NONO and PSPC1: a multipurpose molecular scaffold. Nucleic Acids Res. 44, 3989–4004 (2016).

21.

Ma, C. et al. Nono, a bivalent domain factor, regulates Erk signaling and mouse embryonic stem cell pluripotency. Cell Rep. 17, 997–1007 (2016).

22.

Cao, S. et al. Specific gene-regulation networks during the pre-implantation development of the pig embryo as revealed by deep sequencing. BMC Genomics 15, 4 (2014).

23.

Peaston, A. E. et al. Retrotransposons regulate host genes in mouse oocytes and preimplantation embryos. Dev. Cell 7, 597–606 (2004).

24.

Waterston, R. H. et al. Initial sequencing and comparative analysis of the mouse genome. Nature 420, 520–562 (2002).

25.

Friedli, M. & Trono, D. The developmental control of transposable elements and the evolution of higher species. Annu. Rev. Cell Dev. Biol. 31, 429–451 (2015).

26.

Chuong, E. B., Elde, N. C. & Feschotte, C. Regulatory evolution of innate immunity through co-option of endogenous retroviruses. Science 351, 1083–1087 (2016).

27.

Leeb, M. et al. Polycomb complexes act redundantly to repress genomic repeats and genes. Genes Dev. 24, 265–276 (2010).

28.

Maksakova, I. A. et al. Distinct roles of KAP1, HP1 and G9a/GLP in silencing of the two-cell-specific retrotransposon MERVL in mouse ES cells. Epigenetics Chromatin 6, 15 (2013).

29.

Kigami, D., Minami, N., Takayama, H. & Imai, H. MuERV-L is one of the earliest transcribed genes in mouse one-cell embryos. Biol. Reprod. 68, 651–654 (2003).

30.

Macfarlan, T. S. et al. Endogenous retroviruses and neighboring genes are coordinately repressed by LSD1/KDM1A. Genes Dev. 25, 594–607 (2011).

31.

Konermann, S. et al. Genome-scale transcriptional activation by an engineered CRISPR-Cas9 complex. Nature 517, 583–588 (2015).

32.

Rowe, H. M. & Trono, D. Dynamic control of endogenous retroviruses during development. Virology 411, 273–287 (2011).

33.

Rowe, H. M. et al. KAP1 controls endogenous retroviruses in embryonic stem cells. Nature 463, 237–240 (2010).

34.

Kowalska, E. et al. Distinct roles of DBHS family members in the circadian transcriptional feedback loop. Mol. Cell. Biol. 32, 4585–4594 (2012).

35.

Li, Z. et al. Deletion of Tet2 in mice leads to dysregulated hematopoietic stem cells and subsequent development of myeloid malignancies. Blood 118, 4509–4518 (2011).

36.

Williams, K. et al. TET1 and hydroxymethylcytosine in transcription and DNA methylation fidelity. Nature 473, 343–348 (2011).

37.

Huber, S. M. et al. Formation and abundance of 5-hydroxymethylcytosine in RNA. ChemBioChem 16, 752–755 (2015).

38.

Amort, T. et al. Distinct 5-methylcytosine profiles in poly(A) RNA from mouse embryonic stem cells and brain. Genome Biol. 18, 1 (2017).

39.

Zhang, X. et al. The tRNA methyltransferase NSun2 stabilizes p16INK4 mRNA by methylating the 3′-untranslated region of p16. Nat. Commun. 3, 712 (2012).

40.

Warren, L. et al. Highly efficient reprogramming to pluripotency and directed differentiation of human cells with synthetic modified mRNA. Cell Stem Cell 7, 618–630 (2010).

41.

Zhang, Q. et al. Tet2 is required to resolve inflammation by recruiting Hdac2 to specifically repress IL-6. Nature 525, 389–393 (2015).

42.

Vella, P. et al. Tet proteins connect the O-linked N-acetylglucosamine transferase Ogt to chromatin in embryonic stem cells. Mol. Cell 49, 645–656 (2013).

43.

Deplus, R. et al. TET2 and TET3 regulate GlcNAcylation and H3K4 methylation through OGT and SET1/COMPASS. EMBO J. 32, 645–655 (2013).

44.

Chen, L. L. & Carmichael, G. G. Altered nuclear retention of mRNAs containing inverted repeats in human embryonic stem cells: functional role of a nuclear noncoding RNA. Mol. Cell 35, 467–478 (2009).

45.

Fox, A. H. & Lamond, A. I. Paraspeckles. Cold Spring Harb. Perspect. Biol. 2, a000687 (2010).

46.

He, C. et al. High-resolution mapping of RNA-binding regions in the nuclear proteome of embryonic stem cells. Mol. Cell 64, 416–430 (2016).

47.

Lee, E. et al. Landscape of somatic retrotransposition in human cancers. Science 337, 967–971 (2012).

48.

Li, W. et al. Human endogenous retrovirus-K contributes to motor neuron disease. Sci. Transl. Med. 7, 307ra153 (2015).

49.

Choi, Y. J. et al. Deficiency of microRNA miR-34a expands cell fate potential in pluripotent stem cells. Science 355, eaag1927 (2017).

50.

Gerdes, P., Richardson, S. R. & Faulkner, G. J. TET enzymes: double agents in the transposable element-host genome conflict. Genome Biol. 17, 259 (2016).

51.

de la Rica, L. et al. TET-dependent regulation of retrotransposable elements in mouse embryonic stem cells. Genome Biol. 17, 234 (2016).

52.

Ding, J., Xu, H., Faiola, F., Ma'ayan, A. & Wang, J. Oct4 links multiple epigenetic pathways to the pluripotency network. Cell Res. 22, 155–167 (2012).

53.

Ivanova, N. et al. Dissecting self-renewal in stem cells with RNA interference. Nature 442, 533–538 (2006).

54.

Ran, F. A. et al. Genome engineering using the CRISPR-Cas9 system. Nat. Protoc. 8, 2281–2308 (2013).

55.

Lee, T. I. et al. Control of developmental regulators by Polycomb in human embryonic stem cells. Cell 125, 301–313 (2006).

56.

Ule, J., Jensen, K., Mele, A. & Darnell, R. B. CLIP: a method for identifying protein-RNA interaction sites in living cells. Methods 37, 376–386 (2005).

57.

Xue, Y. et al. Genome-wide analysis of PTB-RNA interactions reveals a strategy used by the general splicing repressor to modulate exon inclusion or skipping. Mol. Cell 36, 996–1006 (2009).

58.

Elsässer, S. J., Noh, K. M., Diaz, N., Allis, C. D. & Banaszynski, L. A. Histone H3.3 is required for endogenous retroviral element silencing in embryonic stem cells. Nature 522, 240–244 (2015).

59.

Ding, J. et al. Tex10 coordinates epigenetic control of super-enhancer activity in pluripotency and reprogramming. Cell Stem Cell 16, 653–668 (2015).

60.

Dominissini, D. et al. Topology of the human and mouse m6A RNA methylomes revealed by m6A-seq. Nature 485, 201–206 (2012).
Acknowledgements
We thank Y. Kurihara for PSPC1 constructs, T. Macfarlan for the Zfp352-luciferase reporter construct, R. Jaenisch for the Tet-TKO ESC line, D. Trono for the Trim28-cKO line, and D.M. Gilbert and Y. Shinkai for the Ehmt2-cKO line. We also thank the medical illustrator J. Gregory from Icahn School of Medicine at Mount Sinai for the model drawing. This research was funded by the US National Institutes of Health (NIH) (grants 1R01-GM095942 and R21HD087722 to J.W.; grant R01HL112294 to M.X.) and the Empire State Stem Cell Fund through the New York State Department of Health (NYSTEM) (grants C028103 and C028121 to J.W.). J.W. is a recipient of an Irma T. Hirschl and Weill-Caulier Trusts Career Scientist Award, and M.F. is a recipient of a Ramón y Cajal contract (RYC-2014-16779) from the Ministerio de Economía y Competitividad of Spain. The research from the Shen laboratory is supported by the National Natural Science Foundation of China (31471219 and 31428010) and the Center for Life Sciences (CLS) at Tsinghua University. Additional support was provided by the Agencia Estatal de Investigación (BFU2016-80899-P to M.F.) (AEI/FEDER, UE) and the Consellería de Cultura, Educación e Ordenación Universitaria (ED431F 2016/016 to M.F.).
Ethics declarations
Competing interests
The authors declare no competing interests.
Additional information
Publisher's note: Springer Nature remains neutral with regard to jurisdictional claims in published maps and institutional affiliations.
Integrated supplementary information
Supplementary information
About this article
Cite this article
Guallar, D., Bi, X., Pardavila, J.A. et al. RNA-dependent chromatin targeting of TET2 for endogenous retrovirus control in pluripotent stem cells. Nat Genet 50, 443–451 (2018). https://doi.org/10.1038/s41588-018-0060-9
Received:

Accepted:

Published:

Issue Date: