Abstract
Amplification of the locus encoding the oncogenic transcription factor MYCN is a defining feature of high-risk neuroblastoma. Here we present the first dynamic chromatin and transcriptional landscape of MYCN perturbation in neuroblastoma. At oncogenic levels, MYCN associates with E-box binding motifs in an affinity-dependent manner, binding to strong canonical E-boxes at promoters and invading abundant weaker non-canonical E-boxes clustered at enhancers. Loss of MYCN leads to a global reduction in transcription, which is most pronounced at MYCN target genes with the greatest enhancer occupancy. These highly occupied MYCN target genes show tissue-specific expression and are linked to poor patient survival. The activity of genes with MYCN-occupied enhancers is dependent on the tissue-specific transcription factor TWIST1, which co-occupies enhancers with MYCN and is required for MYCN-dependent proliferation. These data implicate tissue-specific enhancers in defining often highly tumor-specific 'MYC target gene signatures' and identify disruption of the MYCN enhancer regulatory axis as a promising therapeutic strategy in neuroblastoma.
Your institute does not have access to this article
Relevant articles
Open Access articles citing this article.
Kai Voeltzke

,

Katerina Scharov

…

Gabriel Leprivier

Cell Death Discovery Open Access 04 April 2022

Kristina Ihrmark Lundberg

,

Diana Treis

&

John Inge Johnsen

Current Oncology Reports Open Access 01 April 2022

Mirco Ponzoni

,

Tiziana Bachetti

…

Patrizia Perri

Journal of Experimental & Clinical Cancer Research Open Access 11 March 2022
Access options
Subscribe to Nature+
Get immediate online access to the entire Nature family of 50+ journals
Subscribe to Journal
Get full journal access for 1 year
$59.00
only $4.92 per issue
All prices are NET prices.
VAT will be added later in the checkout.
Tax calculation will be finalised during checkout.
Buy article
Get time limited or full article access on ReadCube.
$32.00
All prices are NET prices.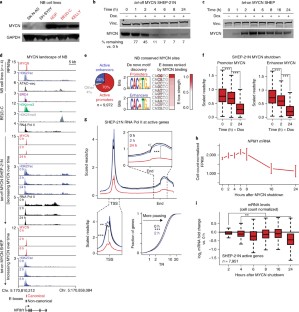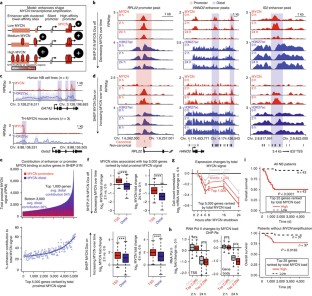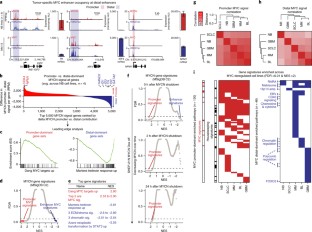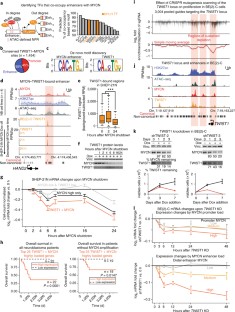 References
Beroukhim, R. et al. The landscape of somatic copy-number alteration across human cancers. Nature 463, 899–905 (2010).

Nesbit, C. E., Tersak, J. M. & Prochownik, E. V. MYC oncogenes and human neoplastic disease. Oncogene 18, 3004–3016 (1999).

Matthay, K. K., George, R. E. & Yu, A. L. Promising therapeutic targets in neuroblastoma. Clin. Cancer Res. 18, 2740–2753 (2012).

Seeger, R. C. et al. Association of multiple copies of the N-myc oncogene with rapid progression of neuroblastomas. N. Engl. J. Med. 313, 1111–1116 (1985).

Weiss, W. A., Aldape, K., Mohapatra, G., Feuerstein, B. G. & Bishop, J. M. Targeted expression of MYCN causes neuroblastoma in transgenic mice. EMBO J. 16, 2985–2995 (1997).

Wakamatsu, Y., Watanabe, Y., Nakamura, H. & Kondoh, H. Regulation of the neural crest cell fate by N-myc: promotion of ventral migration and neuronal differentiation. Development 124, 1953–1962 (1997).

Kang, J. H. et al. MYCN silencing induces differentiation and apoptosis in human neuroblastoma cells. Biochem. Biophys. Res. Commun. 351, 192–197 (2006).

Tweddle, D. A., Malcolm, A. J., Cole, M., Pearson, A. D. & Lunec, J. p53 cellular localization and function in neuroblastoma: evidence for defective G1 arrest despite WAF1 induction in MYCN-amplified cells. Am. J. Pathol. 158, 2067–2077 (2001).

Muth, D. et al. Transcriptional repression of SKP2 is impaired in MYCN-amplified neuroblastoma. Cancer Res. 70, 3791–3802 (2010).

Bell, E., Lunec, J. & Tweddle, D. A. Cell cycle regulation targets of MYCN identified by gene expression microarrays. Cell Cycle 6, 1249–1256 (2007).

Yaari, S. et al. Disruption of cooperation between Ras and MycN in human neuroblastoma cells promotes growth arrest. Clin. Cancer Res. 11, 4321–4330 (2005).

Tonelli, R. et al. Anti-gene peptide nucleic acid specifically inhibits MYCN expression in human neuroblastoma cells leading to cell growth inhibition and apoptosis. Mol. Cancer Ther. 4, 779–786 (2005).

Negroni, A. et al. Decrease of proliferation rate and induction of differentiation by a MYCN antisense DNA oligomer in a human neuroblastoma cell line. Cell Growth Diff. 2, 511–518 (1991).

Burkhart, C. A. et al. Effects of MYCN antisense oligonucleotide administration on tumorigenesis in a murine model of neuroblastoma. J. Natl. Cancer Inst. 95, 1394–1403 (2003).

Gustafson, W. C. et al. Drugging MYCN through an allosteric transition in Aurora kinase A. Cancer Cell 26, 414–427 (2014).

Chipumuro, E. et al. CDK7 inhibition suppresses super-enhancer-linked oncogenic transcription in MYCN-driven cancer. Cell 159, 1126–1139 (2014).

Puissant, A. et al. Targeting MYCN in neuroblastoma by BET bromodomain inhibition. Cancer Discov. 3, 308–323 (2013).

Nie, Z. et al. c-Myc is a universal amplifier of expressed genes in lymphocytes and embryonic stem cells. Cell 151, 68–79 (2012).

Lin, C. Y. et al. Transcriptional amplification in tumor cells with elevated c-Myc. Cell 151, 56–67 (2012).

Walz, S. et al. Activation and repression by oncogenic MYC shape tumour-specific gene expression profiles. Nature 511, 483–487 (2014).

Sabò, A. et al. Selective transcriptional regulation by Myc in cellular growth control and lymphomagenesis. Nature 511, 488–492 (2014).

Guccione, E. et al. Myc-binding-site recognition in the human genome is determined by chromatin context. Nat. Cell Biol. 8, 764–770 (2006).

Wolf, E., Lin, C. Y., Eilers, M. & Levens, D. L. Taming of the beast: shaping Myc-dependent amplification. Trends Cell Biol. 25, 241–248 (2015).

Lutz, W. et al. Conditional expression of N-myc in human neuroblastoma cells increases expression of α-prothymosin and ornithine decarboxylase and accelerates progression into S-phase early after mitogenic stimulation of quiescent cells. Oncogene 13, 803–812 (1996).

Lorenzin, F. et al. Different promoter affinities account for specificity in MYC-dependent gene regulation. eLife 5, e15161 (2016).

Orlando, D. A. et al. Quantitative ChIP–Seq normalization reveals global modulation of the epigenome. Cell Rep. 9, 1163–1170 (2014).

Kieffer-Kwon, K. R. et al. Myc regulates chromatin decompaction and nuclear architecture during B cell activation. Mol. Cell 67, 566–578 (2017).

Powers, J. T. et al. Multiple mechanisms disrupt the let-7 microRNA family in neuroblastoma. Nature 535, 246–251 (2016).

Modak, S. & Cheung, N. K. Neuroblastoma: therapeutic strategies for a clinical enigma. Cancer Treat. Rev. 36, 307–317 (2010).

Maniatis, T., Goodbourn, S. & Fischer, J. A. Regulation of inducible and tissue-specific gene expression. Science 236, 1237–1245 (1987).

Visel, A. et al. ChIP-seq accurately predicts tissue-specific activity of enhancers. Nature 457, 854–858 (2009).

Shaffer, A. L. et al. IRF4 addiction in multiple myeloma. Nature 454, 226–231 (2008).

Dang, C. V. et al. The c-Myc target gene network. Semin. Cancer Biol. 16, 253–264 (2006).

Ji, H. et al. Cell-type independent MYC target genes reveal a primordial signature involved in biomass accumulation. PLoS One 6, e26057 (2011).

Kim, Y. H. et al. Combined microarray analysis of small cell lung cancer reveals altered apoptotic balance and distinct expression signatures of MYC family gene amplification. Oncogene 25, 130–138 (2006).

Schlosser, I. et al. Dissection of transcriptional programmes in response to serum and c-Myc in a human B-cell line. Oncogene 24, 520–524 (2005).

Schuhmacher, M. et al. The transcriptional program of a human B cell line in response to Myc. Nucleic Acids Res. 29, 397–406 (2001).

Zeller, K. I., Jegga, A. G., Aronow, B. J., O'Donnell, K. A. & Dang, C. V. An integrated database of genes responsive to the Myc oncogenic transcription factor: identification of direct genomic targets. Genome Biol. 4, R69 (2003).

Matthay, K. K. et al. Treatment of high-risk neuroblastoma with intensive chemotherapy, radiotherapy, autologous bone marrow transplantation, and 13-cis-retinoic acid. N. Engl. J. Med. 341, 1165–1173 (1999).

Wong, M. P. et al. Chromosomal aberrations of primary lung adenocarcinomas in nonsmokers. Cancer 97, 1263–1270 (2003).

Aggarwal, R., Ghobrial, I. M. & Roodman, G. D. Chemokines in multiple myeloma. Exp. Hematol. 34, 1289–1295 (2006).

Pellat-Deceunynck, C. et al. Expression of CD28 and CD40 in human myeloma cells: a comparative study with normal plasma cells. Blood 84, 2597–2603 (1994).

Tong, A. W. et al. CD40 ligand-induced apoptosis is Fas-independent in human multiple myeloma cells. Leuk. Lymphoma 36, 543–558 (2000).

Westendorf, J. J. et al. CD40 expression in malignant plasma cells. Role in stimulation of autocrine IL-6 secretion by a human myeloma cell line. J. Immunol. 152, 117–128 (1994).

Staege, M. S. et al. MYC overexpression imposes a nonimmunogenic phenotype on Epstein–Barr virus–infected B cells. Proc. Natl Acad. Sci. USA 99, 4550–4555 (2002).

Masui, K. et al. mTOR complex 2 controls glycolytic metabolism in glioblastoma through FoxO acetylation and upregulation of c-Myc. Cell Metab. 18, 726–739 (2013).

Suvà, M. L. et al. EZH2 is essential for glioblastoma cancer stem cell maintenance. Cancer Res. 69, 9211–9218 (2009).

Wang, C. et al. EZH2 mediates epigenetic silencing of neuroblastoma suppressor genes CASZ1, CLU, RUNX3, and NGFR. Cancer Res. 72, 315–324 (2012).

Hnisz, D. et al. Super-enhancers in the control of cell identity and disease. Cell 155, 934–947 (2013).

Whyte, W. A. et al. Master transcription factors and mediator establish super-enhancers at key cell identity genes. Cell 153, 307–319 (2013).

Lin, C. Y. et al. Active medulloblastoma enhancers reveal subgroup-specific cellular origins. Nature 530, 57–62 (2016).

Saint-André, V. et al. Models of human core transcriptional regulatory circuitries. Genome Res. 26, 385–396 (2016).

Geerts, D., Schilderink, N., Jorritsma, G. & Versteeg, R. The role of the MEIS homeobox genes in neuroblastoma. Cancer Lett. 197, 87–92 (2003).

Dowen, J. M. et al. Control of cell identity genes occurs in insulated neighborhoods in mammalian chromosomes. Cell 159, 374–387 (2014).

Reiff, T. et al. Neuroblastoma Phox2b variants stimulate proliferation and dedifferentiation of immature sympathetic neurons. J. Neurosci. 30, 905–915 (2010).

Boeva, V. et al. Heterogeneity of neuroblastoma cell identity defined by transcriptional circuitries. Nat. Genet. 49, 1408–1413 (2017).

van Groningen, T. et al. Neuroblastoma is composed of two super-enhancer-associated differentiation states. Nat. Genet. 49, 1261–1266 (2017).

Entz‐Werlé, N. et al. Frequent genomic abnormalities at TWIST in human pediatric osteosarcomas. Int. J. Cancer 117, 349–355 (2005).

Kwok, W. K. et al. Up-regulation of TWIST in prostate cancer and its implication as a therapeutic target. Cancer Res. 65, 5153–5162 (2005).

Kyo, S. et al. High Twist expression is involved in infiltrative endometrial cancer and affects patient survival. Hum. Pathol. 37, 431–438 (2006).

Valsesia-Wittmann, S. et al. Oncogenic cooperation between H-Twist and N-Myc overrides failsafe programs in cancer cells. Cancer Cell 6, 625–630 (2004).

Littlewood, T. D., Kreuzaler, P. & Evan, G. I. All things to all people. Cell 151, 11–13 (2012).

Workman, P. et al. Guidelines for the welfare and use of animals in cancer research. Br. J. Cancer 102, 1555–1577 (2010).

Oberthuer, A. et al. Comparison of performance of one-color and two-color gene-expression analyses in predicting clinical endpoints of neuroblastoma patients. Pharmacogenomics J. 10, 258–266 (2010).

Chapuy, B. et al. Discovery and characterization of super-enhancer-associated dependencies in diffuse large B cell lymphoma. Cancer Cell 24, 777–790 (2013).

Shalem, O. et al. Genome-scale CRISPR–Cas9 knockout screening in human cells. Science 343, 84–87 (2014).
Acknowledgements
We thank Z. Herbert for his expertise and guidance with next-generation sequencing. We thank R. Young and D. Hnisz for assistance with reagents. We thank P. Rahl, C. Ott, and J. Perry for helpful comments on the manuscript. C.Y.L. is supported by the Cancer Prevention Research Institute of Texas (RR150093) and by the NCI (1R01CA215452-01), and is a Pew-Stewart Scholar for Cancer Research (Alexander and Margaret Stewart Trust). R.Z. and J.E.B. are supported by the V Foundation for Cancer Research Translational Grant.
Ethics declarations
Competing interests
R.Z. is now an employee of C4 Therapeutics. C.Y.L. is a consultant of Jnana Therapeutics and is a shareholder and inventor of intellectual property licensed to Syros Pharmaceuticals. J.E.B. is a Scientific Founder of Syros Pharmaceuticals, SHAPE Pharmaceuticals, Acetylon Pharmaceuticals, Tensha Therapeutics (now Roche), and C4 Therapeutics and is the inventor on intellectual property licensed to these entities. J.E.B. is now an executive and shareholder in Novartis AG.
Additional information
Publisher's note: Springer Nature remains neutral with regard to jurisdictional claims in published maps and institutional affiliations.
Integrated supplementary information
Supplementary information
About this article
Cite this article
Zeid, R., Lawlor, M.A., Poon, E. et al. Enhancer invasion shapes MYCN-dependent transcriptional amplification in neuroblastoma. Nat Genet 50, 515–523 (2018). https://doi.org/10.1038/s41588-018-0044-9
Received:

Accepted:

Published:

Issue Date:

DOI: https://doi.org/10.1038/s41588-018-0044-9