What allows bacteria, both pathogens and mutualists alike, to survive in close association with a eukaryotic host? A new study performed a large-scale comparative genomics analysis to identify novel genetic and genomic traits that are enriched in plant-associated bacterial taxa.
Access options
Subscribe to Journal
Get full journal access for 1 year
$59.00
only $4.92 per issue
All prices are NET prices.
VAT will be added later in the checkout.
Tax calculation will be finalised during checkout.
Rent or Buy article
Get time limited or full article access on ReadCube.
from$8.99
All prices are NET prices.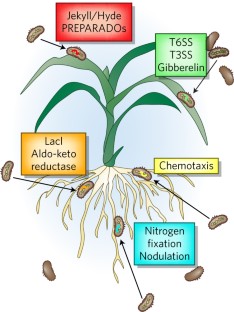 References
1.

Hacquard, S. et al. Cell Host Microbe 17, 603–616 (2015).

2.

Pel, M. J. C. & Pieterse, C. M. J. J. Exp. Bot. 64, 1237–1248 (2013).

3.

Levy, A. et al. Nat. Genet. https://doi.org/10.1038/s41588-017-0012-9 (2017).

4.

Porter, S. S., Chang, P. L., Conow, C. A., Dunham, J. P. & Friesen, M. L. ISME J. 11, 248–262 (2017).

5.

Nowell, R. W., Laue, B. E., Sharp, P. M. & Green, S. Mol. Plant Pathol. 17, 1409–1424 (2016).

6.

Ali, S., Duan, J., Charles, T. C. & Glick, B. R. J. Theor. Biol. 343, 193–198 (2014).

7.

Loper, J. E. et al. PLoS Genet. 8, e1002784 (2012).

8.

Ho, B. T., Dong, T. G. & Mekalanos, J. J. Cell Host Microbe 15, 9–21 (2014).

9.

Xin, X.-F. & He, S. Y. Annu. Rev. Phytopathol. 51, 473–498 (2013).

10.

Kereszt, A., Mergaert, P., Maróti, G. & Kondorosi, E. Curr. Opin. Microbiol. 14, 76–81 (2011).

11.

Busby, P. E. et al. PLoS Biol. 15, e2001793 (2017).

12.

Vorholt, J. A., Vogel, C., Carlström, C. I. & Müller, D. B. Cell Host Microbe 22, 142–155 (2017).
Ethics declarations
Competing interests
The authors declare no competing financial interests.
About this article
Cite this article
Melnyk, R.A., Haney, C.H. Bacterial genomics of plant adaptation. Nat Genet 50, 2–4 (2018). https://doi.org/10.1038/s41588-017-0019-2