Abstract
Although single-nucleotide variants (SNVs) make up the majority of cancer-associated genetic changes and have been comprehensively catalogued, little is known about their impact on tumor initiation and progression. To enable the functional interrogation of cancer-associated SNVs, we developed a mouse system for temporal and regulatable in vivo base editing. The inducible base editing (iBE) mouse carries a single expression-optimized cytosine base editor transgene under the control of a tetracycline response element and enables robust, doxycycline-dependent expression across a broad range of tissues in vivo. Combined with plasmid-based or synthetic guide RNAs, iBE drives efficient engineering of individual or multiple SNVs in intestinal, lung and pancreatic organoids. Temporal regulation of base editor activity allows controlled sequential genome editing ex vivo and in vivo, and delivery of sgRNAs directly to target tissues facilitates generation of in situ preclinical cancer models.
Access options
Access Nature and 54 other Nature Portfolio journals
Get Nature+, our best-value online-access subscription
$29.99 / 30 days
cancel any time
Subscribe to this journal
Receive 12 print issues and online access
$209.00 per year
only $17.42 per issue
Rent or buy this article
Prices vary by article type
from$1.95
to$39.95
Prices may be subject to local taxes which are calculated during checkout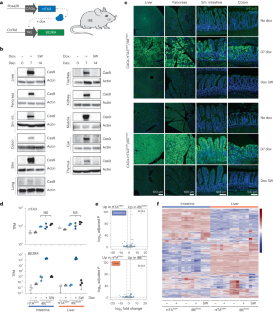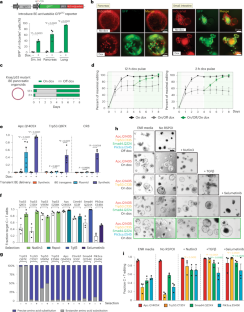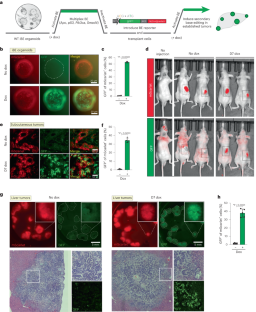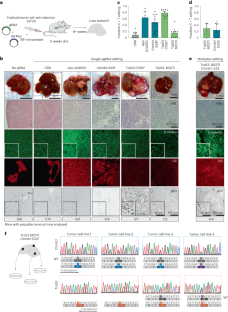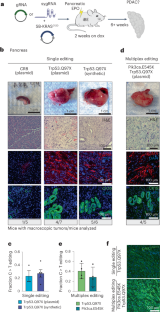 Data availability
All source data (including P values) are available in Supplementary Table 5. Raw FASTQ files have been deposited in the Sequence Read Archive under accession number PRJNA859154. Processed RNA-seq data (transcripts per million values and differentially expressed genes) are available in Supplementary Table 2.
References
Goodwin, S., McPherson, J. D. & McCombie, W. R. Coming of age: ten years of next-generation sequencing technologies. Nat. Rev. Genet. 17, 333–351 (2016).

Landrum, M. J. et al. ClinVar: public archive of interpretations of clinically relevant variants. Nucleic Acids Res. 44, D862–D868 (2016).

Vogelstein, B. et al. Cancer genome landscapes. Science 339, 1546–1558 (2013).

Vivanco, I. et al. Differential sensitivity of glioma- versus lung cancer-specific EGFR mutations to EGFR kinase inhibitors. Cancer Discov. 2, 458–471 (2012).

Hyman, D. M. et al. AKT inhibition in solid tumors with AKT1 mutations. J. Clin. Oncol. 35, 2251–2259 (2017).

Vasan, N. et al. Double PIK3CA mutations in cis increase oncogenicity and sensitivity to PI3Kα inhibitors. Science 366, 714–723 (2019).

Findlay, G. M. et al. Accurate classification of BRCA1 variants with saturation genome editing. Nature 562, 217–222 (2018).

Zafra, M. P. et al. Optimized base editors enable efficient editing in cells, organoids and mice. Nat. Biotechnol. 36, 888–893 (2018).

Komor, A. C., Kim, Y. B., Packer, M. S., Zuris, J. A. & Liu, D. R. Programmable editing of a target base in genomic DNA without double-stranded DNA cleavage. Nature 533, 420–424 (2016).

Gaudelli, N. M. et al. Programmable base editing of A•T to G•C in genomic DNA without DNA cleavage. Nature 551, 464–471 (2017).

Gaudelli, N. M. et al. Directed evolution of adenine base editors with increased activity and therapeutic application. Nat. Biotechnol. 38, 892–900 (2020).

Komor, A. C. et al. Improved base excision repair inhibition and bacteriophage Mu Gam protein yields C:G-to-T:A base editors with higher efficiency and product purity. Sci. Adv. 3, eaao4774 (2017).

Rothgangl, T. et al. In vivo adenine base editing of PCSK9 in macaques reduces LDL cholesterol levels. Nat. Biotechnol. 39, 949–957 (2021).

Villiger, L. et al. In vivo cytidine base editing of hepatocytes without detectable off-target mutations in RNA and DNA. Nat. Biomed. Eng. 5, 179–189 (2021).

Villiger, L. et al. Treatment of a metabolic liver disease by in vivo genome base editing in adult mice. Nat. Med. 24, 1519–1525 (2018).

Song, C.-Q. et al. Adenine base editing in an adult mouse model of tyrosinaemia. Nat. Biomed. Eng. 4, 125–130 (2019).

Yeh, W. H., Chiang, H., Rees, H. A., Edge, A. S. B. & Liu, D. R. In vivo base editing of post-mitotic sensory cells. Nat. Commun. 9, 2184 (2018).

Banskota, S. et al. Engineered virus-like particles for efficient in vivo delivery of therapeutic proteins. Cell 185, 250–265 (2022).

Ryu, S. M. et al. Adenine base editing in mouse embryos and an adult mouse model of Duchenne muscular dystrophy. Nat. Biotechnol. 36, 536–539 (2018).

Yang, L. et al. Amelioration of an inherited metabolic liver disease through creation of a de novo start codon by cytidine base editing. Mol. Ther. 28, 1673–1683 (2020).

Dow, L. E. et al. Conditional reverse tet-transactivator mouse strains for the efficient induction of TRE-regulated transgenes in mice. PLoS ONE 9, e95236 (2014).

Premsrirut, P. K. et al. A rapid and scalable system for studying gene function in mice using conditional RNA interference. Cell 145, 145–158 (2011).

Grunewald, J. et al. CRISPR DNA base editors with reduced RNA off-target and self-editing activities. Nat. Biotechnol. 37, 1041–1048 (2019).

Yan, N. et al. Cytosine base editors induce off-target mutations and adverse phenotypic effects in transgenic mice. Nat. Commun. 14, 1784 (2023).

Zehir, A. et al. Mutational landscape of metastatic cancer revealed from prospective clinical sequencing of 10,000 patients. Nat. Med. 23, 703–713 (2017).

Zafra, M. P. et al. An in vivo Kras allelic series reveals distinct phenotypes of common oncogenic variants. Cancer Discov. 10, 1654–1671 (2020).

Schatoff, E. M. et al. Distinct CRC-associated APC mutations dictate response to tankyrase inhibition. Cancer Discov. 9, 1358–1371 (2019).

Katti, A. et al. GO: a functional reporter system to identify and enrich base editing activity. Nucleic Acids Res. 48, 2841–2852 (2020).

Sanchez-Rivera, F. J. et al. Base editing sensor libraries for high-throughput engineering and functional analysis of cancer-associated single nucleotide variants. Nat. Biotechnol. 40, 862–873 (2022).

Mehta, A. & Merkel, O. M. Immunogenicity of Cas9 protein. J. Pharm. Sci. 109, 62–67 (2020).

Chew, W. L. et al. A multifunctional AAV–CRISPR–Cas9 and its host response. Nat. Methods 13, 868–874 (2016).

Wang, D. et al. Adenovirus-mediated somatic genome editing of Pten by CRISPR/Cas9 in mouse liver in spite of Cas9-specific immune responses. Hum. Gene Ther. 26, 432–442 (2015).

Ruiz de Galarreta, M. et al. β-catenin activation promotes immune escape and resistance to anti-PD-1 therapy in hepatocellular carcinoma. Cancer Discov. 9, 1124–1141 (2019).

Calvisi, D. F. et al. Activation of the canonical Wnt/β-catenin pathway confers growth advantages in c-Myc/E2F1 transgenic mouse model of liver cancer. J. Hepatol. 42, 842–849 (2005).

Hingorani, S. R. et al. Trp53R172H and KrasG12D cooperate to promote chromosomal instability and widely metastatic pancreatic ductal adenocarcinoma in mice. Cancer Cell 7, 469–483 (2005).

Alsner, J. et al. A comparison between p53 accumulation determined by immunohistochemistry and TP53 mutations as prognostic variables in tumours from breast cancer patients. Acta Oncol. 47, 600–607 (2008).

Freed-Pastor, W. A. & Prives, C. Mutant p53: one name, many proteins. Genes Dev. 26, 1268–1286 (2012).

Bartek, J., Iggo, R., Gannon, J. & Lane, D. P. Genetic and immunochemical analysis of mutant p53 in human breast cancer cell lines. Oncogene 5, 893–899 (1990).

Maresch, R. et al. Multiplexed pancreatic genome engineering and cancer induction by transfection-based CRISPR/Cas9 delivery in mice. Nat. Commun. 7, 10770 (2016).

Park, J. S. et al. Pancreatic cancer induced by in vivo electroporation-enhanced sleeping beauty transposon gene delivery system in mouse. Pancreas 43, 614–618 (2014).

Annunziato, S. et al. In situ CRISPR–Cas9 base editing for the development of genetically engineered mouse models of breast cancer. EMBO J. 39, e102169 (2020).

Zhou, C. et al. Off-target RNA mutation induced by DNA base editing and its elimination by mutagenesis. Nature 571, 275–278 (2019).

Arbab, M. et al. Determinants of base editing outcomes from target library analysis and machine learning. Cell 182, 463–480 (2020).

Marquart, K. F. et al. Predicting base editing outcomes with an attention-based deep learning algorithm trained on high-throughput target library screens. Nat. Commun. 12, 5114 (2021).

Pallaseni, A. et al. Predicting base editing outcomes using position-specific sequence determinants. Nucleic Acids Res. 50, 3551–3564 (2022).

Park, J. & Kim, H. K. Prediction of base editing efficiencies and outcomes using DeepABE and DeepCBE. Methods Mol. Biol. 2606, 23–32 (2023).

Kim, Y. et al. High-throughput functional evaluation of human cancer-associated mutations using base editors. Nat. Biotechnol. 40, 874–884 (2022).

Winters, I. P. et al. Multiplexed in vivo homology-directed repair and tumor barcoding enables parallel quantification of Kras variant oncogenicity. Nat. Commun. 8, 2053 (2017).

Bock, D. et al. In vivo prime editing of a metabolic liver disease in mice. Sci. Transl. Med. 14, eabl9238 (2022).

Davis, J. R. et al. Efficient prime editing in mouse brain, liver and heart with dual AAVs. Nat. Biotechnol. https://doi.org/10.1038/s41587-023-01758-z (2023).

Dow, L. E. et al. A pipeline for the generation of shRNA transgenic mice. Nat. Protoc. 7, 374–393 (2012).

O'Rourke, K. P., Ackerman, S., Dow, L. E. & Lowe, S. W. Isolation, culture, and maintenance of mouse intestinal stem cells. Bio Protoc. 6, e1733 (2016).

Huch, M. et al. Unlimited in vitro expansion of adult bi-potent pancreas progenitors through the Lgr5/R-spondin axis. EMBO J. 32, 2708–2721 (2013).

Zafra, M. P. et al. An in vivo Kras allelic series reveals distinct phenotypes of common ocogenic variants. Cancer Discov. 10, 1654–1671 (2020).

Amen, A. M. et al. Endogenous spacing enables co-processing of microRNAs and efficient combinatorial RNAi. Cell Rep. Methods 2, 100239 (2022).

Dobin, A. et al. STAR: ultrafast universal RNA-seq aligner. Bioinformatics 29, 15–21 (2013).

Love, M. I., Huber, W. & Anders, S. Moderated estimation of fold change and dispersion for RNA-seq data with DESeq2. Genome Biol. 15, 550 (2014).

Finn, J. D. et al. A single administration of CRISPR/Cas9 lipid nanoparticles achieves robust and persistent in vivo genome editing. Cell Rep. 22, 2227–2235 (2018).

Paffenholz Stella, V. et al. Senescence induction dictates response to chemo- and immunotherapy in preclinical models of ovarian cancer. Proc. Natl Acad. Sci. USA 119, e2117754119 (2022).

Leibold, J. et al. Somatic tissue engineering in mouse models reveals an actionable role for WNT pathway alterations in prostate cancer metastasis. Cancer Discov. 10, 1038–1057 (2020).
Acknowledgements
We thank members of the Dow laboratory for advice and comments on the preparation of the paper. We would like to acknowledge K. Tsanov and J. Leibold for assistance and advice in setting up the pancreas EPO protocol. The content is solely the responsibility of the authors and does not necessarily represent the official views of the National Institutes of Health (NIH). This work was supported by a project grant from the NIH (R01CA229773), P01 CA087497 (S.W.L.), an MSKCC Functional Genomics Initiative grant (S.W.L.), an Agilent Technologies Thought Leader Award (S.W.L.) and support from Synthego under a Synthego Innovator Award (L.E.D.). A.K. was supported by an F31 Ruth L. Kirschstein Predoctoral Individual National Research Service Award (F31-CA247351-02). A.V. was supported by a Postdoctoral Fellowship from the Human Frontier Scientific Program (LT0011/2023-L). B.J.D. was supported by an F31 Ruth L. Kirschstein Predoctoral Individual National Research Service Award (F31-CA261061-01). E.E.G. is the Kenneth G. and Elaine A. Langone Fellow of the Damon Runyon Cancer Research Foundation (DRG-2343-18). F.J.S.R. was supported by the MSKCC TROT program (5T32CA160001) and a GMTEC Postdoctoral Researcher Innovation Grant and is a Howard Hughes Medical Institute (HHMI) Hanna Gray Fellow. S.W.L. is an HHMI investigator.
Ethics declarations
Competing interests
L.E.D. is a scientific advisor and holds equity in Mirimus, Inc. L.E.D. has received consulting fees and/or honoraria from Volastra Therapeutics, Revolution Medicines, Repare Therapeutics, Fog Pharma and Frazier Healthcare Partners. S.W.L is an advisor for and has equity in the following biotechnology companies: ORIC Pharmaceuticals, Faeth Therapeutics, Blueprint Medicines, Geras Bio, Mirimus, Inc., PMV Pharmaceuticals and Constellation Pharmaceuticals. S.W.L. acknowledges receiving funding and research support from Agilent Technologies for the purposes of massively parallel oligo synthesis. K.H., A.P.K. and J.A.W. are employees and shareholders of Synthego Corporation.
Peer review
Peer review information
Nature Biotechnology thanks the anonymous reviewers for their contribution to the peer review of this work.
Additional information
Publisher's note Springer Nature remains neutral with regard to jurisdictional claims in published maps and institutional affiliations.
Supplementary information
Rights and permissions
Springer Nature or its licensor (e.g. a society or other partner) holds exclusive rights to this article under a publishing agreement with the author(s) or other rightsholder(s); author self-archiving of the accepted manuscript version of this article is solely governed by the terms of such publishing agreement and applicable law.
About this article
Cite this article
Katti, A., Vega-Pérez, A., Foronda, M. et al. Generation of precision preclinical cancer models using regulated in vivo base editing. Nat Biotechnol (2023). https://doi.org/10.1038/s41587-023-01900-x
Received:

Accepted:

Published:

DOI: https://doi.org/10.1038/s41587-023-01900-x