Abstract
Homologous recombination (HR)-based gene therapy using adeno-associated viruses (AAV-HR) without nucleases has several advantages over classic gene therapy, especially the potential for permanent transgene expression. However, the low efficiency of AAV-HR remains a major limitation. Here, we tested a series of small-molecule compounds and found that ribonucleotide reductase (RNR) inhibitors substantially enhance AAV-HR efficiency in mouse and human liver cell lines approximately threefold. Short-term administration of the RNR inhibitor fludarabine increased the in vivo efficiency of both non-nuclease- and CRISPR/Cas9-mediated AAV-HR two- to sevenfold in the murine liver, without causing overt toxicity. Fludarabine administration induced transient DNA damage signaling in both proliferating and quiescent hepatocytes. Notably, the majority of AAV-HR events occurred in non-proliferating hepatocytes in both fludarabine-treated and control mice, suggesting that the induction of transient DNA repair signaling in non-dividing hepatocytes was responsible for enhancing AAV-HR efficiency in mice. These results suggest that use of a clinically approved RNR inhibitor can potentiate AAV-HR-based genome-editing therapeutics.
Access options
Subscribe to Nature+
Get immediate online access to the entire Nature family of 50+ journals
Subscribe to Journal
Get full journal access for 1 year
$99.00
only $8.25 per issue
All prices are NET prices.
VAT will be added later in the checkout.
Tax calculation will be finalised during checkout.
Buy article
Get time limited or full article access on ReadCube.
$32.00
All prices are NET prices.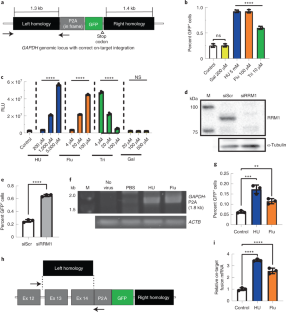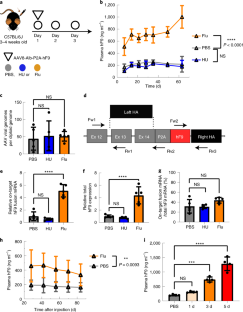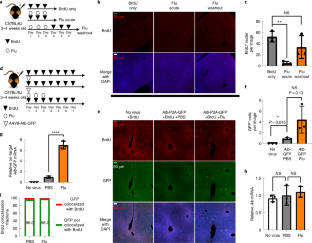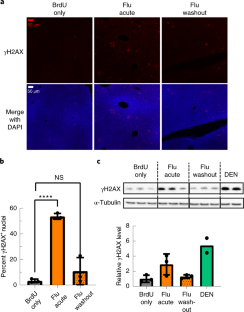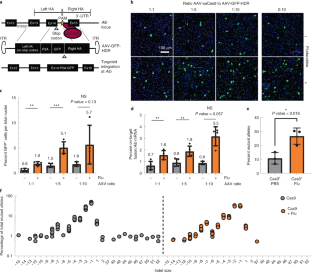 Data availability
The data generated in this manuscript are fully available upon reasonable request made to the corresponding author. Source data are provided with this paper.
References
Kotterman, M. A. & Schaffer, D. V. Engineering adeno-associated viruses for clinical gene therapy. Nat. Rev. Genet. 15, 445–451 (2014).

Keeler, A. M. & Flotte, T. R. Recombinant adeno-associated virus gene therapy in light of Luxturna (and Zolgensma and Glybera): where are we, and how did we get here? Annu. Rev. Virol. 6, 601–621 (2019).

Wang, L., Wang, H., Bell, P., Mcmenamin, D. & Wilson, J. M. Brief report hepatic gene transfer in neonatal mice by adeno-associated virus serotype 8 vector. Hum. Gene Ther. 23, 533–539 (2011).

Wang, L. et al. AAV8-mediated hepatic gene transfer in infant rhesus monkeys (Macaca mulatta). Mol. Ther. 19, 2012–2020 (2012).

Cunningham, S. C., Dane, A. P., Spinoulas, A. & Alexander, I. E. Gene delivery to the juvenile mouse liver using AAV2/8 vectors. Mol. Ther. 16, 1081–1088 (2008).

Barzel, A. et al. Promoterless gene targeting without nucleases ameliorates haemophilia B in mice. Nature 517, 360–364 (2015).

Porro, F. et al. Promoterless gene targeting without nucleases rescues lethality of a Crigler–Najjar syndrome mouse model. EMBO Mol. Med. 9, 1346–1355 (2017).

Hösel, M. et al. Autophagy determines efficiency of liver-directed gene therapy with adeno-associated viral vectors. Hepatology 66, 252–265 (2017).

Schreiber, C. A. et al. An siRNA screen identifies the U2 snRNP spliceosome as a host restriction factor for recombinant adeno-associated viruses. PLoS Pathog. 11, e1005082 (2015).

Johnson, J. S. & Samulski, R. J. Enhancement of adeno-associated virus infection by mobilizing capsids into and out of the nucleolus. J. Virol. 83, 2632–2644 (2009).

Kia, A., Yata, T., Hajji, N. & Hajitou, A. Inhibition of histone deacetylation and DNA methylation improves gene expression mediated by the adeno-associated virus/phage in cancer cells. Viruses 5, 2561–2572 (2013).

Okada, T. et al. A histone deacetylase inhibitor enhances recombinant adeno-associated virus-mediated gene expression in tumor cells. Mol. Ther. 13, 738–746 (2006).

Russell, D. W., Alexander, I. E. & Miller, A. D. DNA synthesis and topoisomerase inhibitors increase transduction by adeno-associated virus vectors. Proc. Natl Acad. Sci. USA 92, 5719–5723 (1995).

Nicolson, S. C., Li, C., Hirsch, M. L., Setola, V. & Samulski, R. J. Identification and validation of small molecules that enhance recombinant adeno-associated virus transduction following high-throughput screens. J. Virol. 90, 7019–7031 (2016).

Zhong, L. et al. Heat-shock treatment-mediated increase in transduction by recombinant adeno-associated virus 2 vectors is independent of the cellular heat-shock protein 90. J. Biol. Chem. 279, 12714–12723 (2004).

Marcus-Sekura, C. J. & Carter, B. J. Chromatin-like structure of adeno-associated virus DNA in infected cells. J. Virol. 48, 79–87 (1983).

de Alencastro, G. et al. Improved genome editing through inhibition of FANCM and members of the BTR dissolvase complex. Mol. Ther. 29.3, 1016–1027 (2021).

Aye, Y., Li, M., Long, M. J. C. & Weiss, R. S. Ribonucleotide reductase and cancer: biological mechanisms and targeted therapies. Oncogene 34, 2011–2021 (2015).

De Caneva, A. et al. Coupling AAV-mediated promoterless gene targeting to SaCas9 nuclease to efficiently correct liver metabolic diseases. JCI Insight 5, e128863. (2019).

Maurer-Schultze, B., Siebert, M. & Bassukas, I. D. An in vivo study on the synchronizing effect of hydroxyurea. Exp. Cell. Res. 174, 230–243 (1988).

Wongt, E. A. & Capecchi, M. R. Homologous recombination between coinjected DNA sequences peaks in early to mid-S phase. Mol. Cell Biol. 7, 2294–2295 (1987).

Rothkamm, K., Krüger, I., Thompson, L. H., Löbrich, M. & Biophysik, F. Pathways of DNA double-strand break repair during the mammalian cell cycle the induction and repair of individual IR-induced DSBs. Mol. Cell. Biol. 23, 5706–5715 (2003).

Heyer, W.-D., Ehmsen, K. T. & Liu, J. Regulation of homologous recombination in eukaryotes. Annu. Rev. Genet. 44, 113–139 (2010).

Sandoval, A., Consoli, U., Plunkett, W. & Anderson, M. D. Fludarabine-mediated inhibition of nucleotide excision repair induces apoptosis in quiescent human lymphocytes. Clin. Cancer Res. 2, 1731–1741 (1996).

Huang, P., Chubb, S. & Plunketts, W. Termination of DNA synthesis by 9-β-d-arabinofuranosyl-2-fluoroadenine. A mechanism for cytotoxicity. J. Biol. Chem. 265, 16617–16625 (1990).

Huang, P., Sandoval, A., Van Den Neste, E., Keating, M. J. & Plunkett, W. Inhibition of RNA transcription: a biochemical mechanism of action against chronic lymphocytic leukemia cells by fludarabine. Leukemia 14, 1405–1413 (2000).

Pettitt, A. R. Mechanism of action of purine analogues in chronic lymphocytic leukaemia. Br. J. Haematol. 121, 692–702 (2003).

Tseng, W. C., Derse, D., Cheng, Y. C., Brockman, R. W. & Bennett, L. L. In vitro biological activity of 9-β-d-arabinofuranosyl-2-fluoroadenine and the biochemical actions of its triphosphate on DNA polymerases and ribonucleotide reductase from HeLa cells. Mol. Pharmacol. 21, 474–477 (1982).

Lans, H., Hoeijmakers, J. H. J., Vermeulen, W. & Marteijn, J. A. The DNA damage response to transcription stress. Nat. Rev. Mol. Cell Biol. 20, 766–784 (2019).

Yasuhara, T. et al. Human Rad52 promotes XPG-mediated R-loop processing to initiate transcription-associated homologous recombination repair. Cell 175, 558–570 (2018).

Stoimenov, I., Gottipati, P., Schultz, N. & Helleday, T. Transcription inhibition by 5,6-dichloro-1-β-d-ribofuranosylbenzimidazole (DRB) causes DNA damage and triggers homologous recombination repair in mammalian cells. Mutat. Res. 706, 1–6 (2011).

Stiff, T. et al. ATM and DNA-PK function redundantly to phosphorylate H2AX after exposure to ionizing radiation. Cancer Res. 64, 2390–2396 (2004).

Den Engelse, L. & Philippus, E. J. In vivo repair of rat liver DNA damaged by dimethylnitrosamine or diethylnitrosamine. Chem. Biol. Interact. 19, 111–124 (1977).

Ferrara, L., Parekh-Olmedo, H. & Kmiec, E. B. Enhanced oligonucleotide-directed gene targeting in mammalian cells following treatment with DNA damaging agents. Exp. Cell. Res. 300, 170–179 (2004).

Porteus, M. H., Cathomen, T., Weitzman, M. D. & Baltimore, D. Efficient gene targeting mediated by adeno-associated virus and DNA double-strand breaks. Mol. Cell. Biol. 23, 3558–3565 (2003).

Sentmanat, M. F., Peters, S. T., Florian, C. P., Connelly, J. P. & Pruett-Miller, S. M. A survey of validation strategies for CRISPR–Cas9 editing. Sci. Rep. 8, 888 (2018).

Ju, H. Y., et al. Pharmacokinetics of fludarabine in pediatric hematopoietic stem cell transplantation. Blood 124, 2466–2466 (2014).

Maruyama, T. et al. Increasing the efficiency of precise genome editing with CRISPR–Cas9 by inhibition of nonhomologous end joining. Nat. Biotechnol. 33, 538–542 (2015).

Lin, S., Staahl, B. T., Alla, R. K. & Doudna, J. A. Enhanced homology-directed human genome engineering by controlled timing of CRISPR/Cas9 delivery. eLife 3, e04766 (2014).

Yu, C. et al. Small molecules enhance CRISPR genome editing in pluripotent stem cells. Cell Stem Cell 16.2, 142–147 (2015).

Vasileva, A., Linden, R. M. & Jessberger, R. Homologous recombination is required for AAV-mediated gene targeting. Nucleic Acids Res. 34, 3345–3360 (2006).

Song, J. et al. RS-1 enhances CRISPR/Cas9-and TALEN-mediated knock-in efficiency. Nat. Commun. 7, 10548 (2016).

Zhang, W. et al. A high-throughput small molecule screen identifies farrerol as a potentiator of CRISPR/Cas9-mediated genome editing. eLife 9, e56008 (2020).

Zhao, T. et al. Small-molecule compounds boost genome-editing efficiency of cytosine base editor. Nucleic Acids Res. 49, 8974–8986 (2021).

Chandler, R. J. et al. Vector design influences hepatic genotoxicity after adeno-associated virus gene therapy. J. Clin. Invest. 125, 870–880 (2015).

Montini, E. et al. The genotoxic potential of retroviral vectors is strongly modulated by vector design and integration site selection in a mouse model of HSC gene therapy. J. Clin. Invest. 119, 964–975 (2009).

Chandler, R. J. et al. Promoterless, nuclease‐free genome editing confers a growth advantage for corrected hepatocytes in mice with methylmalonic acidemia. Hepatology 73, 2223–2237 (2021).

Trobridge, G., Hirata, R. K. & Russell, D. W. Gene targeting by adeno-associated virus vectors is cell-cycle dependent. Hum. Gene Ther. 16, 522–526 (2005).

Kohama, Y. et al. Adeno-associated virus-mediated gene delivery promotes S-phase entry-independent precise targeted integration in cardiomyocytes. Sci. Rep. 10, 15348 (2020).

Huang, P. & Plunkett, W. Action of 9-β-d-arabinofuranosyl-2-fluoroadenine on RNA metabolism. Mol. Pharmacol. 39, 449–455 (1991).

Mailand, N. et al. RNF8 ubiquitylates histones at DNA double-strand breaks and promotes assembly of repair proteins. Cell 131, 887–900 (2007).

Ji, J. H. et al. De novo phosphorylation of H2AX by WSTF regulates transcription-coupled homologous recombination repair. Nucleic Acids Res. 47, 6299–6314 (2019).

Mano, M., Ippodrino, R., Zentilin, L., Zacchigna, S. & Giacca, M. Genome-wide RNAi screening identifies host restriction factors critical for in vivo AAV transduction. Proc. Natl Acad. Sci. USA 112, 11276–11281 (2015).

Cervelli, T. et al. Processing of recombinant AAV genomes occurs in specific nuclear structures that overlap with foci of DNA-damage-response proteins. J. Cell Sci. 121, 349–357 (2008).

Pekrun, K. et al. Using a barcoded AAV capsid library to select for clinically relevant gene therapy vectors. JCI Insight 4, e131610 (2019).

Lu, J. et al. A 5′ noncoding exon containing engineered intron enhances transgene expression from recombinant AAV vectors in vivo. Hum. Gene Ther. 28, 125–134 (2017).

Grimm, D., Pandey, K., Nakai, H., Storm, T. A. & Kay, M. A. Liver transduction with recombinant adeno-associated virus is primarily restricted by capsid serotype not vector genotype. J. Virol. 80, 426–439 (2006).
Acknowledgements
This work was supported by grants from the NIH 2R01HL06427418A1 (M.A.K.), the Falk Medical Research Trust (M.A.K.), NIH DK098132 (C.J.S.) and the National Hemophilia Foundation (C.J.S.). A.F.M. was supported by intramural funds. We wish to acknowledge the Stanford Cell Sciences Imaging Facility for use of imaging equipment, the Stanford Genomics Facility for performing next-generation sequencing and the Stanford Department of Comparative Medicine's Animal Histology Services and Stanford Veterinary Service Center for animal health examinations. We thank M.J. Finegold and J.G. Vilches-Moure for histology analysis. We also thank the Genome Engineering and iPSC Center at Washington University in St. Louis for performing next-generation sequencing and analysis. The microscope was funded by the Stanford Beckman Center. The contents of this publication are solely the responsibility of the authors and do not necessarily represent the official views of the various funding bodies or universities involved.
Ethics declarations
Competing interests
S.T. and M.A.K. are named on patent applications related to this article. M.A.K. has commercial affiliations and stock and/or equity in companies with technology broadly related to this article. S.T. is a current employee of Daiichi-Sankyo Co., Ltd. G.A. is a current employee of Sangamo Therapeutics. The remaining authors declare no competing interests.
Peer review
Peer review information
Nature Biotechnology thanks Luigi Naldini, Terence Flotte and the other, anonymous, reviewer(s) for their contribution to the peer review of this work.
Additional information
Publisher's note Springer Nature remains neutral with regard to jurisdictional claims in published maps and institutional affiliations.
Supplementary information
Supplementary Figs. 1–9, Tables 1–3 and Supplementary figure source files.
Table 1. Drugs tested for AAV transduction. Table 2. Animal health diagnostics. Table 3. Oligonucleotide information.
About this article
Cite this article
Tsuji, S., Stephens, C.J., Bortolussi, G. et al. Fludarabine increases nuclease-free AAV- and CRISPR/Cas9-mediated homologous recombination in mice. Nat Biotechnol 40, 1285–1294 (2022). https://doi.org/10.1038/s41587-022-01240-2
Received:

Accepted:

Published:

Issue Date:

DOI: https://doi.org/10.1038/s41587-022-01240-2