Abstract
Recruiting endogenous adenosine deaminases using exogenous guide RNAs to edit cellular RNAs is a promising therapeutic strategy, but editing efficiency and durability remain low using current guide RNA designs. In this study, we engineered circular ADAR-recruiting guide RNAs (cadRNAs) to enable more efficient programmable adenosine-to-inosine RNA editing without requiring co-delivery of any exogenous proteins. Using these cadRNAs, we observed robust and durable RNA editing across multiple sites and cell lines, in both untranslated and coding regions of RNAs, and high transcriptome-wide specificity. Additionally, we increased transcript-level specificity for the target adenosine by incorporating interspersed loops in the antisense domains, reducing bystander editing. In vivo delivery of cadRNAs via adeno-associated viruses enabled 53% RNA editing of the mPCSK9 transcript in C57BL/6J mice livers and 12% UAG-to-UGG RNA correction of the amber nonsense mutation in the IDUA-W392X mouse model of mucopolysaccharidosis type I-Hurler syndrome. cadRNAs enable efficient programmable RNA editing in vivo with diverse protein modulation and gene therapeutic applications.
Your institute does not have access to this article
Access options
Subscribe to Nature+
Get immediate online access to the entire Nature family of 50+ journals
Subscribe to Journal
Get full journal access for 1 year
$99.00
only $8.25 per issue
All prices are NET prices.
VAT will be added later in the checkout.
Tax calculation will be finalised during checkout.
Buy article
Get time limited or full article access on ReadCube.
$32.00
All prices are NET prices.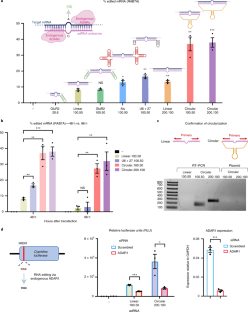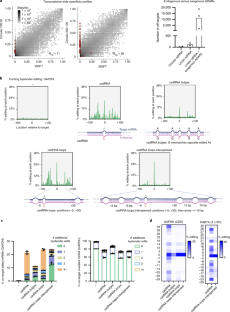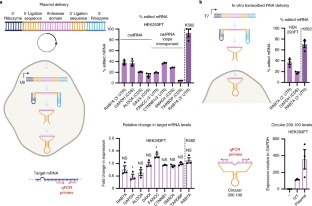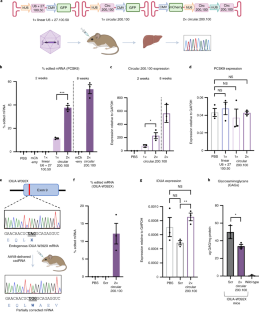 Code availability
Code is available from the corresponding author upon reasonable request.
References
Melcher, T. et al. A mammalian RNA editing enzyme. Nature 379, 460–464 (1996).

Bass, B. L. & Weintraub, H. An unwinding activity that covalently modifies its double-stranded RNA substrate. Cell 55, 1089–1098 (1988).

Bass, B. L. & Weintraub, H. A developmentally regulated activity that unwinds RNA duplexes. Cell 48, 607–613 (1987).

Mannion, N. M. et al. The RNA-editing enzyme ADAR1 controls innate immune responses to RNA. Cell Rep. 9, 1482–1494 (2014).

Tomaselli, S. et al. Modulation of microRNA editing, expression and processing by ADAR2 deaminase in glioblastoma. Genome Biol. 16, 5 (2015).

Schoft, V. K., Schopoff, S. & Jantsch, M. F. Regulation of glutamate receptor B pre-mRNA splicing by RNA editing. Nucleic Acids Res. 35, 3723–3732 (2007).

Wagner, R. W., Smith, J. E., Cooperman, B. S. & Nishikura, K. A double-stranded RNA unwinding activity introduces structural alterations by means of adenosine to inosine conversions in mammalian cells and Xenopus eggs. Proc. Natl Acad. Sci. USA 86, 2647–2651 (1989).

Nishikura, K. A-to-I editing of coding and non-coding RNAs by ADARs. Nat. Rev. Mol. Cell Biol. 17, 83–96 (2016).

Peng, Z. et al. Comprehensive analysis of RNA-seq data reveals extensive RNA editing in a human transcriptome. Nat. Biotechnol. 30, 253–260 (2012).

Eggington, J. M., Greene, T. & Bass, B. L. Predicting sites of ADAR editing in double-stranded RNA. Nat. Commun. 2, 319 (2011).

Tan, M. H. et al. Dynamic landscape and regulation of RNA editing in mammals. Nature 550, 249–254 (2017).

Levanon, E. Y. et al. Systematic identification of abundant A-to-I editing sites in the human transcriptome. Nat. Biotechnol. 22, 1001–1005 (2004).

Woolf, T. M., Chase, J. M. & Stinchcomb, D. T. Toward the therapeutic editing of mutated RNA sequences. Biochemistry 92, 8298–8302 (1995).

Stafforst, T. & Schneider, M. F. An RNA-deaminase conjugate selectively repairs point mutations. Angew. Chem. Int. Ed. 51, 11166–11169 (2012).

Montiel-Gonzalez, M. F., Vallecillo-Viejo, I., Yudowski, G. A. & Rosenthal, J. J. C. Correction of mutations within the cystic fibrosis transmembrane conductance regulator by site-directed RNA editing. Proc. Natl Acad. Sci. USA 110, 18285–18290 (2013).

Wettengel, J., Reautschnig, P., Geisler, S., Kahle, P. J. & Stafforst, T. Harnessing human ADAR2 for RNA repair—recoding a PINK1 mutation rescues mitophagy. Nucleic Acids Res. 45, 2797–2808 (2017).

Fukuda, M. et al. Construction of a guide-RNA for site-directed RNA mutagenesis utilising intracellular A-to-I RNA editing. Sci. Rep. 7, 41478 (2017).

Cox, D. B. T. et al. RNA editing with CRISPR–Cas13. Science 358, 1019–1027 (2017).

Merkle, T. et al. Precise RNA editing by recruiting endogenous ADARs with antisense oligonucleotides. Nat. Biotechnol. 37, 133–138 (2019).

Katrekar, D. et al. In vivo RNA editing of point mutations via RNA-guided adenosine deaminases. Nat. Methods 16, 239–242 (2019).

Qu, L. et al. Programmable RNA editing by recruiting endogenous ADAR using engineered RNAs. Nat. Biotechnol. 37, 1059–1069 (2019).

Monteleone, L. R. et al. A bump-hole approach for directed RNA editing. Cell Chem. Biol. 26, 269–277 (2019).

Sinnamon, J. R. et al. In vivo repair of a protein underlying a neurological disorder by programmable RNA editing. Cell Rep. 32, 107878 (2020).

Vallecillo-Viejo, I. C., Liscovitch-Brauer, N., Montiel-Gonzalez, M. F., Eisenberg, E. & Rosenthal, J. J. C. Abundant off-target edits from site-directed RNA editing can be reduced by nuclear localization of the editing enzyme. RNA Biol. 15, 104–114 (2018).

Vogel, P. et al. Efficient and precise editing of endogenous transcripts with SNAP-tagged ADARs. Nat. Methods 15, 535–538 (2018).

Fire, A. et al. Potent and specific genetic interference by double-stranded RNA in Caenorhabditis elegans. Nature 391, 806–811 (1998).

Zamecnik, P. C. & Stephenson, M. L. Inhibition of Rous sarcoma virus replication and cell transformation by a specific oligodeoxynucleotide. Proc. Natl Acad. Sci. USA 75, 280–284 (1978).

Dias, N. & Stein, C. A. Antisense oligonucleotides: basic concepts and mechanisms. Mol. Cancer Ther. 1, 347–355 (2002).

Chung, H. et al. Human ADAR1 prevents endogenous RNA from triggering translational shutdown. Cell 172, 811–824 (2018).

Paul, C. P., Good, P. D., Winer, I. & Engelke, D. R. Effective expression of small interfering RNA in human cells. Nat. Biotechnol. 20, 505–508 (2002).

Litke, J. L. & Jaffrey, S. R. Highly efficient expression of circular RNA aptamers in cells using autocatalytic transcripts. Nat. Biotechnol. 37, 667–675 (2019).

Heep, M., Mach, P., Reautschnig, P., Wettengel, J. & Stafforst, T. Applying human ADAR1p110 and ADAR1p150 for site-directed RNA editing—G/C substitution stabilizes guideRNAs against editing. Genes 8, 34 (2017).

Lehmann, K. A. & Bass, B. L. The importance of internal loops within RNA substrates of ADAR1. J. Mol. Biol. 291, 1–13 (1999).

Chen, Y. G. et al. Sensing self and foreign circular RNAs by intron identity. Mol. Cell 67, 228–238 (2017).

Wang, D. et al. Characterization of an MPS I-H knock-in mouse that carries a nonsense mutation analogous to the human IDUA-W402X mutation. Mol. Genet. Metab. 99, 62–71 (2010).

Clement, K. et al. CRISPResso2 provides accurate and rapid genome editing sequence analysis. Nat. Biotechnol. 37, 224–226 (2019).

Garcia-Rivera, M. F. et al. Characterization of an immunodeficient mouse model of mucopolysaccharidosis type I suitable for preclinical testing of human stem cell and gene therapy. Brain Res. Bull. 74, 429–438 (2007).

Dobin, A. et al. STAR: ultrafast universal RNA-seq aligner. Bioinformatics 29, 15–21 (2013).

Frankish, A. et al. GENCODE reference annotation for the human and mouse genomes. Nucleic Acids Res. 47, D766–D773 (2019).

Li, H. et al. The Sequence Alignment/Map format and SAMtools. Bioinformatics 25, 2078–2079 (2009).

Love, M. I., Huber, W. & Anders, S. Moderated estimation of fold change and dispersion for RNA-seq data with DESeq2. Genome Biol. 15, 550 (2014).

Zhu, A., Ibrahim, J. G. & Love, M. I. Heavy-tailed prior distributions for sequence count data: removing the noise and preserving large differences. Bioinformatics 35, 2084–2092 (2019).

Benjamini, Y. & Hochberg, Y. Controlling the false discovery rate: a practical and powerful approach to multiple testing. J. R. Stat. Soc. 57, 289–300 (1995).

Wickham, H. ggplot2: Elegant Graphics for Data Analysis (Springer, 2016).

Liu, Y., Wilson, T. J., McPhee, S. A. & Lilley, D. M. J. Crystal structure and mechanistic investigation of the twister ribozyme. Nat. Chem. Biol. 10, 739–744 (2014).

Felletti, M., Stifel, J., Wurmthaler, L. A., Geiger, S. & Hartig, J. S. Twister ribozymes as highly versatile expression platforms for artificial riboswitches. Nat. Commun. 7, 12834 (2016).

Miao, H. et al. A long noncoding RNA distributed in both nucleus and cytoplasm operates in the PYCARD-regulated apoptosis by coordinating the epigenetic and translational regulation. PLoS Genet. 15, e1008144 (2019).
Acknowledgements
We thank G. Chen, L. Hodge, U. Parekh, R. Perales and other members of the Mali laboratory for discussions, advice and help with experiments. This work was generously supported by University of California, San Diego Institutional Funds and National Institutes of Health (NIH) grants (R01HG009285 (P.M.), R01CA222826 (P.M.), R01GM123313 (P.M.) and 1K01DK119687 (D.M.)). This publication includes data generated at the University of California, San Diego IGM Genomics Center using an Illumina NovaSeq 6000 that was purchased with funding from an NIH SIG grant (S10 OD026929). Schematics were created using BioRender.
Ethics declarations
Competing interests
D.K., J.Y. and P.M. have filed patents based on this work. P.M. is a scientific co-founder of Shape Therapeutics, Boundless Biosciences, Navega Therapeutics and Engine Biosciences. The terms of these arrangements have been reviewed and approved by the University of California, San Diego in accordance with its conflict of interest policies. Y.S. is an employee of Shape Therapeutics. D.K. is now an employee of Shape Therapeutics. The remaining authors declare no competing interests.
Peer review
Peer review information
Nature Biotechnology thanks Michael Jantsch and the other, anonymous, reviewer(s) for their contribution to the peer review of this work.
Additional information
Publisher's note Springer Nature remains neutral with regard to jurisdictional claims in published maps and institutional affiliations.
Supplementary information
About this article
Cite this article
Katrekar, D., Yen, J., Xiang, Y. et al. Efficient in vitro and in vivo RNA editing via recruitment of endogenous ADARs using circular guide RNAs. Nat Biotechnol 40, 938–945 (2022). https://doi.org/10.1038/s41587-021-01171-4
Received:

Accepted:

Published:

Issue Date:

DOI: https://doi.org/10.1038/s41587-021-01171-4
Further reading
Nature Reviews Genetics (2022)