Abstract
Protein phosphorylation dynamically integrates environmental and cellular information to control biological processes. Identifying functional phosphorylation amongst the thousands of phosphosites regulated by a perturbation at a global scale is a major challenge. Here we introduce 'personalized phosphoproteomics', a combination of experimental and computational analyses to link signaling with biological function by utilizing human phenotypic variance. We measure individual subject phosphoproteome responses to interventions with corresponding phenotypes measured in parallel. Applying this approach to investigate how exercise potentiates insulin signaling in human skeletal muscle, we identify both known and previously unidentified phosphosites on proteins involved in glucose metabolism. This includes a cooperative relationship between mTOR and AMPK whereby the former directly phosphorylates the latter on S377, for which we find a role in metabolic regulation. These results establish personalized phosphoproteomics as a general approach for investigating the signal transduction underlying complex biology.
Relevant articles
Open Access articles citing this article.
Daniel J. Fazakerley

,

Julian van Gerwen

…

Sean J. Humphrey

Nature Communications Open Access 18 February 2023

Simon I. Dreher

,

Martin Irmler

…

Anja Moller

International Journal of Obesity Open Access 11 February 2023
Access options
Access Nature and 54 other Nature Portfolio journals
Get Nature+, our best-value online-access subscription
$29.99 / 30 days
cancel any time
Subscribe to this journal
Receive 12 print issues and online access
$209.00 per year
only $17.42 per issue
Rent or buy this article
Get just this article for as long as you need it
$39.95
Prices may be subject to local taxes which are calculated during checkout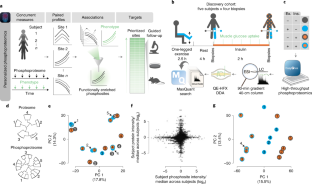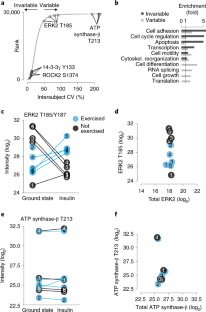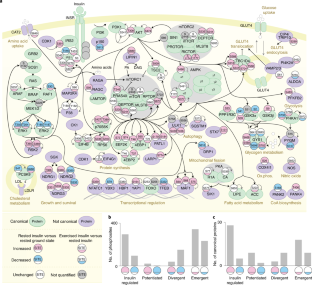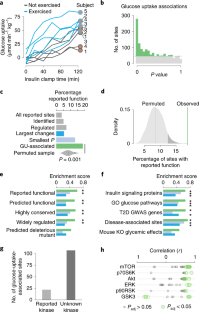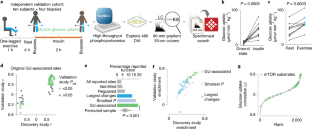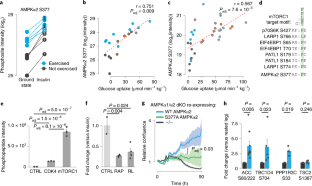 References
Humphrey, S. J., James, D. E. & Mann, M. Protein phosphorylation: a major switch mechanism for metabolic regulation. Trends Endocrinol. Metab. 26, 676–687 (2015).

Humphrey, S. J. et al. Dynamic adipocyte phosphoproteome reveals that Akt directly regulates mTORC2. Cell Metab. 17, 1009–1020 (2013).

Lundby, A. et al. Oncogenic mutations rewire signaling pathways by switching protein recruitment to phosphotyrosine sites. Cell 179, 543–560 (2019).

Robles, M. S., Humphrey, S. J. & Mann, M. Phosphorylation is a central mechanism for circadian control of metabolism and physiology. Cell Metab. 25, 118–127 (2017).

Bodenmiller, B. et al. Phosphoproteomic analysis reveals interconnected system-wide responses to perturbations of kinases and phosphatases in yeast. Sci. Signal. 3, rs4 (2010).

Needham, E. J., Parker, B. L., Burykin, T., James, D. E. & Humphrey, S. J. Illuminating the dark phosphoproteome. Sci. Signal. 12, eaau8645 (2019).

Oliveira, A. P. et al. Regulation of yeast central metabolism by enzyme phosphorylation. Mol. Syst. Biol. 8, 623 (2012).

Gonçalves, E. et al. Systematic analysis of transcriptional and post-transcriptional regulation of metabolism in yeast. PLoS Comput. Biol. 13, e1005297 (2017).

Ochoa, D. et al. The functional landscape of the human phosphoproteome. Nat. Biotechnol. 38, 365–373 (2020).

Hoffman, N. J. et al. Global phosphoproteomic analysis of human skeletal muscle reveals a network of exercise-regulated kinases and AMPK substrates. Cell Metab. 22, 922–935 (2015).

Hingst, J. R. et al. Exercise-induced molecular mechanisms promoting glycogen supercompensation in human skeletal muscle. Mol. Metab. 16, 24–34 (2018).

Humphrey, S. J., Azimifar, S. B. & Mann, M. High-throughput phosphoproteomics reveals in vivo insulin signaling dynamics. Nat. Biotechnol. 33, 990–995 (2015).

Humphrey, S. J., Karayel, O., James, D. E. & Mann, M. High-throughput and high-sensitivity phosphoproteomics with the EasyPhos platform. Nat. Protoc. 13, 1897–1916 (2018).

Liu, J. J. et al. In vivo brain GPCR signaling elucidated by phosphoproteomics. Science 360, eaao4927 (2018).

Hojlund, K. et al. Human ATP synthase beta is phosphorylated at multiple sites and shows abnormal phosphorylation at specific sites in insulin-resistant muscle. Diabetologia 53, 541–551 (2010).

Batista, T. M. et al. A cell-autonomous signature of dysregulated protein phosphorylation underlies muscle insulin resistance in type 2 diabetes. Cell Metab. 32, 844–859 (2020).

Vaag, A., Henriksen, J. E. & Beck-Nielsen, H. Decreased insulin activation of glycogen synthase in skeletal muscles in young nonobese Caucasian first-degree relatives of patients with non-insulin-dependent diabetes mellitus. J. Clin. Invest. 89, 782–788 (1992).

Um, S. H. et al. Absence of S6K1 protects against age- and diet-induced obesity while enhancing insulin sensitivity. Nature 431, 200–205 (2004).

Carraro, F., Stuart, C. A., Hartl, W. H., Rosenblatt, J. & Wolfe, R. R. Effect of exercise and recovery on muscle protein synthesis in human subjects. Am. J. Physiol. 259, E470–E476 (1990).

Krycer, J. R. et al. Dynamic metabolomics reveals that insulin primes the adipocyte for glucose metabolism. Cell Rep. 21, 3536–3547 (2017).

Phan, J. & Reue, K. Lipin, a lipodystrophy and obesity gene. Cell Metab. 1, 73–83 (2005).

Hardie, D. G., Ross, F. A. & Hawley, S. A. AMPK: a nutrient and energy sensor that maintains energy homeostasis. Nat. Rev. Mol. Cell Biol. 13, 251–262 (2012).

Kjøbsted, R. et al. Enhanced muscle insulin sensitivity after contraction/exercise is mediated by AMPK. Diabetes 66, 598–612 (2017).

Lopez-Mejia, I. C. et al. CDK4 phosphorylates AMPKalpha2 to inhibit its activity and repress fatty acid oxidation. Mol. Cell 68, 336–349.e6 (2017).

Rodrik-Outmezguine, V. S. et al. Overcoming mTOR resistance mutations with a new-generation mTOR inhibitor. Nature 534, 272–276 (2016).

Ling, N. X. Y. et al. mTORC1 directly inhibits AMPK to promote cell proliferation under nutrient stress. Nat. Metab. 2, 41–49 (2020).

Inoki, K., Zhu, T. & Guan, K.-L. TSC2 mediates cellular energy response to control cell growth and survival. Cell 115, 577–590 (2003).

Gwinn, D. M. et al. AMPK phosphorylation of raptor mediates a metabolic checkpoint. Mol. Cell 30, 214–226 (2008).

Mertins, P. et al. Proteogenomics connects somatic mutations to signalling in breast cancer. Nature 534, 55–62 (2016).

Gillette, M. A. et al. Proteogenomic characterization reveals therapeutic vulnerabilities in lung adenocarcinoma. Cell 182, 200–225 (2020).

Wojtaszewski, J. F., Hansen, B. F., Kiens, B. & Richter, E. A. Insulin signaling in human skeletal muscle: time course and effect of exercise. Diabetes 46, 1775–1781 (1997).

Ong, S.-E. et al. Stable isotope labeling by amino acids in cell culture, SILAC, as a simple and accurate approach to expression proteomics. Mol. Cell. Proteomics 1, 376–386 (2002).

Cox, J. et al. Accurate proteome-wide label-free quantification by delayed normalization and maximal peptide ratio extraction, termed MaxLFQ. Mol. Cell. Proteomics 13, 2513–2526 (2014).

Cox, J. & Mann, M. MaxQuant enables high peptide identification rates, individualized p.p.b.-range mass accuracies and proteome-wide protein quantification. Nat. Biotechnol. 26, 1367–1372 (2008).

Tyanova, S. et al. The Perseus computational platform for comprehensive analysis of (prote)omics data. Nat. Methods 13, 731–740 (2016).

Bekker-Jensen, D. B. et al. Rapid and site-specific deep phosphoproteome profiling by data-independent acquisition without the need for spectral libraries. Nat. Commun. 11, 787 (2020).

Yang, P. et al. Multi-omic profiling reveals dynamics of the phased progression of pluripotency. Cell Syst. 8, 427–445 (2019).

Needham, E. J. et al. Phosphoproteomics of acute cell stressors targeting exercise signaling networks reveal drug interactions regulating protein secretion. Cell Rep. 29, 1524–1538 (2019).

Ritchie, M. E. et al. limma powers differential expression analyses for RNA-sequencing and microarray studies. Nucleic Acids Res. 43, e47 (2015).

Benjamini, Y. & Hochberg, Y. Controlling the false discovery rate: a practical and powerful approach to multiple testing. J. R. Stat. Soc. Series B Stat. Methodol. 57, 289–300 (1995).

Conway, J. R., Lex, A. & Gehlenborg, N. UpSetR: an R package for the visualization of intersecting sets and their properties. Bioinformatics 33, 2938–2940 (2017).

Storey, J., Bass, A., Dabney, A., Robinson, D. & Warnes, G. qvalue: Q-value estimation for false discovery rate control. https://www.bioconductor.org/packages/devel/bioc/manuals/qvalue/man/qvalue.pdf (2021).

Hornbeck, P. V. et al. PhosphoSitePlus, 2014: mutations, PTMs and recalibrations. Nucleic Acids Res. 43, D512–D520 (2015).

Ochoa, D. et al. An atlas of human kinase regulation. Mol. Syst. Biol. 12, 888 (2016).

Chen, J. et al. The trans-ancestral genomic architecture of glycemic traits. Nat. Genet. 53, 840–860 (2021).

Dickinson, M. E. et al. High-throughput discovery of novel developmental phenotypes. Nature 537, 508–514 (2016).
Acknowledgements
We thank S. Kurdyukov, A. Zadoorian, I. Beck Nielsen, B. Bolmgren and L. Hansen for technical assistance. We thank E. Pickering and members of the Metabolic Systems Biology group, Pfizer Cardiovascular and Metabolic Diseases Research Unit and the Molecular Physiology section of the University of Copenhagen for feedback and discussions. AMPKα double-knockout MEFs were kindly provided by B. Viollet. This research was facilitated by access to Sydney Mass Spectrometry, a core research facility at the University of Sydney. This work was funded by: Pfizer, Inc.; Australian Government Research Training Program Scholarship and the University of Sydney Val Street Scholarship (to E.J.N.); ARC Laureate Fellowship (no. FL200100096 to D.E.J.); NHMRC Project Grant (no. APP1122376 to B.L.P.); APP1161262 (to J.S.O.); ARC Discovery Project Grant (no. DP180101682 to J.P.); Danish Council for In-dependent Research Medical Sciences (no. FSS 8020-00288 to J.F.P.W.); Ministry of Culture Denmark (no. FPK 2016-0027 to J.F.P.W.); The Novo Nordisk Foundation (no. NNF16OC 0023046 to J.F.P.W.); The University of Sydney University of Copenhagen Partnership Collaboration Awards (to J.F.P.W. and D.E.J.); the Victorian Government's Operational Infrastructure Support Program (to J.S.O.); a research grant from the Danish Diabetes Academy, which is funded by the Novo Nordisk Foundation, grant number NNF17SA0031406 (J.O.).
Ethics declarations
Competing interests
C.P. was an employee of Pfizer during the study. The other authors declare no competing interests.
Additional information
Peer review information Nature Biotechnology thanks the anonymous reviewers for their contribution to the peer review of this work.
Publisher's note Springer Nature remains neutral with regard to jurisdictional claims in published maps and institutional affiliations.
Supplementary information
Table 1: The post-exercise and insulin-regulated human skeletal muscle phosphoproteome, and associations with leg glucose uptake. Table 2: Inter- and intrasubject phosphoproteome CVs. Table 3: Comparison of 4-h post-exercise phosphoproteomes with those measured immediately after acute exercise. Table 4: Insulin-regulated, potentiated, emergent and divergent phosphosites with exercise. Table 5: Discovery and validation cohort subject characteristics. Table 6: Glucose uptake AUC and proteome correlations. Table 7: Validation cohort glucose uptake associations with discovery cohort glucose-uptake-associated phosphosites. Table 8: Glucose uptake associations of the combined discovery and validation cohorts. Table 9: Detection of AMPK phosphosites from mTORC1 in vitro kinase assays.
About this article
Cite this article
Needham, E.J., Hingst, J.R., Parker, B.L. et al. Personalized phosphoproteomics identifies functional signaling. Nat Biotechnol 40, 576–584 (2022). https://doi.org/10.1038/s41587-021-01099-9
Received:

Accepted:

Published:

Issue Date:

DOI: https://doi.org/10.1038/s41587-021-01099-9