Abstract
A main determinant of the spatial resolution of live-cell super-resolution (SR) microscopes is the maximum photon flux that can be collected. To further increase the effective resolution for a given photon flux, we take advantage of a priori knowledge about the sparsity and continuity of biological structures to develop a deconvolution algorithm that increases the resolution of SR microscopes nearly twofold. Our method, sparse structured illumination microscopy (Sparse-SIM), achieves ~60-nm resolution at a frame rate of up to 564 Hz, allowing it to resolve intricate structures, including small vesicular fusion pores, ring-shaped nuclear pores formed by nucleoporins and relative movements of inner and outer mitochondrial membranes in live cells. Sparse deconvolution can also be used to increase the three-dimensional resolution of spinning-disc confocal-based SIM, even at low signal-to-noise ratios, which allows four-color, three-dimensional live-cell SR imaging at ~90-nm resolution. Overall, sparse deconvolution will be useful to increase the spatiotemporal resolution of live-cell fluorescence microscopy.
This is a preview of subscription content
Access options
Subscribe to Journal
Get full journal access for 1 year
$99.00
only $8.25 per issue
All prices are NET prices.
VAT will be added later in the checkout.
Tax calculation will be finalised during checkout.
Rent or Buy article
Get time limited or full article access on ReadCube.
from$8.99
All prices are NET prices.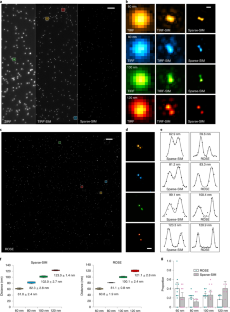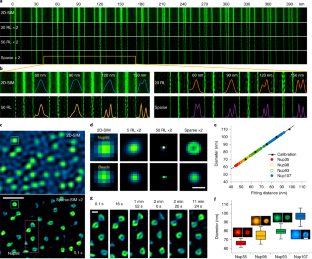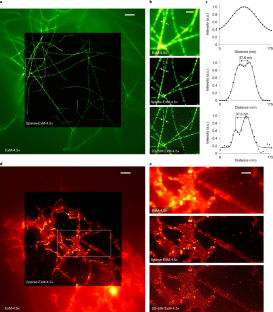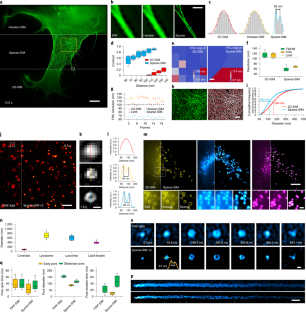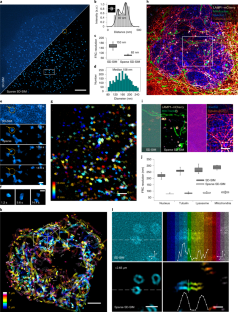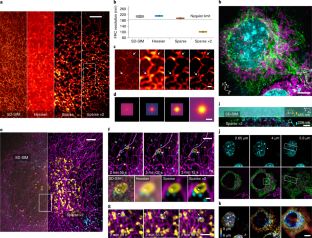 References
1.

Nixon-Abell, J. et al. Increased spatiotemporal resolution reveals highly dynamic dense tubular matrices in the peripheral ER. Science 354, aaf3928 (2016).

2.

Valm, A. M. et al. Applying systems-level spectral imaging and analysis to reveal the organelle interactome. Nature 546, 162–167 (2017).

3.

Hess, S. T. et al. Dynamic clustered distribution of hemagglutinin resolved at 40 nm in living cell membranes discriminates between raft theories. Proc. Natl Acad. Sci. USA 104, 17370–17375 (2007).

4.

Shroff, H., Galbraith, C. G., Galbraith, J. A. & Betzig, E. Live-cell photoactivated localization microscopy of nanoscale adhesion dynamics. Nat. Methods 5, 417–423 (2008).

5.

Westphal, V. et al. Video-rate far-field optical nanoscopy dissects synaptic vesicle movement. Science 320, 246–249 (2008).

6.

Zhu, L., Zhang, W., Elnatan, D. & Huang, B. Faster STORM using compressed sensing. Nat. Methods 9, 721–723 (2012).

7.

Shin, W. et al. Visualization of membrane pore in live cells reveals a dynamic-pore theory governing fusion and endocytosis. Cell 173, 934–945 (2018).

8.

Godin, A. G., Lounis, B. & Cognet, L. Super-resolution microscopy approaches for live cell imaging. Biophys. J. 107, 1777–1784 (2014).

9.

Huang, X. et al. Fast, long-term, super-resolution imaging with Hessian structured illumination microscopy. Nat. Biotechnol. 36, 451–459 (2018).

10.

Li, D. et al. Extended-resolution structured illumination imaging of endocytic and cytoskeletal dynamics. Science 349, aab3500 (2015).

11.

Guo, Y. et al. Visualizing intracellular organelle and cytoskeletal interactions at nanoscale resolution on millisecond timescales. Cell 175, 1430–1442 (2018).

12.

Wolter, H. On Basic Analogies and Principal Differences Between Optical and Electronic Information, Vol. 1 (Elsevier, 1961).

13.

Harris, J. L. Diffraction and resolving power. J. Opt. Soc. Am. 54, 931–936 (1964).

14.

Goodman, J. W. Introduction to Fourier Optics (Roberts and Company Publishers, 2005).

15.

Lindberg, J. Mathematical concepts of optical superresolution. J. Opt. 14, 083001 (2012).

16.

Bertero, M. & De Mol, C. Super-Resolution by Data Inversion, Vol. 36 (Elsevier, 1996).

17.

Richardson, W. H. Bayesian-based iterative method of image restoration. J. Opt. Soc. Am. 62, 55–59 (1972).

18.

Lucy, L. B. An iterative technique for the rectification of observed distributions. Astron. J. 79, 745 (1974).

19.

Lucy, L. B. Resolution limits for deconvolved images. Astron. J. 104, 1260–1265 (1992).

20.

Puschmann, K. G. & Kneer, F. On super-resolution in astronomical imaging. Astron. Astrophys. 436, 373–378 (2005).

21.

Gazit, S., Szameit, A., Eldar, Y. C. & Segev, M. Super-resolution and reconstruction of sparse sub-wavelength images. Opt. Express 17, 23920–23946 (2009).

22.

Demanet, L. & Nguyen, N. The recoverability limit for superresolution via sparsity. Preprint at https://arxiv.org/abs/1502.01385 (2015).

23.

Fannjiang, A. C. Compressive imaging of subwavelength structures. SIAM J. Imaging Sci. 2, 1277–1291 (2009).

24.

Schulz, O. et al. Resolution doubling in fluorescence microscopy with confocal spinning-disk image scanning microscopy. Proc. Natl Acad. Sci. USA 110, 21000–21005 (2013).

25.

Zong, W. et al. Fast high-resolution miniature two-photon microscopy for brain imaging in freely behaving mice. Nat. Methods 14, 713–719 (2017).

26.

Sun, D.-E. et al. Click-ExM enables expansion microscopy for all biomolecules. Nat. Methods 18, 107–113 (2021).

27.

Dey, N. et al. Richardson–Lucy algorithm with total variation regularization for 3D confocal microscope deconvolution. Microsc. Res. Tech. 69, 260–266 (2006).

28.

Laasmaa, M., Vendelin, M. & Peterson, P. Application of regularized Richardson–Lucy algorithm for deconvolution of confocal microscopy images. J. Microsc. 243, 124–140 (2011).

29.

Candes, E. J. & Tao, T. Near-optimal signal recovery from random projections: universal encoding strategies? IEEE Trans. Inf. Theory 52, 5406–5425 (2006).

30.

Hoffman, D. P., Slavitt, I. & Fitzpatrick, C. A. The promise and peril of deep learning in microscopy. Nat. Methods 18, 131–132 (2021).

31.

Belthangady, C. & Royer, L. A. Applications, promises, and pitfalls of deep learning for fluorescence image reconstruction. Nat. Methods 16, 1215–1225 (2019).

32.

Gu, L. et al. Molecular resolution imaging by repetitive optical selective exposure. Nat. Methods 16, 1114–1118 (2019).

33.

Szymborska, A. et al. Nuclear pore scaffold structure analyzed by super-resolution microscopy and particle averaging. Science 341, 655–658 (2013).

34.

Ma, J., Kelich, J. M., Junod, S. L. & Yang, W. Super-resolution mapping of scaffold nucleoporins in the nuclear pore complex. J. Cell Sci. 130, 1299–1306 (2017).

35.

Gottfert, F. et al. Strong signal increase in STED fluorescence microscopy by imaging regions of subdiffraction extent. Proc. Natl Acad. Sci. USA 114, 2125–2130 (2017).

36.

Xia, S. et al. Nanoscale architecture of the cortical actin cytoskeleton in embryonic stem cells. Cell Rep. 28, 1251–1267 (2019).

37.

Szameit, A. et al. Sparsity-based single-shot subwavelength coherent diffractive imaging. Nat. Mater. 11, 455–459 (2012).

38.

Nieuwenhuizen, R. P. et al. Measuring image resolution in optical nanoscopy. Nat. Methods 10, 557–562 (2013).

39.

Culley, S. et al. Quantitative mapping and minimization of super-resolution optical imaging artifacts. Nat. Methods 15, 263–266 (2018).

40.

Ornberg, R. L. & Reese, T. S. Beginning of exocytosis captured by rapid-freezing of Limulus amebocytes. J. Cell Biol. 90, 40–54 (1981).

41.

York, A. G. et al. Instant super-resolution imaging in live cells and embryos via analog image processing. Nat. Methods 10, 1122–1126 (2013).

42.

York, A. G. et al. Resolution doubling in live, multicellular organisms via multifocal structured illumination microscopy. Nat. Methods 9, 749–754 (2012).

43.

Muller, C. B. & Enderlein, J. Image scanning microscopy. Phys. Rev. Lett. 104, 198101 (2010).

44.

Theer, P., Mongis, C. & Knop, M. PSFj: know your fluorescence microscope. Nat. Methods 11, 981–982 (2014).

45.

Saffarian, S., Cocucci, E. & Kirchhausen, T. Distinct dynamics of endocytic clathrin-coated pits and coated plaques. PLoS Biol. 7, e1000191 (2009).

46.

Luisier, F., Vonesch, C., Blu, T. & Unser, M. Fast interscale wavelet denoising of Poisson-corrupted images. Signal Process. 90, 415–427 (2010).

47.

Chu, B. B. et al. Cholesterol transport through lysosome–peroxisome membrane contacts. Cell 161, 291–306 (2015).

48.

Wang, Y., Yang, J., Yin, W. & Zhang, Y. A new alternating minimization algorithm for total variation image reconstruction. SIAM J. Imaging Sci. 1, 248–272 (2008).

49.

Xue, J. Z. & Funabiki, H. Nuclear assembly shaped by microtubule dynamics. Nucleus 5, 40–46 (2014).

50.

Cox, C. I. & Sheppard, C. Information capacity and resolution in an optical system. J. Opt. Soc. Am. A 3, 1152–1158 (1986).

51.

Descloux, A., Grußmayer, K. S. & Radenovic, A. Parameter-free image resolution estimation based on decorrelation analysis. Nat. Methods 16, 918–924 (2019).

52.

Zhang, Y. et al. Mitochondria determine the sequential propagation of the calcium macrodomains revealed by the super-resolution calcium lantern imaging. Sci. China Life Sci. 63, 1543–1551 (2020).

53.

Aaron, J. & Chew, T. -L. A guide to accurate reporting in digital image processing—can anyone reproduce your quantitative analysis? J. Cell Sci. 134, jcs254151 (2021).

54.

Thévenaz, P., Ruttimann, U. E. & Unser, M. A pyramid approach to subpixel registration based on intensity. IEEE Trans. Image Process. 7, 27–41 (1998).

55.

Douglas, S. M. et al. Rapid prototyping of 3D DNA-origami shapes with caDNAno. Nucleic Acids Res. 37, 5001–5006 (2009).

56.

Kim, D.-N., Kilchherr, F., Dietz, H. & Bathe, M. Quantitative prediction of 3D solution shape and flexibility of nucleic acid nanostructures. Nucleic Acids Res. 40, 2862–2868 (2012).

57.

Castro, C. E. et al. A primer to scaffolded DNA origami. Nat. Methods 8, 221–229 (2011).

58.

Tillberg, P. et al. Protein-retention expansion microscopy of cells and tissues labeled using standard fluorescent proteins and antibodies. Nat. Biotechnol. 34, 987–992 (2016).

59.

Wang, Z., Bovik, A. C., Sheikh, H. R. & Simoncelli, E. P. Image quality assessment: from error visibility to structural similarity. IEEE Trans. Image Process. 13, 600–612 (2004).

60.

Weigert, M. et al. Content-aware image restoration: pushing the limits of fluorescence microscopy. Nat. Methods 15, 1090–1097 (2018).

61.

Zhang, Z., Nishimura, Y. & Kanchanawong, P. Extracting microtubule networks from superresolution single-molecule localization microscopy data. Mol. Biol. Cell 28, 333–345 (2017).

62.

De Vries, F. P. Automatic, adaptive, brightness independent contrast enhancement. Signal Process. 21, 169–182 (1990).

63.

Meyer, F. & Beucher, S. Morphological segmentation. J. Vis. Commun. Image Represent. 1, 21–46 (1990).

64.

Yanowitz, S. D. & Bruckstein, A. M. A new method for image segmentation. Comput. Gr. Image Process. 46, 82–95 (1989).

65.

Peng, T. et al. A BaSiC tool for background and shading correction of optical microscopy images. Nat. Commun. 8, 14836 (2017).

66.

Geissbuehler, M. & Lasser, T. How to display data by color schemes compatible with red–green color perception deficiencies. Opt. Express 21, 9862–9874 (2013).

67.

Royer, L. A. et al. ClearVolume: open-source live 3D visualization for light-sheet microscopy. Nat. Methods 12, 480–481 (2015).

68.

Schmid, B. et al. 3Dscript: animating 3D/4D microscopy data using a natural-language-based syntax. Nat. Methods 16, 278–280 (2019).
Acknowledgements
We thank B. Hille and C. Xu for their reading and critical comments on the manuscript. We thank M. Knop and P. Theer for their feedback and valuable discussions of the bead correction factor and C. Zhang and J. Ma for the sharing of nuclear pore vectors. We thank the National Center for Protein Sciences at Peking University in Beijing, China, for assistance with STED imaging experiments. L.C. acknowledges support by grants from the National Natural Science Foundation of China (nos 92054301, 81925022, 31821091 and 91750203), the National Science and Technology Major Project Program (no. 2016YFA0500400) and the Beijing Natural Science Foundation (no. Z20J00059). H.L. acknowledges support by grants from the National Natural Science Foundation of China (no. 61805057), the Young Elite Scientists Sponsorship Program (no. 2018QNRC001) and the Natural Science Foundation of Heilongjiang Province (YQ2021F013). L.C. acknowledges support by the High-Performance Computing Platform of Peking University. H.L. and J.L. acknowledge support by the State Key Laboratory of Robotics and Systems. S. Zhao acknowledges support by the Boya Postdoctoral Fellowship of Peking University. H.M. acknowledges support by grants from the National Natural Science Foundation of China (no. 32071458). Y.L. acknowledges support by grants from the National Natural Science Foundation of China (no. 91854112).
Ethics declarations
Competing interests
L.C., H.L., W.Z. and X.H. have a pending patent application on the presented framework.
Additional information
Peer review information Nature Biotechnology thanks the anonymous reviewers for their contribution to the peer review of this work.
Publisher's note Springer Nature remains neutral with regard to jurisdictional claims in published maps and institutional affiliations.
Supplementary information
About this article
Cite this article
Zhao, W., Zhao, S., Li, L. et al. Sparse deconvolution improves the resolution of live-cell super-resolution fluorescence microscopy. Nat Biotechnol (2021). https://doi.org/10.1038/s41587-021-01092-2
Received:

Accepted:

Published: