A study of the brain–machine interface patent landscape suggests that the technology is in its early stages of development, but patent applications have been increasing exponentially in recent years.
Access options
Subscribe to Nature+
Get immediate online access to Nature and 55 other Nature journal
Subscribe to Journal
Get full journal access for 1 year
$99.00
only $8.25 per issue
All prices are NET prices.
VAT will be added later in the checkout.
Tax calculation will be finalised during checkout.
Buy article
Get time limited or full article access on ReadCube.
$32.00
All prices are NET prices.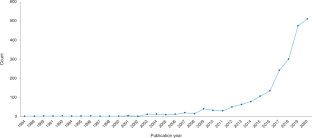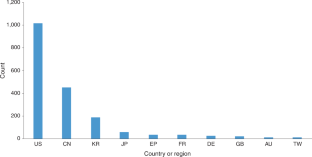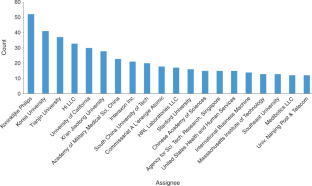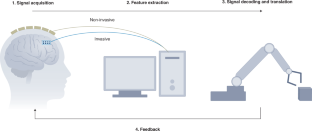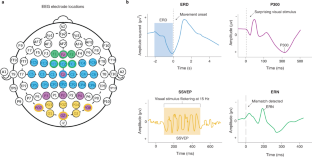 References
Prashant, P., Joshi, A. & Gandhi, V. (eds) Brain computer interface: a review. In 5th Nirma University International Conference on Engineering (NUiCONE) 1–6 (IEEE, 2015).

Rao, R.R.N. Brain–Computer Interfacing: An Introduction (Cambridge University Press, 2013).

Chorev, E., Epsztein, J., Houweling, A. R., Lee, A. K. & Brecht, M. Curr. Opin. Neurobiol. 19, 513–519 (2009).

Abiri, R., Borhani, S., Sellers, E. W., Jiang, Y. & Zhao, X. J. Neural Eng. 16, 011001 (2019).

Kaplan, R. M. Australas. Psychiatry 19, 168–169 (2011).

Naci, L. et al. Ann. Neurol. 72, 312–323 (2012).

Ibáñez, J. et al. Biomed. Signal Process. Control 8, 822–829 (2013).

Quandt, L. C., Marshall, P. J., Shipley, T. F., Beilock, S. L. & Goldin-Meadow, S. Neuropsychologia 50, 2745–2751 (2012).

Chaudhary, U., Birbaumer, N. & Ramos-Murguialday, A. Nat. Rev. Neurol. 12, 513–525 (2016).

Krusienski, D. J. et al. J. Neural Eng. 3, 299–305 (2006).

Garcia-Molina, G. et al. Detection of high frequency steady state visual evoked potentials for brain-computer interfaces. In 17th European Signal Processing Conference (eds Stewart, R. & Weiss, S.) 646-650 (EURASIP, 2009).

Norcia, A. M., Appelbaum, L. G., Ales, J. M., Cottereau, B. R. & Rossion, B. J. Vis. 15, 4 (2015).

Chavarriaga, R., Sobolewski, A. & Millán, JdelR. Front. Neurosci. 8, 208–220 (2014).

Chamola, V. et al. Sensors (Basel) 20, 3620 (2020).

Nicolas-Alonso, L. F. & Gomez-Gil, J. Sensors (Basel) 12, 1211–1279 (2012).

Ramos-Murguialday, A. et al. Ann. Neurol. 74, 100–108 (2013).

Lebedev, M. Transl. Neurosci. 5, 99–110 (2014).

Skansi, S. Introduction to Deep Learning (Springer International, 2018).

Bhagat, N. A. et al. Front. Neurosci. 10, 122 (2016).

Nowlis, D. P. & Kamiya, J. Psychophysiology 6, 476–484 (1970).

Hochberg, L. R. et al. Nature 442, 164–171 (2006).

Rabbani, Q., Milsap, G. & Crone, N. E. Neurotherapeutics 16, 144–165 (2019).

Kaplan, A. Y. et al. IEEE Trans. Comput. Intell. AI Games 5, 141–149 (2013).

Monastra, V. J. et al. Appl. Psychophysiol. Biofeedback 30, 95–114 (2005).

Andersen, R. A. et al. Proc. Natl Acad. Sci. USA 116, 26274–26279 (2019).
Ethics declarations
Competing interests
The authors declare no competing interests.
About this article
Cite this article
Greenberg, A., Cohen, A. & Grewal, M. Patent landscape of brain–machine interface technology. Nat Biotechnol 39, 1194–1199 (2021). https://doi.org/10.1038/s41587-021-01071-7
Published:

Issue Date:

DOI: https://doi.org/10.1038/s41587-021-01071-7