Abstract
Single-molecule spatial transcriptomics protocols based on in situ sequencing or multiplexed RNA fluorescent hybridization can reveal detailed tissue organization. However, distinguishing the boundaries of individual cells in such data is challenging and can hamper downstream analysis. Current methods generally approximate cells positions using nuclei stains. We describe a segmentation method, Baysor, that optimizes two-dimensional (2D) or three-dimensional (3D) cell boundaries considering joint likelihood of transcriptional composition and cell morphology. While Baysor can take into account segmentation based on co-stains, it can also perform segmentation based on the detected transcripts alone. To evaluate performance, we extend multiplexed error-robust fluorescence in situ hybridization (MERFISH) to incorporate immunostaining of cell boundaries. Using this and other benchmarks, we show that Baysor segmentation can, in some cases, nearly double the number of cells compared to existing tools while reducing segmentation artifacts. We demonstrate that Baysor performs well on data acquired using five different protocols, making it a useful general tool for analysis of imaging-based spatial transcriptomics.
Relevant articles
Open Access articles citing this article.
Konstantin Khodosevich

&

Carl M. Sellgren

Molecular Psychiatry Open Access 25 November 2022

Christa Haase

,

Karin Gustafsson

…

Charles P. Lin

Nature Methods Open Access 24 November 2022

Lars E. Borm

,

Alejandro Mossi Albiach

…

Sten Linnarsson

Nature Biotechnology Open Access 22 September 2022
Access options
Subscribe to Nature+
Get immediate online access to Nature and 55 other Nature journal
Subscribe to Journal
Get full journal access for 1 year
$99.00
only $8.25 per issue
All prices are NET prices.
VAT will be added later in the checkout.
Tax calculation will be finalised during checkout.
Buy article
Get time limited or full article access on ReadCube.
$32.00
All prices are NET prices.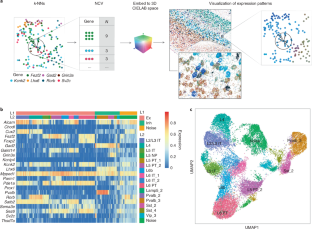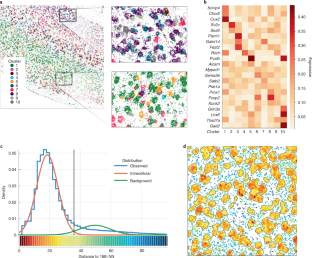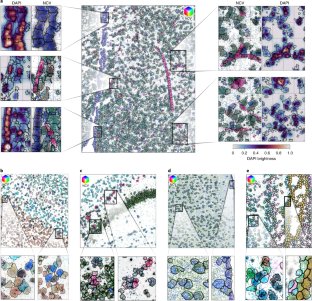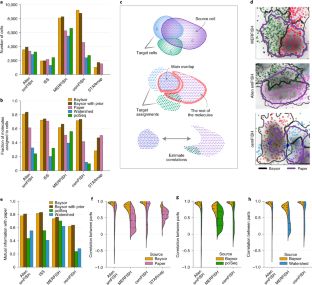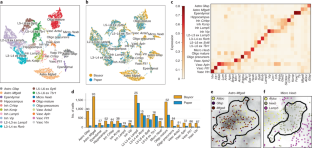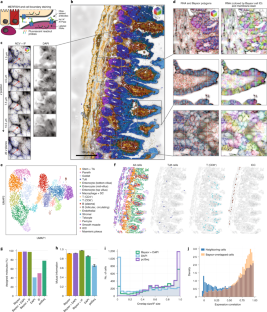 Data availability
The following datasets were used in evaluating the developed methods:
1. osmFISH mouse somatosensory cortex8, 35 genes: http://linnarssonlab.org/osmFISH/availability/.
2. MERFISH mouse preoptic hypothalamus19, 140 genes: https://doi.org/10.5061/dryad.8t8s248.
3. ISS mouse CA1 region16, 95 genes: https://doi.org/10.6084/m9.figshare.7150760.v1.
4. STARmap mouse VISp18, 1,020 genes: https://www.starmapresources.com/data/ (visual_1020, 20180505_BY3_1kgenes).
5. STARmap mouse VISp18, 160 genes: https://www.starmapresources.com/data/ (visual_160, 20171120_BF4_light).
6. seqFISH+ NIH/3T3 cells7, 10,000 genes: https://doi.org/10.5281/zenodo.2669683.
7. seqFISH mouse embryo45, 387 genes: https://marionilab.cruk.cam.ac.uk/SpatialMouseAtlas/.
8. Allen smFISH mouse VISp, 22 genes: https://github.com/spacetx-spacejam/data.
9. MERFISH mouse ileum, 241 genes: https://doi.org/10.5061/dryad.jm63xsjb2.
References
Mereu, E. et al. Benchmarking single-cell RNA-sequencing protocols for cell atlas projects. Nat. Biotechnol. 38, 747–755 (2020).

Regev, A. et al. The human cell atlas. eLife 6, e27041. (2017).

HuBMAP Consortium. The human body at cellular resolution: the NIH Human Biomolecular Atlas Program. Nature 574, 187–192 (2019).

Aldridge, S. & Teichmann, S. A. Single cell transcriptomics comes of age. Nat. Commun. 11, 4307. (2020).

Lee, J. H. et al. Highly multiplexed subcellular RNA sequencing in situ. Science 343, 1360–1363 (2014).

Ke, R. et al. In situ sequencing for RNA analysis in preserved tissue and cells. Nat. Methods 10, 857–860 (2013).

Eng, C.-H. L. et al. Transcriptome-scale super-resolved imaging in tissues by RNA seqFISH. Nature 568, 235–239 (2019).

Codeluppi, S. et al. Spatial organization of the somatosensory cortex revealed by osmFISH. Nat. Methods 15, 932–935 (2018).

Xia, C., Fan, J., Emanuel, G., Hao, J. & Zhuang, X. Spatial transcriptome profiling by MERFISH reveals subcellular RNA compartmentalization and cell cycle-dependent gene expression. Proc. Natl Acad. Sci. USA 116, 19490–19499 (2019).

Rodriques, S. G. et al. Slide-seq: a scalable technology for measuring genome-wide expression at high spatial resolution. Science 363, 1463–1467 (2019).

Vickovic, S. et al. High-definition spatial transcriptomics for in situ tissue profiling. Nat. Methods 16, 987–990 (2019).

Lein, E., Borm, L. E. & Linnarsson, S. The promise of spatial transcriptomics for neuroscience in the era of molecular cell typing. Science 358, 64–69 (2017).

Bingham, G. C., Lee, F., Naba, A. & Barker, T. H. Spatial-omics: novel approaches to probe cell heterogeneity and extracellular matrix biology. Matrix Biol. 91-92, 152–166 (2020).

Soldatov, R. et al. Spatiotemporal structure of cell fate decisions in murine neural crest. Science 364, eaas9536 (2019).

Chen, W.-T. et al. Spatial transcriptomics and in situ sequencing to study Alzheimer's disease. Cell 182, 976–991 (2020).

Qian, X. et al. Probabilistic cell typing enables fine mapping of closely related cell types in situ. Nat. Methods 17, 101–106 (2020).

Chen, K. H., Boettiger, A. N., Moffitt, J. R., Wang, S. & Zhuang, X. RNA imaging. Spatially resolved, highly multiplexed RNA profiling in single cells. Science 348, aaa6090 (2015).

Wang, X. et al. Three-dimensional intact-tissue sequencing of single-cell transcriptional states. Science 361, eaat5691 (2018).

Moffitt, J. R. et al. Molecular, spatial, and functional single-cell profiling of the hypothalamic preoptic region. Science 362, eaau5324 (2018).

Wang, Z. Cell segmentation for image cytometry: advances, insufficiencies, and challenges. Cytometry A 95, 708–711 (2019).

Park, J. et al. Cell segmentation-free inference of cell types from in situ transcriptomics data. Nat. Commun. 12, 3545 (2021).

Dirmeier, S. & Beerenwinkel, N. Structured hierarchical models for probabilistic inference from perturbation screening data. Preprint at bioRxiv https://doi.org/10.1101/848234 (2019).

Zhu, Q., Shah, S., Dries, R., Cai, L. & Yuan, G.-C. Identification of spatially associated subpopulations by combining scRNAseq and sequential fluorescence in situ hybridization data. Nat. Biotechnol. 36, 1183–1190 (2018).

Rueden, C. T. et al. ImageJ2: ImageJ for the next generation of scientific image data. BMC Bioinformatics 18, 529 (2017).

Wang, G., Moffitt, J. R. & Zhuang, X. Multiplexed imaging of high-density libraries of RNAs with MERFISH and expansion microscopy. Sci. Rep. 8, 4847 (2018).

Moffitt, J. R. et al. High-performance multiplexed fluorescence in situ hybridization in culture and tissue with matrix imprinting and clearing. Proc. Natl Acad. Sci. USA 113, 14456–14461 (2016).

Stringer, C., Wang, T., Michaelos, M. & Pachitariu, M. Cellpose: a generalist algorithm for cellular segmentation. Nat. Methods 18, 100–106 (2021).

Yangel, B. & Vetrov, D. in Energy Minimization Methods in Computer Vision and Pattern Recognition (eds Heyden, A., Kahl, F., Olsson, C., Oskarsson, M., & Tai, X.-C.) p 137–150 (Springer, 2013).

McInnes, L., Healy, J. & Melville, J. UMAP: uniform manifold approximation and projection for dimension reduction. Preprint at arXiv https://arxiv.org/abs/1802.03426v3 (2018).

Kanemura, A., Maeda, S. & Ishii, S. Superresolution with compound markov random fields via the variational em algorithm. Neural Netw. 22, 1025–1034 (2009).

Blei, D. M., Kucukelbir, A. & McAuliffe, J. D. Variational inference: a review for statisticians. J. Am. Stat. Assoc. 112, 859–877 (2017).

Dempster, A. P., Laird, N. M. & Rubin, D. B. Maximum likelihood from incomplete data via the em algorithm. J. R. Stat. Soc. Series B Stat. Methodol. 39, 1–38 (1977).

Nielsen, S. F. The stochastic EM algorithm: estimation and asymptotic results. Bernoulli 6, 457–489 (2000).

Kimura, T. et al. Expectation–maximization algorithms for inference in Dirichlet processes mixture. Pattern Anal. Appl. 16, 55–67 (2013).

Wolf, F. A., Angerer, P. & Theis, F. J. Scanpy: large-scale single-cell gene expression data analysis. Genome Biol. 19, 15 (2018).

Zeisel, A. et al. Cell types in the mouse cortex and hippocampus revealed by single-cell RNA-seq. Science 347, 1138–1142 (2015).

Harris, K. D. et al. Classes and continua of hippocampal CA1 inhibitory neurons revealed by single-cell transcriptomics. PLoS Biol. 16, e2006387 (2018).

Hodge, R. D. et al. Conserved cell types with divergent features in human versus mouse cortex. Nature 573, 61–68 (2019).

Haber, A. L. et al. A single-cell survey of the small intestinal epithelium. Nature 551, 333–339 (2017).

Gehart, H. et al. Identification of enteroendocrine regulators by real-time single-cell differentiation mapping. Cell 176, 1158–1173 (2019).

Tsoucas, D. et al. Accurate estimation of cell-type composition from gene expression data. Nat. Commun. 10, 2975 (2019).

Moffitt, J. R. et al. High-throughput single-cell gene-expression profiling with multiplexed error-robust fluorescence in situ hybridization. Proc. Natl Acad. Sci. USA 113, 11046–11051 (2016).

Stringer, C., Wang, T., Michaelos, M. & Pachitariu, M. Cellpose: a generalist algorithm for cellular segmentation. Nat. Methods 18, 100–106 (2021).

Traag, V. A., Waltman, L. & Van Eck, N. J. From Louvain to Leiden: guaranteeing well-connected communities. Sci. Rep. 9, 5233 (2019).

Lohoff, T. et al. Highly multiplexed spatially resolved gene expression profiling of mouse organogenesis. Preprint at bioRxiv https://doi.org/10.1101/2020.11.20.391896 (2020).
Acknowledgements
We thank B. Tasic and B. Long for sharing the non-published Allen smFISH data and aiding in its interpretation and the SpaceTx consortium for facilitating the collaborations. We also thank Y. Boykov (University of Waterloo) for the initial discussions and advice on an alternative segmentation approach based on graph cuts. We are also grateful to a number of colleagues who advised us on the published protocols, including N. Pierson and L. Cai (seqFISH+), S. Codeluppi, L. Borm and S. Linnarsson (osmFISH) and X. Qian, M. Hilscher and M. Nilsson (ISS). Additionally, we thank J. Miller for his input on segmentation benchmarks and B. Lelieveldt for his advising on NCV visualization. We express our gratitude to D. Molchanov and D. Vetrov (HSE, Moscow) for their input on the algorithm. J.R.M. acknowledges pilot funding from the Harvard Digestive Disease Center (P30 DK034854). V.P., P.V.K. and J.R.M. were supported by the Seed Network grant 2019-202743 from the Chan Zuckerberg Initiative. V.P. is funded through a cooperative agreement between University of Copenhagen and Harvard Medical School.
Ethics declarations
Competing interests
P.V.K. serves on the Scientific Advisory Board to Celsius Therapeutics, Inc., and Biomage, Inc. J.R.M. is a cofounder and Scientific Advisory Board member of Vizgen, Inc. J.R.M. is an inventor on patents associated with MERFISH applied for on his behalf by Harvard University and Boston Children's Hospital. The other authors declare no conflict of interest.
Additional information
Peer review information Nature Biotechnology thanks Kenneth Harris and the other, anonymous, reviewer(s) for their contribution to the peer review of this work.
Publisher's note Springer Nature remains neutral with regard to jurisdictional claims in published maps and institutional affiliations.
Supplementary information
Supplementary Figs. 1–10 and Supplementary Table captions.
About this article
Cite this article
Petukhov, V., Xu, R.J., Soldatov, R.A. et al. Cell segmentation in imaging-based spatial transcriptomics. Nat Biotechnol 40, 345–354 (2022). https://doi.org/10.1038/s41587-021-01044-w
Received:

Accepted:

Published:

Issue Date:

DOI: https://doi.org/10.1038/s41587-021-01044-w