Abstract
Live cell imaging with high spatiotemporal resolution and high detection sensitivity facilitates the study of the dynamics of cellular structure and function. However, extracting high-resolution 4D (3D space plus time) information from live cells remains challenging, because current methods are slow, require high peak excitation intensities or suffer from high out-of-focus background. Here we present 3D interferometric lattice light-sheet (3D-iLLS) imaging, a technique that requires low excitation light levels and provides high background suppression and substantially improved volumetric resolution by combining 4Pi interferometry with selective plane illumination. We demonstrate that 3D-iLLS has an axial resolution and single-particle localization precision of 100 nm (FWHM) and <10 nm (1σ), respectively. We illustrate the performance of 3D-iLLS in a range of systems: single messenger RNA molecules, nanoscale assemblies of transcription regulators in the nucleus, the microtubule cytoskeleton and mitochondria organelles. The enhanced 4D resolution and increased signal-to-noise ratio of 3D-iLLS will facilitate the analysis of biological processes at the sub-cellular level.
This is a preview of subscription content
Access options
Subscribe to Journal
Get full journal access for 1 year
$99.00
only $8.25 per issue
All prices are NET prices.
VAT will be added later in the checkout.
Tax calculation will be finalised during checkout.
Rent or Buy article
Get time limited or full article access on ReadCube.
from$8.99
All prices are NET prices.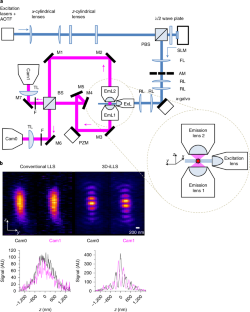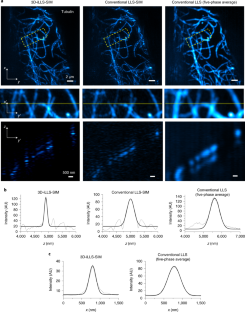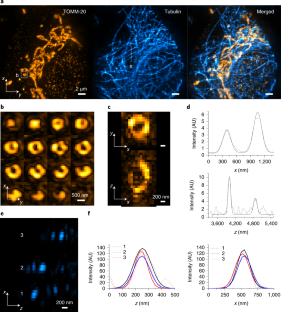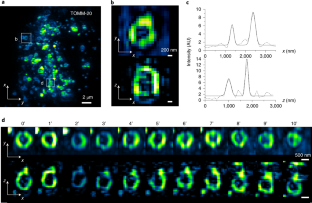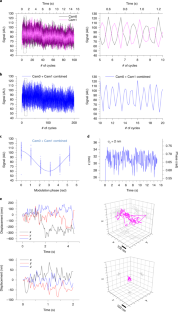 Code availability
Custom-written analysis code is available in the Zenodo repository: https://doi.org/10.5281/zenodo.4795421. Data acquisition and instrument control software can be requested for academic use from the corresponding author, after executing material transfer agreements with Memorial Sloan Kettering Cancer Center.
References
1.

Hell, S. & Stelzer, E. H. K. Properties of a 4Pi confocal fluorescence microscope. J. Opt. Soc. Am. A 9, 2159–2166 (1992).

2.

Gustafsson, M. G. L., Agard, D. A. & Sedat, J. W. Sevenfold improvement of axial resolution in 3D widefield microscopy using 2 objective lenses. Proc. Soc. Photo Opt. Instrum. Eng. 2412, 147–156 (1995).

3.

Wang, G., Hauver, J., Thomas, Z., Darst, S. A. & Pertsinidis, A. Single-molecule real-time 3D imaging of the transcription cycle by modulation interferometry. Cell 167, 1839–1852 (2016).

4.

Gustafsson, M. G., Agard, D. A. & Sedat, J. W. I5M: 3D widefield light microscopy with better than 100 nm axial resolution. J. Microsc. 195, 10–16 (1999).

5.

Shtengel, G. et al. Interferometric fluorescent super-resolution microscopy resolves 3D cellular ultrastructure. Proc. Natl Acad. Sci. USA 106, 3125–3130 (2009).

6.

Aquino, D. et al. Two-color nanoscopy of three-dimensional volumes by 4Pi detection of stochastically switched fluorophores. Nat. Methods 8, 353–359 (2011).

7.

Chen, B. C. et al. Lattice light-sheet microscopy: imaging molecules to embryos at high spatiotemporal resolution. Science 346, 1257998 (2014).

8.

Gao, L. et al. Noninvasive imaging beyond the diffraction limit of 3D dynamics in thickly fluorescent specimens. Cell 151, 1370–1385 (2012).

9.

Gebhardt, J. C. et al. Single-molecule imaging of transcription factor binding to DNA in live mammalian cells. Nat. Methods 10, 421–426 (2013).

10.

Huisken, J., Swoger, J., Del Bene, F., Wittbrodt, J. & Stelzer, E. H. Optical sectioning deep inside live embryos by selective plane illumination microscopy. Science 305, 1007–1009 (2004).

11.

Planchon, T. A. et al. Rapid three-dimensional isotropic imaging of living cells using Bessel beam plane illumination. Nat. Methods 8, 417–423 (2011).

12.

Vettenburg, T. et al. Light-sheet microscopy using an Airy beam. Nat. Methods 11, 541–544 (2014).

13.

Li, J. et al. Single-molecule nanoscopy elucidates RNA polymerase II transcription at single genes in live cells. Cell 178, 491–506 (2019).

14.

Legant, W. R. et al. High-density three-dimensional localization microscopy across large volumes. Nat. Methods 13, 359–365 (2016).

15.

Li, D. et al. ADVANCED IMAGING. Extended-resolution structured illumination imaging of endocytic and cytoskeletal dynamics. Science 349, aab3500 (2015).

16.

Nagorni, M. & Hell, S. W. Coherent use of opposing lenses for axial resolution increase in fluorescence microscopy. I. Comparative study of concepts. J. Opt. Soc. Am. A Opt. Image Sci. Vis. 18, 36–48 (2001).

17.

Nagorni, M. & Hell, S. W. Coherent use of opposing lenses for axial resolution increase. II. Power and limitation of nonlinear image restoration. J. Opt. Soc. Am. A Opt. Image Sci. Vis. 18, 49–54 (2001).

18.

Gustafsson, M. G. et al. Three-dimensional resolution doubling in wide-field fluorescence microscopy by structured illumination. Biophys. J. 94, 4957–4970 (2008).

19.

Liu, Z. et al. 3D imaging of Sox2 enhancer clusters in embryonic stem cells. eLife 3, e04236 (2014).

20.

Fiolka, R., Shao, L., Rego, E. H., Davidson, M. W. & Gustafsson, M. G. L. Time-lapse two-color 3D imaging of live cells with doubled resolution using structured illumination. Proc. Natl Acad. Sci. USA 109, 5311–5315 (2012).

21.

Gwosch, K. C. et al. MINFLUX nanoscopy delivers 3D multicolor nanometer resolution in cells. Nat. Methods 17, 217–224 (2020).

22.

Gu, L. et al. Molecular resolution imaging by repetitive optical selective exposure. Nat. Methods 16, 1114–1118 (2019).

23.

Reymond, L. et al. SIMPLE: structured illumination based point localization estimator with enhanced precision. Opt. Express 27, 24578–24590 (2019).

24.

Reymond, L., Huser, T., Ruprecht, V. & Wieser, S. Modulation-enhanced localization microscopy. JPhys. Photonics https://iopscience.iop.org/article/10.1088/2515-7647/ab9eac (2020).

25.

Cnossen, J. et al. Localization microscopy at doubled precision with patterned illumination. Nat. Methods 17, 59–63 (2020).

26.

Liu, T. L. et al. Observing the cell in its native state: imaging subcellular dynamics in multicellular organisms. Science 360, eaaq1392 (2018).

27.

Perez, V., Chang, B.-J. & Stelzer, E. H. K. Optimal 2D-SIM reconstruction by two filtering steps with Richardson–Lucy deconvolution. Sci. Rep. 6, 37149 (2016).

28.

Liu, Y., Lauderdale, J. D. & Kner, P. Stripe artifact reduction for digital scanned structured illumination light sheet microscopy. Opt. Lett. 44, 2510–2513 (2019).

29.

Hoffman, D. P. & Betzig, E. Tiled reconstruction improves structured illumination microscopy. Preprint at https://www.biorxiv.org/content/10.1101/2020.01.06.895318v1 (2020).

30.

Vicidomini, G., Schmidt, R., Egner, A., Hell, S. & Schonle, A. Automatic deconvolution in 4Pi-microscopy with variable phase. Opt. Express 18, 10154–10167 (2010).

31.

Baddeley, D., Carl, C. & Cremer, C. 4Pi microscopy deconvolution with a variable point-spread function. Appl. Opt. 45, 7056–7064 (2006).

32.

Lauer, T. R. Deconvolution with a spatially-variant PSF. Astronomical Data Analysis II https://doi.org/10.1117/12.461035 (2002).

33.

Bossi, M. et al. Multicolor far-field fluorescence nanoscopy through isolated detection of distinct molecular species. Nano Lett. 8, 2463–2468 (2008).

34.

Zhang, Z., Kenny, S. J., Hauser, M., Li, W. & Xu, K. Ultrahigh-throughput single-molecule spectroscopy and spectrally resolved super-resolution microscopy. Nat. Methods 12, 935–938 (2015).

35.

Zhang, Y. et al. Nanoscale subcellular architecture revealed by multicolor three-dimensional salvaged fluorescence imaging. Nat. Methods 17, 225–231 (2020).

36.

Chang, B.-J. et al. Universal light-sheet generation with field synthesis. Nat. Methods 16, 235–238 (2019).

37.

Pertsinidis, A. & Wang, G. Modulation interferometric imaging systems and methods. Patent WO2018106678A1 (2018).

38.

Turcotte, R. et al. Dynamic super-resolution structured illumination imaging in the living brain. Proc. Natl Acad. Sci. USA 116, 9586–9591 (2019).

39.

Crocker, J. C. & Grier, D. G. Methods of digital video microscopy for colloidal studies. J. Colloid. Interf. Sci. 179, 298–310 (1996).
Acknowledgements
We thank G. Ayzenberg (Department of Medical Physics, Memorial Sloan Kettering Cancer Center) for expert machining, D. Mazover for assistance with CAD and L. Lavis for dye reagents. This work was supported by a NYSTEM Postdoctoral Training Award (C32599GG; J.L.), a National Cancer Institute grant (P30 CA008748), a National Institutes of Health (NIH) Director's New Innovator Award (1DP2GM105443-01; A.P.), the Louis V. Gerstner, Jr. Young Investigators Fund (A.P.) and the National Institute of General Medical Sciences of the NIH (1R01GM135545-01 and 1R21GM134342-01; A.P.).
Ethics declarations
Competing interests
Memorial Sloan Kettering Cancer Center has filed patent applications (WO2018106678A1, 62/430117 and 63/070125) relating to this work, with A.P. and G.W. listed as inventors.
Additional information
Peer review information Nature Biotechnology thanks Reto Fiolka, Jonas Ries and Lothar Schermelleh for their contribution to the peer review of this work.
Publisher's note Springer Nature remains neutral with regard to jurisdictional claims in published maps and institutional affiliations.
Supplementary Information
About this article
Cite this article
Cao, B., Coelho, S., Li, J. et al. Volumetric interferometric lattice light-sheet imaging. Nat Biotechnol 39, 1385–1393 (2021). https://doi.org/10.1038/s41587-021-01042-y
Received:

Accepted:

Published:

Issue Date:
Further reading
Nature Biotechnology (2021)