Abstract
Optoelectronic systems can exert precise control over targeted neurons and pathways throughout the brain in untethered animals, but similar technologies for the spinal cord are not well established. In the present study, we describe a system for ultrafast, wireless, closed-loop manipulation of targeted neurons and pathways across the entire dorsoventral spinal cord in untethered mice. We developed a soft stretchable carrier, integrating microscale light-emitting diodes (micro-LEDs), that conforms to the dura mater of the spinal cord. A coating of silicone–phosphor matrix over the micro-LEDs provides mechanical protection and light conversion for compatibility with a large library of opsins. A lightweight, head-mounted, wireless platform powers the micro-LEDs and performs low-latency, on-chip processing of sensed physiological signals to control photostimulation in a closed loop. We use the device to reveal the role of various neuronal subtypes, sensory pathways and supraspinal projections in the control of locomotion in healthy and spinal-cord injured mice.
Relevant articles
Open Access articles citing this article.
Ilhan Bok

,

Adam Vareberg

…

Aviad Hai

Bioelectronic Medicine Open Access 20 September 2023

Seungwan Kim

,

Joohyuk Kang

…

Byeong-Soo Bae

npj Flexible Electronics Open Access 24 July 2023

Atharva Sahasrabudhe

,

Laura E. Rupprecht

…

Polina Anikeeva

Nature Biotechnology Open Access 22 June 2023
Access options
Access Nature and 54 other Nature Portfolio journals
Get Nature+, our best-value online-access subscription
$29.99 / 30 days
cancel any time
Subscribe to this journal
Receive 12 print issues and online access
$209.00 per year
only $17.42 per issue
Rent or buy this article
Prices vary by article type
from$1.95
to$39.95
Prices may be subject to local taxes which are calculated during checkout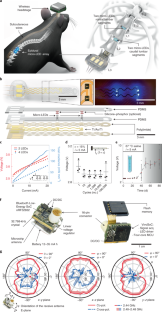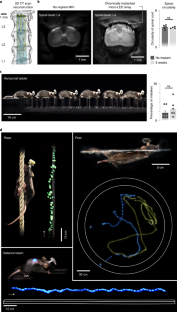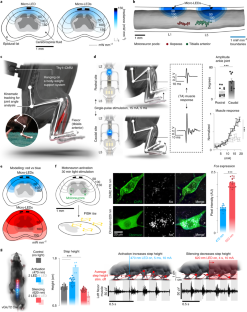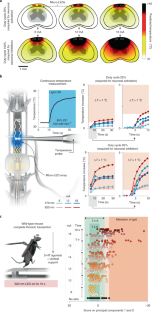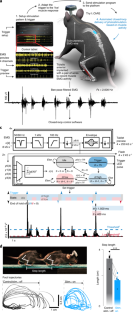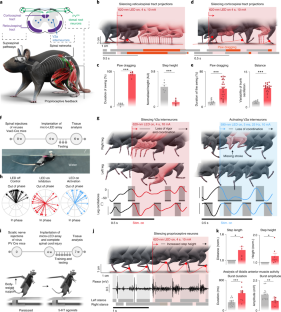 References
Deisseroth, K. Optogenetics. Nat. Methods 8, 26–29 (2011).

Won, S. M., Song, E., Reeder, J. T. & Rogers, J. A. Emerging modalities and implantable technologies for neuromodulation. Cell 181, 1–21 (2020).

Roy, A. et al. Optogenetic spatial and temporal control of cortical circuits on a columnar scale. J. Neurophysiol. 115, 1043–1062 (2016).

Jeong, J. W. et al. Wireless optofluidic systems for programmable in vivo pharmacology and optogenetics. Cell 162, 662–674 (2015).

Kim, T. II et al. Injectable, cellular-scale optoelectronics with applications for wireless optogenetics. Science 340, 211–216 (2013).

Montgomery, K. L. et al. Wirelessly powered, fully internal optogenetics for brain, spinal and peripheral circuits in mice. Nat. Methods 12, 3–5 (2015).

Qazi, R. et al. Wireless optofluidic brain probes for chronic neuropharmacology and photostimulation. Nat. Biomed. Eng. 3, 655–669 (2019).

Shin, G. et al. Flexible near-field wireless optoelectronics as aubdermal implants for broad applications in optogenetics. Neuron 93, 509–521.e3 (2017).

Montgomery, K. L., Iyer, S. M., Christensen, A. J., Deisseroth, K. & Delp, S. L. Beyond the brain: optogenetic control in the spinal cord and peripheral nervous system. Sci. Transl. Med. 8, 337rv5–337rv5 (2016).

Gutruf, P. & Rogers, J. A. Implantable, wireless device platforms for neuroscience research. Curr. Opin. Neurobiol. 50, 42–49 (2018).

Xue, Y. et al. A wireless closed-loop system for optogenetic peripheral neuromodulation. Nature 565, 361–365 (2018).

Michoud, F. et al. Epineural optogenetic activation of nociceptors initiates and amplifies inflammation. Nat. Biotechnol. 39, 179–185 (2020).

Caggiano, V., Sur, M. & Bizzi, E. Rostro-caudal inhibition of hindlimb movements in the spinal cord of mice. PloS ONE 9, 100865 (2014).

Lu, C. et al. Flexible and stretchable nanowire-coated fibers for optoelectronic probing of spinal cord circuits. Sci. Adv. 3, e1600955 (2017).

Park, S. II et al. Soft, stretchable, fully implantable miniaturized optoelectronic systems for wireless optogenetics. Nat. Biotechnol. 33, 1280–1286 (2015).

Samineni, V. K. et al. Fully implantable, battery-free wireless optoelectronic devices for spinal optogenetics. Pain 158, 2108–2116 (2017).

Wang, Y. et al. Flexible and fully implantable upconversion device for wireless optogenetic stimulation of the spinal cord in behaving animals. Nanoscale 12, 2406–2414 (2020).

Minev, I. R. et al. Electronic dura mater for long-term multimodal neural interfaces. Science 347, 159–163 (2015).

Mondello, S. E. et al. Optogenetic surface stimulation of the rat cervical spinal cord. J. Neurophysiol. 120, 795–811 (2018).

Owen, S. F., Liu, M. H. & Kreitzer, A. C. Thermal constraints on in vivo optogenetic manipulations. Nat. Neurosci. 22, 1061–1065 (2019).

Schönle, P. et al. A multi-sensor and parallel processing SoC for miniaturized medical instrumentation. IEEE J. Solid-State Circuits 53, 2076–2087 (2018).

Asboth, L. et al. Cortico-reticulo-spinal circuit reorganization enables functional recovery after severe spinal cord contusion. Nat. Neurosci. 21, 576–588 (2018).

Deisseroth, K. Optogenetics: 10 years of microbial opsins in neuroscience. Nat. Neurosci 18, 1213–1225 (2015).

Zhang, F. et al. The microbial opsin family of optogenetic tools. Cell 147, 1446–1457 (2011).

Klapoetke, N. C. et al. Independent optical excitation of distinct neural populations. Nat. Methods 11, 338–346 (2014).

Chuong, A. S. et al. Noninvasive optical inhibition with a red-shifted microbial rhodopsin. Nat. Neurosci. 17, 1123–1129 (2014).

Courtine, G. et al. Transformation of nonfunctional spinal circuits into functional states after the loss of brain input. Nat. Neurosci. 12, 1333–1342 (2009).

Wenger, N. et al. Spatiotemporal neuromodulation therapies engaging muscle synergies improve motor control after spinal cord injury. Nat. Med. 22, 5–7 (2016).

Kiehn, O. & Dougherty, K. Locomotion: circuits and physiology. in Neuroscience in the 21st Century: From Basic to Clinical 1209–1236 (Springer New York, 2013). https://doi.org/10.1007/978-1-4614-1997-6_42

Bieler, L. et al. Motor deficits following dorsal corticospinal tract transection in rats: voluntary versus skilled locomotion readouts. Heliyon 4, e00540 (2018).

Barthélemy, D., Grey, M. J., Nielsen, J. B. & Bouyer, L. Involvement of the corticospinal tract in the control of human gait. Progr. Brain Res. 192, 181–197 (2011).

Crone, S. A., Zhong, G., Harris-Warrick, R. & Sharma, K. In mice lacking V2a interneurons, gait depends on speed of locomotion. J. Neurosci. 29, 7098–7109 (2009).

Takeoka, A., Vollenweider, I., Courtine, G. & Arber, S. Muscle spindle feedback directs locomotor recovery and circuit reorganization after spinal cord injury. Cell 159, 1626–1639 (2014).

Roth, B. L. DREADDs for neuroscientists. Neuron 89, 683–694 (2016).

Ruedl, C. & Jung, S. DTR-mediated conditional cell ablation—progress and challenges. Eur. J. Immunol. 48, 1114–1119 (2018).

Yizhar, O., Fenno, L. E., Davidson, T. J., Mogri, M. & Deisseroth, K. Optogenetics in neural systems. Neuron 71, 9–34 (2011).

Takeoka, A. & Arber, S. Functional local proprioceptive feedback circuits initiate and maintain locomotor recovery after spinal cord injury. Cell Rep. 27, 71–85.e3 (2019).

Yun, S. H. & Kwok, S. J. J. Light in diagnosis, therapy and surgery. Nat. Biomed. Eng. 1, 0008 (2017).

Courtine, G. & Bloch, J. Defining ecological strategies in neuroprosthetics. Neuron 86, 29–33 (2015).

Capogrosso, M. et al. Configuration of electrical spinal cord stimulation through real-time processing of gait kinematics. Nat. Protoc. 13, 2031–2061 (2018).

Mathis, A. et al. DeepLabCut: markerless pose estimation of: user-defined body parts with deep learning. Nat. Neurosci. 21, 1281–1289 (2018).

Watson, C., Paxinos, G., Kayalioglu, G. & Heise, C. Atlas of the mouse spinal cord, in The Spinal Cord (Academic Press, 2009).

Yaroslavsky, A. N. et al. Optical properties of selected native and coagulated human brain tissues in vitro in the visible and near infrared spectral range. Phys. Med. Biol. 47, 2059 (2002).

Mignon, C., Tobin, D. J., Zeitouny, M. & Uzunbajakava, N. E. Shedding light on the variability of optical skin properties: finding a path towards more accurate prediction of light propagation in human cutaneous compartments. Biomed. Opt. Express. 9, 852–872 (2018).

Bashkatov, A. N. et al. In-vitro study of control of human dura mater optical properties by acting of osmotical liquids. In Controlling Tissue Optical Properties: Applications in Clinical Study (SPIE, 2000).

Renier, N. et al. IDISCO: a simple, rapid method to immunolabel large tissue samples for volume imaging. Cell 159, 896–910 (2014).

Voigt, F. F. et al. The mesoSPIM initiative: open-source light-sheet microscopes for imaging cleared tissue. Nat. Methods 16, 1105–1108 (2019).
Acknowledgements
We thank B. Schneider for providing viral vectors, and L. Batti and S. Pagès from the ALICe platform for light-sheet imaging. Financial support was provided by a Consolidator Grant from the European Research Council (ERC-2015-CoG HOW2WALKAGAIN 682999), the Swiss National Science Foundation (subsidies 310030_130850, CRSII5_183519, BSCGI0 1578000) and the European Union's Horizon 2020 Framework Programme for Research and Innovation under the Specific Grant agreement no. 785907 (Human Brain Project SGA2) and the Bertarelli Foundation. C.K. is supported by a Marie Skłodowska-Curie postdoctoral fellowship and HFSP long-term fellowship (LT001278/2017-L). S.S. and C.I.D.Z. are supported by grants from BIG (Erasmus MC), Medical-NeuroDelta and INTENSE (LSH-NWO).
Ethics declarations
Competing interests
The authors declare competing interests: G.C. and S.P.L. are founders and shareholders of Onward medical, a company with partial relationship to the present work.
Additional information
Peer review information Nature Biotechnology thanks C. J. Heckman and the other, anonymous, reviewer(s) for their contribution to the peer review of this work.
Publisher's note Springer Nature remains neutral with regard to jurisdictional claims in published maps and institutional affiliations.
Supplementary information
About this article
Cite this article
Kathe, C., Michoud, F., Schönle, P. et al. Wireless closed-loop optogenetics across the entire dorsoventral spinal cord in mice. Nat Biotechnol 40, 198–208 (2022). https://doi.org/10.1038/s41587-021-01019-x
Received:

Accepted:

Published:

Issue Date:

DOI: https://doi.org/10.1038/s41587-021-01019-x