Abstract
Links between T cell clonotypes, as defined by T cell receptor (TCR) sequences, and phenotype, as reflected in gene expression (GEX) profiles, surface protein expression and peptide:major histocompatibility complex binding, can reveal functional relationships beyond the features shared by clonally related cells. Here we present clonotype neighbor graph analysis (CoNGA), a graph theoretic approach that identifies correlations between GEX profile and TCR sequence through statistical analysis of GEX and TCR similarity graphs. Using CoNGA, we uncovered associations between TCR sequence and GEX profiles that include a previously undescribed 'natural lymphocyte' population of human circulating CD8+ T cells and a set of TCR sequence determinants of differentiation in thymocytes. These examples show that CoNGA might help elucidate complex relationships between TCR sequence and T cell phenotype in large, heterogeneous, single-cell datasets.
This is a preview of subscription content
Access options
Subscribe to Nature+
Get immediate online access to the entire Nature family of 50+ journals
Subscribe to Journal
Get full journal access for 1 year
$99.00
only $8.25 per issue
All prices are NET prices.
VAT will be added later in the checkout.
Tax calculation will be finalised during checkout.
Buy article
Get time limited or full article access on ReadCube.
$32.00
All prices are NET prices.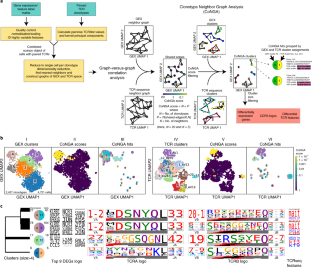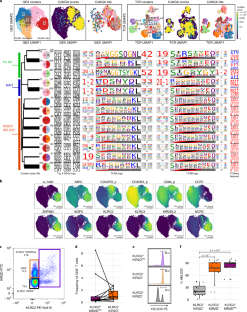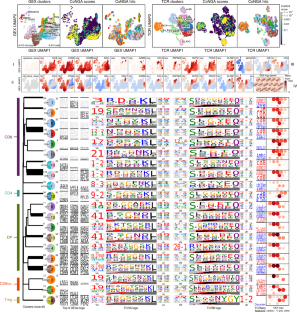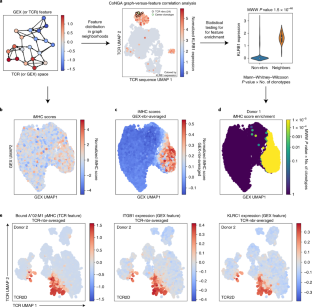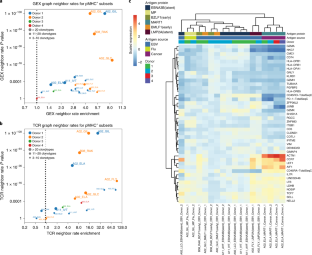 References
Yost, K. E. et al. Clonal replacement of tumor-specific T cells following PD-1 blockade. Nat. Med. 25, 1251–1259 (2019).

Wu, T. D. et al. Peripheral T cell expansion predicts tumour infiltration and clinical response. Nature 579, 274–278 (2020).

Guo, X. et al. Global characterization of T cells in non-small-cell lung cancer by single-cell sequencing. Nat. Med. 24, 978–985 (2018).

Emmi, J., Huuhtanen, J., Mustjoki, S., Heinonen, M. & Lähdesmäki, H. Predicting recognition between T cell receptors and epitopes with TCRGP. PLoS Comput. Biol. 17, e1008814 (2021).

Zheng, C. et al. Landscape of infiltrating T cells in liver cancer revealed by single-cell sequencing. Cell 169, 1342–1356 (2017).

Zhang, L. et al. Lineage tracking reveals dynamic relationships of T cells in colorectal cancer. Nature 564, 268–272 (2018).

Gueguen, P. et al. Contribution of resident and circulating precursors to tumor-infiltrating CD8+ T cell populations in lung cancer. Sci. Immunol. 6, eabd5778 (2021).

Azizi, E. et al. Single-cell map of diverse immune phenotypes in the breast tumor microenvironment. Cell 174, 1293–1308 (2018).

Minervina, A. A. et al. Primary and secondary anti-viral response captured by the dynamics and phenotype of individual T cell clones. eLife 9, e53704 (2020).

Zemmour, D. et al. Single-cell gene expression reveals a landscape of regulatory T cell phenotypes shaped by the TCR. Nat. Immunol. 19, 291–301 (2018).

Godfrey, D. I., Stankovic, S. & Baxter, A. G. Raising the NKT cell family. Nat. Immunol. 11, 197–206 (2010).

Toubal, A., Nel, I., Lotersztajn, S. & Lehuen, A. Mucosal-associated invariant T cells and disease. Nat. Rev. Immunol. 19, 643–657 (2019).

Schattgen, S. A. & Thomas, P. G. Bohemian T cell receptors: sketching the repertoires of unconventional lymphocytes. Immunol. Rev. 284, 79–90 (2018).

Dash, P. et al. Quantifiable predictive features define epitope-specific T cell receptor repertoires. Nature 547, 89–93 (2017).

Glanville, J. et al. Identifying specificity groups in the T cell receptor repertoire. Nature 547, 94–98 (2017).

Zhang, H. et al. Investigation of antigen-specific T-cell receptor clusters in human cancers. Clin. Cancer Res. 26, 1359–1371 (2020).

Tubo, N. J. et al. Single naive CD4+ T cells from a diverse repertoire produce different effector cell types during infection. Cell 153, 785–796 (2013).

Khatun, A. et al. Single-cell lineage mapping of a diverse virus-specific naive CD4 T cell repertoire. J. Exp. Med. 218, e20200650 (2021).

McInnes, L., Healy, J., Saul, N. & Großberger, L. UMAP: uniform manifold approximation and projection. J. Open Source Softw. 3, 861 (2018).

Blondel, V. D., Guillaume, J.-L., Lambiotte, R. & Lefebvre, E. Fast unfolding of communities in large networks. J. Stat. Mech. 2008, P10008 (2008).

Traag, V. louvain-igraph: v0.5.3. https://zenodo.org/record/35117#.YN8BzruSlPY (2015).

Schneider, T. D. & Stephens, R. M. Sequence logos: a new way to display consensus sequences. Nucleic Acids Res. 18, 6097–6100 (1990).

Godfrey, D. I., Koay, H.-F., McCluskey, J. & Gherardin, N. A. The biology and functional importance of MAIT cells. Nat. Immunol. 20, 1110–1128 (2019).

10x Genomics. A new way of exploring immunity: linking highly multiplexed antigen recognition to immune repertoire and phenotype (Application Note). https://pages.10xgenomics.com/rs/446-PBO-704/images/10x_AN047_IP_A_New_Way_of_Exploring_Immunity_Digital.pdf (2020).

Lu, J. et al. Molecular constraints on CDR3 for thymic selection of MHC-restricted TCRs from a random pre-selection repertoire. Nat. Commun. 10, 1019 (2019).

Elhanati, Y., Murugan, A., Callan, C. G. Jr, Mora, T. & Walczak, A. M. Quantifying selection in immune receptor repertoires. Proc. Natl. Acad. Sci. USA 111, 9875–9880 (2014).

Krovi, S. H., Kappler, J. W., Marrack, P. & Gapin, L. Inherent reactivity of unselected TCR repertoires to peptide-MHC molecules. Proc. Natl Acad. Sci. USA 116, 22252–22261 (2019).

Stadinski, B. D. et al. Hydrophobic CDR3 residues promote the development of self-reactive T cells. Nat. Immunol. 17, 946–955 (2016).

Wirasinha, R. C. et al. αβ T-cell receptors with a central CDR3 cysteine are enriched in CD8αα intraepithelial lymphocytes and their thymic precursors. Immunol. Cell Biol. 96, 553–561 (2018).

Schattgen, S. A. et al. Intestinal intraepithelial lymphocyte repertoires are imprinted clonal structures selected for MHC reactivity. Immunity https://papers.ssrn.com/sol3/papers.cfm?abstract_id=3467160 (2019).

Park, J.-E. et al. A cell atlas of human thymic development defines T cell repertoire formation. Science 367, eaay3224 (2020).

Carter, J. A. et al. Single T cell sequencing demonstrates the functional role of αβ TCR pairing in cell lineage and antigen specificity. Front. Immunol. 10, 1516 (2019).

Klarenbeek, P. L. et al. Somatic variation of T-cell receptor genes strongly associate with HLA class restriction. PLoS ONE 10, e0140815 (2015).

Emerson, R. et al. Estimating the ratio of CD4+ to CD8+ T cells using high-throughput sequence data. J. Immunol. Methods 391, 14–21 (2013).

Li, H. M. et al. TCRβ repertoire of CD4+ and CD8+ T cells is distinct in richness, distribution, and CDR3 amino acid composition. J. Leukoc. Biol. 99, 505–513 (2016).

Majumder, K., Bassing, C. H. & Oltz, E. M. Regulation of Tcrb gene assembly by genetic, epigenetic, and topological mechanisms. Adv. Immunol. 128, 273–306 (2015).

Luo, H., Yu, G., Wu, Y. & Wu, J. EphB6 crosslinking results in costimulation of T cells. J. Clin. Invest. 110, 1141–1150 (2002).

Luo, H., Yu, G., Tremblay, J. & Wu, J. EphB6-null mutation results in compromised T cell function. J. Clin. Invest. 114, 1762–1773 (2004).

Huang, H., Wang, C., Rubelt, F., Scriba, T. J. & Davis, M. M. Analyzing the Mycobacterium tuberculosis immune response by T-cell receptor clustering with GLIPH2 and genome-wide antigen screening. Nat. Biotechnol. 38, 1194–1202 (2020).

Jameson, S. C. & Masopust, D. Understanding subset diversity in T cell memory. Immunity 48, 214–226 (2018).

Fischer, D. S. et al. Predicting antigen specificity of single T cells based on TCR CDR3 regions. Mol. Systems Biol. 16, e9416 (2020).

Thomas, P. G. & Crawford, J. C. Selected before selection: a case for inherent antigen bias in the T-cell receptor repertoire. Curr. Opin. Syst. Biol. 18, 36–43 (2019).

Wolf, F. A., Angerer, P. & Theis, F. J. SCANPY: large-scale single-cell gene expression data analysis. Genome Biol. 19, 15 (2018).

Berg, J. M., Tymoczko, J. L. & Stryer, L. Biochemistry (W. H. Freeman, 2002).

Miyazawa, S. & Jernigan, R. L. Residue–residue potentials with a favorable contact pair term and an unfavorable high packing density term, for simulation and threading. J. Mol. Biol. 256, 623–644 (1996).

Kosmrlj, A., Jha, A. K., Huseby, E. S., Kardar, M. & Chakraborty, A. K. How the thymus designs antigen-specific and self-tolerant T cell receptor sequences. Proc. Natl Acad. Sci. USA 105, 16671–16676 (2008).

Martin, J. & Lavery, R. Arbitrary protein−protein docking targets biologically relevant interfaces. BMC Biophys. 5, 7 (2012).

Dunker, A. K. et al. Intrinsically disordered protein. J. Mol. Graph. Model. 19, 26–59 (2001).

Kidera, A., Konishi, Y., Oka, M., Ooi, T. & Scheraga, H. A. Statistical analysis of the physical properties of the 20 naturally occurring amino acids. J. Protein Chem. 4, 23–55 (1985).

Shugay, M. et al. VDJtools: unifying post-analysis of T cell receptor repertoires. PLoS Comput. Biol. 11, e1004503 (2015).

Atchley, W. R., Zhao, J., Fernandes, A. D. & Drüke, T. Solving the protein sequence metric problem. Proc. Natl Acad. Sci. USA 102, 6395–6400 (2005).

Emerson, R. O. et al. Immunosequencing identifies signatures of cytomegalovirus exposure history and HLA-mediated effects on the T cell repertoire. Nat. Genet. 49, 659–665 (2017).

Murugan, A., Mora, T., Walczak, A. M. & Callan, C. G. Statistical inference of the generation probability of T-cell receptors from sequence repertoires. Proc. Natl Acad. Sci. USA 109, 16161–16166 (2012).

Horn, H. S. Measurement of 'overlap' in comparative ecological studies. Amer. Naturalist 100, 419–424 (1966).

Shugay, M. et al. VDJdb: a curated database of T-cell receptor sequences with known antigen specificity. Nucleic Acids Res. 46, D419–D427 (2018).

Tickotsky, N., Sagiv, T., Prilusky, J., Shifrut, E. & Friedman, N. McPAS-TCR: a manually curated catalogue of pathology-associated T cell receptor sequences. Bioinformatics 33, 2924–2929 (2017).

Subramanian, A. et al. Gene set enrichment analysis: a knowledge-based approach for interpreting genome-wide expression profiles. Proc. Natl Acad. Sci. USA 102, 15545–15550 (2005).

Godec, J. et al. Compendium of immune signatures identifies conserved and species-specific biology in response to inflammation. Immunity 44, 194–206 (2016).

Stuart, T. et al. Comprehensive integration of single-cell data. Cell 177, 1888–1902 (2019).

Hänzelmann, S., Castelo, R. & Guinney, J. GSVA: gene set variation analysis for microarray and RNA-seq data. BMC Bioinformatics 14, 7 (2013).

Hillje, R., Pelicci, P. G. & Luzi, L. Cerebro: interactive visualization of scRNA-seq data. Bioinformatics 36, 2311–2313 (2020).
Acknowledgements
The authors would like to thank J. Park and S. Teichmann for assistance with the thymus atlas T cell dataset, E. Matsen for comments and suggestions on an earlier version of this manuscript, E. Newell and T. Bi for helpful discussions and N. Bradley for suggesting the use of kernel principal components analysis. We would also like to thank the developers of the scanpy single-cell analysis package, which provides the framework on which the CoNGA software is built. This research was supported by National Institutes of Health (NIH) grant R01 AI136514 to P.T., NIH ORIP S10OD028685 to support high-performance computing at the Fred Hutchinson Cancer Research Center, the St. Jude Neoma Boadway Postdoctoral Fellowship to S.S. and the American Lebanese Syrian Associated Charities to P.T.
Ethics declarations
Competing interests
M.J.T.S. is employed by 10x Genomics. M.J.T.S., A.M.B. and J.C.C. are option or shareholders of 10x Genomics. P.B., P.G.T. and J.C.C. served as unpaid consultants for 10x Genomics on the initial data analysis of the 10x_200k dataset. P.G.T. has filed patents related to the cloning, expression and characterization of T cell receptors. P.G.T. has received travel or speaking expenses from 10x Genomics, Illumina and PACT Pharma.
Additional information
Peer review information Nature Biotechnology thanks Benny Chain, Dmitriy Chudakov and the other, anonymous, reviewer(s) for their contribution to the peer review of this work.
Publisher's note Springer Nature remains neutral with regard to jurisdictional claims in published maps and institutional affiliations.
Supplementary information
About this article
Cite this article
Schattgen, S.A., Guion, K., Crawford, J.C. et al. Integrating T cell receptor sequences and transcriptional profiles by clonotype neighbor graph analysis (CoNGA). Nat Biotechnol 40, 54–63 (2022). https://doi.org/10.1038/s41587-021-00989-2
Received:

Accepted:

Published:

Issue Date:

DOI: https://doi.org/10.1038/s41587-021-00989-2
Further reading
Anastasia A. Minervina
Mikhail V. Pogorelyy
Paul G. Thomas

Nature Immunology (2022)