Abstract
The biological roles of DNA methylation have been elucidated by profiling methods based on whole-genome or reduced-representation bisulfite sequencing, but these approaches do not efficiently survey the vast numbers of non-coding regulatory elements in mammalian genomes. Here we present an extended-representation bisulfite sequencing (XRBS) method for targeted profiling of DNA methylation. Our design strikes a balance between expanding coverage of regulatory elements and reproducibly enriching informative CpG dinucleotides in promoters, enhancers and CTCF binding sites. Barcoded DNA fragments are pooled before bisulfite conversion, allowing multiplex processing and technical consistency in low-input samples. Application of XRBS to single leukemia cells enabled us to evaluate genetic copy number variations and methylation variability across individual cells. Our analysis highlights heterochromatic H3K9me3 regions as having the highest cell-to-cell variability in their methylation, likely reflecting inherent epigenetic instability of these late-replicating regions, compounded by differences in cell cycle stages among sampled cells.
Access options
Subscribe to Nature+
Get immediate online access to Nature and 55 other Nature journal
Subscribe to Journal
Get full journal access for 1 year
$99.00
only $8.25 per issue
All prices are NET prices.
VAT will be added later in the checkout.
Tax calculation will be finalised during checkout.
Buy article
Get time limited or full article access on ReadCube.
$32.00
All prices are NET prices.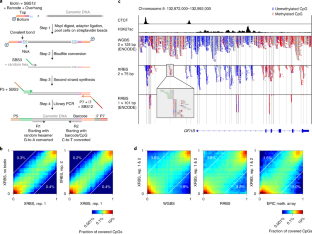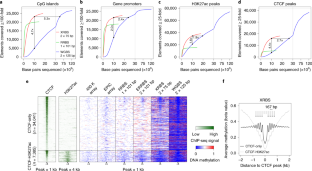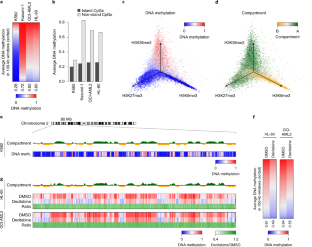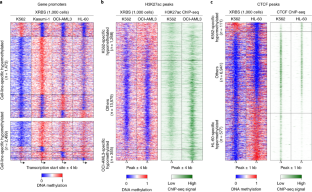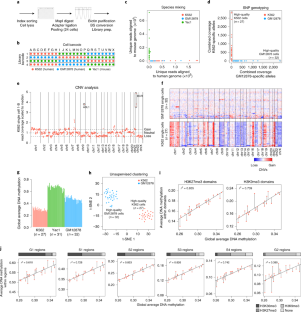 Data availability
The datasets generated during this study have been deposited in the Gene Expression Omnibus with primary accession code GSE149954.
References
Luo, C., Hajkova, P. & Ecker, J. R. Dynamic DNA methylation: in the right place at the right time. Science 361, 1336–1340 (2018).

Yoder, J. A., Walsh, C. P. & Bestor, T. H. Cytosine methylation and the ecology of intragenomic parasites. Trends Genet. 13, 335–340 (1997).

Greenberg, M. V. C. & Bourc'his, D. The diverse roles of DNA methylation in mammalian development and disease. Nat. Rev. Mol. Cell Biol. 20, 590–607 (2019).

Deaton, A. M. & Bird, A. CpG islands and the regulation of transcription. Genes Dev. 25, 1010–1022 (2011).

Schübeler, D. Function and information content of DNA methylation. Nature 517, 321–326 (2015).

Baylin, S. B. & Jones, P. A. A decade of exploring the cancer epigenome - biological and translational implications. Nat. Rev. Cancer 11, 726–734 (2011).

Zemach, A., McDaniel, I. E., Silva, P. & Zilberman, D. Genome-wide evolutionary analysis of eukaryotic DNA methylation. Science 328, 916–919 (2010).

Yin, Y. et al. Impact of cytosine methylation on DNA binding specificities of human transcription factors. Science 356, eaaj2239 (2017).

Song, Y. et al. Dynamic enhancer DNA methylation as basis for transcriptional and cellular heterogeneity of ESCs. Mol. Cell 75, 905–920 (2019).

Flavahan, W. A. et al. Insulator dysfunction and oncogene activation in IDH mutant gliomas. Nature 529, 110–114 (2016).

Gu, H. et al. Preparation of reduced representation bisulfite sequencing libraries for genome-scale DNA methylation profiling. Nat. Protoc. 6, 468–481 (2011).

Meissner, A. et al. Genome-scale DNA methylation maps of pluripotent and differentiated cells. Nature 454, 766–770 (2008).

Boyle, P. et al. Gel-free multiplexed reduced representation bisulfite sequencing for large-scale DNA methylation profiling. Genome Biol. 13, 1–10 (2012).

Akalin, A. et al. Base-pair resolution DNA methylation sequencing reveals profoundly divergent epigenetic landscapes in acute myeloid leukemia. PLoS Genet. 8, e1002781 (2012).

Garrett-Bakelman, F. E. et al. Enhanced reduced representation bisulfite sequencing for assessment of DNA methylation at base pair resolution. J. Vis. Exp. e52246 (2015).

Li, G. et al. Joint profiling of DNA methylation and chromatin architecture in single cells. Nat. Methods 16, 991–993 (2019).

Tanaka, K. & Okamoto, A. Degradation of DNA by bisulfite treatment. Bioorg. Med. Chem. Lett. 17, 1912–1915 (2007).

Kint, S., De Spiegelaere, W., De Kesel, J., Vandekerckhove, L. & Van Criekinge, W. Evaluation of bisulfite kits for DNA methylation profiling in terms of DNA fragmentation and DNA recovery using digital PCR. PLoS ONE 13, e0199091 (2018).

Ben-Hattar, J. & Jiricny, J. Methylation of single CpG dinucleotides within a promoter element of the Herpes simplex virus tk gene reduces its transcription in vivo. Gene 65, 219–227 (1988).

Schübeler, D. Function and information content of DNA methylation. Nature 517, 321–326 (2015).

Rao, S. S. P. et al. A 3D map of the human genome at kilobase resolution reveals principles of chromatin looping. Cell 159, 1665–1680 (2014).

Liu, X. S. et al. Editing DNA methylation in the mammalian genome. Cell 167, 233–247 (2016).

Fu, Y., Sinha, M., Peterson, C. L. & Weng, Z. The insulator binding protein CTCF positions 20 nucleosomes around its binding sites across the human genome. PLoS Genet. 4, e1000138 (2008).

Schuyler, R. P. et al. Distinct trends of DNA methylation patterning in the innate and adaptive immune systems. Cell Rep. 17, 2101–2111 (2016).

Wiehle, L. et al. DNA (de)methylation in embryonic stem cells controls CTCF-dependent chromatin boundaries. Genome Res. 29, 750–761 (2019).

Li, Y. et al. Alterations of specific chromatin conformation affect ATRA-induced leukemia cell differentiation. Cell Death Dis. 9, 200 (2018).

Varley, K. E. et al. Dynamic DNA methylation across diverse human cell lines and tissues. Genome Res. 23, 555–567 (2013).

Zhou, W. et al. DNA methylation loss in late-replicating domains is linked to mitotic cell division. Nat. Genet. 50, 591–602 (2018).

Michalowsky, L. A. & Jones, P. A. Differential nuclear protein binding to 5-azacytosine-containing DNA as a potential mechanism for 5-aza-2′-deoxycytidine resistance. Mol. Cell Biol. 7, 3076–3083 (1987).

Aran, D. & Hellman, A. DNA methylation of transcriptional enhancers and cancer predisposition. Cell 154, 11–13 (2013).

Aran, D., Sabato, S. & Hellman, A. DNA methylation of distal regulatory sites characterizes dysregulation of cancer genes. Genome Biol. 14, R21 (2013).

Creyghton, M. P. et al. Histone H3K27ac separates active from poised enhancers and predicts developmental state. Proc. Natl Acad. Sci. USA 107, 21931–21936 (2010).

Bell, A. C. & Felsenfeld, G. Methylation of a CTCF-dependent boundary controls imprinted expression of the Igf2 gene. Nature 405, 482–485 (2000).

Hark, A. T. et al. CTCF mediates methylation-sensitive enhancer-blocking activity at the H19/Igf2 locus. Nature 405, 486–489 (2000).

Moore, J. E. et al. Expanded encyclopaedias of DNA elements in the human and mouse genomes. Nature 583, 699–710 (2020).

Corces, M. R. et al. Lineage-specific and single-cell chromatin accessibility charts human hematopoiesis and leukemia evolution. Nat. Genet. 48, 1193–1203 (2016).

Barretina, J. et al. The Cancer Cell Line Encyclopedia enables predictive modelling of anticancer drug sensitivity. Nature 483, 603–607 (2012).

McGahon, A. J. et al. Downregulation of Bcr-Abl in K562 cells restores susceptibility to apoptosis: characterization of the apoptotic death. Cell Death Differ. 4, 95–104 (1997).

Charlton, J. et al. Global delay in nascent strand DNA methylation. Nat. Struct. Mol. Biol. 25, 327–332 (2018).

Hansen, R. S. et al. Sequencing newly replicated DNA reveals widespread plasticity in human replication timing. Proc. Natl Acad. Sci. USA 107, 139–144 (2010).

Angeloni, A. & Bogdanovic, O. Enhancer DNA methylation: implications for gene regulation. Essays Biochem. 63, 707–715 (2019).

Mulqueen, R. M. et al. Highly scalable generation of DNA methylation profiles in single cells. Nat. Biotechnol. 36, 428–431 (2018).

Luo, C. et al. Robust single-cell DNA methylome profiling with snmC-seq2. Nat. Commun. 9, 3824 (2018).

Luo, C. et al. Single-cell methylomes identify neuronal subtypes and regulatory elements in mammalian cortex. Science 357, 600–604 (2017).

Hou, Y. et al. Single-cell triple omics sequencing reveals genetic, epigenetic, and transcriptomic heterogeneity in hepatocellular carcinomas. Cell Res. 26, 304–319 (2016).

ENCODE Project Consortium. An integrated encyclopedia of DNA elements in the human genome. Nature 489, 57–74 (2012).

Kacmarczyk, T. J. et al. 'Same difference': comprehensive evaluation of four DNA methylation measurement platforms. Epigenetics Chromatin 11, 21 (2018).

Chen, C. et al. Single-cell whole-genome analyses by Linear Amplification via Transposon Insertion (LIANTI). Science 356, 189–194 (2017).

Hovestadt, V. et al. Decoding the regulatory landscape of medulloblastoma using DNA methylation sequencing. Nature 510, 537–541 (2014).

Guo, F. et al. Active and passive demethylation of male and female pronuclear DNA in the mammalian zygote. Cell Stem Cell 15, 447–459 (2014).

Gaiti, F. et al. Epigenetic evolution and lineage histories of chronic lymphocytic leukaemia. Nature 569, 576–580 (2019).

Ghandi, M. et al. Next-generation characterization of the Cancer Cell Line Encyclopedia. Nature 569, 503–508 (2019).
Acknowledgements
B.E.B. is the Bernard and Mildred Kayden Endowed MGH Research Institute Chair and an American Cancer Society Research Professor. This research was supported by a Pioneer Award from the National Institutes of Health Common Fund and National Cancer Institute (DP1CA216873) and by the Gene Regulation Observatory at the Broad Institute. S.J.S. was supported by a Medical Scientist Training Award from the National Institute of General Medical Sciences (T32GM007753). V.H. was supported by a Human Frontier Science Program long-term fellowship (LT000596/2016-L). We thank R. Boursiquot for technical assistance and L. Gaskell, W. Flavahan and other Bernstein lab members for helpful discussions.
Ethics declarations
Competing interests
B.E.B. discloses financial interests in Fulcrum Therapeutics, HiFiBio, Arsenal Biosciences, Cell Signaling Technologies and BioMillenia. The remaining authors declare no competing financial interests.
Additional information
Peer review information Nature Biotechnology thanks Jonas Demeulemeester and the other, anonymous, reviewer(s) for their contribution to the peer review of this work.
Publisher's note Springer Nature remains neutral with regard to jurisdictional claims in published maps and institutional affiliations.
Supplementary information
About this article
Cite this article
Shareef, S.J., Bevill, S.M., Raman, A.T. et al. Extended-representation bisulfite sequencing of gene regulatory elements in multiplexed samples and single cells. Nat Biotechnol 39, 1086–1094 (2021). https://doi.org/10.1038/s41587-021-00910-x
Received:

Accepted:

Published:

Issue Date:

DOI: https://doi.org/10.1038/s41587-021-00910-x
This article is cited by
Sebastian Preissl
Kyle J. Gaulton
Bing Ren

Nature Reviews Genetics (2022)