Abstract
Metabolomics using nontargeted tandem mass spectrometry can detect thousands of molecules in a biological sample. However, structural molecule annotation is limited to structures present in libraries or databases, restricting analysis and interpretation of experimental data. Here we describe CANOPUS (class assignment and ontology prediction using mass spectrometry), a computational tool for systematic compound class annotation. CANOPUS uses a deep neural network to predict 2,497 compound classes from fragmentation spectra, including all biologically relevant classes. CANOPUS explicitly targets compounds for which neither spectral nor structural reference data are available and predicts classes lacking tandem mass spectrometry training data. In evaluation using reference data, CANOPUS reached very high prediction performance (average accuracy of 99.7% in cross-validation) and outperformed four baseline methods. We demonstrate the broad utility of CANOPUS by investigating the effect of microbial colonization in the mouse digestive system, through analysis of the chemodiversity of different Euphorbia plants and regarding the discovery of a marine natural product, revealing biological insights at the compound class level.
Relevant articles
Open Access articles citing this article.
Shi Qiu

,

Ying Cai

…

Aihua Zhang

Signal Transduction and Targeted Therapy Open Access 20 March 2023

Kaitlyn Blatt-Janmaat

,

Steffen Neumann

…

Kristian Peters

Metabolomics Open Access 09 March 2023

Mahnoor Zulfiqar

,

Luiz Gadelha

…

Kristian Peters

Journal of Cheminformatics Open Access 04 March 2023
Access options
Access Nature and 54 other Nature Portfolio journals
Get Nature+, our best-value online-access subscription
$29.99 per month
cancel any time
Subscribe to this journal
Receive 12 print issues and online access
$209.00 per year
only $17.42 per issue
Rent or buy this article
Get just this article for as long as you need it
$39.95
Prices may be subject to local taxes which are calculated during checkout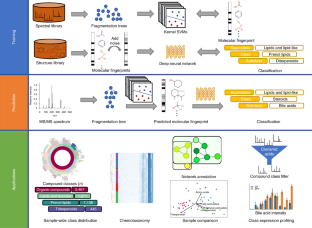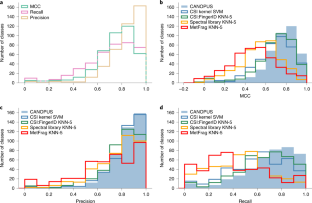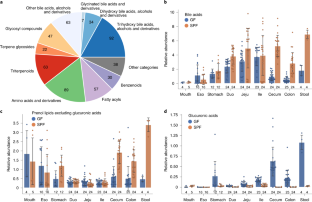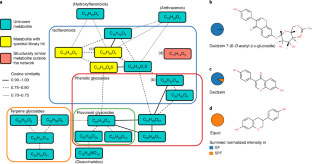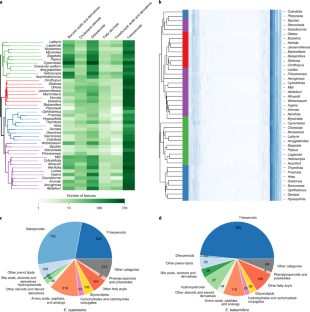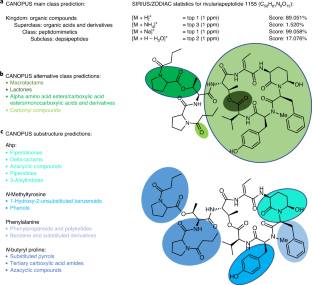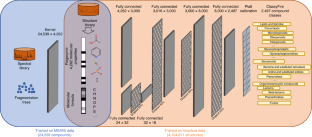 References
Horai, H. et al. MassBank: a public repository for sharing mass spectral data for life sciences. J. Mass Spectrom. 45, 703–714 (2010).

Wang, M. et al. Sharing and community curation of mass spectrometry data with Global Natural Products Social Molecular Networking. Nat. Biotechnol. 34, 828–837 (2016).

Guijas, C. et al. METLIN: a technology platform for identifying knowns and unknowns. Anal. Chem. 90, 3156–3164 (2018).

Kind, T. et al. Identification of small molecules using accurate mass MS/MS search. Mass Spectrom. Rev. 37, 513–532 (2018).

Allen, F., Greiner, R. & Wishart, D. Competitive fragmentation modeling of ESI–MS/MS spectra for putative metabolite identification. Metabolomics 11, 98–110 (2015).

Brouard, C. et al. Fast metabolite identification with Input Output Kernel Regression. Bioinformatics 32, i28–i36 (2016).

Dührkop, K., Shen, H., Meusel, M., Rousu, J. & Böcker, S. Searching molecular structure databases with tandem mass spectra using CSI:FingerID. Proc. Natl Acad. Sci. USA 112, 12580–12585 (2015).

Ridder, L. et al. Automatic chemical structure annotation of an LC-MSn based metabolic profile from green tea. Anal. Chem. 85, 6033–6040 (2013).

Ruttkies, C., Schymanski, E. L., Wolf, S., Hollender, J. & Neumann, S. MetFrag relaunched: incorporating strategies beyond in silico fragmentation. J. Cheminform. 8, 3 (2016).

Tsugawa, H. et al. Hydrogen rearrangement rules: computational MS/MS fragmentation and structure elucidation using MS-FINDER Software. Anal. Chem. 88, 7946–7958 (2016).

Schymanski, E. L. et al. Critical assessment of small molecule identification 2016: automated methods. J. Cheminf. 9, 22 (2017).

Blaženović, I., Kind, T., Ji, J. & Fiehn, O. Software tools and approaches for compound identification of LC-MS/MS data in metabolomics. Metabolites 8, 31 (2018).

Silva, R. R., Dorrestein, P. C. & Quinn, R. A. Illuminating the dark matter in metabolomics. Proc. Natl Acad. Sci. USA 112, 12549–12550 (2015).

Tsugawa, H. Advances in computational metabolomics and databases deepen the understanding of metabolisms. Curr. Opin. Biotechnol. 54, 10–17 (2018).

Montenegro-Burke, J. R., Guijas, C. & Siuzdak, G. METLIN: a tandem mass spectral library of standards. Methods Mol. Biol. 2104, 149–163 (2020).

Vinaixa, M. et al. Mass spectral databases for LC/MS- and GC/MS-based metabolomics: state of the field and future prospects. Trends Anal. Chem. 78, 23–35 (2016).

Aksenov, A. A., Silva, R., Knight, R., Lopes, N. P. & Dorrestein, P. C. Global chemical analysis of biology by mass spectrometry. Nat. Rev. Chem. 1, 0054 (2017).

Frainay, C. et al. Mind the gap: mapping mass spectral databases in genome-scale metabolic networks reveals poorly covered areas. Metabolites 8, 51 (2018).

Venkataraghavan, R., McLafferty, F. W. & Lear, G. E. Computer-aided interpretation of mass spectra. Org. Mass Spectrom. 2, 1–15 (1969).

Curry, B. & Rumelhart, D. E. MSnet: a neural network that classifies mass spectra. Tetrahedron Comput. Methodol. 3, 213–237 (1990).

Werther, W., Lohninger, H., Stancl, F. & Varmuza, K. Classification of mass spectra: a comparison of yes/no classification methods for the recognition of simple structural properties. Chemom. Intell. Lab. Syst. 22, 63–76 (1994).

Heinonen, M., Shen, H., Zamboni, N. & Rousu, J. Metabolite identification and molecular fingerprint prediction via machine learning. Bioinformatics 28, 2333–2341 (2012).

Hastings, J. et al. The ChEBI reference database and ontology for biologically relevant chemistry: enhancements for 2013. Nucleic Acids Res. 41, D456–D463 (2013).

Rogers, F. B. Communications to the editor. Bull. Med. Libr. Assoc. 51, 114–116 (1963).

Djoumbou Feunang, Y. et al. ClassyFire: automated chemical classification with a comprehensive, computable taxonomy. J. Cheminf. 8, 61 (2016).

Blaženović, I. et al. Structure annotation of all mass spectra in untargeted metabolomics. Anal. Chem. 91, 2155–2162 (2019).

Ernst, M. et al. Assessing specialized metabolite diversity in the cosmopolitan plant genus Euphorbia L. Front. Plant Sci. 10, 846 (2019).

Tsugawa, H. et al. A cheminformatics approach to characterize metabolomes in stable-isotope-labeled organisms. Nat. Methods 16, 295–298 (2019).

Barupal, D. K. & Fiehn, O. Chemical Similarity Enrichment Analysis (ChemRICH) as alternative to biochemical pathway mapping for metabolomic datasets. Sci. Rep. 7, 14567 (2017).

Rasche, F. et al. Identifying the unknowns by aligning fragmentation trees. Anal. Chem. 84, 3417–3426 (2012).

Treutler, H. et al. Discovering regulated metabolite families in untargeted metabolomics studies. Anal. Chem. 88, 8082–8090 (2016).

Ernst, M. et al. MolNetEnhancer: enhanced molecular networks by integrating metabolome mining and annotation tools. Metabolites 9, 144 (2019).

Lowry, S. R. et al. Comparison of various K-nearest neighbor voting schemes with the self-training interpretive and retrieval system for identifying molecular substructures from mass spectral data. Anal. Chem. 49, 1720–1722 (1977).

Askenazi, M. & Linial, M. ARISTO: ontological classification of small molecules by electron ionization-mass spectrometry. Nucleic Acids Res. 39, W505–W510 (2011).

Peters, K. et al. Chemical diversity and classification of secondary metabolites in nine bryophyte species. Metabolites 9, 222 (2019).

LeCun, Y., Bengio, Y. & Hinton, G. Deep learning. Nature 521, 436–444 (2015).

Matthews, B. W. Comparison of the predicted and observed secondary structure of T4 phage lysozyme. Biochim. Biophys. Acta 405, 442–451 (1975).

Wolf, S., Schmidt, S., Müller-Hannemann, M. & Neumann, S. In silico fragmentation for computer assisted identification of metabolite mass spectra. BMC Bioinformatics 11, 148 (2010).

Dührkop, K. et al. SIRIUS 4: a rapid tool for turning tandem mass spectra into metabolite structure information. Nat. Methods 16, 299–302 (2019).

Cooper, B. T. et al. Hybrid search: a method for identifying metabolites absent from tandem mass spectrometry libraries. Anal. Chem. 91, 13924–13932 (2019).

Allard, P.-M. et al. Integration of molecular networking and in-silico MS/MS fragmentation for natural products dereplication. Anal. Chem. 88, 3317–3323 (2016).

Silva, R. R. et al. Propagating annotations of molecular networks using in silico fragmentation. PLoS Comput. Biol. 14, e1006089 (2018).

Fox Ramos, A. E. et al. CANPA: computer-assisted natural products anticipation. Anal. Chem. 91, 11247–11252 (2019).

Quinn, R. A. et al. Global chemical effects of the microbiome include new bile-acid conjugations. Nature 579, 123–129 (2020).

Minamida, K. et al. Production of equol from daidzein by Gram-positive rod-shaped bacterium isolated from rat intestine. J. Biosci. Bioeng. 102, 247–250 (2006).

Quinn, R. A. et al. Molecular networking as a drug discovery, drug metabolism, and precision medicine strategy. Trends Pharmacol. Sci. 38, 143–154 (2017).

Shannon, P. et al. Cytoscape: a software environment for integrated models of biomolecular interaction networks. Genome Res. 13, 2498–2504 (2003).

Hooft, J. J. J., Wandy, J., Barrett, M. P., Burgess, K. E. V. & Rogers, S. Topic modeling for untargeted substructure exploration in metabolomics. Proc. Natl Acad. Sci. USA 113, 13738–13743 (2016).

Vasas, A. & Hohmann, J. Euphorbia diterpenes: isolation, structure, biological activity, and synthesis (2008–2012). Chem. Rev. 114, 8579–8612 (2014).

Yang, M. et al. Studies on the fragmentation pathways of ingenol esters isolated from Euphorbia esula using IT-MSn and Q-TOF-MS/MS methods in electrospray ionization mode. Int. J. Mass Spectrom. 323-324, 55–62 (2012).

Riina, R. et al. A worldwide molecular phylogeny and classification of the leafy spurges, Euphorbia subgenus Esula (Euphorbiaceae). TAXON 62, 316–342 (2013).

Horn, J. W. et al. Phylogenetics and the evolution of major structural characters in the giant genus Euphorbia L. (Euphorbiaceae). Mol. Phylogenet. Evol. 63, 305–326 (2012).

Horn, J. W. et al. Evolutionary bursts in Euphorbia (Euphorbiaceae) are linked with photosynthetic pathway. Evolution 68, 3485–3504 (2014).

Peirson, J. A., Bruyns, P. V., Riina, R., Morawetz, J. J. & Berry, P. E. A molecular phylogeny and classification of the largely succulent and mainly African Euphorbia subg. Athymalus (Euphorbiaceae). TAXON 62, 1178–1199 (2013).

Dorsey, B. L. et al. Phylogenetics, morphological evolution, and classification of Euphorbia subgenus Euphorbia. TAXON 62, 291–315 (2013).

Yang, Y. et al. Molecular phylogenetics and classification of Euphorbia subgenus Chamaesyce (Euphorbiaceae). TAXON 61, 764–789 (2012).

Pluskal, T., Castillo, S., Villar-Briones, A. & Oresic, M. MZmine 2: modular framework for processing, visualizing, and analyzing mass spectrometry-based molecular profile data. BMC Bioinformatics 11, 395 (2010).

Nothias, L.-F. et al. Feature-based molecular networking in the GNPS analysis environment. Nat. Methods 17, 905–908 (2020).

Schmid, R. et al. Ion identity molecular networking in the GNPS Environment. Preprint at bioRxiv https://doi.org/10.1101/2020.05.11.088948 (2020).

Röst, H. L. et al. OpenMS: a flexible open-source software platform for mass spectrometry data analysis. Nat. Methods 13, 741–748 (2016).

Benton, H. P., Wong, D. M., Trauger, S. A. & Siuzdak, G. XCMS2: processing tandem mass spectrometry data for metabolite identification and structural characterization. Anal. Chem. 80, 6382–6389 (2008).

Shinbo, Y. et al. in Plant Metabolomics Vol. 57 (eds Saito, K. et al.) 165–181 (Springer, 2006).

Wishart, D. S. et al. HMDB 4.0: the human metabolome database for 2018. Nucleic Acids Res. 46, D608–D617 (2018).

Kanehisa, M., Goto, S., Kawashima, S. & Nakaya, A. The KEGG databases at GenomeNet. Nucleic Acids Res. 30, 42–46 (2002).

Bobach, C., Böhme, T., Laube, U., Püschel, A. & Weber, L. Automated compound classification using a chemical ontology. J. Cheminform. 4, 40 (2012).

Klekota, J. & Roth, F. P. Chemical substructures that enrich for biological activity. Bioinformatics 24, 2518–2525 (2008).

Rogers, D. & Hahn, M. Extended-connectivity fingerprints. J. Chem. Inf. Model. 50, 742–754 (2010).

Willighagen, E. L. et al. The Chemistry Development Kit (CDK) v2.0: atom typing, depiction, molecular formulas, and substructure searching. J. Cheminf. 9, 33 (2017).

Hähnke, V. D., Kim, S. & Bolton, E. E. PubChem chemical structure standardization. J. Cheminf. 10, 36 (2018).

Rogers, D. J. & Tanimoto, T. T. A computer program for classifying plants. Science 132, 1115–1118 (1960).

Srivastava, N., Hinton, G., Krizhevsky, A., Sutskever, I. & Salakhutdinov, R. Dropout: a simple way to prevent neural networks from overfitting. J. Mach. Learn. Res. 15, 1929–1958 (2014).

Kingma, D. P. & Ba, J. Adam: a method for stochastic optimization. Preprint at https://arxiv.org/abs/1412.6980 (2014).

Abadi, M. N. et al. in 12th USENIX Symposium on Operating Systems Design and Implementation (OSDI 16) (eds Keeton, K. & Roscoe, T.) 265–283 (USENIX, 2016).

Platt, J. C. Advances in Large Margin Classifiers (MIT Press, 2000).

Böcker, S. & Dührkop, K. Fragmentation trees reloaded. J. Cheminform. 8, 5 (2016).

Ludwig, M. et al. Database-independent molecular formula annotation using Gibbs sampling through ZODIAC. Nat. Mach. Intell. 2, 629–641 (2020).

Moorthy, A. S., Wallace, W. E., Kearsley, A. J., Tchekhovskoi, D. V. & Stein, S. E. Combining fragment-ion and neutral-loss matching during mass spectral library searching: a new general purpose algorithm applicable to illicit drug identification. Anal Chem. 89, 13261–13268 (2017).

Mann, H. B. & Whitney, D. R. On a test of whether one of two random variables is stochastically larger than the other. Ann. Math. Stat. 18, 50–60 (1947).

Virtanen, P. et al. SciPy 1.0: fundamental algorithms for scientific computing in Python. Nat. Meth. 17, 261–272 (2020).
Acknowledgements
We thank Deutsche Forschungsgemeinschaft for providing financial support (no. BO 1910/20 to S.B., K.D. and M.L. and no. PE 2600/1 to D.P.), and the Academy of Finland (no. 310107/MACOME to J.R.). P.C.D., R.R. and W.H.G. were supported by the Gordon and Betty Moore Foundation (no. GBMF7622) and by the US National Institutes of Health (NIH; no. R01 GM107550). P.C.D. was supported by NIH grants nos. P41 GM103484 and R03 CA211211. L.-F.N. was supported by NIH grant no. R01 GM107550 and by the European Union's Horizon 2020 program (MSCA-GF, no. 704786). We thank F. Kuhlmann and Agilent Technologies, Inc. for providing data used in the evaluation of CANOPUS. We thank Y. Djoumbou Feunang, D. Arndt and D. Wishart for providing ClassyFire annotations for a database of molecular structures. We thank K. Alexander, E. Caro-Diaz and B. Naman for assistance with the collection of Rivularia sp. Further, we thank S. Whitner and K. Joosten for 16S recombinant DNA analysis. We thank M. Ernst for valuable discussions on the Euphorbia plant study, and J. van der Hooft and S. Rogers for feedback on the manuscript.
Ethics declarations
Competing interests
S.B., K.D., M.L., M.F. and M.A.H. are cofounders of Bright Giant GmbH. P.C.D. is scientific advisor for Sirenas LLC.
Additional information
Publisher's note Springer Nature remains neutral with regard to jurisdictional claims in published maps and institutional affiliations.
Supplementary information
About this article
Cite this article
Dührkop, K., Nothias, LF., Fleischauer, M. et al. Systematic classification of unknown metabolites using high-resolution fragmentation mass spectra. Nat Biotechnol 39, 462–471 (2021). https://doi.org/10.1038/s41587-020-0740-8
Received:

Accepted:

Published:

Issue Date:

DOI: https://doi.org/10.1038/s41587-020-0740-8