Abstract
Conventional targeted sequencing methods eliminate many of the benefits of nanopore sequencing, such as the ability to accurately detect structural variants or epigenetic modifications. The ReadUntil method allows nanopore devices to selectively eject reads from pores in real time, which could enable purely computational targeted sequencing. However, this requires rapid identification of on-target reads while most mapping methods require computationally intensive basecalling. We present UNCALLED (https://github.com/skovaka/UNCALLED), an open source mapper that rapidly matches streaming of nanopore current signals to a reference sequence. UNCALLED probabilistically considers k-mers that could be represented by the signal and then prunes the candidates based on the reference encoded within a Ferragina–Manzini index. We used UNCALLED to deplete sequencing of known bacterial genomes within a metagenomics community, enriching the remaining species 4.46-fold. UNCALLED also enriched 148 human genes associated with hereditary cancers to 29.6× coverage using one MinION flowcell, enabling accurate detection of single-nucleotide polymorphisms, insertions and deletions, structural variants and methylation in these genes.
Relevant articles
Open Access articles citing this article.
Renmin Han

,

Junhai Qi

…

Guojun Li

Genome Biology Open Access 05 October 2023

Sina Majidian

,

Daniel Paiva Agustinho

…

Medhat Mahmoud

Genome Biology Open Access 05 October 2023

Paula Esteller-Cucala

,

Marc Palmada-Flores

…

Tomàs Marquès-Bonet

Communications Biology Open Access 09 June 2023
Access options
Access Nature and 54 other Nature Portfolio journals
Get Nature+, our best-value online-access subscription
$29.99 / 30 days
cancel any time
Subscribe to this journal
Receive 12 print issues and online access
$209.00 per year
only $17.42 per issue
Rent or buy this article
Prices vary by article type
from$1.95
to$39.95
Prices may be subject to local taxes which are calculated during checkout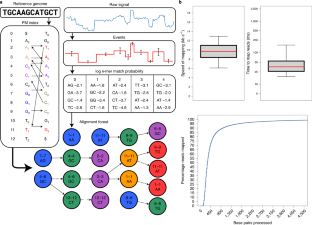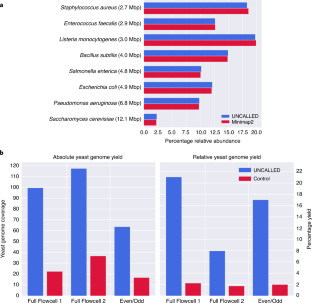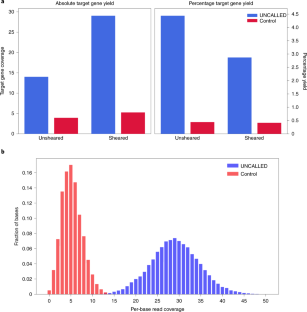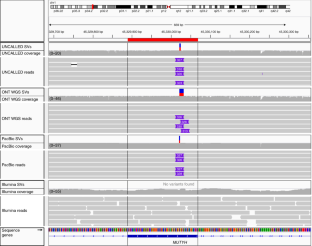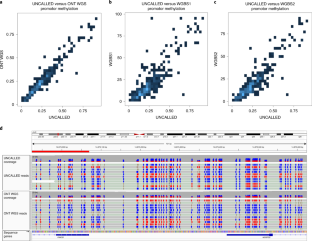 Data availability
All sequencing runs are available as an NCBI BioProject under accession no. PRJNA604456.
References
Miga, K. H. et al. Telomere-to-telomere assembly of a complete human X chromosome. Nature 585, 79–84 (2020).

Sedlazeck, F. J., Lee, H., Darby, C. A. & Schatz, M. C. Piercing the dark matter: bioinformatics of long-range sequencing and mapping. Nat. Rev. Genet. 19, 329–346 (2018).

Simpson, J. T. et al. Detecting DNA cytosine methylation using nanopore sequencing. Nat. Methods 14, 407–410 (2017).

Rang, F. J., Kloosterman, W. P. & de Ridder, J. From squiggle to basepair: computational approaches for improving nanopore sequencing read accuracy. Genome Biol. 19, 90 (2018).

Quick, J. et al. Real-time, portable genome sequencing for Ebola surveillance. Nature 530, 228–232 (2016).

Grädel, C. et al. Rapid and cost-efficient enterovirus genotyping from clinical samples using flongle flow cells. Genes 10, 659 (2019).

Sedlazeck, F. J. et al. Accurate detection of complex structural variations using single-molecule sequencing. Nat. Methods 15, 461–468 (2018).

Luo, R., Sedlazeck, F. J., Lam, T.-W. & Schatz, M. C. A multi-task convolutional deep neural network for variant calling in single molecule sequencing. Nat. Commun. 10, 998 (2019).

Rand, A. C. et al. Mapping DNA methylation with high-throughput nanopore sequencing. Nat. Methods 14, 411–413 (2017).

Gilpatrick, T. et al. Targeted nanopore sequencing with Cas9-guided adapter ligation. Nat. Biotechnol. 38, 433–438 (2020).

Loose, M., Malla, S. & Stout, M. Real-time selective sequencing using nanopore technology. Nat. Methods 13, 751–754 (2016).

Payne, A., Holmes, N., Rakyan, V. & Loose, M. BulkVis: a graphical viewer for Oxford nanopore bulk FAST5 files. Bioinformatics 35, 2193–2198 (2019).

Gu, W. et al. Depletion of abundant sequences by hybridization (DASH): using Cas9 to remove unwanted high-abundance species in sequencing libraries and molecular counting applications. Genome Biol. 17, 41 (2016).

Edwards, H. S. et al. Real-time selective sequencing with RUBRIC: Read Until with Basecall and Reference-Informed Criteria. Sci. Rep. 9, 11475 (2019).

Payne, A. et al. Readfish enables targeted nanopore sequencing of gigabase-sized genomes. Nat. Biotechnol. (in the press).

Ferragina, P. & Manzini, G. Opportunistic data structures with applications. In Proc. 41st Annual Symposium on Foundations of Computer Science 390–398 (IEEE, 2000).

Li, H. Minimap2: pairwise alignment for nucleotide sequences. Bioinformatics 34, 3094–3100 (2018).

Kurtz, S. et al. Versatile and open software for comparing large genomes. Genome Biol. 5, R12 (2004).

Shafin, K. et al. Nanopore sequencing and the Shasta toolkit enable efficient de novo assembly of eleven human genomes. Nat. Biotechnol. 38, 1044–1053 (2020).

Jain, M. et al. Nanopore sequencing and assembly of a human genome with ultra-long reads. Nat. Biotechnol. 36, 338–345 (2018).

Marçais, G. et al. MUMmer4: a fast and versatile genome alignment system. PLoS Comput. Biol. 14, e1005944 (2018).

Luo, R. et al. Exploring the limit of using a deep neural network on pileup data for germline variant calling. Nat. Mach. Intell. 2, 220–227 (2020).

Zook, J. M. et al. An open resource for accurately benchmarking small variant and reference calls. Nat. Biotechnol. 37, 561–566 (2019).

Cleary, J. G. et al. Joint variant and de novo mutation identification on pedigrees from high-throughput sequencing data. J. Comput. Biol. 21, 405–419 (2014).

Krusche, P. et al. Best practices for benchmarking germline small-variant calls in human genomes. Nat. Biotechnol. 37, 555–560 (2019).

Chen, X. et al. Manta: rapid detection of structural variants and indels for germline and cancer sequencing applications. Bioinformatics 32, 1220–1222 (2016).

Li, H. & Durbin, R. Fast and accurate long-read alignment with Burrows–Wheeler transform. Bioinformatics 26, 589–595 (2010).

Jeffares, D. C. et al. Transient structural variations have strong effects on quantitative traits and reproductive isolation in fission yeast. Nat. Commun. 8, 14061 (2017).

Tarailo-Graovac, M. & Chen, N. Using Repeat Masker to identify repetitive elements in genomic sequences. Curr. Protoc. Bioinformatics 25, 4.10.1–4.10.14 (2009).

Benson, G. Tandem repeats finder: a program to analyze DNA sequences. Nucleic Acids Res. 27, 573–580 (1999).

Karolchik, D. et al. The UCSC genome browser database. Nucleic Acids Res. 31, 51–54 (2003).

Genetics Home Reference. MUTYH gene. MedlinePlus https://ghr.nlm.nih.gov/gene/MUTYH (2020).

Deininger, P. Alu elements: know the SINEs. Genome Biol. 12, 236 (2011).

Carrel, L. & Willard, H. F. X-inactivation profile reveals extensive variability in X-linked gene expression in females. Nature 434, 400–404 (2005).

Forbes, S. A. et al. COSMIC: mining complete cancer genomes in the Catalogue of Somatic Mutations in Cancer. Nucleic Acids Res. 39, D945–D950 (2011).

Gardner, E. J. et al. The mobile element locator tool (MELT): population-scale mobile element discovery and biology. Genome Res. 27, 1916–1929 (2017).

Wu, J. et al. Tangram: a comprehensive toolbox for mobile element insertion detection. BMC Genomics 15, 795 (2014).

Cheadle, J. P. & Sampson, J. R. Exposing the MYtH about base excision repair and human inherited disease. Hum. Mol. Genet. 12 (Suppl. 2), R159–R165 (2003).

Win, A. K. et al. Risk of colorectal cancer for carriers of mutations in MUTYH, with and without a family history of cancer. Gastroenterology 146, 1208–1211.e5 (2014).

Nanopore Community Meeting 2019 Technology Update (Oxford Nanopore Technologies, 2019); https://nanoporetech.com/resource-centre/nanopore-community-meeting-2019-technology-update

De Roeck, A. et al. NanoSatellite: accurate characterization of expanded tandem repeat length and sequence through whole genome long-read sequencing on PromethION. Genome Biol. 20, 239 (2019).

David, M., Dursi, L. J., Yao, D., Boutros, P. C. & Simpson, J. T. Nanocall: an open source basecaller for Oxford Nanopore sequencing data. Bioinformatics 33, 49–55 (2017).

Welford, B. P. Note on a method for calculating corrected sums of squares and products. Technometrics 4, 419–420 (1962).

Langmead, B., Trapnell, C., Pop, M. & Salzberg, S. L. Ultrafast and memory-efficient alignment of short DNA sequences to the human genome. Genome Biol. 10, R25 (2009).

Kim, D., Langmead, B. & Salzberg, S. L. HISAT: a fast spliced aligner with low memory requirements. Nat. Methods 12, 357–360 (2015).

Gog, S. & Petri, M. Optimized succinct data structures for massive data. Softw. Pract. Exp. 44, 1287–1314 (2014).

Li, H. Minimap and miniasm: fast mapping and de novo assembly for noisy long sequences. Bioinformatics 32, 2103–2110 (2016).

Yates, A. D. et al. Ensembl 2020. Nucleic Acids Res. 48, D682–D688 (2020).

Quinlan, A. R. & Hall, I. M. BEDTools: a flexible suite of utilities for comparing genomic features. Bioinformatics 26, 841–842 (2010).

Marçais, G. & Kingsford, C. A fast, lock-free approach for efficient parallel counting of occurrences of k-mers. Bioinformatics 27, 764–770 (2011).

Aganezov, S. et al. Comprehensive analysis of structural variants in breast cancer genomes using single-molecule sequencing. Genome Res. 30, 1258–1273 (2020).
Acknowledgements
We thank T. Mun for his contributions on an early prototype of UNCALLED and T. Gilpatrick for providing extracted GM12878 DNA used in the cancer gene enrichment experiments. This work was funded, in part, by the US National Science Foundation (grant no. DBI-1350041 to M.C.S.) and US National Institutes of Health (grant no. R01HG009190 to W.T.).
Ethics declarations
Competing interests
W.T. holds two patents currently licensed by Oxford Nanopore Technologies Limited. M.C.S. and W.T. have received travel funding from Oxford Nanopore Technologies Limited.
Additional information
Publisher's note Springer Nature remains neutral with regard to jurisdictional claims in published maps and institutional affiliations.
Supplementary information
Supplementary Tables 1–8.
About this article
Cite this article
Kovaka, S., Fan, Y., Ni, B. et al. Targeted nanopore sequencing by real-time mapping of raw electrical signal with UNCALLED. Nat Biotechnol 39, 431–441 (2021). https://doi.org/10.1038/s41587-020-0731-9
Received:

Accepted:

Published:

Issue Date:

DOI: https://doi.org/10.1038/s41587-020-0731-9