Abstract
Current methods for determining RNA structure with short-read sequencing cannot capture most differences between distinct transcript isoforms. Here we present RNA structure analysis using nanopore sequencing (PORE-cupine), which combines structure probing using chemical modifications with direct long-read RNA sequencing and machine learning to detect secondary structures in cellular RNAs. PORE-cupine also captures global structural features, such as RNA-binding-protein binding sites and reactivity differences at single-nucleotide variants. We show that shared sequences in different transcript isoforms of the same gene can fold into different structures, highlighting the importance of long-read sequencing for obtaining phase information. We also demonstrate that structural differences between transcript isoforms of the same gene lead to differences in translation efficiency. By revealing isoform-specific RNA structure, PORE-cupine will deepen understanding of the role of structures in controlling gene regulation.
Access options
Subscribe to Journal
Get full journal access for 1 year
$99.00
only $8.25 per issue
All prices are NET prices.
VAT will be added later in the checkout.
Tax calculation will be finalised during checkout.
Rent or Buy article
Get time limited or full article access on ReadCube.
from$8.99
All prices are NET prices.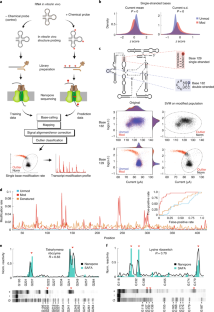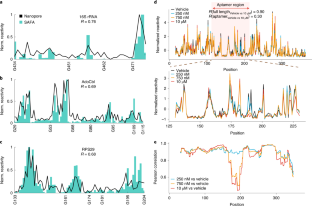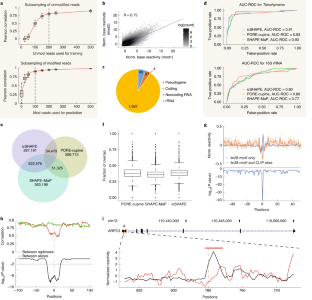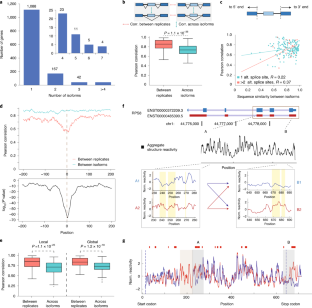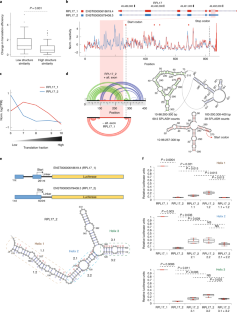 Data availability
Raw sequencing data and reactivity profiles can be downloaded from the Gene Expression Omnibus under accession number GSE133361. Source data are provided with this paper.
References
1.

Wan, Y., Kertesz, M., Spitale, R. C., Segal, E. & Chang, H. Y. Understanding the transcriptome through RNA structure. Nat. Rev. Genet. 12, 641–655 (2011).

2.

Kertesz, M. et al. Genome-wide measurement of RNA secondary structure in yeast. Nature 467, 103–107 (2010).

3.

Wan, Y. et al. Landscape and variation of RNA secondary structure across the human transcriptome. Nature 505, 706–709 (2014).

4.

Wan, Y. et al. Genome-wide measurement of RNA folding energies. Mol. Cell 48, 169–181 (2012).

5.

Siegfried, N. A., Busan, S., Rice, G. M., Nelson, J. A. & Weeks, K. M. RNA motif discovery by SHAPE and mutational profiling (SHAPE-MaP). Nat. Methods 11, 959–965 (2014).

6.

Spitale, R. C. et al. Structural imprints in vivo decode RNA regulatory mechanisms. Nature 519, 486–490 (2015).

7.

Lucks, J. B. et al. Multiplexed RNA structure characterization with selective 2′-hydroxyl acylation analyzed by primer extension sequencing (SHAPE-Seq). Proc. Natl Acad. Sci. USA 108, 11063–11068 (2011).

8.

Rouskin, S., Zubradt, M., Washietl, S., Kellis, M. & Weissman, J. S. Genome-wide probing of RNA structure reveals active unfolding of mRNA structures in vivo. Nature 505, 701–705 (2014).

9.

Zubradt, M. et al. DMS-MaPseq for genome-wide or targeted RNA structure probing in vivo. Nat. Methods 14, 75–82 (2017).

10.

Ding, Y. et al. In vivo genome-wide profiling of RNA secondary structure reveals novel regulatory features. Nature 505, 696–700 (2013).

11.

Strobel, E. J., Yu, A. M. & Lucks, J. B. High-throughput determination of RNA structures. Nat. Rev. Genet. 19, 615–634 (2018).

12.

Sharon, D., Tilgner, H., Grubert, F. & Snyder, M. A single-molecule long-read survey of the human transcriptome. Nat. Biotechnol. 31, 1009–1014 (2013).

13.

Au, K. F. et al. Characterization of the human ESC transcriptome by hybrid sequencing. Proc. Natl Acad. Sci. USA 110, E4821–E4830 (2013).

14.

Koren, S. et al. Hybrid error correction and de novo assembly of single-molecule sequencing reads. Nat. Biotechnol. 30, 693–700 (2012).

15.

Tilgner, H. et al. Comprehensive transcriptome analysis using synthetic long-read sequencing reveals molecular co-association of distant splicing events. Nat. Biotechnol. 33, 736–742 (2015).

16.

Garalde, D. R. et al. Highly parallel direct RNA sequencing on an array of nanopores. Nat. Methods 15, 201–206 (2018).

17.

Oikonomopoulos, S., Wang, Y. C., Djambazian, H., Badescu, D. & Ragoussis, J. Benchmarking of the Oxford Nanopore MinION sequencing for quantitative and qualitative assessment of cDNA populations. Sci. Rep. 6, 31602 (2016).

18.

Simpson, J. T. et al. Detecting DNA cytosine methylation using nanopore sequencing. Nat. Methods 14, 407–410 (2017).

19.

Parker, M. T. et al. Nanopore direct RNA sequencing maps the complexity of Arabidopsis mRNA processing and m6A modification. eLife 9, e49658 (2020).

20.

Liu, H. et al. Accurate detection of m6A RNA modifications in native RNA sequences. Nat. Commun. 10, 4079 (2019).

21.

Weeks, K. M. Advances in RNA structure analysis by chemical probing. Curr. Opin. Struct. Biol. 20, 295–304 (2010).

22.

Spitale, R. C. et al. RNA SHAPE analysis in living cells. Nat. Chem. Biol. 9, 18–20 (2013).

23.

Sachsenmaier, N., Handl, S., Debeljak, F. & Waldsich, C. Mapping RNA structure in vitro using nucleobase-specific probes. Methods Mol. Biol. 1086, 79–94 (2014).

24.

Guo, F., Gooding, A. R. & Cech, T. R. Structure of the Tetrahymena ribozyme: base triple sandwich and metal ion at the active site. Mol. Cell 16, 351–362 (2004).

25.

Winkler, W., Nahvi, A. & Breaker, R. R. Thiamine derivatives bind messenger RNAs directly to regulate bacterial gene expression. Nature 419, 952–956 (2002).

26.

Jambhekar, A. et al. Unbiased selection of localization elements reveals cis-acting determinants of mRNA bud localization in Saccharomyces cerevisiae. Proc. Natl Acad. Sci. USA 102, 18005–18010 (2005).

27.

Sexton, A. N., Wang, P. Y., Rutenberg-Schoenberg, M. & Simon, M. D. Interpreting reverse transcriptase termination and mutation events for greater insight into the chemical probing of RNA. Biochemistry 56, 4713–4721 (2017).

28.

Li, F. et al. Global analysis of RNA secondary structure in two metazoans. Cell. Rep. 1, 69–82 (2012).

29.

Sun, L. et al. RNA structure maps across mammalian cellular compartments. Nat. Struct. Mol. Biol. 26, 322–330 (2019).

30.

Wilbert, M. L. et al. LIN28 binds messenger RNAs at GGAGA motifs and regulates splicing factor abundance. Mol. Cell 48, 195–206 (2012).

31.

Wang, E. T. et al. Alternative isoform regulation in human tissue transcriptomes. Nature 456, 470–476 (2008).

32.

Pan, Q., Shai, O., Lee, L. J., Frey, B. J. & Blencowe, B. J. Deep surveying of alternative splicing complexity in the human transcriptome by high-throughput sequencing. Nat. Genet. 40, 1413–1415 (2008).

33.

Moqtaderi, Z., Geisberg, J. V. & Struhl, K. Extensive structural differences of closely related 3′ mRNA isoforms: links to Pab1 binding and mRNA stability. Mol. Cell 72, 849–861 (2018).

34.

Floor, S. N. & Doudna, J. A. Tunable protein synthesis by transcript isoforms in human cells. eLife 5, e10921 (2016).

35.

Aw, J. G. et al. In vivo mapping of eukaryotic RNA interactomes reveals principles of higher-order organization and regulation. Mol. Cell 62, 603–617 (2016).

36.

Wang, E. T. et al. Alternative isoform regulation in human tissue transcriptomes. Nature 456, 470–476 (2008).

37.

Mustoe, A. M. et al. Pervasive regulatory functions of mRNA structure revealed by high-resolution SHAPE probing. Cell 173, 181–195 (2018).

38.

Das, R., Laederach, A., Pearlman, S. M., Herschlag, D. & Altman, R. B. SAFA: semi-automated footprinting analysis software for high-throughput quantification of nucleic acid footprinting experiments. RNA 11, 344–354 (2005).

39.

Patro, R., Duggal, G., Love, M. I., Irizarry, R. A. & Kingsford, C. Salmon provides fast and bias-aware quantification of transcript expression. Nat. Methods 14, 417–419 (2017).

40.

Sovic, I. et al. Fast and sensitive mapping of nanopore sequencing reads with GraphMap. Nat. Commun. 7, 11307 (2016).

41.

Li, H. & Durbin, R. Fast and accurate long-read alignment with Burrows–Wheeler transform. Bioinformatics 26, 589–595 (2010).

42.

Shah, A., Qian, Y., Weyn-Vanhentenryck, S. M. & Zhang, C. CLIP Tool Kit (CTK): a flexible and robust pipeline to analyze CLIP sequencing data. Bioinformatics 33, 566–567 (2017).

43.

Heinz, S. et al. Simple combinations of lineage-determining transcription factors prime cis-regulatory elements required for macrophage and B cell identities. Mol. Cell 38, 576–589 (2010).

44.

Li, H. A statistical framework for SNP calling, mutation discovery, association mapping and population genetical parameter estimation from sequencing data. Bioinformatics 27, 2987–2993 (2011).
Acknowledgements
We thank members of the Wan and Tan labs and F. Yao, H. M. Loh, C. C. Khor and M. Sikic for helpful discussions. Y.W. is supported by funding from A*STAR (A*STAR investigatorship 1630700155), the National Research Foundation Singapore (NRF2019-NRF-ISF003-2970 and CRP21-2018-0101), the EMBO Young Investigatorship and the CIFAR global scholarship. F.R.P.L. is supported by a doctoral scholarship from the Warwick-A*STAR research attachment programme.
Ethics declarations
Competing interests
The authors declare no competing interests.
Additional information
Publisher's note Springer Nature remains neutral with regard to jurisdictional claims in published maps and institutional affiliations.
Supplementary information
About this article
Cite this article
Aw, J.G.A., Lim, S.W., Wang, J.X. et al. Determination of isoform-specific RNA structure with nanopore long reads. Nat Biotechnol 39, 336–346 (2021). https://doi.org/10.1038/s41587-020-0712-z
Received:

Accepted:

Published:

Issue Date:
Further reading
Siwy Ling Yang

,

Louis DeFalco

,

Danielle E. Anderson

,

Yu Zhang

,

Jong Ghut Ashley Aw

,

Su Ying Lim

,

Xin Ni Lim

,

Kiat Yee Tan

,

Tong Zhang

,

Tanu Chawla

,

Yan Su

,

Alexander Lezhava

,

Andres Merits

,

Lin-Fa Wang

,

Roland G. Huber

&

Yue Wan

Nature Communications (2021)