Abstract
Achieving temporally precise, noninvasive control over specific neural cell types in the deep brain would advance the study of nervous system function. Here we use the potent channelrhodopsin ChRmine to achieve transcranial photoactivation of defined neural circuits, including midbrain and brainstem structures, at unprecedented depths of up to 7 mm with millisecond precision. Using systemic viral delivery of ChRmine, we demonstrate behavioral modulation without surgery, enabling implant-free deep brain optogenetics.
Access options
Subscribe to Journal
Get full journal access for 1 year
$259.00
only $21.58 per issue
All prices are NET prices.
VAT will be added later in the checkout.
Rent or Buy article
Get time limited or full article access on ReadCube.
from$8.99
All prices are NET prices.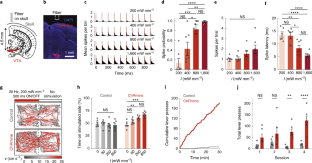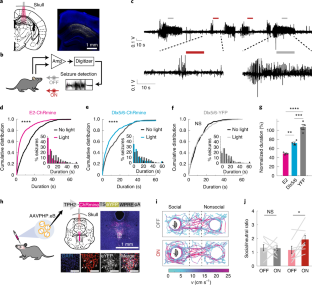 Data availability
The data that support the findings of this study are available upon reasonable request.
Code availability
Analysis code will be made available upon reasonable request.
References
1.

Won, S. M., Song, E., Reeder, J. T. & Rogers, J. A. Emerging modalities and implantable technologies for neuromodulation. Cell 181, 115–135 (2020).

2.

Cagnan, H., Denison, T., McIntyre, C. & Brown, P. Emerging technologies for improved deep brain stimulation. Nat. Biotechnol. 37, 1024–1033 (2019).

3.

Dayan, E., Censor, N., Buch, E. R., Sandrini, M. & Cohen, L. G. Noninvasive brain stimulation: from physiology to network dynamics and back. Nat. Neurosci. 16, 838–844 (2013).

4.

Tye, K. M. & Deisseroth, K. Optogenetic investigation of neural circuits underlying brain disease in animal models. Nat. Rev. Neurosci. 13, 251–266 (2012).

5.

Yizhar, O., Fenno, L. E., Davidson, T. J., Mogri, M. & Deisseroth, K. Optogenetics in neural systems. Neuron 71, 9–34 (2011).

6.

Deisseroth, K. & Hegemann, P. The form and function of channelrhodopsin. Science 357, eaan5544 (2017).

7.

Chen, R., Canales, A. & Anikeeva, P. Neural recording and modulation technologies. Nat. Rev. Mater. 2, 16093 (2017).

8.

Gradinaru, V. et al. Targeting and readout strategies for fast optical neural control in vitro and in vivo. J. Neurosci. 27, 14231–14238 (2007).

9.

Lin, J. Y., Knutsen, P. M., Muller, A., Kleinfeld, D. & Tsien, R. Y. ReaChR: a red-shifted variant of channelrhodopsin enables deep transcranial optogenetic excitation. Nat. Neurosci. 16, 1499–1508 (2013).

10.

Bedbrook, C. N. et al. Machine learning-guided channelrhodopsin engineering enables minimally invasive optogenetics. Nat. Methods 16, 1176–1184 (2019).

11.

Zhang, F. et al. Red-shifted optogenetic excitation: a tool for fast neural control derived from Volvox carteri. Nat. Neurosci. 11, 631 (2008).

12.

Gong, X. et al. An ultra-sensitive step-function opsin for minimally invasive optogenetic stimulation in mice and macaques. Neuron 107, 38–51 (2020).

13.

Marshel, J. H. et al. Cortical layer–specific critical dynamics triggering perception. Science 365, eaaw5202 (2019).

14.

Rajasethupathy, P. et al. Projections from neocortex mediate top-down control of memory retrieval. Nature 526, 653–659 (2015).

15.

Stujenske, JosephM., Spellman, T. & Gordon, JoshuaA. Modeling the spatiotemporal dynamics of light and heat propagation for in vivo optogenetics. Cell Rep. 12, 525–534 (2015).

16.

Owen, S. F., Liu, M. H. & Kreitzer, A. C. Thermal constraints on in vivo optogenetic manipulations. Nat. Neurosci. 22, 1061–1065 (2019).

17.

Tsai, H.-C. et al. Phasic firing in dopaminergic neurons is sufficient for behavioral conditioning. Science 324, 1080–1084 (2009).

18.

Berényi, A., Belluscio, M., Mao, D. & Buzsáki, G. Closed-loop control of epilepsy by transcranial electrical stimulation. Science 337, 735–737 (2012).

19.

Krook-Magnuson, E., Armstrong, C., Oijala, M. & Soltesz, I. On-demand optogenetic control of spontaneous seizures in temporal lobe epilepsy. Nat. Commun. 4, 1376 (2013).

20.

Vormstein-Schneider, D. C. et al. Viral manipulation of functionally distinct neurons from mice to humans. Nat. Neurosci. https://doi.org/10.1038/s41593-020-0692-9 (2020).

21.

Cho, K. K. et al. Gamma rhythms link prefrontal interneuron dysfunction with cognitive inflexibility in Dlx5/6 +/− mice. Neuron 85, 1332–1343 (2015).

22.

Chan, K. Y. et al. Engineered AAVs for efficient noninvasive gene delivery to the central and peripheral nervous systems. Nat. Neurosci. 20, 1172 (2017).

23.

Walsh, J. J. et al. 5-HT release in nucleus accumbens rescues social deficits in mouse autism model. Nature 560, 589–594 (2018).

24.

Matthews, G. A. et al. Dorsal raphe dopamine neurons represent the experience of social isolation. Cell 164, 617–631 (2016).

25.

Armstrong, C., Krook-Magnuson, E., Oijala, M. & Soltesz, I. Closed-loop optogenetic intervention in mice. Nat. Protoc. 8, 1475–1493 (2013).

26.

Choi, H. M. et al. Third-generation in situ hybridization chain reaction: multiplexed, quantitative, sensitive, versatile, robust. Development 145, dev165753 (2018).
Acknowledgements
We thank C. Bedbrook, M. Lovett-Barron and L. Tan for feedback on the manuscript and the entire Deisseroth laboratory for advice and discussions. We also thank T. Gschwind for assistance with EEG analysis. This research was supported by grants from the NIH, NSF, Gatsby, Fresenius, Wiegers, Grosfeld and NOMIS Foundations (to K.D.); a Walter V. and Idun Berry Postdoctoral Fellowship, and grant K99 DA050662 (to F.G.); a NARSAD Young Investigator Grant (to R.C. and to F.G.); grant F32 NS106764 (to Q.A.N.); grants R01 NS112518 and R01 NS104071 and the University of Minnesota's MnDRIVE (Minnesota's Discovery, Research and Innovation Economy) initiative (to E.K.-M.); and grant NS94668 (to I.S.).
Ethics declarations
Competing interests
The authors declare no competing interests.
Additional information
Publisher's note Springer Nature remains neutral with regard to jurisdictional claims in published maps and institutional affiliations.
Supplementary information
Supplementary Note 1 and Tables 1 and 2.
About this article
Cite this article
Chen, R., Gore, F., Nguyen, Q. et al. Deep brain optogenetics without intracranial surgery. Nat Biotechnol (2020). https://doi.org/10.1038/s41587-020-0679-9
Received:

Accepted:

Published: