Abstract
Activation of nociceptor sensory neurons by noxious stimuli both triggers pain and increases capillary permeability and blood flow to produce neurogenic inflammation1,2, but whether nociceptors also interact with the immune system remains poorly understood. Here we report a neurotechnology for selective epineural optogenetic neuromodulation of nociceptors and demonstrate that nociceptor activation drives both protective pain behavior and inflammation. The wireless optoelectronic system consists of sub-millimeter-scale light-emitting diodes embedded in a soft, circumneural sciatic nerve implant, powered and driven by a miniaturized head-mounted control unit. Photostimulation of axons in freely moving mice that express channelrhodopsin only in nociceptors resulted in behaviors characteristic of pain, reflecting orthodromic input to the spinal cord. It also led to immune reactions in the skin in the absence of inflammation and potentiation of established inflammation, a consequence of the antidromic activation of nociceptor peripheral terminals. These results reveal a link between nociceptors and immune cells, which might have implications for the treatment of inflammation.
Relevant articles
Open Access articles citing this article.
Mohammad Balood

,

Maryam Ahmadi

…

Sebastien Talbot

Nature Open Access 02 November 2022

Zhenzhen Xu

,

Wanli Xie

…

Qingping Wu

Journal of Neuroinflammation Open Access 21 June 2022

Zhangjin Qin

,

Jiaqi Song

…

Weihua Yu

Journal of Neuroinflammation Open Access 27 May 2022
Access options
Subscribe to Nature+
Get immediate online access to Nature and 55 other Nature journal
Subscribe to Journal
Get full journal access for 1 year
$99.00
only $8.25 per issue
All prices are NET prices.
VAT will be added later in the checkout.
Tax calculation will be finalised during checkout.
Buy article
Get time limited or full article access on ReadCube.
$32.00
All prices are NET prices.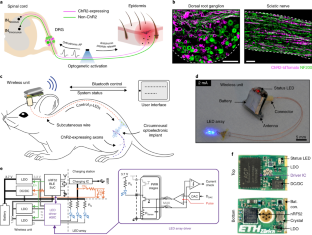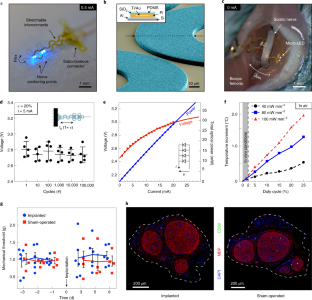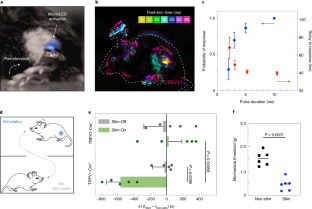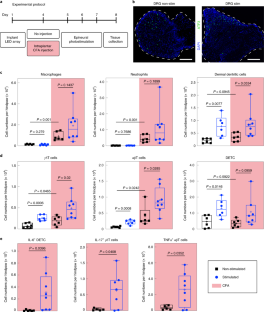 Data availability
Raw data that support the findings of this study will be made available upon reasonable request to the corresponding authors. Source data are provided with this paper.
References
Talbot, S., Foster, S. L. & Woolf, C. J. Neuroimmunity: physiology and pathology. Annu. Rev. Immunol. 34, 421–447 (2016).

Chiu, I. M., von Hehn, C. A. & Woolf, C. J. Neurogenic inflammation and the peripheral nervous system in host defense and immunopathology. Nat. Neurosci. 15, 1063–1067 (2012).

Sharma, N. et al. The emergence of transcriptional identity in somatosensory neurons. Nature 577, 392–398 (2020).

Boyden, E. S., Zhang, F., Bamberg, E., Nagel, G. & Deisseroth, K. Millisecond-timescale, genetically targeted optical control of neural activity. Nat. Neurosci. 8, 1263–1268 (2005).

Xu, X., Mee, T. & Jia, X. New era of optogenetics: from the central to peripheral nervous system. Crit. Rev. Biochem. Mol. Biol. 55, 1–16 (2020).

Montgomery, K. L. et al. Wirelessly powered, fully internal optogenetics for brain, spinal and peripheral circuits in mice. Nat. Methods 12, 969–974 (2015).

Park, S. I. et al. Soft, stretchable, fully implantable miniaturized optoelectronic systems for wireless optogenetics. Nat. Biotechnol. 33, 1280–1286 (2015).

Zhang, Y. et al. Battery-free, fully implantable optofluidic cuff system for wireless optogenetic and pharmacological neuromodulation of peripheral nerves. Sci. Adv. 5, eaaw5296 (2019).

Mickle, A. D. et al. A wireless closed-loop system for optogenetic peripheral neuromodulation. Nature 565, 361–365 (2019).

Canales, A. et al. Multifunctional fibers for simultaneous optical, electrical and chemical interrogation of neural circuits in vivo. Nat. Biotechnol. 33, 277–284 (2015).

Keppeler, D. et al. Multichannel optogenetic stimulation of the auditory pathway using microfabricated LED cochlear implants in rodents. Sci. Transl. Med. 12, eabb8086 (2020).

Burton, A. et al. Wireless, battery-free subdermally implantable photometry systems for chronic recording of neural dynamics. Proc. Natl Acad. Sci. USA 117, 2835–2845 (2020).

Lu, L. et al. Wireless optoelectronic photometers for monitoring neuronal dynamics in the deep brain. Proc. Natl Acad. Sci. USA 115, E1374–E1383 (2018).

Kim, T.-I. et al. Injectable, cellular-scale optoelectronics with applications for wireless optogenetics. Science 340, 211–216 (2013).

Jeong, J.-W. et al. Wireless optofluidic systems for programmable in vivo pharmacology and optogenetics. Cell 162, 662–674 (2015).

Pinho-Ribeiro, F. A., Verri, W. A. & Chiu, I. M. Nociceptor sensory neuron–immune interactions in pain and inflammation. Trends Immunol. 38, 5–19 (2017).

Ronchetti, S., Migliorati, G. & Delfino, D. V. Association of inflammatory mediators with pain perception. Biomed. Pharmacother. 96, 1445–1452 (2017).

Ghasemlou, N., Chiu, I. M., Julien, J.-P. & Woolf, C. J. CD11b+Ly6G− myeloid cells mediate mechanical inflammatory pain hypersensitivity. Proc. Natl Acad. Sci. USA 112, E6808–E6817 (2015).

Marino, M. J. et al. Botulinum toxin B in the sensory afferent: transmitter release, spinal activation, and pain behavior. Pain 155, 674–684 (2014).

Lewin, G. R., Lisney, S. J. W. & Mendell, L. M. Neonatal anti-NGF treatment reduces the Aδ- and C-fibre evoked vasodilator responses in rat skin: evidence that nociceptor afferents mediate antidromic vasodilatation. Eur. J. Neurosci. 4, 1213–1218 (1992).

Cohen, J. A. et al. Cutaneous TRPV1+ neurons trigger protective innate type 17 anticipatory immunity. Cell 178, 919–932 (2019).

Wallrapp, A. et al. The neuropeptide NMU amplifies ILC2-driven allergic lung inflammation. Nature 549, 351–356 (2017).

Riol-Blanco, L. et al. Nociceptive sensory neurons drive interleukin-23-mediated psoriasiform skin inflammation. Nature 510, 157–161 (2014).

Patil, M. J., Hovhannisyan, A. H. & Akopian, A. N. Characteristics of sensory neuronal groups in CGRP-cre-ER reporter mice: comparison to Nav1.8-cre, TRPV1-cre and TRPV1-GFP mouse lines. PLoS ONE 13, e0198601 (2018).

Makadia, P. A. et al. Optogenetic activation of colon epithelium of the mouse produces high-frequency bursting in extrinsic colon afferents and engages visceromotor responses. J. Neurosci. 38, 5788–5798 (2018).

Cavanaugh, D. J. et al. Trpv1 reporter mice reveal highly restricted brain distribution and functional expression in arteriolar smooth muscle cells. J. Neurosci. 31, 5067–5077 (2011).

Storozhuk, M. V., Moroz, O. F. & Zholos, A. V. Multifunctional TRPV1 ion channels in physiology and pathology with focus on the brain, vasculature, and some visceral systems. Biomed. Res. Int. 2019, 1–12 (2019).

Schonle, P., Fateh, S., Burger, T. & Huang, Q. A power-efficient multi-channel PPG ASIC with 112dB receiver DR for pulse oximetry and NIRS. In Proc. 2017 IEEE Custom Integrated Circuits Conference (CICC) 1–4 (Institute of Electrical and Electronics Engineers, 2017).

Nikolic, K. et al. Photocycles of channelrhodopsin-2. Photochem. Photobiol. 85, 400–411 (2009).

Michoud, F. et al. Optical cuff for optogenetic control of the peripheral nervous system. J. Neural Eng. 15, 015002 (2018).

Browne, L. E. et al. Time-resolved fast mammalian behavior reveals the complexity of protective pain responses. Cell Rep. 20, 89–98 (2017).

Daou, I. et al. Remote optogenetic activation and sensitization of pain pathways in freely moving mice. J. Neurosci. 33, 18631–18640 (2013).

Cornett, P. M., Matta, J. A. & Ahern, G. P. General anesthetics sensitize the capsaicin receptor transient receptor potential V1. Mol. Pharmacol. 74, 1261–1268 (2008).

Prabhakar, A., Vujovic, D., Cui, L., Olson, W. & Luo, W. Leaky expression of channelrhodopsin-2 (ChR2) in Ai32 mouse lines. PLoS ONE 14, e0213326 (2019).

Cavanaugh, D. J. et al. Distinct subsets of unmyelinated primary sensory fibers mediate behavioral responses to noxious thermal and mechanical stimuli. Proc. Natl Acad. Sci. USA 106, 9075–9080 (2009).

Montgomery, K. L., Iyer, S. M., Christensen, A. J., Deisseroth, K. & Delp, S. L. Beyond the brain: optogenetic control in the spinal cord and peripheral nervous system. Sci. Transl. Med. 8, 337rv5 (2016).

Huang, X. et al. Materials strategies and device architectures of emerging power supply devices for implantable bioelectronics. Small 16, 1902827 (2020).

Zheng, H. et al. A shape-memory and spiral light-emitting device for precise multisite stimulation of nerve bundles. Nat. Commun. 10, 2790 (2019).

Maimon, B. E., Sparks, K., Srinivasan, S., Zorzos, A. N. & Herr, H. M. Spectrally distinct channelrhodopsins for two-colour optogenetic peripheral nerve stimulation. Nat. Biomed. Eng. 2, 485–496 (2018).

Schonle, P. et al. A multi-sensor and parallel processing SoC for miniaturized medical instrumentation. IEEE J. Solid-State Circuits 53, 2076–2087 (2018).

Mcintosh, R. L. & Anderson, V. A comprehensive tissue properties database provided for the thermal assessment of a human at rest. Biophys. Rev. Lett. 05, 129–151 (2010).

Dong, N. et al. Opto-electro-thermal optimization of photonic probes for optogenetic neural stimulation. J. Biophotonics 11, e201700358 (2018).
Acknowledgements
The authors thank N. Andrews and L. Barrett for technical assistance, G. Courtine and his team (G-Lab, EPFL) for their advice on the surgical procedure and M. Stoeckel, A. Guillet and V. Ruhaut (Neuronal Microsystems Platform, Wyss Center) for help and advice on microfabrication. Further thanks go to T. Kleier for PCB assembly and device measurement support and M. Zahner for his help with antenna characterization. For funding, we would like to acknowledge a Sir Henry Dale Fellowship jointly funded by the Wellcome Trust and the Royal Society (109372/Z/15/Z, to L.E.B.), the European Union's Horizon 2020 Research and Innovation Programme under the Marie Skłodowska-Curie grant agreement (754354, to O.A.), the Bertarelli Foundation (to S.P.L. and C.J.W.), the Swiss National Science Foundation (BSCGI0_1578000, to S.P.L.) and the National Institutes of Health (R35NS105076, to C.J.W.).
Ethics declarations
Competing interests
The authors declare no competing interests.
Additional information
Publisher's note Springer Nature remains neutral with regard to jurisdictional claims in published maps and institutional affiliations.
Supplementary information
About this article
Cite this article
Michoud, F., Seehus, C., Schönle, P. et al. Epineural optogenetic activation of nociceptors initiates and amplifies inflammation. Nat Biotechnol 39, 179–185 (2021). https://doi.org/10.1038/s41587-020-0673-2
Received:

Accepted:

Published:

Issue Date:

DOI: https://doi.org/10.1038/s41587-020-0673-2