Abstract
We developed a functional lineage tracing tool termed CaTCH (CRISPRa tracing of clones in heterogeneous cell populations). CaTCH combines precise clonal tracing of millions of cells with the ability to retrospectively isolate founding clones alive before and during selection, allowing functional experiments. Using CaTCH, we captured rare clones representing as little as 0.001% of a population and investigated the emergence of resistance to targeted melanoma therapy in vivo.
This is a preview of subscription content
Access options
Subscribe to Journal
Get full journal access for 1 year
$99.00
only $8.25 per issue
All prices are NET prices.
VAT will be added later in the checkout.
Tax calculation will be finalised during checkout.
Rent or Buy article
Get time limited or full article access on ReadCube.
from$8.99
All prices are NET prices.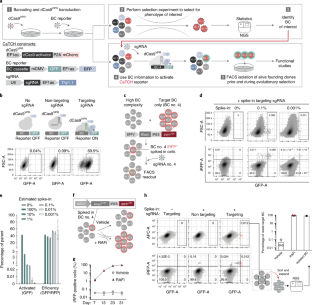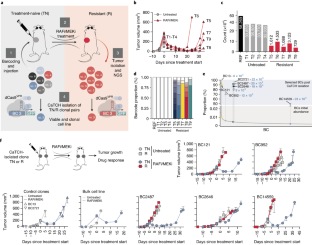 Data availability
All datasets generated during the current study are available from the corresponding authors upon reasonable request. RNAseq data have been deposited at the Gene Expression Omnibus under accession number GSE139236. Source data are provided with this paper.
References
1.

Reya, T., Morrison, S. J., Clarke, M. F. & Weissman, I. L. Stem cells, cancer, and cancer stem cells. Nature 414, 105–111 (2001).

2.

Mojtahedi, M. et al. Cell fate decision as high-dimensional critical state transition. PLoS Biol. 14, e2000640 (2016).

3.

Simons, B. D. & Clevers, H. Strategies for homeostatic stem cell self-renewal in adult tissues. Cell 145, 851–862 (2011).

4.

Shakiba, N. et al. Cell competition during reprogramming gives rise to dominant clones. Science 364, eaan0925 (2019).

5.

Biddy, B. A. et al. Single-cell mapping of lineage and identity in direct reprogramming. Nature 564, 219–224 (2018).

6.

Yamanaka, S. Elite and stochastic models for induced pluripotent stem cell generation. Nature 460, 49–52 (2009).

7.

Tabassum, D. P. & Polyak, K. Tumorigenesis: it takes a village. Nat. Rev. Cancer 15, 473–483 (2015).

8.

Ramos, P. & Bentires-Alj, M. Mechanism-based cancer therapy: resistance to therapy, therapy for resistance. Oncogene 34, 3617–3626 (2015).

9.

McGranahan, N. & Swanton, C. Biological and therapeutic impact of intratumor heterogeneity in cancer evolution. Cancer Cell 27, 15–26 (2015).

10.

Tirosh, I. et al. Dissecting the multicellular ecosystem of metastatic melanoma by single-cell RNA-seq. Science 352, 189–196 (2016).

11.

Kebschull, J. M. & Zador, A. M. Cellular barcoding: lineage tracing, screening and beyond. Nat. Methods 15, 871–879 (2018).

12.

Bhang, H. C. et al. Studying clonal dynamics in response to cancer therapy using high-complexity barcoding. Nat. Med. 21, 440–448 (2015).

13.

Hata, A. N. et al. Tumor cells can follow distinct evolutionary paths to become resistant to epidermal growth factor receptor inhibition. Nat. Med. 22, 262–269 (2016).

14.

Chavez, A. et al. Comparison of Cas9 activators in multiple species. Nat. Methods 13, 563–567 (2016).

15.

Gilbert, L. A. et al. Genome-scale CRISPR-mediated control of gene repression and activation. Cell 159, 647–661 (2014).

16.

Al'Khafaji, A. M., Deatherage, D. & Brock, A. Control of lineage-specific gene expression by functionalized gRNA barcodes. ACS Synth. Biol. 7, 2468–2474 (2018).

17.

Meeth, K., Wang, J. X., Micevic, G., Damsky, W. & Bosenberg, M. W. The YUMM lines: a series of congenic mouse melanoma cell lines with defined genetic alterations. Pigment Cell Melanoma Res. 29, 590–597 (2016).

18.

Shi, H. et al. Acquired resistance and clonal evolution in melanoma during BRAF inhibitor therapy. Cancer Discov. 4, 80–93 (2014).

19.

Sharma, S. V. et al. A chromatin-mediated reversible drug-tolerant state in cancer cell subpopulations. Cell 141, 69–80 (2010).

20.

Ravindran Menon, D. et al. A stress-induced early innate response causes multidrug tolerance in melanoma. Oncogene 34, 4448–4459 (2015).

21.

Trumpp, A. & Wiestler, O. D. Mechanisms of disease: cancer stem cells—targeting the evil twin. Nat. Clin. Pract. Oncol. 5, 337–347 (2008).

22.

Friedman, R. Drug resistance in cancer: molecular evolution and compensatory proliferation. Oncotarget 7, 11746–11755 (2016).

23.

Hobbs, G. A. et al. Atypical KRAS G12R mutant is impaired in PI3K signaling and macropinocytosis in pancreatic cancer. Cancer Discov. 10, 104–123 (2020).

24.

Zafra, M. P. et al. An in vivo KRAS allelic series reveals distinct phenotypes of common oncogenic variants. Preprint at https://www.biorxiv.org/content/10.1101/847509v1 (2019).

25.

Rebbeck, C. et al. SmartCodes: functionalized barcodes that enable targeted retrieval of clonal lineages from a heterogeneous population. Preprint at https://www.biorxiv.org/content/10.1101/352617v1.full (2018).

26.

Akimov, Y., Bulanova, D., Abyzova, M., Wennerberg, K. & Aittokallio, T. DNA barcode-guided lentiviral CRISPRa tool to trace and isolate individual clonal lineages in heterogeneous cancer cell populations. Preprint at https://www.biorxiv.org/content/10.1101/622506v1 (2019).

27.

Rambow, F. et al. Toward minimal residual disease-directed therapy in melanoma. Cell 174, 843–855.e19 (2018).

28.

Shaffer, S. M. et al. Rare cell variability and drug-induced reprogramming as a mode of cancer drug resistance. Nature 546, 431–435 (2017).

29.

Greaves, M. & Maley, C. C. Clonal evolution in cancer. Nature 481, 306–313 (2012).

30.

Calderwood, S. K. Tumor heterogeneity, clonal evolution, and therapy resistance: an opportunity for multitargeting therapy. Discov. Med. 15, 188–194 (2013).

31.

Smith, M. P. et al. Inhibiting drivers of non-mutational drug tolerance is a salvage strategy for targeted melanoma therapy. Cancer Cell 29, 270–284 (2016).

32.

Cock, P. J. A. et al. Biopython: freely available Python tools for computational molecular biology and bioinformatics. Bioinformatics 25, 1422–1423 (2009).

33.

Bodenhofer, U., Kothmeier, A. & Hochreiter, S. APCluster: an R package for affinity propagation clustering. Bioinformatics 27, 2463–2464 (2011).

34.

Loew, R., Heinz, N., Hampf, M., Bujard, H. & Gossen, M. Improved Tet-responsive promoters with minimized background expression. BMC Biotechnol. 10, 81 (2010).

35.

Dobin, A. et al. STAR: ultrafast universal RNA-seq aligner. Bioinformatics 29, 15–21 (2013).

36.

Liao, Y., Smyth, G. K. & Shi, W. featureCounts: an efficient general purpose program for assigning sequence reads to genomic features. Bioinformatics 30, 923–930 (2014).

37.

Love, M. I., Huber, W. & Anders, S. Moderated estimation of fold change and dispersion for RNA-seq data with DESeq2. Genome Biol. 15, 550 (2014).

38.

Ramírez, F. et al. deepTools2: a next generation web server for deep-sequencing data analysis. Nucleic Acids Res. 44, W160–W165 (2016).

39.

Marini, F. & Binder, H. pcaExplorer: an R/Bioconductor package for interacting with RNA-seq principal components. BMC Bioinf. 20, 331 (2019).

40.

Krämer, A., Green, J., Pollard, J. & Tugendreich, S. Causal analysis approaches in Ingenuity pathway analysis. Bioinformatics 30, 523–530 (2014).

41.

Babicki, S. et al. Heatmapper: web-enabled heat mapping for all. Nucleic Acids Res. 44, W147–W153 (2016).

42.

Li, H. & Durbin, R. Fast and accurate short read alignment with Burrows-Wheeler transform. Bioinformatics 25, 1754–1760 (2009).

43.

Li, H. A statistical framework for SNP calling, mutation discovery, association mapping and population genetical parameter estimation from sequencing data. Bioinformatics 27, 2987–2993 (2011).

44.

Koboldt, D. C. et al. VarScan 2: somatic mutation and copy number alteration discovery in cancer by exome sequencing. Genome Res. 22, 568–576 (2012).

45.

Danecek, P. et al. The variant call format and VCFtools. Bioinformatics 27, 2156–2158 (2011).

46.

Li, H. Toward better understanding of artifacts in variant calling from high-coverage samples. Bioinformatics 30, 2843–2851 (2014).

47.

Wang, K., Li, M. & Hakonarson, H. ANNOVAR: functional annotation of genetic variants from high-throughput sequencing data. Nucleic Acids Res. 38, e164–e164 (2010).

48.

Mayakonda, A., Lin, D.-C., Assenov, Y., Plass, C. & Koeffler, H. P. Maftools: efficient and comprehensive analysis of somatic variants in cancer. Genome Res. 28, 1747–1756 (2018).

49.

Chakravarty, D. et al. OncoKB: a precision oncology knowledge base. JCO Precis. Oncol. 2017, 1–16 (2017).

50.

Durinck, S., Spellman, P. T., Birney, E. & Huber, W. Mapping identifiers for the integration of genomic datasets with the R/Bioconductor package biomaRt. Nat. Protoc. 4, 1184–1191 (2009).

51.

Zuber, J. et al. Toolkit for evaluating genes required for proliferation and survival using tetracycline-regulated RNAi. Nat. Biotechnol. 29, 79–83 (2011).
Acknowledgements
We thank all members of the Obenauf and Zuber laboratories for experimental support and discussions, in particular M. Roth, M. Muhar, I. Barbosa, V. Pinamonti and I. Krecioch. We thank the Stark laboratory, especially C. Neumayr and M. Pagani for sharing of reagents and cell lines. We thank M. Bosenberg for providing YUMM 1.7 mouse melanoma cells. This work was funded by the Starting Grants of the European Research Council (ERC-StG-759590 to A.C.O. and ERC-StG-336860 to J.Z.), the Vienna Science and Technology fund (LS16-063 to A.C.O. and T.W.) and the Austrian Science Fund (SFB-F4710, to J.Z.). Research at the IMP is generously supported by Boehringer Ingelheim.
Ethics declarations
Competing interests
The authors declare no competing interests.
Additional information
Publisher's note Springer Nature remains neutral with regard to jurisdictional claims in published maps and institutional affiliations.
Supplementary information
1. Top 500 high-variance genes—Top 10 GO terms within three main clusters from Extended Data Fig. 8c. 2. Differentially expressed genes (deviation from the mean > 1 or < −1) within GO term 'cell division' (GO:0035458) from Extended Data Fig. 8d. 3. Gene lists from Venn diagrams from Extended Data Fig. 8e. 4. List of top 50 identified upstream mediators from Ingenuity Pathway Analysis (IPA) from Extended Data Fig. 8f. 5. List of normalized read counts of selected genes from Extended Data Fig. 8g
About this article
Cite this article
Umkehrer, C., Holstein, F., Formenti, L. et al. Isolating live cell clones from barcoded populations using CRISPRa-inducible reporters. Nat Biotechnol 39, 174–178 (2021). https://doi.org/10.1038/s41587-020-0614-0
Received:

Accepted:

Published:

Issue Date: