Abstract
Safeguard mechanisms can ameliorate the potential risks associated with cell therapies but currently rely on the introduction of transgenes. This limits their application owing to immunogenicity or transgene silencing. We aimed to create a control mechanism for human cells that is not mediated by a transgene. Using genome editing methods, we disrupt uridine monophosphate synthetase (UMPS) in the pyrimidine de novo synthesis pathway in cell lines, pluripotent cells and primary human T cells. We show that this makes proliferation dependent on external uridine and enables us to control cell growth by modulating the uridine supply, both in vitro and in vivo after transplantation in xenograft models. Additionally, disrupting this pathway creates resistance to 5-fluoroorotic acid, which enables positive selection of UMPS-knockout cells. We envision that this approach will add an additional level of safety to cell therapies and therefore enable the development of approaches with higher risks, especially those that are intended for limited treatment durations.
Your institute does not have access to this article
Access options
Subscribe to Nature+
Get immediate online access to the entire Nature family of 50+ journals
Subscribe to Journal
Get full journal access for 1 year
$99.00
only $8.25 per issue
All prices are NET prices.
VAT will be added later in the checkout.
Tax calculation will be finalised during checkout.
Buy article
Get time limited or full article access on ReadCube.
$32.00
All prices are NET prices.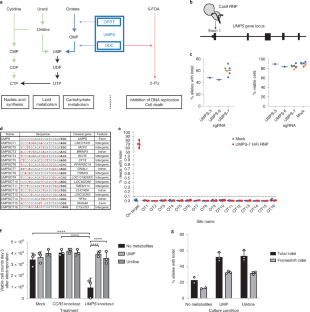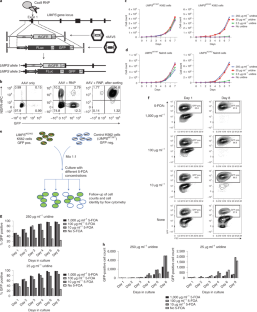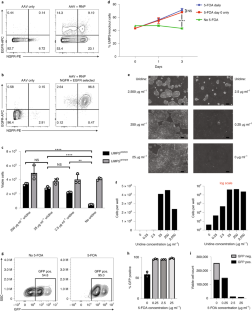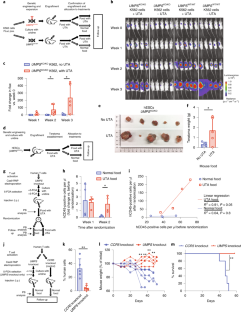 Data availability
All data generated or analyzed during this study are included in this published article and its extended data. Source data are provided with this paper.
References
Hoggatt, J. Gene therapy for 'bubble boy' disease. Cell 166, 263 (2016).

Majzner, R. G., Heitzeneder, S. & Mackall, C. L. Harnessing the immunotherapy revolution for the treatment of childhood cancers. Cancer Cell 31, 476–485 (2017).

Teixeira, A. P. & Fussenegger, M. Engineering mammalian cells for disease diagnosis and treatment. Curr. Opin. Biotechnol. 55, 87–94 (2019).

Chen, Y. Y. & Smolke, C. D. From DNA to targeted therapeutics: bringing synthetic biology to the clinic. Sci. Transl. Med. 3, 106ps42 (2011).

Tang, J., Hubbard-Lucey, V. M., Pearce, L., O'Donnell-Tormey, J. & Shalabi, A. The global landscape of cancer cell therapy. Nat. Rev. Drug Discov. 17, 465–466 (2018).

Bonifant, C. L., Jackson, H. J., Brentjens, R. J. & Curran, K. J. Toxicity and management in CAR T-cell therapy. Mol. Ther. Oncolytics 3, 16011 (2016).

Sadelain, M. Eliminating cells gone astray. N. Engl. J. Med. 365, 1735–1737 (2011).

Porteus, M. Translating the lessons from gene therapy to the development of regenerative medicine. Mol. Ther. 19, 439–441 (2011).

Narayanan, P. et al. A composite MyD88/CD40 switch synergistically activates mouse and human dendritic cells for enhanced antitumor efficacy. J. Clin. Invest. 121, 1524–1534 (2011).

Sockolosky, J. T. et al. Selective targeting of engineered T cells using orthogonal IL-2 cytokine–receptor complexes. Science 359, 1037–1042 (2018).

Tey, S.-K. Adoptive T-cell therapy: adverse events and safety switches. Clin. Transl. Immunol. 3, e17 (2014).

Ciceri, F. et al. Infusion of suicide-gene-engineered donor lymphocytes after family haploidentical haemopoietic stem-cell transplantation for leukaemia (The TK007 Trial): a non-randomised phase I–II study. Lancet Oncol. 10, 489–500 (2009).

Di Stasi, A. et al. Inducible apoptosis as a safety switch for adoptive cell therapy. N. Engl. J. Med. 365, 1673–1683 (2011).

Ben-David, U. & Benvenisty, N. The tumorigenicity of human embryonic and induced pluripotent stem cells. Nat. Rev. Cancer 11, 268–277 (2011).

Lee, A. S., Tang, C., Rao, M. S., Weissman, I. L. & Wu, J. C. Tumorigenicity as a clinical hurdle for pluripotent stem cell therapies. Nat. Med. 19, 998–1004 (2013).

Traversari, C. et al. The potential immunogenicity of the TK suicide gene does not prevent full clinical benefit associated with the use of TK-transduced donor lymphocytes in HSCT for hematologic malignancies. Blood 109, 4708–4715 (2007).

Yagyu, S., Hoyos, V., Del Bufalo, F. & Brenner, M. K. An inducible caspase-9 suicide gene to improve the safety of therapy using human induced pluripotent stem cells. Mol. Ther. 23, 1475–1485 (2015).

Garin, M. I. et al. Molecular mechanism for ganciclovir resistance in human T lymphocytes transduced with retroviral vectors carrying the herpes simplex virus thymidine kinase gene. Blood 97, 122–129 (2001).

Wu, C. et al. Development of an inducible caspase-9 safety switch for pluripotent stem cell-based therapies. Mol. Ther. Methods Clin. Dev. 1, 14053 (2014).

Sułkowski, M., Konieczny, P., Chlebanowska, P. & Majka, M. Introduction of exogenous HSV-TK suicide gene increases safety of keratinocyte-derived induced pluripotent stem cells by providing genetic 'emergency exit' switch. Int. J. Mol. Sci. 19, 197 (2018).

Ando, M. et al. A safeguard system for induced pluripotent stem cell-derived rejuvenated T cell therapy. Stem Cell Rep. 5, 597–608 (2015).

Merkle, F. T. et al. Human pluripotent stem cells recurrently acquire and expand dominant negative p53 mutations. Nature 545, 229–233 (2017).

Frank, O. et al. Tumor cells escape suicide gene therapy by genetic and epigenetic instability. Blood 104, 3543–3549 (2004).

Li, H. & Zhao, Y. Increasing the safety and efficacy of chimeric antigen receptor T cell therapy. Protein Cell 8, 573–589 (2017).

Terazaki, Y. et al. An optimal therapeutic expression level is crucial for suicide gene therapy for hepatic metastatic cancer in mice. Hepatology 37, 155–163 (2003).

van Galen, P. et al. The unfolded protein response governs integrity of the haematopoietic stem-cell pool during stress. Nature 510, 268–272 (2014).

Murray, P. J. Amino acid auxotrophy as a system of immunological control nodes. Nat. Immunol. 17, 132–139 (2016).

Grohmann, U. et al. Amino-acid sensing and degrading pathways in immune regulation. Cytokine Growth Factor Rev. 35, 37–45 (2017).

Fung, M. K. L. & Chan, G. C.-F. Drug-induced amino acid deprivation as strategy for cancer therapy. J. Hematol. Oncol. 10, 144 (2017).

Hill, J. M. et al. l-Asparaginase therapy for leukemia and other malignant neoplasms. JAMA 202, 882–888 (1967).

Kato, Y. An engineered bacterium auxotrophic for an unnatural amino acid: a novel biological containment system. PeerJ 3, e1247 (2015).

Steidler, L. et al. Biological containment of genetically modified Lactococcus lactis for intestinal delivery of human interleukin 10. Nat. Biotechnol. 21, 785–789 (2003).

Hendel, A. et al. Chemically modified guide RNAs enhance CRISPR–Cas genome editing in human primary cells. Nat. Biotechnol. 33, 985–989 (2015).

Porteus, M. H. & Baltimore, D. Chimeric nucleases stimulate gene targeting in human cells. Science 300, 763 (2003).

Bak, R. O., Dever, D. P. & Porteus, M. H. CRISPR/Cas9 genome editing in human hematopoietic stem cells. Nat. Protoc. 13, 358–376 (2018).

Rose, M. & Winston, F. Identification of a Ty insertion within the coding sequence of the S. cerevisiae URA3 gene. Mol. Gen. Genet. 193, 557–560 (1984).

Fallon, H. J., Smith, L. H., Graham, J. B. & Burnett, C. H. A genetic study of hereditary orotic aciduria. N. Engl. J. Med. 270, 878–881 (1964).

Okesli, A., Khosla, C. & Bassik, M. C. Human pyrimidine nucleotide biosynthesis as a target for antiviral chemotherapy. Curr. Opin. Biotechnol. 48, 127–134 (2017).

Cradick, T. J., Qiu, P., Lee, C. M., Fine, E. J. & Bao, G. COSMID: a web-based tool for identifying and validating CRISPR/Cas off-target sites. Mol. Ther. Nucleic Acids 3, e214 (2014).

Vakulskas, C. A. et al. A high-fidelity Cas9 mutant delivered as a ribonucleoprotein complex enables efficient gene editing in human hematopoietic stem and progenitor cells. Nat. Med. 24, 1216–1224 (2018).

Brinkman, E. K., Chen, T., Amendola, M. & van Steensel, B. Easy quantitative assessment of genome editing by sequence trace decomposition. Nucleic Acids Res. 42, e168 (2014).

Bak, R. O. et al. Multiplexed genetic engineering of human hematopoietic stem and progenitor cells using CRISPR/Cas9 and AAV6. eLife 6, e27873 (2017).

Wang, X. et al. A transgene-encoded cell surface polypeptide for selection, in vivo tracking, and ablation of engineered cells. Blood 118, 1255–1263 (2011).

Wiebking, V. et al. Genome editing of donor-derived T-cells to generate allogenic chimeric antigen receptor-modified T cells: optimizing αβ T cell-depleted haploidentical hematopoietic stem cell transplantation. Haematologica https://doi.org/10.3324/haematol.2019.233882 (2020).

van Groeningen, C. J., Peters, G. J. & Pinedo, H. M. Reversal of 5-fluorouracil-induced toxicity by oral administration of uridine. Ann. Oncol. 4, 317–320 (1993).

Becroft, D. M., Phillips, L. I. & Simmonds, A. Hereditary orotic aciduria: long-term therapy with uridine and a trial of uracil. J. Pediatr. 75, 885–891 (1969).

Gasser, T., Moyer, J. D. & Handschumacher, R. E. Novel single-pass exchange of circulating uridine in rat liver. Science 213, 777–778 (1981).

Weinberg, M. E. et al. Enhanced uridine bioavailability following administration of a triacetyluridine-rich nutritional supplement. PLoS ONE 6, e14709 (2011).

Ison, G. et al. FDA approval: uridine triacetate for the treatment of patients following fluorouracil or capecitabine overdose or exhibiting early-onset severe toxicities following administration of these drugs. Clin. Cancer Res. 22, 4545–4549 (2016).

Garcia, R. A. G. et al. Severe cytochrome c oxidase inhibition in vivo does not induce a pyrimidine deficiency; neuroprotective action of oral uridine prodrug PN401 requires supraphysiological levels of uridine. Brain Res. 1066, 164–171 (2005).

Karle, J. M., Anderson, L. W., Dietrick, D. D. & Cysyk, R. L. Determination of serum and plasma uridine levels in mice, rats, and humans by high-pressure liquid chromatography. Anal. Biochem. 109, 41–46 (1980).

Ivics, Z. Self-destruct genetic switch to safeguard iPS cells. Mol. Ther. 23, 1417–1420 (2015).

D'Antonio, M. et al. Insights into the mutational burden of human induced pluripotent stem cells from an integrative multi-omics approach. Cell Rep. 24, 883–894 (2018).

Gornalusse, G. G. et al. HLA-E-expressing pluripotent stem cells escape allogeneic responses and lysis by NK cells. Nat. Biotechnol. 35, 765–772 (2017).

Deuse, T. et al. Hypoimmunogenic derivatives of induced pluripotent stem cells evade immune rejection in fully immunocompetent allogeneic recipients. Nat. Biotechnol. 37, 252–258 (2019).

Watanabe, K., Kuramitsu, S., Posey, A. D. & June, C. H. Expanding the therapeutic window for CAR T cell therapy in solid tumors: the knowns and unknowns of CAR T cell biology. Front. Immunol. 9, 2486 (2018).

Lee, J. W., Chan, C. T. Y., Slomovic, S. & Collins, J. J. Next-generation biocontainment systems for engineered organisms. Nat. Chem. Biol. 14, 530–537 (2018).

Fischer, A., Hacein-Bey Abina, S., Touzot, F. & Cavazzana, M. Gene therapy for primary immunodeficiencies. Clin. Genet. 88, 507–515 (2015).

Gaj, T., Gersbach, C. A. & Barbas, C. F. ZFN, TALEN, and CRISPR/Cas-based methods for genome engineering. Trends Biotechnol. 31, 397–405 (2013).

Duong, M. T. et al. Two-dimensional regulation of CAR-T cell therapy with orthogonal switches. Mol. Ther. Oncolytics 12, 124–137 (2019).

Huang, M. & Graves, L. M. De novo synthesis of pyrimidine nucleotides; emerging interfaces with signal transduction pathways. Cell. Mol. Life Sci. 60, 321–336 (2003).

Haeussler, M. et al. Evaluation of off-target and on-target scoring algorithms and integration into the guide RNA selection tool CRISPOR. Genome Biol. 17, 148 (2016).

Dever, D. P. et al. CRISPR/Cas9 β-globin gene targeting in human haematopoietic stem cells. Nature 539, 384–389 (2016).

Aurnhammer, C. et al. Universal real-time PCR for the detection and quantification of adeno-associated virus serotype 2-derived inverted terminal repeat sequences. Hum. Gene Ther. Methods 23, 18–28 (2012).

Martin, R. M. et al. Highly efficient and marker-free genome editing of human pluripotent stem cells by CRISPR–Cas9 RNP and AAV6 donor-mediated homologous recombination. Cell Stem Cell 24, 821–828 (2019).

Lee, C. M., Cradick, T. J. & Bao, G. The Neisseria meningitidis CRISPR–Cas9 system enables specific genome editing in mammalian cells. Mol. Ther. 24, 645–654 (2016).

Lin, Y. et al. CRISPR/Cas9 systems have off-target activity with insertions or deletions between target DNA and guide RNA sequences. Nucleic Acids Res. 42, 7473–7485 (2014).
Acknowledgements
We thank the Stanford Small Animal Imaging Facility and the FACS Core of the Institute for Stem Cell Biology and Regenerative Medicine at Stanford University for providing access to equipment and training. We thank the Stanford Medicine Veterinary Service Center for excellent animal welfare and husbandry. We thank L. Nguyen (Stanford University) for excellent laboratory management and administration. We thank Synthego for providing modified sgRNAs and IDT for providing early access to high-fidelity Cas9 protein. V.W. gratefully acknowledges receiving research fellowships from the Deutsche Forschungsgemeinschaft (DFG) and the Care-For-Rare Foundation, Germany. We thank the Amon G. Carter Foundation and the Laurie Kraus Lacob Faculty Scholar Award in Pediatric Translational Research for support of this work.
Ethics declarations
Competing interests
The authors declare the following competing interests: V.W., J.O.P. and M.H.P. are inventors on intellectual property related to this work. V.W., M.H.P. and J.O.P. own shares of and J.O.P. is the director of Auxolytic Ltd, a company that owns intellectual property related to this work. J.O.P. declares that he is bound by confidentiality agreements that prevent him from disclosing additional competing interests in this work.
Additional information
Publisher's note Springer Nature remains neutral with regard to jurisdictional claims in published maps and institutional affiliations.
Supplementary information
About this article
Cite this article
Wiebking, V., Patterson, J.O., Martin, R. et al. Metabolic engineering generates a transgene-free safety switch for cell therapy. Nat Biotechnol 38, 1441–1450 (2020). https://doi.org/10.1038/s41587-020-0580-6
Received:

Accepted:

Published:

Issue Date:

DOI: https://doi.org/10.1038/s41587-020-0580-6