Abstract
Lack of access to safe drinking water is a global problem, and methods to reliably and easily detect contaminants could be transformative. We report the development of a cell-free in vitro transcription system that uses RNA Output Sensors Activated by Ligand Induction (ROSALIND) to detect contaminants in water. A combination of highly processive RNA polymerases, allosteric protein transcription factors and synthetic DNA transcription templates regulates the synthesis of a fluorescence-activating RNA aptamer. The presence of a target contaminant induces the transcription of the aptamer, and a fluorescent signal is produced. We apply ROSALIND to detect a range of water contaminants, including antibiotics, small molecules and metals. We also show that adding RNA circuitry can invert responses, reduce crosstalk and improve sensitivity without protein engineering. The ROSALIND system can be freeze-dried for easy storage and distribution, and we apply it in the field to test municipal water supplies, demonstrating its potential use for monitoring water quality.
Relevant articles
Open Access articles citing this article.
Walter Thavarajah

,

Patrick Mbullo Owuor

…

Sera L. Young

npj Clean Water Open Access 08 February 2023

Alissa D. Buskermolen

,

Yu-Ting Lin

…

Menno W. J. Prins

Nature Communications Open Access 13 October 2022

Peter L. Voyvodic

,

Ismael Conejero

…

Jerome Bonnet

Scientific Reports Open Access 12 August 2022
Access options
Access Nature and 54 other Nature Portfolio journals
Get Nature+, our best-value online-access subscription
$29.99 per month
cancel any time
Subscribe to this journal
Receive 12 print issues and online access
$209.00 per year
only $17.42 per issue
Rent or buy this article
Get just this article for as long as you need it
$39.95
Prices may be subject to local taxes which are calculated during checkout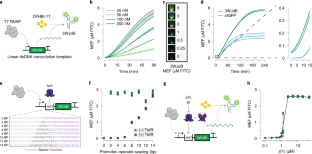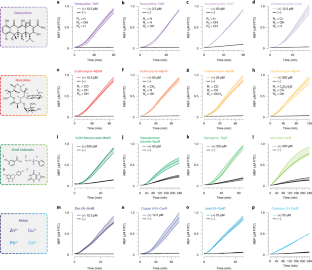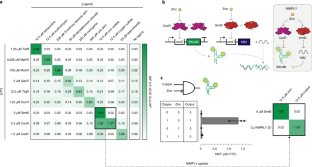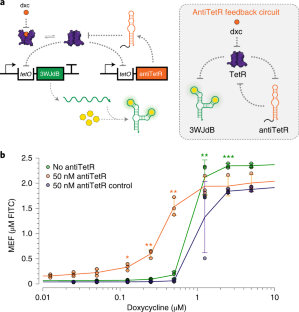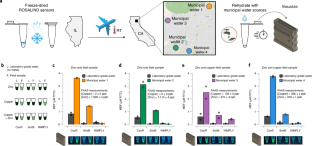 Data availability
All data presented in this manuscript are available as supplementary data files. All plasmids used in this manuscript are available in Addgene with the identifiers 140371–140399. Source data are provided with this paper.
References
French, K. E. Harnessing synthetic biology for sustainable development. Nat. Sustain. 2, 250–252 (2019).

Slomovic, S., Pardee, K. & Collins, J. J. Synthetic biology devices for in vitro and in vivo diagnostics. Proc. Natl Acad. Sci. USA 112, 14429–14435 (2015).

Pardee, K. et al. Rapid, low-cost detection of Zika virus using programmable biomolecular components. Cell 165, 1255–1266 (2016).

Gootenberg, J. S. et al. Multiplexed and portable nucleic acid detection platform with Cas13, Cas12a, and Csm6. Science 360, 439–444 (2018).

Chen, J. S. et al. CRISPR-Cas12a target binding unleashes indiscriminate single-stranded DNase activity. Science 360, 436–439 (2018).

Takahashi, M. K. et al. A low-cost paper-based synthetic biology platform for analyzing gut microbiota and host biomarkers. Nat. Commun. 9, 3347 (2018).

Vorosmarty, C. J. et al. Global threats to human water security and river biodiversity. Nature 467, 555–561 (2010).

van der Meer, J. R. & Belkin, S. Where microbiology meets microengineering: design and applications of reporter bacteria. Nat. Rev. Microbiol. 8, 511–522 (2010).

McNerney, M. P. et al. Active analyte import improves the dynamic range and sensitivity of a vitamin B12 biosensor. ACS Synth. Biol. 9, 402–411 (2020).

Belkin, S. et al. Remote detection of buried landmines using a bacterial sensor. Nat. Biotechnol. 35, 308–310 (2017).

Siegal-Gaskins, D. et al. Gene circuit performance characterization and resource usage in a cell-free 'breadboard'. ACS Synth. Biol. 3, 416–425 (2014).

Alam, K. K. et al. A fluorescent split aptamer for visualizing RNA–RNA assembly in vivo. ACS Synth. Biol. 6, 1710–1721 (2017).

Zhang, Z. et al. Single-molecule tracking of the transcription cycle by sub-second RNA detection. eLife 3, e01775 (2014).

Pedelacq, J. D. et al. Engineering and characterization of a superfolder green fluorescent protein. Nat. Biotechnol. 24, 79–88 (2006).

Shimizu, Y. et al. Cell-free translation reconstituted with purified components. Nat. Biotechnol. 19, 751–755 (2001).

Cuthbertson, L. & Nodwell, J. R. The TetR family of regulators. Microbiol. Mol. Biol. Rev. 77, 440–475 (2013).

Dunn, J. J. & Studier, F. W. Complete nucleotide sequence of bacteriophage T7 DNA and the locations of T7 genetic elements. J. Mol. Biol. 166, 477–535 (1983).

Fernandez-Lopez, R. et al. Transcription factor-based biosensors enlightened by the analyte. Front. Microbiol. 6, 648 (2015).

Baquero, F., Martinez, J. L. & Canton, R. Antibiotics and antibiotic resistance in water environments. Curr. Opin. Biotechnol. 19, 260–265 (2008).

Zhang, W. et al. Engineered biosynthesis of a novel amidated polyketide, using the malonamyl-specific initiation module from the oxytetracycline polyketide synthase. Appl. Environ. Microbiol. 72, 2573–2580 (2006).

Deochand, D. K. & Grove, A. MarR family transcription factors: dynamic variations on a common scaffold. Crit. Rev. Biochem. Mol. Biol. 52, 595–613 (2017).

Zhu, T. et al. Deciphering and engineering of the final step halogenase for improved chlortetracycline biosynthesis in industrial Streptomyces aureofaciens. Metab. Eng. 19, 69–78 (2013).

Noguchi, N. et al. Regulation of transcription of the mph(A) gene for macrolide 2′-phosphotransferase I in Escherichia coli: characterization of the regulatory gene mphR(A). J. Bacteriol. 182, 5052–5058 (2000).

Richardson, S. D. & Ternes, T. A. Water analysis: emerging contaminants and current issues. Anal. Chem. 90, 398–428 (2018).

Kasey, C. M. et al. Development of transcription factor-based designer macrolide biosensors for metabolic engineering and synthetic biology. ACS Synth. Biol. 7, 227–239 (2018).

Carballa, M. et al. Behavior of pharmaceuticals, cosmetics and hormones in a sewage treatment plant. Water Res. 38, 2918–2926 (2004).

Hiromoto, T. et al. Characterization of MobR, the 3-hydroxybenzoate-responsive transcriptional regulator for the 3-hydroxybenzoate hydroxylase gene of Comamonas testosteroni KH122-3s. J. Mol. Biol. 364, 863–877 (2006).

Kim, M. et al. Widely used benzalkonium chloride disinfectants can promote antibiotic resistance. Appl. Microbiol. 84, e01201-18. (2018).

Grkovic, S. et al. QacR is a repressor protein that regulates expression of the Staphylococcus aureus multidrug efflux pump QacA. J. Biol. Chem. 273, 18665–18673 (1998).

Lu, W. J. et al. Enantiomers of naringenin as pleiotropic, stereoselective inhibitors of cytochrome P450 isoforms. Chirality 23, 891–896 (2011).

Rogers, J. K. et al. Synthetic biosensors for precise gene control and real-time monitoring of metabolites. Nucleic Acids Res. 43, 7648–7660 (2015).

Liu, X. et al. De novo design of programmable inducible promoters. Nucleic Acids Res. 47, 10452–10463 (2019).

Juraschek, S. P. et al. Gout, urate-lowering therapy, and uric acid levels among adults in the United States. Arthrit. Care Res. 67, 588–592 (2015).

Wilkinson, S. & Grove, A. HucR, a novel uric acid-responsive member of the MarR family of transcriptional regulators from Deinococcus radiodurans. J. Biol. Chem. 279, 51442–51450 (2004).

Abraham, J., Dowling, K. & Florentine, S. Risk of post-fire metal mobilization into surface water resources: a review. Sci. Total Environ. 599, 1740–1755 (2017).

Hanna-Attisha, M. et al. Elevated blood lead levels in children associated with the Flint drinking water crisis: a spatial analysis of risk and public health response. Am. J. Public Health 106, 283–290 (2016).

Calle, G. R. et al. Enhanced copper release from pipes by alternating stagnation and flow events. Environ. Sci. Technol. 41, 7430–7436 (2007).

VanZile, M. L., Chen, X. & Giedroc, D. P. Allosteric negative regulation of smt O/P binding of the zinc sensor, SmtB, by metal ions: a coupled equilibrium analysis. Biochemistry 41, 9776–9786 (2002).

Chang, F. M. et al. Cu(I)-mediated allosteric switching in a copper-sensing operon repressor (CsoR). J. Biol. Chem. 289, 19204–19217 (2014).

Busenlehner, L. S. et al. Spectroscopic properties of the metalloregulatory Cd(II) and Pb(II) sites of S. aureus pI258 CadC. Biochemistry 40, 4426–4436 (2001).

Lloyd, J. et al. Dynamic control of aptamer–ligand activity using strand displacement reactions. ACS Synth. Biol. 7, 30–37 (2018).

Reyes-Caballero, H. et al. The metalloregulatory zinc site in Streptococcus pneumoniae AdcR, a zinc-activated MarR family repressor. J. Mol. Biol. 403, 197–216 (2010).

Danner, M. C. et al. Antibiotic pollution in surface fresh waters: occurrence and effects. Sci. Total Environ. 664, 793–804 (2019).

Steber, M. et al. Mechanistic basis for RNA aptamer-based induction of TetR. ChemBioChem 12, 2608–2614 (2011).

Pardee, K. et al. Paper-based synthetic gene networks. Cell 159, 940–954 (2014).

Haklay, M. A. W. P. Openstreetmap: UserGenerated street maps. IEEE Pervas. Comput. 7, 12–18 (2008).

Vega, A. S., Lizama, K. & Pastén, P. A. in Water Policy in Chile (ed. Donoso, G.) 25–51 (Springer International Publishing, 2018).

Chen, X. et al. Visualizing RNA dynamics in live cells with bright and stable fluorescent RNAs. Nat. Biotechnol. 37, 1287–1293 (2019).

Ellefson, J. W., Ledbetter, M. P. & Ellington, A. D. Directed evolution of a synthetic phylogeny of programmable Trp repressors. Nat. Chem. Biol. 14, 361–367 (2018).

McNerney, M. P. et al. Point-of-care biomarker quantification enabled by sample-specific calibration. Sci. Adv. 5, eaax4473 (2019).

Capdevila, D. A. et al. Tuning site-specific dynamics to drive allosteric activation in a pneumococcal zinc uptake regulator. eLife 7, e37268 (2018).
Acknowledgements
We thank A. Thompson (Northwestern University) for managing the experimental reagents and equipment used in this study; Z. Yang (Northwestern University) for assistance with FAAS measurements; N. Donghia (Wyss Institute) for helpful discussions on lyophilization of cell-free reactions; S. Pshenychny (Recombinant Protein Production Core at Northwestern University) for assistance in protein purification; J. Webster, R. Gruenberg, J. Machado and E. Plasencia-Campos (CSU, Chico) for assisting with field work; and J. Bussan, F. Lantz and B. Golenia (Northwestern University Research Shop) for assistance in the development of the handheld illuminator. J.K.J. and M.S.V. were supported in part by Northwestern University's Graduate School Cluster in Biotechnology, System, and Synthetic Biology, which is affiliated with the Biotechnology Training Program. P.R.C. was supported in part by the National Science Foundation (NSF) Synthetic Biology REU (grant no. DBI-1757973). This work was also supported by funding from the Pew Charitable Trusts (to D.A.C.), the National Institutes of Health (grant no. R35 GM118157 to D.P.G.), CONICYT/FONDECYT (grant no. 1161337 to P.A.P.), ANID/FONDAP (grant no. 15110020 to P.A.P.), NSF CAREER (grant no. 1452441 to J.B.L.), NSF MCB RAPID (grant no. 1929912 to J.B.L., J.-F.G. and S.J.M.), support from the Crown Family Center for Jewish and Israel Studies at Northwestern University (to J.B.L.) and Searle Funds at the Chicago Community Trust (to J.B.L.).
Ethics declarations
Competing interests
K.K.A., J.K.J. and J.B.L. have submitted a US provisional patent application (no. 62/758,242) relating to regulated IVT reactions. K.K.A., J.K.J., M.S.V., P.R.C., J.W.L., J.J.C. and J.B.L. have submitted a US provisional patent application (no. 62/838,852) relating to the preservation and stabilization of IVT reactions. K.K.A. and J.B.L. are founders and have a financial interest in Stemloop, Inc. The latter interests are reviewed and managed by Northwestern University in accordance with their conflict-of-interest policies. All other authors declare no conflicts of interest.
Additional information
Publisher's note Springer Nature remains neutral with regard to jurisdictional claims in published maps and institutional affiliations.
Supplementary information
About this article
Cite this article
Jung, J.K., Alam, K.K., Verosloff, M.S. et al. Cell-free biosensors for rapid detection of water contaminants. Nat Biotechnol 38, 1451–1459 (2020). https://doi.org/10.1038/s41587-020-0571-7
Received:

Accepted:

Published:

Issue Date:

DOI: https://doi.org/10.1038/s41587-020-0571-7