Abstract
Single-molecule long-read DNA sequencing with biological nanopores is fast and high-throughput but suffers reduced accuracy in homonucleotide stretches. We now combine the CsgG nanopore with the 35-residue N-terminal region of its extracellular interaction partner CsgF to produce a dual-constriction pore with improved signal and base-calling accuracy for homopolymer regions. The electron cryo-microscopy structure of CsgG in complex with full-length CsgF shows that the 33 N-terminal residues of CsgF bind inside the β-barrel of the pore, forming a defined second constriction. In complexes of CsgG bound to a 35-residue CsgF constriction peptide, the second constriction is separated from the primary constriction by ~25 Å. We find that both constrictions contribute to electrical signal modulation during single-stranded DNA translocation. DNA sequencing using a prototype CsgG–CsgF protein pore with two constrictions improved single-read accuracy by 25 to 70% in homopolymers up to 9 nucleotides long.
Relevant articles
Open Access articles citing this article.
Yohannis Wondwosen Ahmed

,

Berhan Ababaw Alemu

…

Bizuwork Derebew Alemu

Clinical Epigenetics Open Access 27 August 2022

Swarup Dey

,

Adam Dorey

…

Hao Yan

Nature Communications Open Access 28 April 2022

Zhi Ping

,

Shihong Chen

…

Yue Shen

Nature Computational Science Open Access 25 April 2022
Access options
Subscribe to Nature+
Get immediate online access to the entire Nature family of 50+ journals
Subscribe to Journal
Get full journal access for 1 year
$99.00
only $8.25 per issue
All prices are NET prices.
VAT will be added later in the checkout.
Tax calculation will be finalised during checkout.
Buy article
Get time limited or full article access on ReadCube.
$32.00
All prices are NET prices.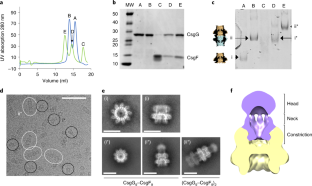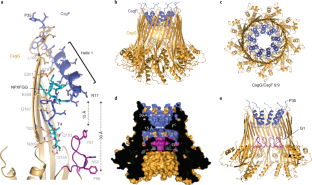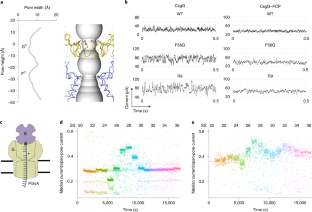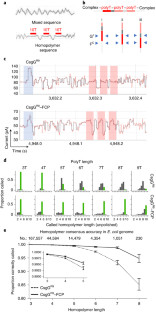 Data availability
Coordinates and the electron potential maps for the CsgG–CsgF cryo-EM structure have been deposited in the PDB and EMDB under accession codes 6SI7 and EMD-10206, respectively. R9 pores are proprietary mutants of E. coli CsgG developed by ONT and are available as membrane-embedded single pores incorporated in Flongle, MinION, GridION and PromethION flow cells.
References
Bayley, H. & Cremer, P. S. Stochastic sensors inspired by biology. Nature 413, 226–230 (2001).

Howorka, S., Cheley, S. & Bayley, H. Sequence-specific detection of individual DNA strands using engineered nanopores. Nat. Biotechnol. 19, 636–639 (2001).

Meller, A., Nivon, L., Brandin, E., Golovchenko, J. & Branton, D. Rapid nanopore discrimination between single polynucleotide molecules. Proc. Natl Acad. Sci. USA 97, 1079–1084 (2000).

Akeson, M., Branton, D., Kasianowicz, J. J., Brandin, E. & Deamer, D. W. Microsecond time-scale discrimination among polycytidylic acid, polyadenylic acid, and polyuridylic acid as homopolymers or as segments within single RNA molecules. Biophys. J. 77, 3227–3233 (1999).

Benner, S. et al. Sequence-specific detection of individual DNA polymerase complexes in real time using a nanopore. Nat. Nanotechnol. 2, 718–724 (2007).

Olasagasti, F. et al. Replication of individual DNA molecules under electronic control using a protein nanopore. Nat. Nanotechnol. 5, 798–806 (2010).

Wang, S., Zhao, Z., Haque, F. & Guo, P. Engineering of protein nanopores for sequencing, chemical or protein sensing and disease diagnosis. Curr. Opin. Biotechnol. 51, 80–89 (2018).

Kasianowicz, J. J., Brandin, E., Branton, D. & Deamer, D. W. Characterization of individual polynucleotide molecules using a membrane channel. Proc. Natl Acad. Sci. USA 93, 13770–13773 (1996).

Butler, T. Z., Pavlenok, M., Derrington, I. M., Niederweis, M. & Gundlach, J. H. Single-molecule DNA detection with an engineered MspA protein nanopore. Proc. Natl Acad. Sci. USA 105, 20647–20652 (2008).

Stoddart, D., Franceschini, L., Heron, A., Bayley, H. & Maglia, G. DNA stretching and optimization of nucleobase recognition in enzymatic nanopore sequencing. Nanotechnology 26, 084002 (2015).

Stoddart, D. et al. Nucleobase recognition in ssDNA at the central constriction of the alpha-hemolysin pore. Nano Lett. 10, 3633–3637 (2010).

Stoddart, D., Heron, A. J., Mikhailova, E., Maglia, G. & Bayley, H. Single-nucleotide discrimination in immobilized DNA oligonucleotides with a biological nanopore. Proc. Natl Acad. Sci. USA 106, 7702–7707 (2009).

Maglia, G., Heron, A. J., Stoddart, D., Japrung, D. & Bayley, H. Analysis of single nucleic acid molecules with protein nanopores. Methods Enzymol. 475, 591–623 (2010).

Cherf, G. M. et al. Automated forward and reverse ratcheting of DNA in a nanopore at 5-Å precision. Nat. Biotechnol. 30, 344–348 (2012).

Manrao, E. A. et al. Reading DNA at single-nucleotide resolution with a mutant MspA nanopore and phi29 DNA polymerase. Nat. Biotechnol. 30, 349–353 (2012).

Brown, C. G. No Thanks, I've already got one. YouTube https://www.youtube.com/watch?v=nizGyutn6v4 (2016).

Goyal, P. et al. Structural and mechanistic insights into the bacterial amyloid secretion channel CsgG. Nature 516, 250–253 (2014).

Robinson, L. S., Ashman, E. M., Hultgren, S. J. & Chapman, M. R. Secretion of curli fibre subunits is mediated by the outer membrane-localized CsgG protein. Mol. Microbiol. 59, 870–881 (2006).

Van Gerven, N., Van der Verren, S. E., Reiter, D. M. & Remaut, H. The role of functional amyloids in bacterial virulence. J. Mol. Biol. 420, 3657–3684 (2018).

Cao, B. et al. Structure of the nonameric bacterial amyloid secretion channel. Proc. Natl Acad. Sci. USA 111, E5439–E5444 (2014).

Chapman, M. R. et al. Role of Escherichia coli curli operons in directing amyloid fiber formation. Science 295, 851–855 (2002).

Nenninger, A. A., Robinson, L. S. & Hultgren, S. J. Localized and efficient curli nucleation requires the chaperone-like amyloid assembly protein CsgF. Proc. Natl Acad. Sci. USA 106, 900–905 (2009).

Nenninger, A. A. et al. CsgE is a curli secretion specificity factor that prevents amyloid fibre aggregation. Mol. Microbiol. 81, 486–499 (2011).

Schubeis, T. et al. Structural and functional characterization of the curli adaptor protein CsgF. FEBS Lett. 592, 1020–1029 (2018).

Chi, Q., Wang, G. & Jian, J. The persistence length and length per base of single-stranded DNA obtained from fluorescence correlation spectroscopy measurements using mean field theory. Phys. A 392, 1072–1079 (2013).

Jain, M., Olsen, H. E., Paten, B. & Akeson, M. The Oxford Nanopore MinION: delivery of nanopore sequencing to the genomics community. Genome Biol. 17, 239 (2016).

Carter, J. M. & Hussain, S. Robust long-read native DNA sequencing using the ONT CsgG Nanopore system. Wellcome Open Res. 2, 23 (2017).

Wick, R. R., Judd, L. M. & Holt, K. E. Performance of neural network basecalling tools for Oxford Nanopore sequencing. Genome Biol. 20, 129 (2019).

Tang, G. et al. EMAN2: an extensible image processing suite for electron microscopy. J. Struct. Biol. 157, 38–46 (2007).

Pettersen, E. F. et al. UCSF Chimera–a visualization system for exploratory research and analysis. J. Comput. Chem. 25, 1605–1612 (2004).

Robinson, J. T. et al. Integrative genomics viewer. Nat. Biotechnol. 29, 24–26 (2011).

Medaka v.0.8.1 (Oxford Nanopore Technologies, 2018); https://nanoporetech.github.io/medaka/

Miroux, B. & Walker, J. E. Over-production of proteins in Escherichia coli: mutant hosts that allow synthesis of some membrane proteins and globular proteins at high levels. J. Mol. Biol. 260, 289–298 (1996).

Casadaban, M. J. Transposition and fusion of the lac genes to selected promoters in Escherichia coli using bacteriophage lambda and Mu. J. Mol. Biol. 104, 541–555 (1976).

Zheng, S. Q. et al. MotionCor2: anisotropic correction of beam-induced motion for improved cryo-electron microscopy. Nat. Methods 14, 331–332 (2017).

Rohou, A. & Grigorieff, N. CTFFIND4: fast and accurate defocus estimation from electron micrographs. J. Struct. Biol. 192, 216–221 (2015).

Kimanius, D., Forsberg, B. O., Scheres, S. H. & Lindahl, E. Accelerated cryo-EM structure determination with parallelisation using GPUs in RELION-2. Elife 5, e18722 (2016).

Reboul, C. F., Eager, M., Elmlund, D. & Elmlund, H. Single-particle cryo-EM-improved ab initio 3D reconstruction with SIMPLE/PRIME. Protein Sci. 27, 51–61 (2018).

Emsley, P., Lohkamp, B., Scott, W. G. & Cowtan, K. Features and development of Coot. Acta Crystallogr. D 66, 486–501 (2010).

Afonine, P. V. et al. Real-space refinement in PHENIX for cryo-EM and crystallography. Acta Crystallogr. D 74, 531–544 (2018).

Smart, O. S., Neduvelil, J. G., Wang, X., Wallace, B. A. & Sansom, M. S. HOLE: a program for the analysis of the pore dimensions of ion channel structural models. J. Mol. Graph. 14, 354–360 (1996).

R: A Language and Environment for Statistical Computing (R Foundation for Statistical Computing, 2017); https://www.R-project.org/

Corpet, F. Multiple sequence alignment with hierarchical clustering. Nucleic Acids Res. 16, 10881–10890 (1988).
Acknowledgements
We are grateful to R. Thompson and J. van Rooyen for assistance during cryo-EM data collection on Titan Krios 1 at the Astbury Biostructure Laboratory, Leeds and Krios m02 at Diamond - eBIC, Harwell Science and Innovation Campus, UK, respectively. We thank R. Efremov for advice on cryo-EM image processing, and are grateful to S. Young at ONT for helpful discussion and advice on MinION data analysis. This work received funding from the European Research Council under the European Union's Horizon 2020 research and innovation programme under grant agreement no. 649082 (BAS-SBBT). S.E.V.d.V. is a recipient of a PhD fellowship of the Flanders Research Foundation (FWO).
Ethics declarations
Competing interests
VIB and ONT have jointly filed two provisional patent applications on the construction and use of dual-constriction pores in nanopore sensing applications (PCT/GB2018/051858 and PCT/GB2018/051191). VIB has a funded research collaboration agreement with ONT related to CsgG-derived nanopores. ONT uses CsgG-derived nanopores in its MinION, GridION and PromethION nanopore sequencing devices. As inventors on VIB intellectual property, S.E.V.d.V., N.V.G. and H.R. receive a share in royalty payments. R.H., P.S., J.K., M.J., E.J.W. and L.J. are employees of ONT and own company share options.
Additional information
Publisher's note Springer Nature remains neutral with regard to jurisdictional claims in published maps and institutional affiliations.
Supplementary information
Supplementary Tables 1 and 2.
Source data
SDS-PAGE and native PAGE gels uncropped; uncropped EM micrograph as example.
About this article
Cite this article
Van der Verren, S.E., Van Gerven, N., Jonckheere, W. et al. A dual-constriction biological nanopore resolves homonucleotide sequences with high fidelity. Nat Biotechnol 38, 1415–1420 (2020). https://doi.org/10.1038/s41587-020-0570-8
Received:

Revised:

Accepted:

Published:

Issue Date:

DOI: https://doi.org/10.1038/s41587-020-0570-8