Abstract
Existing adenine and cytosine base editors induce only a single type of modification, limiting the range of DNA alterations that can be created. Here we describe a CRISPR–Cas9-based synchronous programmable adenine and cytosine editor (SPACE) that can concurrently introduce A-to-G and C-to-T substitutions with minimal RNA off-target edits. SPACE expands the range of possible DNA sequence alterations, broadening the research applications of CRISPR base editors.
This is a preview of subscription content
Access options
Subscribe to Journal
Get full journal access for 1 year
$99.00
only $8.25 per issue
All prices are NET prices.
VAT will be added later in the checkout.
Tax calculation will be finalised during checkout.
Rent or Buy article
Get time limited or full article access on ReadCube.
from$8.99
All prices are NET prices.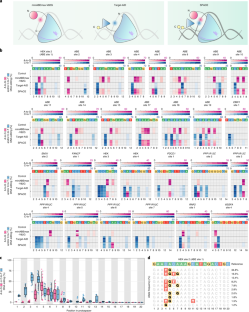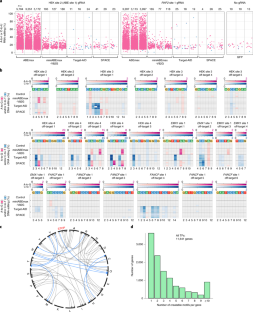 Data availability
Plasmids encoding SPACE have been deposited at Addgene (nos. 140242–140245). All RNA-seq next-generation sequencing data generated for this study have been deposited in the Gene Expression Omnibus data repository (series GSE137411). All targeted amplicon sequencing data (DNA on- and off-target editing) have been deposited at the Sequence Read Archive (PRJNA609075).
Code availability
The authors will make all previously unreported custom computer code used in this work available upon request.
References
1.

Komor, A. C., Kim, Y. B., Packer, M. S., Zuris, J. A. & Liu, D. R. Programmable editing of a target base in genomic DNA without double-stranded DNA cleavage. Nature 533, 420–424 (2016).

2.

Gaudelli, N. M. et al. Programmable base editing of A*T to G*C in genomic DNA without DNA cleavage. Nature 551, 464–471 (2017).

3.

Komor, A. C. et al. Improved base excision repair inhibition and bacteriophage Mu Gam protein yields C:G-to-T:A base editors with higher efficiency and product purity. Sci. Adv. 3, eaao4774 (2017).

4.

Rees, H. A. & Liu, D. R. Base editing: precision chemistry on the genome and transcriptome of living cells. Nat. Rev. Genet. 19, 770–788 (2018).

5.

Nishida, K. et al. Targeted nucleotide editing using hybrid prokaryotic and vertebrate adaptive immune systems. Science 353, aaf8729 (2016).

6.

Grünewald, J. et al. CRISPR DNA base editors with reduced RNA off-target and self-editing activities. Nat. Biotechnol. 37, 1041–1048 (2019).

7.

Grünewald, J. et al. Transcriptome-wide off-target RNA editing induced by CRISPR-guided DNA base editors. Nature 569, 433–437 (2019).

8.

Tsai, S. Q. et al. GUIDE-seq enables genome-wide profiling of off-target cleavage by CRISPR-Cas nucleases. Nat. Biotechnol. 33, 187–197 (2015).

9.

Kaplanis, J. et al. Exome-wide assessment of the functional impact and pathogenicity of multinucleotide mutations. Genome Res. 29, 1047–1056 (2019).

10.

Besenbacher, S. et al. Multi-nucleotide de novo mutations in humans. PLoS Genet. 12, e1006315 (2016).

11.

Wang, Q. et al. Landscape of multi-nucleotide variants in 125,748 human exomes and 15,708 genomes. Preprint at bioRxiv https://doi.org/10.1101/573378 (2019).

12.

McKenna, A. et al. Whole-organism lineage tracing by combinatorial and cumulative genome editing. Science 353, aaf7907 (2016).

13.

Chan, M. M. et al. Molecular recording of mammalian embryogenesis. Nature 570, 77–82 (2019).

14.

Canver, M. C. et al. BCL11A enhancer dissection by Cas9-mediated in situ saturating mutagenesis. Nature 527, 192–197 (2015).

15.

Hess, G. T. et al. Directed evolution using dCas9-targeted somatic hypermutation in mammalian cells. Nat. Methods 13, 1036–1042 (2016).

16.

Li, C. et al. Targeted, random mutagenesis of plant genes with dual cytosine and adenine base editors. Nat. Biotechnol. https://doi.org/10.1038/s41587-019-0393-7 (2020).

17.

Clement, K. et al. CRISPResso2 provides accurate and rapid genome editing sequence analysis. Nat. Biotechnol. 37, 224–226 (2019).

18.

Dobin, A. et al. STAR: ultrafast universal RNA-seq aligner. Bioinformatics 29, 15–21 (2013).

19.

McKenna, A. et al. The genome analysis toolkit: a MapReduce framework for analyzing next-generation DNA sequencing data. Genome Res. 20, 1297–1303 (2010).

20.

DePristo, M. A. et al. A framework for variation discovery and genotyping using next-generation DNA sequencing data. Nat. Genet. 43, 491–498 (2011).

21.

Karczewski, K.J. et al. The mutational constraint spectrum quantified from variation in 141,456 humans. Preprint at bioRxiv https://doi.org/10.1101/531210 (2020) https://storage.googleapis.com/gnomad-public/release/2.1/mnv/gnomad_mnv_coding.tsv

22.

Mathelier, A. et al. JASPAR 2016: a major expansion and update of the open-access database of transcription factor binding profiles. Nucleic Acids Res. 44, D110–D115 (2016).

23.

Schep, A. N., Wu, B., Buenrostro, J. D. & Greenleaf, W. J. chromVAR: inferring transcription-factor-associated accessibility from single-cell epigenomic data. Nat. Methods 14, 975–978 (2017).

24.

Krzywinski, M. et al. Circos: an information aesthetic for comparative genomics. Genome Res. 19, 1639–1645 (2009).
Acknowledgements
Support for this work was provided by the National Institutes of Health (RM1 HG009490 to J.K.J. and R35 GM118158 to J.K.J. and M.J.A.). J.K.J. is additionally supported by the Desmond and Ann Heathwood MGH Research Scholar Award and the Robert B. Colvin, M. D. Endowed Chair in Pathology. J.G. was funded by the Deutsche Forschungsgemeinschaft (German Research Foundation) – Projektnummer 416375182. L.M.L. was supported by a Boehringer Ingelheim Fonds MD fellowship. We thank M. K. Clement for technical advice, K. Petri and P. K. Cabeceiras for discussions and technical advice, and L. Paul-Pottenplackel for assistance with editing the manuscript.
Ethics declarations
Competing interests
J.K.J. has financial interests in Beam Therapeutics, Editas Medicine, Excelsior Genomics, Pairwise Plants, Poseida Therapeutics, Transposagen Biopharmaceuticals and Verve Therapeutics (f/k/a Endcadia). M.J.A. has financial interests in Excelsior Genomics. The interests of J.K.J. and M.J.A. were reviewed and are managed by Massachusetts General Hospital and Partners HealthCare in accordance with their conflict of interest policies. J.K.J. is a member of the Board of Directors of the American Society of Gene and Cell Therapy. J.G., R.Z. and J.K.J. are co-inventors on a patent application that has been filed by Partners Healthcare/Massachusetts General Hospital on engineered programmable multi-deaminase base editor architectures to enable concurrent editing of distinct bases on DNA.
Additional information
Publisher's note Springer Nature remains neutral with regard to jurisdictional claims in published maps and institutional affiliations.
Supplementary information
About this article
Cite this article
Grünewald, J., Zhou, R., Lareau, C.A. et al. A dual-deaminase CRISPR base editor enables concurrent adenine and cytosine editing. Nat Biotechnol 38, 861–864 (2020). https://doi.org/10.1038/s41587-020-0535-y
Received:

Accepted:

Published:

Issue Date: