Access options
Subscribe to Journal
Get full journal access for 1 year
$59.00
only $4.92 per issue
All prices are NET prices.
VAT will be added later in the checkout.
Tax calculation will be finalised during checkout.
Rent or Buy article
Get time limited or full article access on ReadCube.
from$8.99
All prices are NET prices.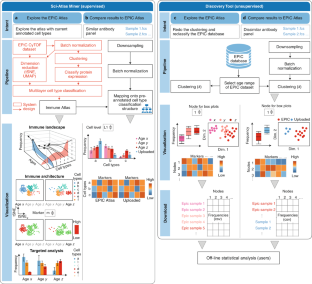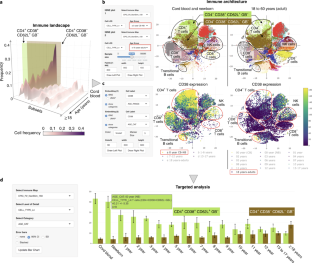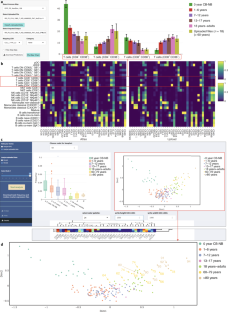 Data availability
The EPIC web portal and its associated database and analytic tools will be made available for investigation as described in the manuscript to researchers who do not belong to a for-profit entity.
Code availability
The web applications Sci-Atlas Miner and Discovery Tool can be freely accessed on all modern web browsers at https://www.epicimmuneatlas.org. The source code of the R Shiny applications and R scripts for the creation of Immune Atlas data files are available on request for academic use.
References
1.

Gibbons, D. et al. Nat. Med. 20, 1206–1210 (2014).

2.

van den Broek, T., Borghans, J. A. M. & van Wijk, F. Nat. Rev. Immunol. 18, 363–373 (2018).

3.

Reen, D. J. Vaccine 16, 1401–1408 (1998).

4.

Beck, R. & Lam-Po-Tang, P. R. Immunol. Cell Biol. 72, 440–444 (1994).

5.

van der Maaten, L. & Hinton, G. J. Mach. Learn. Res. 9, 2579–2605 (2008).

6.

Blanco, E. et al. J. Allergy Clin. Immunol. 141, 2208–2219.e16 (2018).

7.

Van Gassen, S. et al. Cytometry A 87, 636–645 (2015).

8.

Ritchie, M. E. et al. Nucleic Acids Res. 43, e47 (2015).

9.

Johnson, W. E., Li, C. & Rabinovic, A. Biostatistics 8, 118–127 (2007).

10.

Bhattacharya, S. et al. Immunol. Res. 58, 234–239 (2014).

11.

Zalocusky, K. A. et al. Cell Rep. 25, 513–522.e3 (2018).

12.

Hu, Z. et al. Cell Rep. 24, 1377–1388 (2018).
Acknowledgements
This research is supported by the National Research Foundation Singapore under its NMRC Centre Grant Programme (NMRC/CG/M003/2017) and administered by the Singapore Ministry of Health's National Medical Research Council. Other grant support from NMRC (NMRC/TA/0059/2017, NMRC/STaR/020/2013, NMRC/MOHIAFCAT2/2/08, MOHIAFCAT2/0001/2014, NMRC MOHIAFCAT1-6003, TCR15Jun006, NMRC/CIRG/ 1460/2016, MH 095:003\016-0002), Duke-NUS, A*STAR-BMRC (IAF311020) and BMRC (SPF2014/005) is gratefully acknowledged. The pediatric patients were recruited with the strong support of Yew Nam Siow and the Department of Anaesthesia, KK Women's and Children's Hospital. Testing of EPIC and feedback by Antonio La Cava, Femke van Wijk, Eveline Delemarre, Antonio Bertoletti, Michelle Hong Li Wen, Matthew Kirkey and Rosa Bacchetta are greatly appreciated. We also acknowledge Loshinidevi Thana Bathi for processing the large number of samples used in EPIC.
Ethics declarations
Competing interests
The authors declare no competing interests.
Supplementary information
About this article
Cite this article
Yeo, J.G., Wasser, M., Kumar, P. et al. The Extended Polydimensional Immunome Characterization (EPIC) web-based reference and discovery tool for cytometry data. Nat Biotechnol 38, 679–684 (2020). https://doi.org/10.1038/s41587-020-0532-1
Further reading
Joo Guan Yeo

,

Jing Yao Leong

,

Shi Huan Tay

,

Karen Donceras Nadua

,

Danielle E. Anderson

,

Amanda Jin Mei Lim

,

Xiang Wen Ng

,

Su Li Poh

,

Dianyan Guo

,

Katherine Nay Yaung

,

Pavanish Kumar

,

Martin Wasser

,

Sharifah Nur Hazirah

,

Nursyuhadah Sutamam

,

Camillus Jian Hui Chua

,

Martin Qui

,

Randy Foo

,

Akshamal Mihiranga Gamage

,

Kee Thai Yeo

,

Lakshmi Ramakrishna

,

Thaschawee Arkachaisri

,

Barnaby E. Young

,

David Chien Lye

,

Lin-Fa Wang

,

Chia Yin Chong

,

Natalie Woon Hui Tan

,

Jiahui Li

,

Kai-Qian Kam

,

Florent Ginhoux

,

Koh Cheng Thoon

,

Jerry Kok Yen Chan

,

Chee Fu Yung

&

Salvatore Albani

Frontiers in Immunology (2021)