The US Food and Drug Administration (FDA) kept up its pace with nine approvals. Notable firsts include Tazverik for epithelial sarcoma (the first small-molecule inhibitor of the histone methyltransferase EZH2) and Tepezza for thyroid eye disease (the first approved monoclonal antibody (mAb) targeting insulin-like growth factor receptor; IGF-1R). Mesoblast's mesenchymal stem cell therapy (remestemcel-L) for pediatric graft-versus-host disease and GlaxoSmithKline's first-in-class small molecule HIV attachment inhibitor targeting glycoprotein 120 (gp120) come before the FDA next quarter. Clinical trial results of two oligonucleotide drugs showed a cholesterol-lowering antisense oligonucleotide drug and a small-interfering RNA (siRNA) drug gave improvements over statin alone. The COVID-19 pandemic is affecting the drug pipeline; Bristol-Myers Squibb's Zeposia is among several drug launches delayed.
Historic US regulatory approvals by drug class
Biologics approvals held steady in 2019.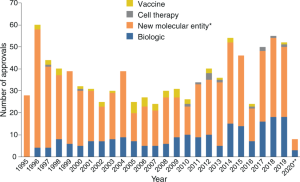 Upcoming catalysts (3Q20)
| Drug/company | Indication | Drug information |
| --- | --- | --- |
| Fostemsavir tromethamine/GlaxoSmithKline | HIV/AIDS | 8/5/2020 FDA PDUFA date for this small-molecule HIV attachment inhibitor that interferes with viral gp120 protein binding to CD4+ cells |
| Lisocabtagene maraleucel/Bristol-Myers Squibb | Diffuse large B-cell lymphoma, non-Hodgkin's lymphoma | 8/17/2020 FDA PDUFA date for these autologous chimeric antigen receptor (CAR) modified T cells with 1:1 ratio of CD4+ and CD8+ cells |
| Margetuximab/MacroGenics | Breast cancer | 8/19/2020 FDA PDUFA date for this chimeric Fc modified IgG1 mAb targeting epidermal growth factor receptor 2 (EGFR-2) |
| Valoctocogene roxaparvovec/BioMarin | Hemophilia A | 8/12/2020 FDA PDUFA date for adeno-associated virus 5 gene therapy vector containing a B-domain-deleted factor VIII gene with a liver-specific promoter |
| Inebilizumab/Viela Bio | Neuromyelitis optica (Devic's syndrome | 6/13/2020 FDA PDUFA date for this humanized IgG1-κ mAb against CD38 |
| Satralizumab/Roche | Neuromyelitis optica (Devic's syndrome) | 5/31/2020 FDA PDUFA date for this humanized IgG2 mAb against interleukin-6 receptor |
| Remestemcel-L/Mesoblast | Graft-versus-host disease | 9/30/2020 FDA PDUFA date for mesenchymal stem cells isolated from the bone marrow of autologous donors |
Notable clinical trial results
| Drug/company | Indication | Drug information |
| --- | --- | --- |
| Inclisiran/The Medicines Company | Dyslipidemia/hypercholesterolemia | 3/18/2020 In three phase 3 trials of this siRNA targeting proprotein convertase subtilisin–kexin type 9 mRNA, twice-yearly dosing led to durable low-density lipoprotein C reductions compared with placebo (N. Engl. J. Med. https://doi.org/10.1056/NEJMoa1912387, 2020) |
| Pelacarsen/Novartis (Ionis) | Cardiovascular disease | 1/1/2020 In a randomized, double-blind, placebo-controlled, dose-ranging phase 2 trial of patients with established heart disease, this N-acetylgalactosamine-conjugated 2′-O-methoxyethyl phosphorothioate antisense oligonucleotide designed to suppress lipoprotein(a) mRNA resulted in dose-dependent decreases in lipoprotein levels (80% at highest dose compared with 6% in controls) (N. Engl. J. Med. 382, 244–255, 2020) |
| Nemolizumab/Galderma | Pruritus | 2/20/2020 In a 12-week, randomized, double-blind, phase 2 trial of humanized IgG2 mAb directed against interleukin-31 receptor-α, which blocks signaling from IL-31, patients on drug had 53% reduction in severity compared with 20% with placebo (N. Engl. J. Med. 382, 706–716, 2020) |
| PTI-125/Cassava Sciences | Alzheimer's disease | 2/7/2020 In a phase 2a open-label trial of this small-molecule binder of filamin A (a scaffolding protein required for the toxic signaling of β-amyloid), multiple biomarkers showed improvement after 28 days (J. Prev. Alzheimers Dis. https://doi.org/10.14283/jpad.2020.6 2020) |
| RV521/ReViral | Respiratory syncytial virus (RSV) | 1/27/2020 In a randomized trial, this small-molecule viral fusion inhibitor of RSV F protein reduced viral load and disease severity in healthy adults challenged with RSV (Antimicrob. Agents Chemother. 64, e01884-19, 2020) |
Notable drug approvals
| Drug/company | Indication | Drug information |
| --- | --- | --- |
| Tazverik (tazemetostat)/Royalty Pharma, Epizyme | Epithelial sarcoma | 1/23/2020 FDA granted accelerated approval for this first-in-class small molecule inhibitor of methyltransferase EZH2, which catalyzes the trimethylation of Lys27 on histone H3 |
| Ayvakit (avapritinib)/Blueprint Medicines | Gastrointestinal stromal tumor | 1/9/2020 FDA approved this selective inhibitor of KIT and platelet-derived growth factor-α (PDGFRα) for patients harboring PDGFRA exon 18 mutations, including PDGFRA D842V mutation. |
| Tepezza (teprotumumab)/Horizon Therapeutics | Thyroid eye disease | 1/21/2020 FDA approved this human IgG1 mAb that targets IGF-1R |
| Nexletol (bempedoic acid)/Esperion Therapeutics | Dyslipidemia/hypercholesterolemia | 2/21/2020 FDA approved this small molecule inhibitor of ATP citrate lyase, upstream from statins |
| Nurtec ODT (rimegepant)/Biohaven Pharmaceuticals | Migraine and other headaches | 2/27/2020 FDA approved this small-molecule, orally dissolving calcitonin gene-related peptide (CGRP) receptor antagonist |
| Isturisa (osilodrostat)/Recordati | Cushing's syndrome | 3/6/2020 FDA approved this small-molecule inhibitor of aldosterone synthase |
| Sarclisa (isatuximab)/Sanofi | Multiple myeloma | 3/2/2020 FDA approved this humanized IgG1 mAb against CD38 |
| Zeposia (ozanimod)/Bristol-Myers Squibb | Multiple sclerosis | 3/25/2020 FDA approved this selective sphingosine 1-phosphate 1 (S1PR1) and 5 (S1PR5) receptor modulator |
Notable regulatory setbacks
| Drug/company | Indication | Drug information |
| --- | --- | --- |
| AXO-AAV-GM2/Axovant | GM2 gangliosidoses (Tay-Sachs disease, Sandhoff disease, AB variant) | 1/13/2020 FDA put a clinical hold on this adeno-associated virus (AAV) serotype 2 gene therapy that delivers β-hexosaminidase α and β subunit genes (HEXA and HEXB) via two coadministered AAVrh8 vectors delivered directly to the central nervous system due to CMC and device-related issues. |
| PledOx/Pled Pharma | Chemotherapy-induced peripheral neuropathy | 1/23/2020 FDA put a clinical hold on phase 3 clinical trial of this manganese superoxide dismutase mimic due to a few adverse effects, while trials continue in Europe and Asia |
| LB-0001/LogicBio Therapeutics | Organic acidemias | 2/10/2020 FDA put a clinical hold on this recombinant adeno-associated viral vector with a human methylmalonyl-CoA mutase gene for unspecified clinical and non-clinical reasons |
| Concizumab/Novo Nordisk | Hemophilia A and B | 3/16/2020 FDA put a clinical hold on a two phase 3 and one phase 2 trial of this humanized IgG4 mAb specific for the K2 domain of tissue factor pathway 1 (TFP1) inhibitor owing to three non-fatal thombic events — the fifth such TFP1 inhibitor to fail. |
About this article
Cite this article
DeFrancesco, L. Drug pipeline 1Q20. Nat Biotechnol 38, 519–520 (2020). https://doi.org/10.1038/s41587-020-0514-3