Abstract
Single-cell CRISPR screens enable the exploration of mammalian gene function and genetic regulatory networks. However, use of this technology has been limited by reliance on indirect indexing of single-guide RNAs (sgRNAs). Here we present direct-capture Perturb-seq, a versatile screening approach in which expressed sgRNAs are sequenced alongside single-cell transcriptomes. Direct-capture Perturb-seq enables detection of multiple distinct sgRNA sequences from individual cells and thus allows pooled single-cell CRISPR screens to be easily paired with combinatorial perturbation libraries that contain dual-guide expression vectors. We demonstrate the utility of this approach for high-throughput investigations of genetic interactions and, leveraging this ability, dissect epistatic interactions between cholesterol biogenesis and DNA repair. Using direct capture Perturb-seq, we also show that targeting individual genes with multiple sgRNAs per cell improves efficacy of CRISPR interference and activation, facilitating the use of compact, highly active CRISPR libraries for single-cell screens. Last, we show that hybridization-based target enrichment permits sensitive, specific sequencing of informative transcripts from single-cell RNA-seq experiments.
Relevant articles
Open Access articles citing this article.
Iain C. Clark

,

Kristina M. Fontanez

…

Adam R. Abate

Nature Biotechnology Open Access 06 March 2023

Zhimin Ma

,

Lijing Ma

&

Junhui Zhou

Molecular Horticulture Open Access 28 January 2023

Fadi J. Najm

,

Peter DeWeirdt

…

Bradley E. Bernstein

Nature Communications Open Access 27 January 2023
Access options
Access Nature and 54 other Nature Portfolio journals
Get Nature+, our best-value online-access subscription
$29.99 per month
cancel any time
Subscribe to this journal
Receive 12 print issues and online access
$209.00 per year
only $17.42 per issue
Rent or buy this article
Get just this article for as long as you need it
$39.95
Prices may be subject to local taxes which are calculated during checkout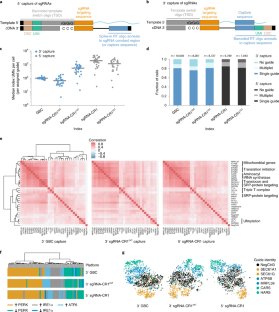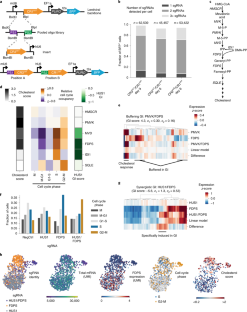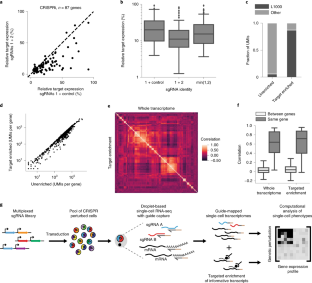 Data availability
Raw and processed sequencing data are available at Gene Expression Omnibus under accession code GSE146194.
References
Packer, J. & Trapnell, C. Single-cell multi-omics: an engine for new quantitative models of gene regulation. Trends Genet. 34, 653–665 (2018).

Feldman, D. et al. Optical pooled screens in human cells. Cell. 179, 787–799.e17 (2019).

Rubin, A. J. et al. Coupled single-cell CRISPR screening and epigenomic profiling reveals causal gene regulatory networks. Cell. 176, 361–376.e17 (2018).

Adamson, B. et al. A multiplexed single-cell CRISPR screening platform enables systematic dissection of the unfolded protein response. Cell. 167, 1867–1882.e21 (2016).

Dixit, A. et al. Perturb-Seq: dissecting molecular circuits with scalable single-cell RNA profiling of pooled genetic screens. Cell. 167, 1853–1866.e17 (2016).

Jaitin, D. et al. Dissecting immune circuits by linking CRISPR-pooled screens with single-cell RNA-seq. Cell. 167, 1883–1896.e15 (2016).

Xie, S., Duan, J., Li, B., Zhou, P. & Hon, G. C. Multiplexed engineering and analysis of combinatorial enhancer activity in single cells. Mol. Cell. 66, 285–299.e5 (2017).

Datlinger, P. et al. Pooled CRISPR screening with single-cell transcriptome readout. Nat. Methods 14, 297–301 (2017).

Hill, A. J. et al. On the design of CRISPR-based single-cell molecular screens. Nat. Methods 15, 271 (2018).

Adamson, B., Norman, T. M., Jost, M. & Weissman, J. S. Approaches to maximize sgRNA-barcode coupling in Perturb-seq screens. Preprint at bioRxiv https://doi.org/10.1101/298349 (2018).

Xie, S., Cooley, A., Armendariz, D., Zhou, P. & Hon, G. C. Frequent sgRNA-barcode recombination in single-cell perturbation assays. PLoS ONE 13, e0198635 (2018).

Feldman, D., Singh, A., Garrity, A. J. & Blainey, P. C. Lentiviral co-packaging mitigates the effects of intermolecular recombination and multiple integrations in pooled genetic screens. Preprint at bioRxiv https://doi.org/10.1101/262121 (2018).

Gasperini, M. et al. A genome-wide framework for mapping gene regulation via cellular genetic screens. Cell. 176, 377–390.e19 (2019).

Smits, A. H. et al. Biological plasticity rescues target activity in CRISPR knock outs. Nat. Methods 16, 1087–1093 (2019).

Anzalone, A. V. et al. Search-and-replace genome editing without double-strand breaks or donor DNA. Nature 576, 149–157 (2019).

Ran, A. F. et al. Double nicking by RNA-guided CRISPR Cas9 for enhanced genome editing specificity. Cell 154, 1380–1389 (2013).

Norman, T. M. et al. Exploring genetic interaction manifolds constructed from rich single-cell phenotypes. Science 365, 786–793 (2019).

Macosko, E. Z. et al. Highly parallel genome-wide expression profiling of individual cells using nanoliter droplets. Cell 161, 1202–1214 (2015).

Klein, A. M. et al. Droplet barcoding for single-cell transcriptomics applied to embryonic stem cells. Cell 161, 1187–1201 (2015).

Zheng, G. X. et al. Massively parallel digital transcriptional profiling of single cells. Nat. Commun. 8, 14049 (2017).

Mimitou, E. P. et al. Multiplexed detection of proteins, transcriptomes, clonotypes and CRISPR perturbations in single cells. Nat. Methods 16, 409–412 (2019).

Stoeckius, M. et al. Simultaneous epitope and transcriptome measurement in single cells. Nat. Methods 14, 865–868 (2017).

Peterson, V. M. et al. Multiplexed quantification of proteins and transcripts in single cells. Nat. Biotechnol. 35, 936–939 (2017).

Zhang, S.-Q. et al. High-throughput determination of the antigen specificities of T cell receptors in single cells. Nat. Biotechnol. 36, 1156–1159 (2018).

Gilbert, L. A. et al. Genome-scale CRISPR-mediated control of gene repression and activation. Cell 159, 647–661 (2014).

Gilbert, L. A. et al. CRISPR-mediated modular RNA-guided regulation of transcription in eukaryotes. Cell 154, 442–451 (2013).

Mandegar, M. A. et al. CRISPR interference efficiently induces specific and reversible gene silencing in human iPSCs. Cell Stem Cell 18, 541–553 (2016).

Horlbeck, M. A. et al. Mapping the genetic landscape of human cells. Cell 174, 953–967.e22 (2018).

Horlbeck, M. A. et al. Compact and highly active next-generation libraries for CRISPR-mediated gene repression and activation. eLife 5, e19760 (2016).

Moreno, A. M. et al. In situ gene therapy via AAV-CRISPR-Cas9-mediated targeted gene regulation. Mol. Ther. 26, 1818–1827 (2018).

Savell, K. E. et al. A neuron-optimized CRISPR/dCas9 activation system for robust and specific gene regulation. eNeuro 6, https://doi.org/10.1523/ENEURO.0495-18.2019 (2019).

Cleary, B., Cong, L., Cheung, A., Lander, E. S. & Regev, A. Efficient generation of transcriptomic profiles by random composite measurements. Cell 171, 1424–1436.e18 (2017).

Subramanian, A. et al. A next generation connectivity map: L1000 platform and the first 1,000,000 profiles. Cell. 171, 1437–1452.e17 (2017).

Salomon, R. et al. Droplet-based single cell RNAseq tools: a practical guide. Lab. Chip 19, 1706–1727 (2019).

Saikia, M. et al. Simultaneous multiplexed amplicon sequencing and transcriptome profiling in single cells. Nat. Methods 16, 59–62 (2019).

Vallejo, A. F. et al. Resolving cellular systems by ultra-sensitive and economical single-cell transcriptome filtering. Preprint at bioRxiv https://doi.org/10.1101/800631 (2019).

Chan, M. M. et al. Molecular recording of mammalian embryogenesis. Nature 570, 77–82 (2019).
Acknowledgements
We thank S.E. Vazquez, A. Guna, M. Jost, D. Yang, R. Saunders, X. Qiu, E. Chow, R. Sit and all members of the Weissman and Adamson laboratories and 10x Genomics for helpful discussions. This work was funded by National Institutes of Health grant nos. P50 GM102706, U01 CA168370, R01 DA036858 and RM1HG009490 (all to J.S.W.), the Defense Advanced Research Projects Agency (DARPA) (grant no. HR0011-19-2-0007), the Chan Zuckerberg Initiative and Princeton University. J.S.W. is a Howard Hughes Medical Institute Investigator. J.M.R. is an NIH/NINDS Ruth L. Kirschstein National Research Service Award fellow (no. F31 NS115380). T.M.N. is a fellow of the Damon Runyon Cancer Research Foundation (no. DRG-(2211-15)). J.A.H. is the Rebecca Ridley Kry Fellow of the Damon Runyon Cancer Research Foundation (no. DRG-2262-16). J.C. is funded by the Jane Coffin Childs Memorial Fund for Medical Research and the NIH K99/R00 Pathway to Independence Award (no. GM134154).
Ethics declarations
Competing interests
10x Genomics was involved in producing this work. I.T.F., J.G.A., L.J.A., K.A.P., E.J.M., J.M.T., D.P.R., N.S. and T.S.M. are employees of 10x Genomics. The Regents of the University of California with T.M.N., J.S.W. and B.A. as inventors have filed patent applications related to CRISPRi/a screening, Perturb-seq and GI mapping. J.S.W. consults for and holds equity in KSQ Therapeutics, Maze Therapeutics and Tenaya Therapeutics; is a venture partner at 5AM Ventures and is a member of the Amgen Scientific Advisory Board. J.M.R. and T.M.N. consult for Maze Therapeutics. B.A. is a member of a ThinkLab Advisory Board for and holds equity in Celsius Therapeutics.
Additional information
Publisher's note Springer Nature remains neutral with regard to jurisdictional claims in published maps and institutional affiliations.
Integrated supplementary information
Supplementary information
Supplementary Figs. 1–7 and Notes 1–6.
Supplementary Tables 1–8.
About this article
Cite this article
Replogle, J.M., Norman, T.M., Xu, A. et al. Combinatorial single-cell CRISPR screens by direct guide RNA capture and targeted sequencing. Nat Biotechnol 38, 954–961 (2020). https://doi.org/10.1038/s41587-020-0470-y
Received:

Accepted:

Published:

Issue Date:

DOI: https://doi.org/10.1038/s41587-020-0470-y