Abstract
Crosstalk between neighboring cells underlies many biological processes, including cell signaling, proliferation and differentiation. Current single-cell genomic technologies profile each cell separately after tissue dissociation, losing information on cell–cell interactions. In the present study, we present an approach for sequencing physically interacting cells (PIC-seq), which combines cell sorting of physically interacting cells (PICs) with single-cell RNA-sequencing. Using computational modeling, PIC-seq systematically maps in situ cellular interactions and characterizes their molecular crosstalk. We apply PIC-seq to interrogate diverse interactions including immune–epithelial PICs in neonatal murine lungs. Focusing on interactions between T cells and dendritic cells (DCs) in vitro and in vivo, we map T cell–DC interaction preferences, and discover regulatory T cells as a major T cell subtype interacting with DCs in mouse draining lymph nodes. Analysis of T cell–DC pairs reveals an interaction-specific program between pathogen-presenting migratory DCs and T cells. PIC-seq provides a direct and broadly applicable technology to characterize intercellular interaction-specific pathways at high resolution.
Access options
Subscribe to Journal
Get full journal access for 1 year
$259.00
only $21.58 per issue
All prices are NET prices.
VAT will be added later in the checkout.
Rent or Buy article
Get time limited or full article access on ReadCube.
from$8.99
All prices are NET prices.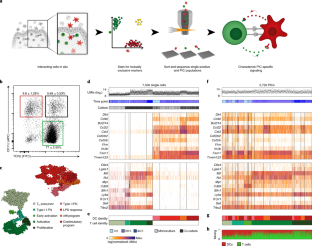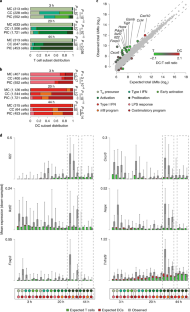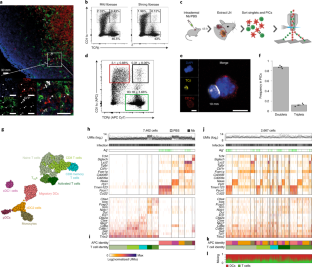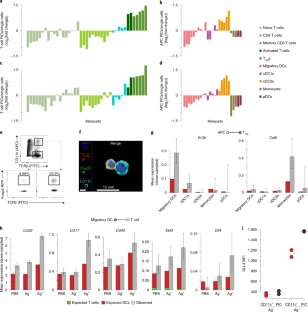 Data availability
RNA-seq data that support the findings of the present study were deposited in the Gene Expression Omnibus under accession code GSE135382. Source data for Figs. 3f and 4i and Supplementary Figs. 2 and 6 are presented with the paper. All other data supporting the findings of the present study are available from the corresponding author on reasonable request.
Code availability
The PIC-seq algorithm, including scripts and auxiliary data needed to reconstruct analysis files from count matrices to full figures, is provided as Supplementary Software.
References
1.

Banchereau, J. & Steinman, R. M. Dendritic cells and the control of immunity. Nature 392, 245–252 (1998).

2.

Freeman, S. A. & Grinstein, S. Phagocytosis: receptors, signal integration, and the cytoskeleton. Immunol. Rev. 262, 193–215 (2014).

3.

Lanier, L. L. Natural killer cell receptor signaling. Curr. Opin. Immunol. 15, 308–314 (2003).

4.

Jaitin, D. A. et al. Lipid-associated macrophages control metabolic homeostasis in a Trem2-dependent manner. Cell 178, 686–698 e614 (2019).

5.

Li, H. et al. Dysfunctional CD8 T cells form a proliferative, dynamically regulated compartment within human melanoma. Cell 176, 775–789 e718 (2019).

6.

Ledergor, G. et al. Single cell dissection of plasma cell heterogeneity in symptomatic and asymptomatic myeloma. Nat. Med. 24, 1867–1876 (2018).

7.

Gerber, T. et al. Single-cell analysis uncovers convergence of cell identities during axolotl limb regeneration. Science 362, eaaq0681 (2018).

8.

Keren-Shaul, H. et al. A unique microglia type associated with restricting development of Alzheimer's disease. Cell 169, 1276–1290 e1217 (2017).

9.

Steinman, R. M. & Banchereau, J. Taking dendritic cells into medicine. Nature 449, 419–426 (2007).

10.

Zhu, J., Yamane, H. & Paul, W. E. Differentiation of effector CD4 T cell populations (*). Annu. Rev. Immunol. 28, 445–489 (2010). .

11.

Binnewies, M. et al. Unleashing type-2 dendritic cells to drive protective antitumor CD4+ T cell immunity. Cell 177, 556–571 e516 (2019).

12.

van Panhuys, N. Studying dendritic cell–T cell interactions under in vivo conditions. Methods Mol. Biol. 1584, 569–583 (2017).

13.

Barnden, M. J., Allison, J., Heath, W. R. & Carbone, F. R. Defective TCR expression in transgenic mice constructed using cDNA-based alpha- and beta-chain genes under the control of heterologous regulatory elements. Immunol. Cell Biol. 76, 34–40 (1998).

14.

Macosko, E. Z. et al. Highly parallel genome-wide expression profiling of individual cells using nanoliter droplets. Cell 161, 1202–1214 (2015).

15.

Klein, A. M. et al. Droplet barcoding for single-cell transcriptomics applied to embryonic stem cells. Cell 161, 1187–1201 (2015).

16.

Jaitin, D. A. et al. Massively parallel single-cell RNA-seq for marker-free decomposition of tissues into cell types. Science 343, 776–779 (2014).

17.

Rodriques, S. G. et al. Slide-seq: a scalable technology for measuring genome-wide expression at high spatial resolution. Science 363, 1463–1467 (2019).

18.

Eng, C. L. et al. Transcriptome-scale super-resolved imaging in tissues by RNA seqFISH. Nature 568, 235–239 (2019).

19.

Keren, L. et al. A structured tumor-immune microenvironment in triple negative breast cancer revealed by multiplexed ion beam imaging. Cell 174, 1373–1387 e1319 (2018).

20.

Wang, X. et al. Three-dimensional intact-tissue sequencing of single-cell transcriptional states. Science 361, eaat5691 (2018).

21.

Medaglia, C. et al. Spatial reconstruction of immune niches by combining photoactivatable reporters and scRNA-seq. Science 358, 1622–1626 (2017).

22.

Chen, K. H., Boettiger, A. N., Moffitt, J. R., Wang, S. & Zhuang, X. RNA imaging. Spatially resolved, highly multiplexed RNA profiling in single cells. Science 348, aaa6090 (2015).

23.

Vento-Tormo, R. et al. Single-cell reconstruction of the early maternal-fetal interface in humans. Nature 563, 347–353 (2018).

24.

Cohen, M. et al. Lung single-cell signaling interaction map reveals basophil role in macrophage imprinting. Cell 175, 1031–1044 e1018 (2018).

25.

Camp, J. G. et al. Multilineage communication regulates human liver bud development from pluripotency. Nature 546, 533–538 (2017).

26.

Szczerba, B. M. et al. Neutrophils escort circulating tumour cells to enable cell cycle progression. Nature 566, 553–557 (2019).

27.

Halpern, K. B. et al. Paired-cell sequencing enables spatial gene expression mapping of liver endothelial cells. Nat. Biotechnol. 36, 962–970 (2018).

28.

Boisset, J. C. et al. Mapping the physical network of cellular interactions. Nat. Methods 15, 547–553 (2018).

29.

Keren-Shaul, H. et al. MARS-seq2.0: an experimental and analytical pipeline for indexed sorting combined with single-cell RNA sequencing. Nat. Protoc. 14, 1841–1862 (2019).

30.

Celli, S., Lemaitre, F. & Bousso, P. Real-time manipulation of T cell–dendritic cell interactions in vivo reveals the importance of prolonged contacts for CD4+ T cell activation. Immunity 27, 625–634 (2007).

31.

Kane, L. P., Lin, J. & Weiss, A. Signal transduction by the TCR for antigen. Curr. Opin. Immunol. 12, 242–249 (2000).

32.

Baran, Y. et al. MetaCell: analysis of single-cell RNA-seq data using K-nn graph partitions. Genome Biol. 20, 206 (2019).

33.

Treutlein, B. et al. Reconstructing lineage hierarchies of the distal lung epithelium using single-cell RNA-seq. Nature 509, 371–375 (2014).

34.

Bird, A. D. et al. Identification of glucocorticoid-regulated genes that control cell proliferation during murine respiratory development. J. Physiol. 585, 187–201 (2007).

35.

Itani, O. A., Liu, K. Z., Cornish, K. L., Campbell, J. R. & Thomas, C. P. Glucocorticoids stimulate human sgk1 gene expression by activation of a GRE in its 5'-flanking region. Am. J. Physiol. Endocrinol. Metab. 283, E971–E979 (2002).

36.

Binder, E. B. The role of FKBP5, a co-chaperone of the glucocorticoid receptor in the pathogenesis and therapy of affective and anxiety disorders. Psychoneuroendocrinology 34(Suppl 1), S186–S195 (2009).

37.

Bonifaz, L. C. et al. In vivo targeting of antigens to maturing dendritic cells via the DEC-205 receptor improves T cell vaccination. J. Exp. Med. 199, 815–824 (2004).

38.

Blecher-Gonen, R. et al. Single-cell analysis of diverse pathogen responses defines a molecular roadmap for generating antigen-specific immunity. Cell Syst. 8, 109–121 e106 (2019).

39.

Connor, L. M., Tang, S. C., Camberis, M., Le Gros, G. & Ronchese, F. Helminth-conditioned dendritic cells prime CD4+ T cells to IL-4 production in vivo. J. Immunol. 193, 2709–2717 (2014).

40.

Merad, M., Sathe, P., Helft, J., Miller, J. & Mortha, A. The dendritic cell lineage: ontogeny and function of dendritic cells and their subsets in the steady state and the inflamed setting. Annu. Rev. Immunol. 31, 563–604 (2013).

41.

Fujii, S., Liu, K., Smith, C., Bonito, A. J. & Steinman, R. M. The linkage of innate to adaptive immunity via maturing dendritic cells in vivo requires CD40 ligation in addition to antigen presentation and CD80/86 costimulation. J. Exp. Med. 199, 1607–1618 (2004).

42.

Bennett, S. R. et al. Help for cytotoxic-T-cell responses is mediated by CD40 signalling. Nature 393, 478–480 (1998).

43.

Ohshima, Y. et al. OX40 costimulation enhances interleukin-4 (IL-4) expression at priming and promotes the differentiation of naive human CD4+ T cells into high IL-4-producing effectors. Blood 92, 3338–3345 (1998).

44.

Laky, K., Evans, S., Perez-Diez, A. & Fowlkes, B. J. Notch signaling regulates antigen sensitivity of naive CD4+ T cells by tuning co-stimulation. Immunity 42, 80–94 (2015).

45.

The Tabula Muris Consortium Single-cell transcriptomics of 20 mouse organs creates a Tabula Muris. Nature 562, 367–372 (2018).

46.

Zeisel, A. et al. Molecular architecture of the mouse nervous system. Cell 174, 999–1014 e1022 (2018).

47.

Regev, A. et al. The human cell atlas. eLife 6, e27041 (2017).

48.

Kiselev, V. Y., Andrews, T. S. & Hemberg, M. Challenges in unsupervised clustering of single-cell RNA-seq data. Nat. Rev. Genet. 20, 273–282 (2019).

49.

Wolock, S. L., Lopez, R. & Klein, A. M. Scrublet: computational identification of cell doublets in single-cell transcriptomic data. Cell Syst. 8, 281–291 e289 (2019).

50.

McGinnis, C. S., Murrow, L. M. & Gartner, Z. J. DoubletFinder: doublet detection in single-cell RNA sequencing data using artificial nearest neighbors. Cell Syst. 8, 329–337 e324 (2019).

51.

DePasquale, E. A. et al. DoubletDecon: cell-state aware removal of single-cell RNA-seq doublets. Cell Rep. 29, 1718–1727 (2018).

52.

Krishnaswamy, S. et al. Systems biology. Conditional density-based analysis of T cell signaling in single-cell data. Science 346, 1250689 (2014).

53.

Pasqual, G. et al. Monitoring T cell–dendritic cell interactions in vivo by intercellular enzymatic labelling. Nature 553, 496–500 (2018).

54.

Akkaya, B. et al. Regulatory T cells mediate specific suppression by depleting peptide-MHC class II from dendritic cells. Nat. Immunol. 20, 218–231 (2019).

55.

Yan, J., Liu, B., Shi, Y. & Qi, H. Class II MHC-independent suppressive adhesion of dendritic cells by regulatory T cells in vivo. J. Exp. Med. 214, 319–326 (2017).

56.

Sakaguchi, S., Yamaguchi, T., Nomura, T. & Ono, M. Regulatory T cells and immune tolerance. Cell 133, 775–787 (2008).

57.

Li, D. et al. VCAM-1+ macrophages guide the homing of HSPCs to a vascular niche. Nature 564, 119–124 (2018).

58.

Scott, L. M., Priestley, G. V. & Papayannopoulou, T. Deletion of alpha4 integrins from adult hematopoietic cells reveals roles in homeostasis, regeneration, and homing. Mol. Cell Biol. 23, 9349–9360 (2003).

59.

Deczkowska, A. et al. Disease-associated microglia: a universal immune sensor of neurodegeneration. Cell 173, 1073–1081 (2018).

60.

Camberis, M. et al. Evaluating the in vivo Th2 priming potential among common allergens. J. Immunol. Methods 394, 62–72 (2013).

61.

Paul, F. et al. Transcriptional heterogeneity and lineage commitment in myeloid progenitors. Cell 163, 1663–1677 (2015).
Acknowledgements
We thank G. Brodsky for artwork. The research of I.A. and A.T. is supported by the Seed Networks for the Human Cell Atlas of the Chan Zuckerberg Initiative and by Merck KGaA, Darmstadt. I.A. is an Eden and Steven Romick Professorial Chair, supported by the HHMI International Scholar Award, the European Research Council Consolidator Grant (no. 724471-HemTree2.0), an MRA Established Investigator Award (no. 509044), DFG (no. SFB/TRR167), the Ernest and Bonnie Beutler Research Program for Excellence in Genomic Medicine, the Helen and Martin Kimmel awards for innovative investigation, and the SCA award of the Wolfson Foundation and Family Charitable Trust. The Thompson Family Foundation Alzheimer's Research Fund and the Adelis Foundation also provided support. A.T.'s laboratory is supported by the European Research Council, the I-CORE for chromatin and RNA regulation, and a grant from the Israel Science Foundation. A.T. is a Kimmel investigator. A.G. is a recipient of the Clore fellowship. M.C. is supported by a postdoctoral fellowship in Applied and Engineering Science, Israeli Government, Ministry of Science and Technology.
Ethics declarations
Competing interests
A patent application has been filed related to this work.
Additional information
Publisher's note Springer Nature remains neutral with regard to jurisdictional claims in published maps and institutional affiliations.
Integrated supplementary information
Supplementary information
About this article
Cite this article
Giladi, A., Cohen, M., Medaglia, C. et al. Dissecting cellular crosstalk by sequencing physically interacting cells. Nat Biotechnol 38, 629–637 (2020). https://doi.org/10.1038/s41587-020-0442-2
Received:

Accepted:

Published:

Issue Date: