Abstract
Breeding wheat with durable resistance to the fungal pathogen Puccinia graminis f. sp. tritici (Pgt), a major threat to cereal production, is challenging due to the rapid evolution of pathogen virulence. Increased durability and broad-spectrum resistance can be achieved by introducing more than one resistance gene, but combining numerous unlinked genes by breeding is laborious. Here we generate polygenic Pgt resistance by introducing a transgene cassette of five resistance genes into bread wheat as a single locus and show that at least four of the five genes are functional. These wheat lines are resistant to aggressive and highly virulent Pgt isolates from around the world and show very high levels of resistance in the field. The simple monogenic inheritance of this multigene locus greatly simplifies its use in breeding. However, a new Pgt isolate with virulence to several genes at this locus suggests gene stacks will need strategic deployment to maintain their effectiveness.
Access options
Subscribe to Journal
Get full journal access for 1 year
$99.00
only $8.25 per issue
All prices are NET prices.
VAT will be added later in the checkout.
Tax calculation will be finalised during checkout.
Rent or Buy article
Get time limited or full article access on ReadCube.
from$8.99
All prices are NET prices.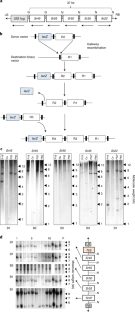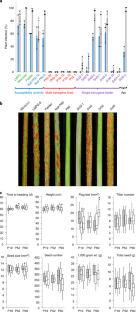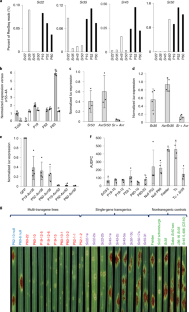 Data availability
See the Nature Research Reporting Summary. All raw data presented in Fig. 3a, Supplementary Figs. 12–15 (RenSeq sequence data) and Fig. 3b (Sr55 quantitative expression sequencing data) were deposited at NCBI under Bioproject accession no. PRJNA624003. The following DNA sequences were also deposited at NCBI, that is, the Sr45–Sr55–Sr50–Sr35–Sr22 T-DNA sequence (GenBank accession no. MT165900), the p380HH vector (region from attR1 to attR2; GenBank accession no. MT180324), the pDONOR1 (D1) vector (GenBank accession no. MT180325) and the pDONOR2 (D2) vector (GenBank accession no. MT180326).
References
1.

Lewis, C. M. et al. Potential for re-emergence of wheat stem rust in the United Kingdom. Commun. Biol. 1, 13 (2018).

2.

Periyannan, S., Milne, R. J., Figueroa, M., Lagudah, E. S. & Dodds, P. N. An overview of genetic rust resistance: from broad to specific mechanisms. PLoS Pathog. 13, e1006380 (2017).

3.

Steuernagel, B. et al. Rapid cloning of disease-resistance genes in plants using mutagenesis and sequence capture. Nat. Biotechnol. 34, 652–655 (2016).

4.

Saintenac, C. et al. Identification of wheat gene Sr35 that confers resistance to Ug99 stem rust race group. Science 341, 783–786 (2013).

5.

Mago, R. et al. The wheat Sr50 gene reveals rich diversity at a cereal disease resistance locus. Nat. Plants 1, 15186 (2015).

6.

Schafer, J. F. & Roelfs, A. P. Estimated relationship between numbers of urediniospores of Puccinia graminis f. sp. tritici and rates of occurrence of virulence. Phytopathology 75, 749–750 (1985).

7.

Moore, J. W. et al. Recent evolution of a hexose transporter variant confers resistance to multiple pathogens in wheat. Nat. Genet. 47, 1494–1498 (2015).

8.

Arndell, T. et al. gRNA validation for wheat genome editing with the CRISPR-Cas9 system. BMC Biotechnol. 19, 71 (2019).

9.

Chen, J. et al. Loss of AvrSr50 by somatic exchange in stem rust leads to virulence for Sr50 resistance in wheat. Science 358, 1607–1610 (2017).

10.

Salcedo, A. et al. Variation in the AvrSr35 gene determines Sr35 resistance against wheat stem rust race Ug99. Science 358, 1604–1606 (2017).

11.

Bhattacharaya, S. Deadly new wheat disease threatens Europe's crops. Nature 542, 145–146 (2017).

12.

Zhu, S., Li, Y., Vossen, J. H., Visser, R. G. F. & Jacobsen, E. Functional stacking of three resistance genes against Phytophora infestans in potato. Transgenic Res. 21, 89–99 (2012).

13.

Haesaert, G. et al. Transformation of the potato variety Desiree with single or multiple resistance genes increases resistance to late blight under field conditions. Crop Prot. 77, 163–175 (2015).

14.

Ghislain, M. et al. Stacking three blight resistance genes from wild species directly into African highland potato varieties confers complete field resistance to local blight races. Plant Biotechnol. J. 17, 1119–1129 (2019).

15.

Lowe, K. et al. Morphogenic regulators Baby boom and Wuschel improve monocot transformation. Plant Cell 28, 1998–2015 (2016).

16.

Arora, S. et al. Resistance gene discovery and cloning by sequence capture and association genetics. Nat. Biotechnology 37, 139–143 (2019).

17.

Singh, R. P. et al. Emergence and spread of new races of wheat stem rust: continued threats to food security and prospects of genetic control. Phytopathology 105, 872–874 (2015).

18.

Borlaug Global Rust Initiative. Knowledge Center—Resistance Genes. https://bgri.cornell.edu/knowledge-center (accessed 30 November 2020).

19.

Ishida, Y., Tsunashima, M., Hiei, Y. & Komari, T. Wheat (Triticum aestivum L.) transformation using immature embryos. in Methods in Molecular Biology, Agrobacterium Protocols, 3rd edn. (ed. Wang, K.) (Springer, 2014).

20.

Richardson, T., Thistleton, J., Higgins, T. J., Howitt, C. & Ayliffe, M. Efficient Agrobacterium transformation of elite wheat germplasm without selection. Plant Cell, Tissue Organ Cult. 119, 647–659 (2014).

21.

Huang, S., Steffenson, B. J., Sela, H. & Stinebaugh, K. Resistance of Aegilops longissima to the rusts of wheat. Plant Dis. 102, 1224–1235 (2018).

22.

Stakman, E. C., Stewart, D. M. & Loegering, Q. W. Identification of Physiologic Races of Puccinia graminis var. tritici (Department of Agriculture, Agricultural Research Service, 1962).

23.

Zadoks, J. C., Chang, T. T. & Konzak, C. F. A decimal code for the growth stages of cereals. Weed Res. 14, 415–421 (1974).

24.

Peterson, R., Campbell, A. & Hannah, A. A diagrammatic scale for estimating rust intensity on leaves and stems of cereals. Can. J. Res. 26C, 496–500 (1948).

25.

Roelfs, A. P., Singh, R. P. & Saari, E. E. Rust Diseases of Wheat: Concepts and Methods of Disease Management (CIMMYT, 1992).

26.

Long, D. L. & Kolmer, J. A. A North American system of nomenclature for Puccinia triticina. Phytopathology 79, 525–529 (1989).

27.

Zhu, Q. et al. Development of 'purple endosperm rice' by engineering anthocyanin biosynthesis in the endosperm with a high-efficiency transgene stacking System. Mol. Plant 10, 918–929 (2017).

28.

Marchal, C. et al. BED-domain-containing immune receptors confer diverse resistance spectra to yellow rust. Nat. Plants 4, 662–668 (2018).
Acknowledgements
We thank the 2Blades Foundation for financial support, Y.G. Liu for the 380H vector and C. Chen for assistance with figures.
Ethics declarations
Competing interests
T.L.R. was employed by the 2Blades Foundation, while R.F. is chairman of the 2Blades board. Both were involved in the conceptualization, design, analysis and preparation of this research manuscript. The 2Blades Foundation cofunded the research presented.
Additional information
Peer review information Nature Biotechnology thanks the anonymous reviewers for their contribution to the peer review of this work.
Publisher's note Springer Nature remains neutral with regard to jurisdictional claims in published maps and institutional affiliations.
Supplementary information
About this article
Cite this article
Luo, M., Xie, L., Chakraborty, S. et al. A five-transgene cassette confers broad-spectrum resistance to a fungal rust pathogen in wheat. Nat Biotechnol 39, 561–566 (2021). https://doi.org/10.1038/s41587-020-00770-x
Received:

Accepted:

Published:

Issue Date:
Further reading
Narayana M. Upadhyaya

,

Rohit Mago

,

Vinay Panwar

,

Tim Hewitt

,

Ming Luo

,

Jian Chen

,

Jana Sperschneider

,

Hoa Nguyen-Phuc

,

Aihua Wang

,

Diana Ortiz

,

Luch Hac

,

Dhara Bhatt

,

Feng Li

,

Jianping Zhang

,

Michael Ayliffe

,

Melania Figueroa

,

Kostya Kanyuka

,

Jeffrey G. Ellis

&

Peter N. Dodds

Nature Plants (2021)

Bruno Pok Man Ngou

,

Hee-Kyung Ahn

,

Pingtao Ding

&

Jonathan D. G. Jones

Nature (2021)