Abstract
Several cancer immunotherapy approaches, such as immune checkpoint blockade and adoptive T-cell therapy, boost T-cell activity against the tumor, but these strategies are not effective in the absence of T cells specific for displayed tumor antigens. Here we outline an immunotherapy in which endogenous T cells specific for a noncancer antigen are retargeted to attack tumors. The approach relies on the use of antibody–peptide epitope conjugates (APECs) to deliver suitable antigens to the tumor surface for presention by HLA-I. To retarget cytomegalovirus (CMV)-specific CD8+ T cells against tumors, we used APECs containing CMV-derived epitopes conjugated to tumor-targeting antibodies via metalloprotease-sensitive linkers. These APECs redirect pre-existing CMV immunity against tumor cells in vitro and in mouse cancer models. In vitro, APECs activated specifically CMV-reactive effector T cells whereas a bispecific T-cell engager activated both effector and regulatory T cells. Our approach may provide an effective alternative in cancers that are not amenable to checkpoint inhibitors or other immunotherapies.
Access options
Subscribe to Nature+
Get immediate online access to Nature and 55 other Nature journal
Subscribe to Journal
Get full journal access for 1 year
$99.00
only $8.25 per issue
All prices are NET prices.
VAT will be added later in the checkout.
Tax calculation will be finalised during checkout.
Buy article
Get time limited or full article access on ReadCube.
$32.00
All prices are NET prices.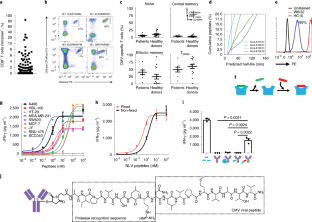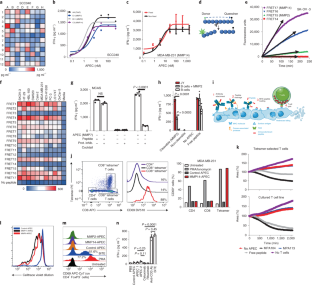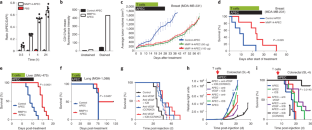 Data availability
Data presented in this study are available in the article, Supplementary Information or from the corresponding author on reasonable request.
References
Brahmer, J. R. et al. Safety and activity of anti-PD-L1 antibody in patients with advanced cancer. N. Engl. J. Med. 366, 2455–2465 (2012).

Yarchoan, M., Hopkins, A. & Jaffee, E. M. Tumor mutational burden and response rate to PD-1 inhibition. N. Engl. J. Med. 377, 2500–2501 (2017).

Le, D. T. et al. Mismatch-repair deficiency predicts response of solid tumors to PD-1 blockade. Science 357, 409–413 (2017).

Brown, S. D. et al. Neo-antigens predicted by tumor genome meta-analysis correlate with increased patient survival. Genome Res. 24, 743–750 (2014).

Hu, Z., Ott, P. A. & Wu, C. J. Towards personalized, tumour-specific, therapeutic vaccines for cancer. Nat. Rev. Immunol. 18, 168–182 (2018).

Lawrence, M. S. et al. Mutational heterogeneity in cancer and the search for new cancer-associated genes. Nature 499, 214–218 (2013).

Hellmann, M. D. et al. Nivolumab plus ipilimumab in lung cancer with a high tumor mutational burden. N. Engl. J. Med. 33, 853–861.e4 (2018).

Fridman, W. H., Pages, F., Sautes-Fridman, C. & Galon, J. The immune contexture in human tumours: impact on clinical outcome. Nat. Rev. Cancer 12, 298–306 (2012).

McGranahan, N. et al. Clonal neoantigens elicit T cell immunoreactivity and sensitivity to immune checkpoint blockade. Science 351, 1463–1469 (2016).

Bentzen, A. K. et al. Large-scale detection of antigen-specific T cells using peptide-MHC-I multimers labeled with DNA barcodes. Nat. Biotechnol. 34, 1037–1045 (2016).

Carreno, B. M. et al. Cancer immunotherapy. A dendritic cell vaccine increases the breadth and diversity of melanoma neoantigen-specific T cells. Science 348, 803–808 (2015).

Sahin, U. et al. Personalized RNA mutanome vaccines mobilize poly-specific therapeutic immunity against cancer. Nature 547, 222–226 (2017).

Ott, P. A. et al. An immunogenic personal neoantigen vaccine for patients with melanoma. Nature 547, 217–221 (2017).

Morgan, R. A. et al. Cancer regression in patients after transfer of genetically engineered lymphocytes. Science 314, 126–129 (2006).

Grupp, S. A. et al. Chimeric antigen receptor-modified T cells for acute lymphoid leukemia. N. Engl. J. Med. 368, 1509–1518 (2013).

June, C. H. & Sadelain, M. Chimeric antigen receptor therapy. N. Engl. J. Med. 379, 64–73 (2018).

Karrer, U. et al. Memory inflation: continuous accumulation of antiviral CD8+ T cells over time. J. Immunol. 170, 2022–2029 (2003).

Khan, N. et al. Cytomegalovirus seropositivity drives the CD8 T cell repertoire toward greater clonality in healthy elderly individuals. J. Immunol. 169, 1984–1992 (2002).

Reddehase, M. J. Antigens and immunoevasins: opponents in cytomegalovirus immune surveillance. Nat. Rev. Immunol. 2, 831–844 (2002).

Simoni, Y. et al. Bystander CD8(+) T cells are abundant and phenotypically distinct in human tumour infiltrates. Nature 557, 575–579 (2018).

Scheper, W. et al. Low and variable tumor reactivity of the intratumoral TCR repertoire in human cancers. Nat. Med. 25, 89–94 (2018).

Abelin, J. G. et al. Mass spectrometry profiling of HLA-associated peptidomes in mono-allelic cells enables more accurate epitope prediction. Immunity 46, 315–326 (2017).

Perosa, F. et al. Beta 2-microglobulin-free HLA class I heavy chain epitope mimicry by monoclonal antibody HC-10-specific peptide. J. Immunol. 171, 1918–1926 (2003).

Edwards, D. R. The Cancer Degradome: Proteases and Cancer Biology (Springer, 2008).

Desnoyers, L. R. et al. Tumor-specific activation of an EGFR-targeting probody enhances therapeutic index. Sci. Transl. Med. 5, 207ra144 (2013).

Kantarjian, H. et al. Blinatumomab versus chemotherapy for advanced acute lymphoblastic leukemia. N. Engl. J. Med. 376, 836–847 (2017).

O'Rourke, D. M. et al. A single dose of peripherally infused EGFRvIII-directed CAR T cells mediates antigen loss and induces adaptive resistance in patients with recurrent glioblastoma. Sci. Transl. Med. 9, pii: eaaa0984 (2017).

Tanaka, A. & Sakaguchi, S. Regulatory T cells in cancer immunotherapy. Cell Res. 27, 109–118 (2017).

Nangia, V. et al. Exploiting MCL1 dependency with combination MEK + MCL1 Inhibitors leads to induction of apoptosis and tumor regression in KRAS-mutant non-small cell lung cancer. Cancer Discov. 8, 1598–1613 (2018).

Rahbari, N. N. et al. Anti-VEGF therapy induces ECM remodeling and mechanical barriers to therapy in colorectal cancer liver metastases. Sci. Transl. Med. 8, 360ra135 (2016).

Rosato, P. C. et al. Virus-specific memory T cells populate tumors and can be repurposed for tumor immunotherapy. Nat. Commun. 10, 567 (2019).

O'Donnell, T. J. et al. MHCflurry: open-source class I MHC binding affinity prediction. Cell Syst. 7, 129–132 e124 (2018).
Acknowledgements
D.G.D.'s work was supported through NIH grant no. R41-CA213678, the Proton Beam/Federal Share Program and MGH ECOR. We thank P. Huang, S. Roberge and T. Hbatmu for the maintenance of gnotobiotic animal colonies and experimental assistance. This work was supported by NCI program project grant nos. P01-CA080124 and R01-CA208205 (to R.K.J. and D.F.), NCI grant nos. R35-CA197743 and U01-CA 224348 (to R.K.J.) and also in part by the Ludwig Center at Harvard. The NIH Tetramer Facility is supported by contract HHSN272201300006C from the National Institute of Allergy and Infectious Diseases, a component of the National Institutes of Health in the Department of Health and Human Services.
Ethics declarations
Competing interests
R.K.J. received an honorarium from Amgen and consultant fees from Ophthotech, SPARC, SynDevRx and XTuit. R.K.J. owns equity in Enlight, SPARC and SynDevRx, and serves on the Board of Directors of XTuit and Boards of Trustees of Tekla Healthcare Investors, Tekla Life Sciences Investors, Tekla Healthcare Opportunities Fund and Tekla World Healthcare Fund. D.G.D. received consultant fees from Bayer and BMS and has research grants from Bayer, Merrimack, Leap, Exelixis and BMS. M.C. and D.G.M. are named inventors on patent application no. WO 2012/123755, which is licensed to Revitope Oncology. D.G.M. and M.C. own equity in Revitope Oncology. M.C. holds equity in Gritstone Oncology. M.C. received consultant fees from Merck Laboratories. M.C. is now an employee of AstraZeneca.
Additional information
Publisher's note Springer Nature remains neutral with regard to jurisdictional claims in published maps and institutional affiliations.
Integrated supplementary information
Supplementary information
About this article
Cite this article
Millar, D.G., Ramjiawan, R.R., Kawaguchi, K. et al. Antibody-mediated delivery of viral epitopes to tumors harnesses CMV-specific T cells for cancer therapy. Nat Biotechnol 38, 420–425 (2020). https://doi.org/10.1038/s41587-019-0404-8
Received:

Accepted:

Published:

Issue Date:

DOI: https://doi.org/10.1038/s41587-019-0404-8