Abstract
Understanding how oncogenic mutations rewire regulatory-protein networks is important for rationalizing the mechanisms of oncogenesis and for individualizing anticancer treatments. We report a chemical phosphoproteomics method to elucidate the topology of kinase-signaling networks in mammalian cells. We identified >6,000 protein phosphorylation sites that can be used to infer >1,500 kinase–kinase interactions and devised algorithms that can reconstruct kinase network topologies from these phosphoproteomics data. Application of our methods to primary acute myeloid leukemia and breast cancer tumors quantified the relationship between kinase expression and activity, and enabled the identification of hitherto unknown kinase network topologies associated with drug-resistant phenotypes or specific genetic mutations. Using orthogonal methods we validated that PIK3CA wild-type cells adopt MAPK-dependent circuitries in breast cancer cells and that the kinase TTK is important in acute myeloid leukemia. Our phosphoproteomic signatures of network circuitry can identify kinase topologies associated with both phenotypes and genotypes of cancer cells.
Relevant articles
Open Access articles citing this article.
Valentina Cordo'

,

Mariska T. Meijer

…

Jules P. P. Meijerink

Nature Communications Open Access 25 February 2022

Aji Alex M. Raynold

,

Danyang Li

…

Julien E. Gautrot

Nature Communications Open Access 08 November 2021

James Read

&

Sumana Sharma

Biology & Philosophy Open Access 19 September 2021
Access options
Subscribe to Nature+
Get immediate online access to Nature and 55 other Nature journal
Subscribe to Journal
Get full journal access for 1 year
$99.00
only $8.25 per issue
All prices are NET prices.
VAT will be added later in the checkout.
Tax calculation will be finalised during checkout.
Buy article
Get time limited or full article access on ReadCube.
$32.00
All prices are NET prices.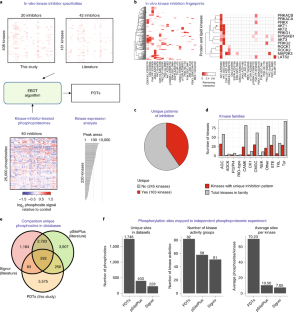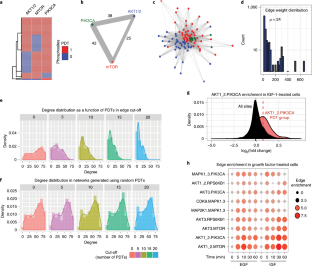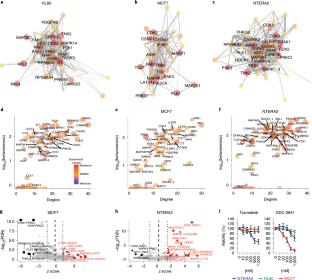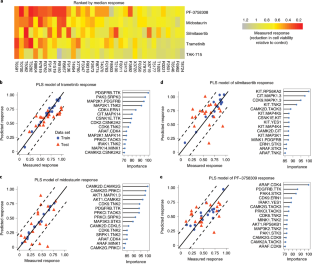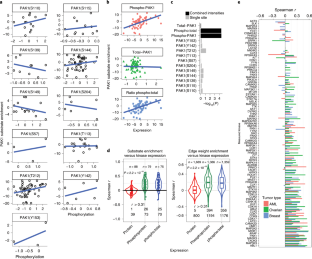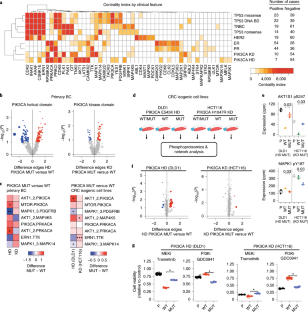 Data availability
The mass spectrometry phosphoproteomics data have been deposited to the ProteomeXchange Consortium via the PRIDE partner repository54 with the dataset identifier PXD015943. Additional data are available from http://chemphopro.org.
References
Hanahan, D. & Weinberg, R. A. Hallmarks of cancer: the next generation. Cell 144, 646–674 (2011).

Kanehisa, M., Furumichi, M., Tanabe, M., Sato, Y. & Morishima, K. KEGG: new perspectives on genomes, pathways, diseases and drugs. Nucleic Acids Res. 45, D353–D361 (2017).

Fabregat, A. et al. Reactome pathway analysis: a high-performance in-memory approach. BMC Bioinformatics 18, 142 (2017).

Sacco, F., Perfetto, L. & Cesareni, G. Combining phosphoproteomics datasets and literature information to reveal the functional connections in a cell phosphorylation network. Proteomics 18, 1700311 (2018).

Tape, C. J. et al. Oncogenic KRAS regulates tumor cell signaling via stromal reciprocation. Cell 165, 910–920 (2016).

Terfve, C. D., Wilkes, E. H., Casado, P., Cutillas, P. R. & Saez-Rodriguez, J. Large-scale models of signal propagation in human cells derived from discovery phosphoproteomic data. Nat. Commun. 6, 8033 (2015).

Invergo, B. M. & Beltrao, P. Reconstructing phosphorylation signalling networks from quantitative phosphoproteomic data. Essays Biochem. 62, 525–534 (2018).

Donnella, H. J. et al. Kinome rewiring reveals AURKA limits PI3K-pathway inhibitor efficacy in breast cancer. Nat. Chem. Biol. 14, 768–777 (2018).

Lachmann, A. & Ma'ayan, A. KEA: kinase enrichment analysis. Bioinformatics 25, 684–686 (2009).

Johnson, H. et al. Molecular characterization of EGFR and EGFRvIII signaling networks in human glioblastoma tumor xenografts. Mol. Cell. Proteomics 11, 1724–1740 (2012).

Ficarro, S. B. et al. Phosphoproteome analysis by mass spectrometry and its application to Saccharomyces cerevisiae. Nat. Biotechnol. 20, 301–305 (2002).

Casado, P. et al. Kinase-substrate enrichment analysis provides insights into the heterogeneity of signaling pathway activation in leukemia cells. Sci. Signal. 6, rs6 (2013).

Ochoa, D. et al. An atlas of human kinase regulation. Mol. Sys. Biol. 12, 888 (2016).

Drake, J. M. et al. Phosphoproteome integration reveals patient-specific networks in prostate cancer. Cell 166, 1041–1054 (2016).

Casado, P. et al. Proteomic and genomic integration identifies kinase and differentiation determinants of kinase inhibitor sensitivity in leukemia cells. Leukemia 32, 1818–1822 (2018).

Singh, R., Xu, J. & Berger, B. Global alignment of multiple protein interaction networks with application to functional orthology detection. Proc. Natl Acad. Sci. USA 105, 12763–12768 (2008).

Sharan, R. & Ideker, T. Modeling cellular machinery through biological network comparison. Nat. Biotechnol. 24, 427–433 (2006).

Creixell, P. et al. Kinome-wide decoding of network-attacking mutations rewiring cancer signaling. Cell 163, 202–217 (2015).

Pan, C., Olsen, J. V., Daub, H. & Mann, M. Global effects of kinase inhibitors on signaling networks revealed by quantitative phosphoproteomics. Mol. Cell. Proteomics 8, 2796–2808 (2009).

Alcolea, M. P., Casado, P., Rodriguez-Prados, J. C., Vanhaesebroeck, B. & Cutillas, P. R. Phosphoproteomic analysis of leukemia cells under basal and drug-treated conditions identifies markers of kinase pathway activation and mechanisms of resistance. Mol. Cell. Proteomics 11, 453–466 (2012).

Klaeger, S. et al. The target landscape of clinical kinase drugs. Science 358, eaan4368 (2017).

Wilkes, E. & Cutillas, P. R. Label-free phosphoproteomic approach for kinase signaling analysis. Methods Mol. Biol. 1636, 199–217 (2017).

Wilkes, E. H., Terfve, C., Gribben, J. G., Saez-Rodriguez, J. & Cutillas, P. R. Empirical inference of circuitry and plasticity in a kinase signaling network. Proc. Natl Acad. Sci. USA 112, 7719–7724 (2015).

Alessi, D. R., Caudwell, F. B., Andjelkovic, M., Hemmings, B. A. & Cohen, P. Molecular basis for the substrate specificity of protein kinase B; comparison with MAPKAP kinase-1 and p70 S6 kinase. FEBS Lett. 399, 333–338 (1996).

Ubersax, J. A. & Ferrell, J. E. Jr. Mechanisms of specificity in protein phosphorylation. Nat. Rev. Mol. Cell Biol. 8, 530–541 (2007).

Hernandez-Armenta, C., Ochoa, D., Goncalves, E., Saez-Rodriguez, J. & Beltrao, P. Benchmarking substrate-based kinase activity inference using phosphoproteomic data. Bioinformatics 33, 1845–1851 (2017).

Barabási, A.-L. & Pósfai, M. Network Science (Cambridge Univ., 2016).

Jeong, H., Mason, S. P., Barabasi, A. L. & Oltvai, Z. N. Lethality and centrality in protein networks. Nature 411, 41–42 (2001).

Ciaccio, M. F., Wagner, J. P., Chuu, C. P., Lauffenburger, D. A. & Jones, R. B. Systems analysis of EGF receptor signaling dynamics with microwestern arrays. Nat. Methods 7, 148–155 (2010).

Vincent, A. M. & Feldman, E. L. Control of cell survival by IGF signaling pathways. Growth Horm. IGF Res. 12, 193–197 (2002).

Mertins, P. et al. Proteogenomics connects somatic mutations to signalling in breast cancer. Nature 534, 55–62 (2016).

Zhang, H. et al. Integrated proteogenomic characterization of human high-grade serous ovarian Cancer. Cell 166, 755–765 (2016).

Mason, J. M. et al. Functional characterization of CFI-402257, a potent and selective Mps1/TTK kinase inhibitor, for the treatment of cancer. Proc. Natl Acad. Sci. USA 114, 3127–3132 (2017).

Bachman, K. E. et al. The PIK3CA gene is mutated with high frequency in human breast cancers. Cancer Biol. Ther. 3, 772–775 (2004).

Samuels, Y. et al. Mutant PIK3CA promotes cell growth and invasion of human cancer cells. Cancer Cell 7, 561–573 (2005).

Zhao, L. & Vogt, P. K. Helical domain and kinase domain mutations in p110α of phosphatidylinositol 3-kinase induce gain of function by different mechanisms. Proc. Natl Acad. Sci. USA 105, 2652–2657 (2008).

Barbareschi, M. et al. Different prognostic roles of mutations in the helical and kinase domains of the PIK3CA gene in breast carcinomas. Clin. Cancer Res. 13, 6064–6069 (2007).

Davies, S. P., Reddy, H., Caivano, M. & Cohen, P. Specificity and mechanism of action of some commonly used protein kinase inhibitors. Biochem. J. 351, 95–105 (2000).

Hornbeck, P. V. et al. PhosphoSitePlus, 2014: mutations, PTMs and recalibrations. Nucleic Acids Res. 43, D512–D520 (2015).

Perfetto, L. et al. SIGNOR: a database of causal relationships between biological entities. Nucleic Acids Res. 44, D548–D554 (2016).

Carlson, S. M. et al. Large-scale discovery of ERK2 substrates identifies ERK-mediated transcriptional regulation by ETV3. Sci. Signal. 4, rs11 (2011).

Shah, K., Liu, Y., Deirmengian, C. & Shokat, K. M. Engineering unnatural nucleotide specificity for Rous sarcoma virus tyrosine kinase to uniquely label its direct substrates. Proc. Natl Acad. Sci. USA 94, 3565–3570 (1997).

Xue, L., Geahlen, R. L. & Tao, W. A. Identification of direct tyrosine kinase substrates based on protein kinase assay-linked phosphoproteomics. Mol. Cell. Proteomics 12, 2969–2980 (2013).

Cohen, P. & Knebel, A. KESTREL: a powerful method for identifying the physiological substrates of protein kinases. Biochem. J. 393, 1–6 (2006).

Ferguson, F. M. & Gray, N. S. Kinase inhibitors: the road ahead. Nat. Rev. Drug Discov. 17, 353–377 (2018).

Schwanhausser, B. et al. Global quantification of mammalian gene expression control. Nature 473, 337–342 (2011).

Adams, J. A. Activation loop phosphorylation and catalysis in protein kinases: is there functional evidence for the autoinhibitor model? Biochemistry 42, 601–607 (2003).

Juric, D. et al. Phosphatidylinositol 3-kinase α-selective inhibition with alpelisib (BYL719) in PIK3CA-altered solid tumors: results from the first-in-human study. J. Clin. Oncol. 36, 1291–1299 (2018).

Sarker, D. et al. First-in-human phase I study of pictilisib (GDC-0941), a potent pan-class I phosphatidylinositol-3-kinase (PI3K) inhibitor, in patients with advanced solid tumors. Clin. Cancer Res. 21, 77–86 (2015).

Rajeeve, V., Pearce, W., Cascante, M., Vanhaesebroeck, B. & Cutillas, P. R. Polyamine production is downstream and upstream of oncogenic PI3K signalling and contributes to tumour cell growth. Biochem. J. 450, 619–628 (2013).

Gruhler, A. et al. Quantitative phosphoproteomics applied to the yeast pheromone signaling pathway. Mol. Cell. Proteomics 4, 310–327 (2005).

Larsen, M. R., Thingholm, T. E., Jensen, O. N., Roepstorff, P. & Jorgensen, T. J. Highly selective enrichment of phosphorylated peptides from peptide mixtures using titanium dioxide microcolumns. Mol. Cell. Proteomics 4, 873–886 (2005).

Montoya, A., Beltran, L., Casado, P., Rodriguez-Prados, J. C. & Cutillas, P. R. Characterization of a TiO2 enrichment method for label-free quantitative phosphoproteomics. Methods 54, 370–378 (2011).

Vizcaino, J. A. et al. 2016 update of the PRIDE database and its related tools. Nucleic Acids Res. 44, D447–D456 (2016).

Perkins, D. N., Pappin, D. J., Creasy, D. M. & Cottrell, J. S. Probability-based protein identification by searching sequence databases using mass spectrometry data. Electrophoresis 20, 3551–3567 (1999).

Cutillas, P. R. & Vanhaesebroeck, B. Quantitative profile of five murine core proteomes using label-free functional proteomics. Mol. Cell. Proteomics 6, 1560–1573 (2007).

Tsou, C. C. et al. IDEAL-Q, an automated tool for label-free quantitation analysis using an efficient peptide alignment approach and spectral data validation. Mol. Cell. Proteomics 9, 131–144 (2010).

Bateman, N. W. et al. Maximizing peptide identification events in proteomic workflows using data-dependent acquisition (DDA). Mol. Cell. Proteomics 13, 329–338 (2014).

Lawrence, R. T., Searle, B. C., Llovet, A. & Villen, J. Plug-and-play analysis of the human phosphoproteome by targeted high-resolution mass spectrometry. Nat. Methods 13, 431–434 (2016).

Fabian, M. A. et al. A small molecule–kinase interaction map for clinical kinase inhibitors. Nat. Biotechnol. 23, 329–336 (2005).

Elkins, J. M. et al. Comprehensive characterization of the published kinase inhibitor set. Nat. Biotechnol. 34, 95–103 (2015).

Kuhn, M. Building predictive models in R using the caret package. J. Stat. Softw. 28, 1–26 (2008).

Kim, S. Y. & Volsky, D. J. PAGE: parametric analysis of gene set enrichment. BMC Bioinformatics 6, 144 (2005).

Subramanian, A. et al. Gene set enrichment analysis: a knowledge-based approach for interpreting genome-wide expression profiles. Proc. Natl Acad. Sci. USA 102, 15545–15550 (2005).

Horn, H. et al. KinomeXplorer: an integrated platform for kinome biology studies. Nat. Methods 11, 603–604 (2014).
Acknowledgements
This work was primarily funded by the BBSRC (BB/M006174/1). Barts and The London Charity (297/2249), CRUK (C15966/A24375 and C16420/A18066) and the QMUL Life Science Initiative also contributed to funding.
Ethics declarations
Competing interests
P.R.C. is a co-founder of Kinomica Ltd. The other authors declare no competing financial interests.
Additional information
Publisher's note Springer Nature remains neutral with regard to jurisdictional claims in published maps and institutional affiliations.
Integrated supplementary information
Supplementary information
About this article
Cite this article
Hijazi, M., Smith, R., Rajeeve, V. et al. Reconstructing kinase network topologies from phosphoproteomics data reveals cancer-associated rewiring. Nat Biotechnol 38, 493–502 (2020). https://doi.org/10.1038/s41587-019-0391-9
Received:

Accepted:

Published:

Issue Date:

DOI: https://doi.org/10.1038/s41587-019-0391-9