Abstract
Personalized cancer vaccines targeting patient-specific neoantigens are a promising cancer treatment modality; however, neoantigen physicochemical variability can present challenges to manufacturing personalized cancer vaccines in an optimal format for inducing anticancer T cells. Here, we developed a vaccine platform (SNP-7/8a) based on charge-modified peptide–TLR-7/8a conjugates that are chemically programmed to self-assemble into nanoparticles of uniform size (~20 nm) irrespective of the peptide antigen composition. This approach provided precise loading of diverse peptide neoantigens linked to TLR-7/8a (adjuvant) in nanoparticles, which increased uptake by and activation of antigen-presenting cells that promote T-cell immunity. Vaccination of mice with SNP-7/8a using predicted neoantigens (n = 179) from three tumor models induced CD8 T cells against ~50% of neoantigens with high predicted MHC-I binding affinity and led to enhanced tumor clearance. SNP-7/8a delivering in silico-designed mock neoantigens also induced CD8 T cells in nonhuman primates. Altogether, SNP-7/8a is a generalizable approach for codelivering peptide antigens and adjuvants in nanoparticles for inducing anticancer T-cell immunity.
Your institute does not have access to this article
Relevant articles
Open Access articles citing this article.
Ganji Seeta Rama Raju

,

Eluri Pavitra

…

Young-Kyu Han

Journal of Nanobiotechnology Open Access 14 June 2022

Lilit Grigoryan

,

Audrey Lee

…

Bali Pulendran

npj Vaccines Open Access 23 May 2022

Qinjun Chen

,

Tao Sun

&

Chen Jiang

Nano-Micro Letters Open Access 16 March 2021
Access options
Subscribe to Nature+
Get immediate online access to the entire Nature family of 50+ journals
Subscribe to Journal
Get full journal access for 1 year
$99.00
only $8.25 per issue
All prices are NET prices.
VAT will be added later in the checkout.
Tax calculation will be finalised during checkout.
Buy article
Get time limited or full article access on ReadCube.
$32.00
All prices are NET prices.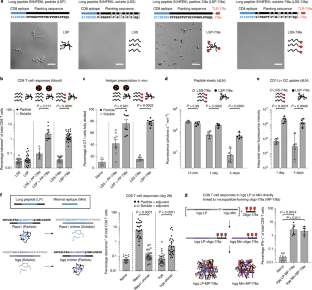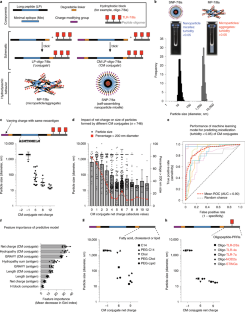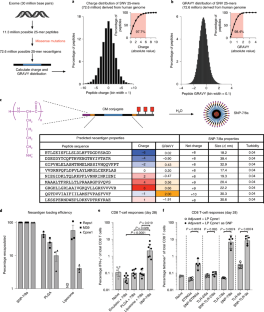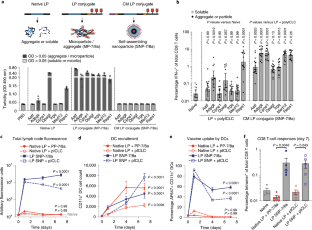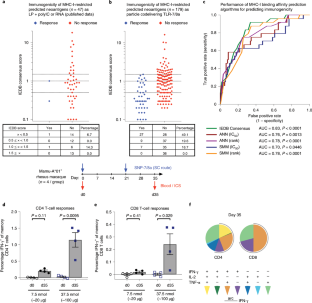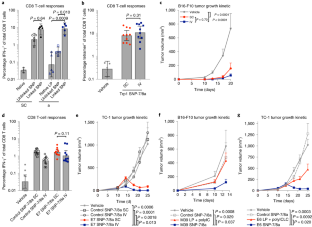 Data availability
The data that support the findings of this study are available from the corresponding authors upon request.
Code availability
Scripts used to determine hydropathy and charge frequency distribution of human neoantigens and to conduct machine learning analyses of CM conjugates are available from the corresponding authors upon request.
References
Lennerz, V. et al. The response of autologous T cells to a human melanoma is dominated by mutated neoantigens. Proc. Natl Acad. Sci. USA 102, 16013–16018 (2005).

Tran, E. et al. Cancer immunotherapy based on mutation-specific CD4+ T cells in a patient with epithelial cancer. Science 344, 641–645 (2014).

Tran, E. et al. T-cell transfer therapy targeting mutant KRAS in cancer. N. Engl. J. Med. 375, 2255–2262 (2016).

Snyder, A. et al. Genetic basis for clinical response to CTLA-4 blockade in melanoma. N. Engl. J. Med. 371, 2189–2199 (2014).

Rosenberg, J. E. et al. Atezolizumab in patients with locally advanced and metastatic urothelial carcinoma who have progressed following treatment with platinum-based chemotherapy: a single-arm, multicentre, phase 2 trial. Lancet 387, 1909–1920 (2016).

Sahin, U. & Tureci, O. Personalized vaccines for cancer immunotherapy. Science 359, 1355–1360 (2018).

Hu, Z., Ott, P. A. & Wu, C. J. Towards personalized, tumour-specific, therapeutic vaccines for cancer. Nat. Rev. Immunol. 18, 168–182 (2018).

Yadav, M. et al. Predicting immunogenic tumour mutations by combining mass spectrometry and exome sequencing. Nature 515, 572–576 (2014).

Kreiter, S. et al. Mutant MHC class II epitopes drive therapeutic immune responses to cancer. Nature 520, 692–696 (2015).

Ott, P. A. et al. An immunogenic personal neoantigen vaccine for patients with melanoma. Nature 547, 217–221 (2017).

Sahin, U. et al. Personalized RNA mutanome vaccines mobilize poly-specific therapeutic immunity against cancer. Nature 547, 222–226 (2017).

Schumacher, T. N. & Schreiber, R. D. Neoantigens in cancer immunotherapy. Science 348, 69–74 (2015).

Mehta, N. K., Moynihan, K. D. & Irvine, D. J. Engineering new approaches to cancer vaccines. Cancer Immunol. Res. 3, 836–843 (2015).

Bookstaver, M. L., Tsai, S. J., Bromberg, J. S. & Jewell, C. M. Improving vaccine and immunotherapy design using biomaterials. Trends Immunol. 39, 135–150 (2018).

Scheetz, L. et al. Engineering patient-specific cancer immunotherapies. Nat. Biomed. 3, 768–782 (2019).

Ilyinskii, P. O. et al. Adjuvant-carrying synthetic vaccine particles augment the immune response to encapsulated antigen and exhibit strong local immune activation without inducing systemic cytokine release. Vaccine 32, 2882–2895 (2014).

Varypataki, E. M. et al. Synthetic long peptide-based vaccine formulations for induction of cell mediated immunity: a comparative study of cationic liposomes and PLGA nanoparticles. J. Control. Rel. 226, 98–106 (2016).

Kuai, R., Ochyl, L. J., Bahjat, K. S., Schwendeman, A. & Moon, J. J. Designer vaccine nanodiscs for personalized cancer immunotherapy. Nat. Mater. 16, 489–496 (2017).

Scott, E. A. et al. Dendritic cell activation and T cell priming with adjuvant- and antigen-loaded oxidation-sensitive polymersomes. Biomaterials 33, 6211–6219 (2012).

Fox, C. B. & Haensler, J. An update on safety and immunogenicity of vaccines containing emulsion-based adjuvants. Expert Rev. Vaccines 12, 747–758 (2013).

Liu, H. et al. Structure-based programming of lymph-node targeting in molecular vaccines. Nature 507, 519–522 (2014).

Cho, H. I., Barrios, K., Lee, Y. R., Linowski, A. K. & Celis, E. BiVax: a peptide/poly-IC subunit vaccine that mimics an acute infection elicits vast and effective anti-tumor CD8 T-cell responses. Cancer Immunol. Immunother. 62, 787–799 (2013).

Ignacio, B. J., Albin, T. J., Esser-Kahn, A. P. & Verdoes, M. Toll-like receptor agonist conjugation: a chemical perspective. Bioconjug. Chem. 29, 587–603 (2018).

Zom, G. G. et al. Efficient induction of antitumor immunity by synthetic toll-like receptor ligand-peptide conjugates. Cancer Immunol. Res. 2, 756–764 (2014).

Lu, B. L., Williams, G. M., Verdon, D. J., Dunbar, P. R. & Brimble, M. A. Synthesis and evaluation of novel TLR2 agonists as potential adjuvants for cancer vaccines. J. Med. Chem. https://doi.org/10.1021/acs.jmedchem.9b01044 (2019).

Zhu, G. et al. Albumin/vaccine nanocomplexes that assemble in vivo for combination cancer immunotherapy. Nat. Commun. 8, 1954 (2017).

Nair-Gupta, P. et al. TLR signals induce phagosomal MHC-I delivery from the endosomal recycling compartment to allow cross-presentation. Cell 158, 506–521 (2014).

Wille-Reece, U. et al. HIV Gag protein conjugated to a Toll-like receptor 7/8 agonist improves the magnitude and quality of Th1 and CD8+ T cell responses in nonhuman primates. Proc. Natl Acad. Sci. USA 102, 15190–15194 (2005).

Hailemichael, Y. et al. Persistent antigen at vaccination sites induces tumor-specific CD8+ T cell sequestration, dysfunction and deletion. Nature Med. 19, 465–472 (2013).

Kenter, G. G. et al. Vaccination against HPV-16 oncoproteins for vulvar intraepithelial neoplasia. N. Engl. J. Med. 361, 1838–1847 (2009).

Melief, C. J. M. in Oncoimmunology: A Practical Guide for Cancer Immunotherapy (eds Zitvogel, L. & Kroemer, G.) 249–261 (Springer, 2018).

Cavalli, S., Albericio, F. & Kros, A. Amphiphilic peptides and their cross-disciplinary role as building blocks for nanoscience. Chem. Soc. Rev. 39, 241–263 (2010).

Lynn, G. M. et al. In vivo characterization of the physicochemical properties of polymer-linked TLR agonists that enhance vaccine immunogenicity. Nat. Biotechnol. 33, 1201–1210 (2015).

Lynn, G. M. et al. Impact of polymer-TLR-7/8 Agonist (Adjuvant) morphology on the potency and mechanism of CD8 T cell induction. Biomacromolecules 20, 854–870 (2019).

Coffman, R. L., Sher, A. & Seder, R. A. Vaccine adjuvants: putting innate immunity to work. Immunity 33, 492–503 (2010).

Reddy, S. T., Rehor, A., Schmoekel, H. G., Hubbell, J. A. & Swartz, M. A. In vivo targeting of dendritic cells in lymph nodes with poly(propylene sulfide) nanoparticles. J. Controlled Rel. 112, 26–34 (2006).

Manolova, V. et al. Nanoparticles target distinct dendritic cell populations according to their size. Eur. J. Immunol. 38, 1404–1413 (2008).

Nuhn, L. et al. pH-degradable imidazoquinoline-ligated nanogels for lymph node-focused immune activation. Proc. Natl Acad. Sci. USA 113, 8098–8103 (2016).

Shukla, N. M., Malladi, S. S., Mutz, C. A., Balakrishna, R. & David, S. A. Structure-activity relationships in human toll-like receptor 7-active imidazoquinoline analogues. J. Med. Chem. 53, 4450–4465 (2010).

Wilson, D. S. et al. Antigens reversibly conjugated to a polymeric glyco-adjuvant induce protective humoral and cellular immunity. Nat. Mater. 18, 175–185 (2019).

Vasilakos, J. P. & Tomai, M. A. The use of Toll-like receptor 7/8 agonists as vaccine adjuvants. Expert Rev. Vaccines 12, 809–819 (2013).

Liaw, A. & Wiener, M. Classification and regression by randomForest. R News 2, 18–22 (2002).

Choe, Y. et al. Substrate profiling of cysteine proteases using a combinatorial peptide library identifies functionally unique specificities. J. Biol. Chem. 281, 12824–12832 (2006).

Kloetzel, P. M. Antigen processing by the proteasome. Nat. Rev. Mol. Cell Bio. 2, 179–187 (2001).

Jewett, J. C. & Bertozzi, C. R. Cu-free click cycloaddition reactions in chemical biology. Chem. Soc. Rev. 39, 1272–1279 (2010).

van Poelgeest, M. I. et al. Vaccination against oncoproteins of HPV16 for noninvasive vulvar/vaginal lesions: lesion clearance is related to the strength of the T-cell response. Clin. Cancer Res. 22, 2342–2350 (2016).

Bijker, M. S. et al. Superior induction of anti-tumor CTL immunity by extended peptide vaccines involves prolonged, DC-focused antigen presentation. Eur. J. Immunol. 38, 1033–1042 (2008).

Moutaftsi, M. et al. A consensus epitope prediction approach identifies the breadth of murine T(CD8+)-cell responses to vaccinia virus. Nat. Biotechnol. 24, 817–819 (2006).

Rubinsteyn, A. et al. Computational pipeline for the PGV-001 neoantigen vaccine. Trial Front. Immunol. 8, 1807 (2017).

Abelin, J. G. et al. Mass spectrometry profiling of HLA-associated peptidomes in mono-allelic cells enables more accurate epitope prediction. Immunity 46, 315–326 (2017).

Thompson, E. A. & Lore, K. Non-human primates as a model for understanding the mechanism of action of toll-like receptor-based vaccine adjuvants. Curr. Opin. Immunol. 47, 1–7 (2017).

Moynihan, K. D. et al. Eradication of large established tumors in mice by combination immunotherapy that engages innate and adaptive immune responses. Nat. Med. 22, 1402–1410 (2016).

Qiu, F. et al. Poly(propylacrylic acid)-peptide nanoplexes as a platform for enhancing the immunogenicity of neoantigen cancer vaccines. Biomaterials 182, 82–91 (2018).

Li, A. W. et al. A facile approach to enhance antigen response for personalized cancer vaccination. Nat. Mater. 17, 528–534 (2018).

Wendorf, J. et al. A practical approach to the use of nanoparticles for vaccine delivery. J. Pharm. Sci. 95, 2738–2750 (2006).

Kranz, L. M. et al. Systemic RNA delivery to dendritic cells exploits antiviral defence for cancer immunotherapy. Nature 534, 396–401 (2016).

Sultan, H. et al. Designing therapeutic cancer vaccines by mimicking viral infections. Cancer Immunol. Immunother. 66, 203–213 (2017).

Lynn, G. M., Laga, R. & Jewell, C. M. Induction of anti-cancer T cell immunity by in situ vaccination using systemically administered nanomedicines. Cancer Lett. 459, 192–203 (2019).

Welters, M. J. et al. Vaccination during myeloid cell depletion by cancer chemotherapy fosters robust T cell responses. Sci. Transl. Med. 8, 334ra352 (2016).

Cadena, A. et al. Radiation and anti-cancer vaccines: a winning combination. Vaccines 6, https://doi.org/10.3390/vaccines6010009 (2018).

Darrah, P. A. et al. Multifunctional TH1 cells define a correlate of vaccine-mediated protection against Leishmania major. Nat. Med. 13, 843–850 (2007).

Quinn, K. M. et al. Comparative analysis of the magnitude, quality, phenotype, and protective capacity of simian immunodeficiency virus gag-specific CD8+ T cells following human-, simian-, and chimpanzee-derived recombinant adenoviral vector immunization. J. Immunol. 190, 2720–2735 (2013).

Ishizuka, A. S. et al. Protection against malaria at 1 year and immune correlates following PfSPZ vaccination. Nat. Med. 22, 614–623 (2016).

Roederer, M., Nozzi, J. L. & Nason, M. C. SPICE: exploration and analysis of post-cytometric complex multivariate datasets. Cytometry A 79, 167–174 (2011).

Kim, Y. et al. Immune epitope database analysis resource. Nucleic Acids Res. 40, W525–530 (2012).

Nielsen, M. et al. Reliable prediction of T-cell epitopes using neural networks with novel sequence representations. Protein Sci. 12, 1007–1017 (2003).

Peters, B. & Sette, A. Generating quantitative models describing the sequence specificity of biological processes with the stabilized matrix method. BMC Bioinformatics 6, 132 (2005).

Aken, B. L. et al. Ensembl 2017. Nucleic Acids Res. 45, D635–D642 (2017).

Liu, X., Wu, C., Li, C. & Boerwinkle, E. dbNSFP v3.0: A one-stop database of functional predictions and annotations for human nonsynonymous and splice-site SNVs. Hum. Mutat. 37, 235–241 (2016).

Kyte, J. & Doolittle, R. F. A simple method for displaying the hydropathic character of a protein. J. Mol. Biol. 157, 105–132 (1982).

Tate, J. G. et al. COSMIC: the catalogue of somatic mutations in cancer. Nucleic Acids Res. 47, D941–D947 (2018).
Acknowledgements
We acknowledge M. Dillon, G. Salbador, L. Gilliam, S. Rush, M. Carballo, E. McCarthy, J. Noor, C. Chiedi, J.P. Todd and D. Scorpio of the Translational Research Program (VRC) as well as B. Klaunberg and V. Diaz at the Mouse Imaging Facility (MIF, NIH) for their valuable support with the animal studies; T. Abram and A. Mullen (VRC) for administrative support; S. McWhirter and C. Ndubaku (Aduro BioTech) for providing CDN-based reagents; Cytometry Platform and the Animal facilities of the Institut Curie; NSERM; Agence Nationale de la Recherche (ANR-11-LABX-0043 and ANR-10-IDEX-0001-02 PSL); Institut Curie (CIC IGR-Curie 1428); La Ligue Nationale Contre le Cancer program; SiRIC grant no. INCa-DGOS-12554; the Czech Science Foundation project 19-08176S; and the Ministry of Education, Youth and Sports of the Czech Republic within the National Sustainability Program II (project BIOCEV-FAR LQ1604). This work was supported by the Intramural Research Program of the US National Institutes of Health as well as NIH grant no. R01EB027143. C.M.J. is an employee of the VA Maryland Health Care System. The views reported in this paper do not reflect the views of the Department of Veterans' Affairs or the United States Government.
Ethics declarations
Competing interests
G.M.L., Y.Z., V.L.C., R.L., L.W.S., A.S.I. and R.A.S. are listed as inventors on patents describing polymer-based vaccines. G.M.L., Y.Z., V.L.C., S.R.N., Y.I., B.D., J.D.B. and A.S.I. are employees/consultants of Avidea Technologies, Inc., which is commercializing polymer-based drug delivery technologies for immunotherapeutic applications. C.M.J. has an equity position in Cellth Systems, LLC. J.D.B. is a member of the POCKiT Diagnostics Board of Scientific Advisors.
Additional information
Publisher's note Springer Nature remains neutral with regard to jurisdictional claims in published maps and institutional affiliations.
Integrated supplementary information
Supplementary information
Supplementary Figs. 1–15, Tables 1 and 2 and Notes.
About this article
Cite this article
Lynn, G.M., Sedlik, C., Baharom, F. et al. Peptide–TLR-7/8a conjugate vaccines chemically programmed for nanoparticle self-assembly enhance CD8 T-cell immunity to tumor antigens. Nat Biotechnol 38, 320–332 (2020). https://doi.org/10.1038/s41587-019-0390-x
Received:

Accepted:

Published:

Issue Date:

DOI: https://doi.org/10.1038/s41587-019-0390-x