Abstract
Monitoring drug–target interactions with methods such as the cellular thermal-shift assay (CETSA) is well established for simple cell systems but remains challenging in vivo. Here we introduce tissue thermal proteome profiling (tissue-TPP), which measures binding of small-molecule drugs to proteins in tissue samples from drug-treated animals by detecting changes in protein thermal stability using quantitative mass spectrometry. We report organ-specific, proteome-wide thermal stability maps and derive target profiles of the non-covalent histone deacetylase inhibitor panobinostat in rat liver, lung, kidney and spleen and of the B-Raf inhibitor vemurafenib in mouse testis. In addition, we devised blood-CETSA and blood-TPP and applied it to measure target and off-target engagement of panobinostat and the BET family inhibitor JQ1 directly in whole blood. Blood-TPP analysis of panobinostat confirmed its binding to known targets and also revealed thermal stabilization of the zinc-finger transcription factor ZNF512. These methods will help to elucidate the mechanisms of drug action in vivo.
Relevant articles
Open Access articles citing this article.
Louis Legoff

,

Ouzna Dali

…

Fatima Smagulova

Epigenetics & Chromatin Open Access 12 August 2021

Siqi Fang

,

Paul D. W. Kirk

…

Oliver M. Crook

Communications Biology Open Access 29 June 2021

Ilaria Piazza

,

Nigel Beaton

…

Lukas Reiter

Nature Communications Open Access 21 August 2020
Access options
Access Nature and 54 other Nature Portfolio journals
Get Nature+, our best-value online-access subscription
$29.99 per month
cancel any time
Subscribe to this journal
Receive 12 print issues and online access
$209.00 per year
only $17.42 per issue
Rent or buy this article
Get just this article for as long as you need it
$39.95
Prices may be subject to local taxes which are calculated during checkout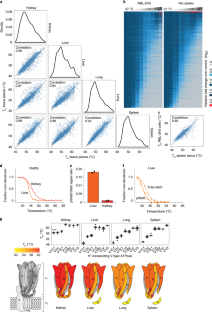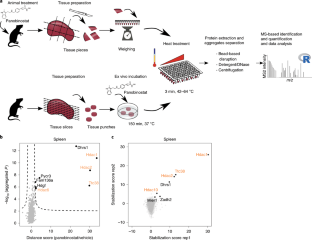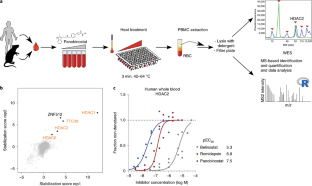 Code availability
The code used for this study will be made available by the corresponding authors upon reasonable request.
References
Bantscheff, M., Lemeer, S., Savitski, M. M. & Kuster, B. Quantitative mass spectrometry in proteomics: critical review update from 2007 to the present. Anal. Bioanal. Chem. 404, 939–965 (2012).

Molina, D. M. et al. Monitoring drug target engagement in cells and tissues using the cellular thermal shift assay. Science 341, 84–87 (2013).

Savitski, M. M. et al. Tracking cancer drugs in living cells by thermal profiling of the proteome. Science 346, 1255784 (2014).

Savitski, M. M. et al. Multiplexed proteome dynamics profiling reveals mechanisms controlling protein homeostasis. Cell 173, 260–274 (2018).

Ishii, T. et al. CETSA quantitatively verifies in vivo target engagement of novel RIPK1 inhibitors in various biospecimens. Sci. Rep. 7, 13000 (2017).

Morgan, P. et al. Can the flow of medicines be improved? Fundamental pharmacokinetic and pharmacological principles toward improving phase II survival. Drug Discov. Today 17, 419–424 (2012).

Bantscheff, M. et al. Chemoproteomics profiling of HDAC inhibitors reveals selective targeting of HDAC complexes. Nat. Biotechnol. 29, 255–265 (2011).

Becher, I. et al. Thermal profiling reveals phenylalanine hydroxylase as an off-target of panobinostat. Nat. Chem. Biol. 12, 908–910 (2016).

Childs, D Non-parametric analysis of thermal proteome profiles reveals novel drug-binding proteins. Mol. Cell Proteomics 18, 2506–2515 (2019).

Bhargava, P. & Schnellmann, R. G. Mitochondrial energetics in the kidney. Nat. Rev. Nephrol. 13, 629–646 (2017).

van de Poll, M. C. G., Soeters, P. B., Deutz, N. E. P., Fearon, K. C. H. & Dejong, C. H. C. Renal metabolism of amino acids: its role in interorgan amino acid exchange. Am. J. Clin. Nutr. 79, 185–197 (2004).

Reinhard, F. B. M. et al. Thermal proteome profiling monitors ligand interactions with cellular membrane proteins. Nat. Methods 12, 1129–1131 (2015).

Tan, C. S. H. et al. Thermal proximity coaggregation for system-wide profiling of protein complex dynamics in cells. Science 359, 1170–1177 (2018).

Gao, B., Wang, H., Lafdil, F. & Feng, D. STAT proteins—key regulators of anti-viral responses, inflammation, and tumorigenesis in the liver. J. Hepatol. 57, 430–441 (2012).

Becher, I. et al. Pervasive protein thermal stability variation during the cell cycle. Cell 173, 1495–1507 (2018).

Mathieson, T. et al. Systematic analysis of protein turnover in primary cells. Nat. Commun. 9, 689 (2018).

Kaneko, T. et al. Assembly pathway of the mammalian proteasome base subcomplex is mediated by multiple specific chaperones. Cell 137, 914–925 (2009).

Al-Awqati, Q. Plasticity in epithelial polarity of renal intercalated cells: targeting of the H+-ATPase and band 3. Am. J. Physiol. 270, C1571–C1580 (1996).

Kane, P. M. Disassembly and reassembly of the yeast vacuolar H+-ATPase in vivo. J. Biol. Chem. 270, 17025–17032 (1995).

Assessment report Farydak, procedure No. EMA/H/C/003725/0000 (European Medicines Agency, 2015).

Bollag, G. et al. Clinical efficacy of a RAF inhibitor needs broad target blockade in BRAF-mutant melanoma. Nature 467, 596–599 (2010).

Filippakopoulos, P. et al. Selective inhibition of BET bromodomains. Nature 468, 1067–1073 (2010).

Khan, N. et al. Determination of the class and isoform selectivity of small-molecule histone deacetylase inhibitors. Biochem. J. 409, 581–589 (2008).

Perez-Riverol, Y. et al. The PRIDE database and related tools and resources in 2019: improving support for quantification data. Nucleic Acids Res. 47, D442–D450 (2019).

Franken, H. et al. Thermal proteome profiling for unbiased identification of direct and indirect drug targets using multiplexed quantitative mass spectrometry. Nat. Protoc. 10, 1567–1593 (2015).

Density and mass of each organ/tissue Bionumbers http://kirschner.med.harvard.edu/files/bionumbers/Density%20and%20mass%20of%20each%20organ-tissue.pdf (2014).

Moggridge, S., Sorensen, P. H., Morin, G. B. & Hughes, C. S. Extending the compatibility of the SP3 paramagnetic bead processing approach for proteomics. J. Proteome Res. 17, 1730–1740 (2018).

Kelstrup, C. D. et al. Limits for resolving isobaric tandem mass tag reporter ions using phase-constrained spectrum deconvolution. J. Proteome Res. 17, 4008–4016 (2018).

Werner, T. et al. Ion coalescence of neutron encoded TMT 10-plex reporter ions. Anal. Chem. 86, 3594–3601 (2014).

Savitski, M. M. et al. Measuring and managing ratio compression for accurate iTRAQ/TMT quantification. J. Proteome. Res. 12, 3586–3598 (2013).

Savitski, M. M. et al. Targeted data acquisition for improved reproducibility and robustness of proteomic mass spectrometry assays. J. Am. Soc. Mass. Spectrom. 21, 1668–1679 (2010).

Poole, W., Gibbs, D. L., Shmulevich, I., Bernard, B. & Knijnenburg, T. A. Combining dependent P-values with an empirical adaptation of Brown's method. Bioinformatics 32, i430–i436 (2016).

Benjamini, Y. & Hochberg, Y. Controlling the false discovery rate: a practical and powerful approach to multiple testing. J. R. Stat. Soc. Ser. B Methodol 57, 289–300 (1995).

Silva, J. C., Gorenstein, M. V., Li, G.-Z., Vissers, J. P. C. & Geromanos, S. J. Absolute quantification of proteins by LCMSE: a virtue of parallel MS acquisition. Mol. Cell. Proteomics 5, 144–156 (2006).

Eden, E., Navon, R., Steinfeld, I., Lipson, D. & Yakhini, Z. GOrilla: a tool for discovery and visualization of enriched GO terms in ranked gene lists. BMC Bioinformatics 10, 48 (2009).

Eden, E., Lipson, D., Yogev, S. & Yakhini, Z. Discovering motifs in ranked lists of DNA sequences. PLoS Comput. Biol. 3, e39 (2007).

Ruepp, A. et al. CORUM: the comprehensive resource of mammalian protein complexes. Nucleic Acids Res. 36, D646–D650 (2008).

Ruepp, A. et al. CORUM: the comprehensive resource of mammalian protein complexes—2009. Nucleic Acids Res. 38, D497–D501 (2010).

Vinayagam, A. et al. Protein complex-based analysis framework for high-throughput data sets. Sci. Signal. 6, rs5 (2013).

Ori, A. et al. Spatiotemporal variation of mammalian protein complex stoichiometries. Genome Biol. 17, 47 (2016).

Fuhrer, T., Heer, D., Begemann, B. & Zamboni, N. High-throughput, accurate mass metabolome profiling of cellular extracts by flow injection-time-of-flight mass spectrometry. Anal. Chem. 83, 7074–7080 (2011).

Wishart, D. S. et al. HMDB 4.0: the human metabolome database for 2018. Nucleic Acids Res. 46, D608–D617 (2018).
Acknowledgements
The authors thank J. Stuhlfauth, N. Garcia-Altrieth, L. Vitali, K. Beß and B. Dlugosch for the supporting cell culture and lysate production; M. Bösche, T. Rudi, M. Klös-Hudak, K. Kammerer and M. Steidel for assistance with mass spectrometry; A. Wolf for supporting the DSF assay; S. Gade for support during data uploading; C. Schofield, T. Walker, G. Drewes, F. Reinhard, P. Grandi and P. Wier for scientific discussions; and E. Nicodeme and F. Blandel for excellent technical support during the animal study.
Ethics declarations
Competing interests
J.P., T.W., A.R., D.P., E.S., K.S., B.H., D.W.T., J.K., J.V., D.C.S., H.C.E., H.F., M.F.S., M.B. and G.B. are GSK employees. M.M.S. is a GSK shareholder.
Additional information
Publisher's note Springer Nature remains neutral with regard to jurisdictional claims in published maps and institutional affiliations.
Integrated supplementary information
Supplementary information
About this article
Cite this article
Perrin, J., Werner, T., Kurzawa, N. et al. Identifying drug targets in tissues and whole blood with thermal-shift profiling. Nat Biotechnol 38, 303–308 (2020). https://doi.org/10.1038/s41587-019-0388-4
Received:

Revised:

Accepted:

Published:

Issue Date:

DOI: https://doi.org/10.1038/s41587-019-0388-4