Abstract
Cultivation of crops in urban environments might reduce the environmental impact of food production1,2,3,4. However, lack of available land in cities and a need for rapid crop cycling, to yield quickly and continuously, mean that so far only lettuce and related 'leafy green' vegetables are cultivated in urban farms5. New fruit varieties with architectures and yields suitable for urban farming have proven difficult to breed1,5. We identified a regulator of tomato stem length (SlER) and devised a trait-stacking strategy to combine mutations for condensed shoots, rapid flowering (SP5G) and precocious growth termination (SP). Application of our strategy using one-step CRISPR–Cas9 genome editing restructured vine-like tomato plants into compact, early yielding plants suitable for urban agriculture. Field data confirmed that yields were maintained, and we demonstrated cultivation in indoor farming systems. Targeting the same stem length regulator alone in groundcherry, another Solanaceae plant, also enabled engineering to a compact stature. Our approach can expand the repertoire of crops for urban agriculture.
Relevant articles
Open Access articles citing this article.
Zhimin Ma

,

Lijing Ma

&

Junhui Zhou

Molecular Horticulture Open Access 28 January 2023
Access options
Access Nature and 54 other Nature Portfolio journals
Get Nature+, our best-value online-access subscription
$29.99 / 30 days
cancel any time
Subscribe to this journal
Receive 12 print issues and online access
$209.00 per year
only $17.42 per issue
Rent or buy this article
Prices vary by article type
from$1.95
to$39.95
Prices may be subject to local taxes which are calculated during checkout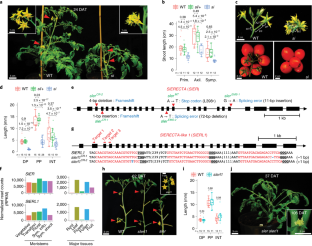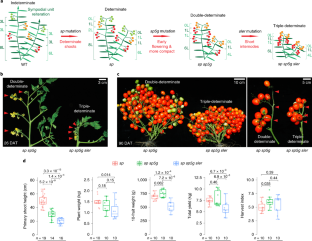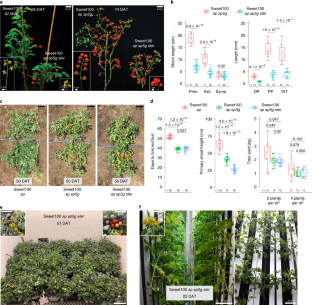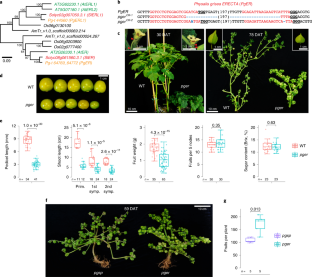 References
Benke, K. & Tomkins, B. Future food-production systems: vertical farming and controlled-environment agriculture. Sustain. Sci. Pract. Policy 13, 13–26 (2017).

Pearson, L. J., Pearson, L. & Pearson, C. J. Sustainable urban agriculture: stocktake and opportunities. Int. J. Agric. Sustain. 8, 7–19 (2010).

Martellozzo, F. et al. Urban agriculture: a global analysis of the space constraint to meet urban vegetable demand. Environ. Res. Lett. 9, 064025 (2014).

Banerjee, C. & Adenaeuer, L. Up, up and away! The economics of vertical farming. J. Agric. Stud. 2, 40–60 (2014).

Touliatos, D., Dodd, I. C. & McAinsh, M. Vertical farming increases lettuce yield per unit area compared to conventional horizontal hydroponics. Food Energy Secur. 5, 184–191 (2016).

Pnueli, L. et al. The SELF-PRUNING gene of tomato regulates vegetative to reproductive switching of sympodial meristems and is the ortholog of CEN and TFL1. Development 125, 1979–1989 (1998).

Soyk, S. et al. Variation in the flowering gene SELF PRUNING 5G promotes day-neutrality and early yield in tomato. Nat. Genet. 49, 162–168 (2017).

Xu, C. et al. A cascade of arabinosyltransferases controls shoot meristem size in tomato. Nat. Genet. 47, 784–792 (2015).

Menda, N., Semel, Y., Peled, D., Eshed, Y. & Zamir, D. In silico screening of a saturated mutation library of tomato. Plant J. 38, 861–872 (2004).

Brand, A., Shirding, N., Shleizer, S. & Ori, N. Meristem maintenance and compound-leaf patterning utilize common genetic mechanisms in tomato. Planta 226, 941–951 (2007).

Torii, K. U. et al. The Arabidopsis ERECTA gene encodes a putative receptor protein kinase with extracellular leucine-rich repeats. Plant Cell 8, 735–746 (1996).

Saito, T. et al. TOMATOMA: a novel tomato mutant database distributing micro-tom mutant collections. Plant Cell Physiol. 52, 283–296 (2011).

aan den Toorn, M., Albrecht, C. & de Vries, S. On the origin of SERKs: bioinformatics analysis of the somatic embryogenesis receptor kinases. Mol. Plant 8, 762–782 (2015).

Shpak, E. D. Diverse roles of ERECTA family genes in plant development. J. Integr. Plant Biol. 55, 1238–1250 (2013).

Shpak, E. D., McAbee, J. M., Pillitteri, L. J. & Torii, K. U. Stomatal patterning and differentiation by synergistic interactions of receptor kinases. Science 309, 290–293 (2005).

Masle, J., Gilmore, S. R. & Farquhar, G. D. The ERECTA gene regulates plant transpiration efficiency in Arabidopsis. Nature 436, 866–870 (2005).

Mandel, T. et al. The ERECTA receptor kinase regulates Arabidopsis shoot apical meristem size, phyllotaxy and floral meristem identity. Development 141, 830–841 (2014).

Kimura, Y., Tasaka, M., Torii, K. U. & Uchida, N. ERECTA-family genes coordinate stem cell functions between the epidermal and internal layers of the shoot apical meristem. Development 145, dev156380 (2018).

Zhang, Y. et al. Phylogenetic and CRISPR/Cas9 studies in deciphering the evolutionary trajectory and phenotypic impacts of rice ERECTA genes. Front. Plant Sci. 9, 473 (2018).

Lemmon, Z. H. et al. Rapid improvement of domestication traits in an orphan crop by genome editing. Nat. Plants 4, 766–770 (2018).

Martínez, M. The correct application of Physalis pruinosa L. (Solanaceae). Taxon 42, 103–104 (1993).

Rodríguez-Leal, D., Lemmon, Z. H., Man, J., Bartlett, M. E. & Lippman, Z. B. Engineering quantitative trait variation for crop improvement by genome editing. Cell 171, 470–480.e8 (2017).

Elitzur, T. et al. Co-ordinated regulation of flowering time, plant architecture and growth by FASCICULATE: the pepper orthologue of SELF PRUNING. J. Exp. Bot. 60, 869–880 (2009).

Varkonyi‐Gasic, E. et al. Mutagenesis of kiwifruit CENTRORADIALIS-like genes transforms a climbing woody perennial with long juvenility and axillary flowering into a compact plant with rapid terminal flowering. Plant Biotechnol. J. 17, 869–880 (2019).

Wen, C. et al. CsTFL1 inhibits determinate growth and terminal flower formation through interaction with CsNOT2a in cucumber. Development 146, dev180166 (2019).

Eshed, Y. & Lippman, Z. B. Revolutions in agriculture chart a course for targeted breeding of old and new crops. Science 366, eaax0025 (2019).

Tomlinson, L. et al. Using CRISPR/Cas9 genome editing in tomato to create a gibberellin-responsive dominant dwarf DELLA allele. Plant Biotechnol. J. 17, 132–140 (2019).

Wheeler, R. M. Agriculture for space: people and places paving the way. Open Agric. 2, 14–32 (2017).

Wang, M., Dong, C. & Gao, W. Evaluation of the growth, photosynthetic characteristics, antioxidant capacity, biomass yield and quality of tomato using aeroponics, hydroponics and porous tube-vermiculite systems in bio-regenerative life support systems. Life Sci. Space Res. 22, 68–75 (2019).

Brooks, C., Nekrasov, V., Lippman, Z. B. & Van Eck, J. Efficient gene editing in tomato in the first generation using the clustered regularly interspaced short palindromic repeats/CRISPR-associated9 system. Plant Physiol. 166, 1292–1297 (2014).

Van Eck, J., Keen, P. & Tjahjadi, M. in Transgenic Plants: Methods and Protocols (eds Kumar, S. et al.) 225–234 (Springer, 2019).

Swartwood, K. & Van Eck, J. Development of plant regeneration and Agrobacterium tumefaciens-mediated transformation methodology for Physalis pruinosa. Plant Cell Tissue Organ Cult. 137, 465–472 (2019).

Naito, Y., Hino, K., Bono, H. & Ui-Tei, K. CRISPRdirect: software for designing CRISPR/Cas guide RNA with reduced off-target sites. Bioinformatics 31, 1120–1123 (2015).

Werner, S., Engler, C., Weber, E., Gruetzner, R. & Marillonnet, S. Fast track assembly of multigene constructs using Golden Gate cloning and the MoClo system. Bioeng. Bugs 3, 38–43 (2012).

Rodriguez-Leal, D. et al. Evolution of buffering in a genetic circuit controlling plant stem cell proliferation. Nat. Genet. 51, 786–792 (2019).

Soyk, S. et al. Duplication of a domestication locus neutralized a cryptic variant that caused a breeding barrier in tomato. Nat. Plants 5, 471 (2019).

Park, S. J., Jiang, K., Schatz, M. C. & Lippman, Z. B. Rate of meristem maturation determines inflorescence architecture in tomato. Proc. Natl Acad. Sci. USA 109, 639–644 (2012).

Goodstein, D. M. et al. Phytozome: a comparative platform for green plant genomics. Nucleic Acids Res. 40, D1178–D1186 (2012).

Katoh, K. & Standley, D. M. MAFFT multiple sequence alignment software version 7: improvements in performance and usability. Mol. Biol. Evol. 30, 772–780 (2013).

Miller, M. A. et al. A RESTful API for access to phylogenetic tools via the CIPRES Science Gateway. Evol. Bioinform. Online 11, 43–48 (2015).

Nguyen, L.-T., Schmidt, H. A., von Haeseler, A. & Minh, B. Q. IQ-TREE: a fast and effective stochastic algorithm for estimating maximum-likelihood phylogenies. Mol. Biol. Evol. 32, 268–274 (2015).

R Core Team. R: a language and environment for statistical computing. https://www.r-project.org (2018).
Acknowledgements
We thank members of the Lippman laboratory for valuable comments and discussions. We thank G. Robitaille, J. Kim, A. Krainer, J. Dalrymple, M. Strahl and J. Wong for technical support. We thank K. Swartwood, M. Tjahjadi and B. N. Williams for assistance with tomato and groundcherry transformations. We thank T. Mulligan, K. Schlecht, B. Hendrick, A. Krainer and S. Qiao, and staff from Cornell University's Long Island Horticultural Research and Extension Center, for assistance with plant care. We thank M. E. Bartlett for assistance with the phylogenetic tree. We thank N. Van Eck for assistance with the LED growth chamber experiment. We thank D. Harris, D. Lucas and J. Friedman from Freight Farms for assistance with the vertical farm experiment. We thank D. Zamir (Hebrew University), N. Ori (Hebrew University), Y. Eshed (Weizmann Institute) and K. Hoshikawa (University of Tsukuba) for providing seed. This research was supported by the Howard Hughes Medical Institute; by the Next-Generation BioGreen 21 Program SSAC (grant no. PJ0134212019) from the Rural Development Administration, Republic of Korea to S.J.P. and Z.B.L.; by the National Research Foundation of Korea (grant nos. 2017R1A4A1015594 and 2016R1C1B2015877) funded by the Ministry of Science, ICT and Future Planning to S.J.P.; by an Agriculture and Food Research Initiative competitive grant from the USDA National Institute of Food and Agriculture (grant no. 2016-67013-24452) to S.H. and Z.B.L.; and by the National Science Foundation Plant Genome Research Program (grant no. IOS-1732253 to J.V.E. and Z.B.L., and grant no. IOS-1546837 to Z.B.L.).
Ethics declarations
Competing interests
Z.B.L. is a paid consultant for and a member of the Scientific Strategy Board of Inari Agriculture, and he is also a named inventor on a number of patents and patent applications (Patent Application Publications WO/2017/180474; WO/2014/081730A1; WO/2018/213547) directed to related technology that have been exclusively licensed from CSHL to Inari Agriculture.
Additional information
Publisher's note Springer Nature remains neutral with regard to jurisdictional claims in published maps and institutional affiliations.
Integrated supplementary information
Supplementary information
About this article
Cite this article
Kwon, CT., Heo, J., Lemmon, Z.H. et al. Rapid customization of Solanaceae fruit crops for urban agriculture. Nat Biotechnol 38, 182–188 (2020). https://doi.org/10.1038/s41587-019-0361-2
Received:

Accepted:

Published:

Issue Date:

DOI: https://doi.org/10.1038/s41587-019-0361-2