Abstract
DNA storage offers substantial information density1,2,3,4,5,6,7 and exceptional half-life3. We devised a 'DNA-of-things' (DoT) storage architecture to produce materials with immutable memory. In a DoT framework, DNA molecules record the data, and these molecules are then encapsulated in nanometer silica beads8, which are fused into various materials that are used to print or cast objects in any shape. First, we applied DoT to three-dimensionally print a Stanford Bunny9 that contained a 45 kB digital DNA blueprint for its synthesis. We synthesized five generations of the bunny, each from the memory of the previous generation without additional DNA synthesis or degradation of information. To test the scalability of DoT, we stored a 1.4 MB video in DNA in plexiglass spectacle lenses and retrieved it by excising a tiny piece of the plexiglass and sequencing the embedded DNA. DoT could be applied to store electronic health records in medical implants, to hide data in everyday objects (steganography) and to manufacture objects containing their own blueprint. It may also facilitate the development of self-replicating machines.
Your institute does not have access to this article
Relevant articles
Open Access articles citing this article.
Jan Kretschmer

,

Tomáš David

…

Miloslav Polasek

Nature Communications Open Access 08 June 2022

Zhi Ping

,

Shihong Chen

…

Yue Shen

Nature Computational Science Open Access 25 April 2022

Linda C. Meiser

,

Bichlien H. Nguyen

…

Robert N. Grass

Nature Communications Open Access 17 January 2022
Access options
Subscribe to Nature+
Get immediate online access to the entire Nature family of 50+ journals
Subscribe to Journal
Get full journal access for 1 year
$99.00
only $8.25 per issue
All prices are NET prices.
VAT will be added later in the checkout.
Tax calculation will be finalised during checkout.
Buy article
Get time limited or full article access on ReadCube.
$32.00
All prices are NET prices.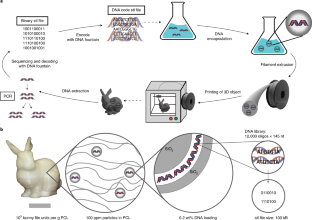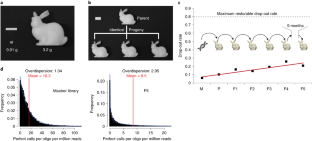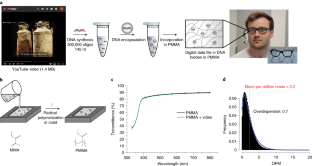 References
Church, G. M., Gao, Y. & Kosuri, S. Next-generation digital information storage in DNA. Science 337, 1628–1628 (2012).

Goldman, N. et al. Towards practical, high-capacity, low-maintenance information storage in synthesized DNA. Nature 494, 77–80 (2013).

Grass, R. N., Heckel, R., Puddu, M., Paunescu, D. & Stark, W. J. Robust chemical preservation of digital information on DNA in silica with error-correcting codes. Angew. Chem. Int. Ed. 54, 2552–2555 (2015).

Yazdi, S. M. H. T., Gabrys, R. & Milenkovic, O. Portable and error-free DNA-based data storage. Sci. Rep. 7, 5011 (2017).

Erlich, Y. & Zielinski, D. DNA fountain enables a robust and efficient storage architecture. Science 355, 950–954 (2017).

Organick, L. et al. Random access in large-scale DNA data storage. Nat. Biotechnol. 36, 242–248 (2018).

Carmean, D. et al. DNA data storage and hybrid molecular–electronic computing. Proc. IEEE 107, 63–72 (2019).

Paunescu, D., Puddu, M., Soellner, J. O. B., Stoessel, P. R. & Grass, R. N. Reversible DNA encapsulation in silica to produce ROS-resistant and heat-resistant synthetic DNA 'fossils'. Nat. Protoc. 8, 2440–2448 (2013).

Turk, G. & Levoy, M. Zippered polygon meshes from range images. in Proc. 21st Annual Conference on Computer Graphics and Interactive Techniques 311–318 (ACM, 1994).

Evans, R. F. L., Chantrell, R. W., Nowak, U., Lyberatos, A. & Richter, H. J. Thermally induced error: density limit for magnetic data storage. Appl. Phys. Lett. 100, 102402 (2012).

Charap, S. H., Lu, P.-L. & He, Y. Thermal stability of recorded information at high densities. IEEE Trans. Magn. 33, 978–983 (1997).

Zhirnov, V., Zadegan, R. M., Sandhu, G. S., Church, G. M. & Hughes, W. L. Nucleic acid memory. Nat. Mater. 15, 366–370 (2016).

Paunescu, D., Fuhrer, R. & Grass, R. N. Protection and deprotection of DNA—high-temperature stability of nucleic acid barcodes for polymer labeling. Angew. Chem. Int. Ed. 52, 4269–4272 (2013).

Heckel, R., Mikutis, G. & Grass, R. N. A characterization of the DNA data storage channel. Sci. Rep. 9, 9663 (2019).

Bonnet, J. et al. Chain and conformation stability of solid-state DNA: implications for room temperature storage. Nucleic Acids Res. 38, 1531–1546 (2010).

Bandyopadhyay, A., de Sarkar, M. & Bhowmick, A. K. Polymer–filler interactions in sol–gel derived polymer/silica hybrid nanocomposites. J. Polym. Sci. B 43, 2399–2412 (2005).

Paunescu, D., Stark, W. J. & Grass, R. N. Particles with an identity: tracking and tracing in commodity products. Powder Technol. 291, 344–350 (2016).

Pham, A. N., Xing, G., Miller, C. J. & Waite, T. D. Fenton-like copper redox chemistry revisited: hydrogen peroxide and superoxide mediation of copper-catalyzed oxidant production. J. Catal. 301, 54–64 (2013).

Schmeh, K. Versteckte Botschaften: Die faszinierende Geschichte der Steganografie (Heise Verlag, 2017).

Abramoff, B. & Covino, J. Transmittance and mechanical properties of PMMA-fumed silica composites. J. Appl. Polym. Sci. 46, 1785–1791 (1992).

Erlich, Y. A vision for ubiquitous sequencing. Genome Res. 25, 1411–1416 (2015).

Clelland, C. T., Risca, V. & Bancroft, C. Hiding messages in DNA microdots. Nature 399, 533–534 (1999).

Luby, M. LT codes. in Symposium on Foundations of Computer Science 2002 271–280 (IEEE, 2002).

Zhang, J., Kobert, K., Flouri, T. & Stamatakis, A. PEAR: a fast and accurate illumina Paired-End reAd mergeR. Bioinformatics 30, 614–620 (2013).

Edgar, R. C. MUSCLE: a multiple sequence alignment method with reduced time and space complexity. BMC Bioinformatics 5, 113–113 (2004).
Acknowledgements
The authors thank the Christen group at ETH for giving access to the iSeq 100 sequencing device. Y.E thank B. Zaks for helpful discussions. Financial support by the ETH Zurich is kindly acknowledged.
Ethics declarations
Competing interests
Y.E. is an employee of MyHeritage, owner of Erlich Lab LLC, and holds patents in the area of DNA storage. ETH Zurich holds patents on DNA encapsulation. Y.E. and R.N.G are listed as inventors on a patent application in the field of DNA of things.
Additional information
Publisher's note Springer Nature remains neutral with regard to jurisdictional claims in published maps and institutional affiliations.
Integrated supplementary information
Supplementary Information
Supplementary Figs. 1–10 and Notes 1–10.
The DNA of things (DoT). Step-by-step workflow of DoT.
About this article
Cite this article
Koch, J., Gantenbein, S., Masania, K. et al. A DNA-of-things storage architecture to create materials with embedded memory. Nat Biotechnol 38, 39–43 (2020). https://doi.org/10.1038/s41587-019-0356-z
Received:

Revised:

Accepted:

Published:

Issue Date:

DOI: https://doi.org/10.1038/s41587-019-0356-z