Abstract
Efforts to sequence single protein molecules in nanopores1,2,3,4,5 have been hampered by the lack of techniques with sufficient sensitivity to discern the subtle molecular differences among all twenty amino acids. Here we report ionic current detection of all twenty proteinogenic amino acids in an aerolysin nanopore with the help of a short polycationic carrier. Application of molecular dynamics simulations revealed that the aerolysin nanopore has a built-in single-molecule trap that fully confines a polycationic carrier-bound amino acid inside the sensing region of the aerolysin. This structural feature means that each amino acid spends sufficient time in the pore for sensitive measurement of the excluded volume of the amino acid. We show that distinct current blockades in wild-type aerolysin can be used to identify 13 of the 20 natural amino acids. Furthermore, we show that chemical modifications, instrumentation advances and nanopore engineering offer a route toward identification of the remaining seven amino acids. These findings may pave the way to nanopore protein sequencing.
Relevant articles
Open Access articles citing this article.
Fushi Wang

,

Chunxiao Zhao

…

Jiandong Feng

Nature Communications Open Access 20 May 2023

Minmin Li

,

Yuting Xiong

…

Guangyan Qing

Nature Communications Open Access 28 March 2023

Mohammad Ahmad

,

Jeung-Hoi Ha

…

Liviu Movileanu

Nature Communications Open Access 20 March 2023
Access options
Access Nature and 54 other Nature Portfolio journals
Get Nature+, our best-value online-access subscription
$29.99 / 30 days
cancel any time
Subscribe to this journal
Receive 12 print issues and online access
$209.00 per year
only $17.42 per issue
Rent or buy this article
Prices vary by article type
from$1.95
to$39.95
Prices may be subject to local taxes which are calculated during checkout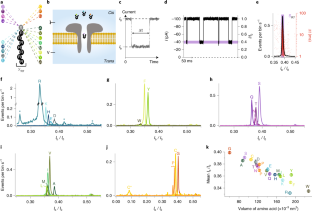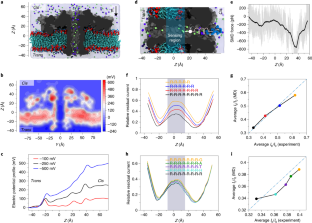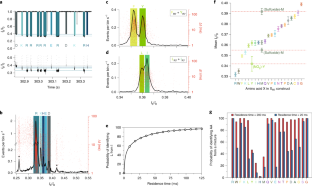 Data availability
Experimental raw data, all input files necessary to rerun the MD simulations, the simulation trajectories and raw SEM current data are available at Illinois Data Bank, https://doi.org/10.13012/B2IDB-4905767_V1.
References
Nivala, J., Marks, D. B. & Akeson, M. Unfoldase-mediated protein translocation through an α-hemolysin nanopore. Nat. Biotechnol. 31, 247–250 (2013).

Rodriguez-Larrea, D. & Bayley, H. Multistep protein unfolding during nanopore translocation. Nat. Nanotechnol. 8, 288–295 (2013).

Zhao, Y. et al. Single-molecule spectroscopy of amino acids and peptides by recognition tunnelling. Nat. Nanotechnol. 9, 466–473 (2014).

Ohshiro, T. et al. Detection of post-translational modifications in single peptides using electron tunnelling currents. Nat. Nanotechnol. 9, 835–840 (2014).

Kennedy, E., Dong, Z., Tennant, C. & Timp, G. Reading the primary structure of a protein with 0.07 nm3 resolution using a subnanometre-diameter pore. Nat. Nanotechnol. 11, 968–976 (2016).

Restrepo-Perez, L., Joo, C. & Dekker, C. Paving the way to single-molecule protein sequencing. Nat. Nanotechnol. 13, 786–796 (2018).

Goodwin, S., McPherson, J. D. & McCombie, W. R. Coming of age: ten years of next-generation sequencing technologies. Nat. Rev. Genet. 17, 333–351 (2016).

Edman, P. A method for the determination of the amino acid sequence in peptides. Arch. Biochem. 22, 475–476 (1949).

Steen, H. & Mann, M. The abc's (and xyz's) of peptide sequencing. Nat. Rev. Mol. Cell Biol. 5, 699–711 (2004).

Swaminathan, J. et al. Highly parallel single-molecule identification of proteins in zeptomole-scale mixtures. Nat. Biotechnol. 36, 1076–1082 (2018).

van Ginkel, J. et al. Single-molecule peptide fingerprinting. Proc. Natl Acad. Sci. USA 115, 3338–3343 (2018).

Nivala, J., Mulroney, L., Li, G., Schreiber, J. & Akeson, M. Discrimination among protein variants using an unfoldase-coupled nanopore. ACS Nano 8, 12365–12375 (2014).

Wilson, J., Sloman, L., He, Z. & Aksimentiev, A. Graphene nanopores for protein sequencing. Adv. Funct. Mater. 26, 4830–4838 (2016).

Boersma, A. J. & Bayley, H. Continuous stochastic detection of amino acid enantiomers with a protein nanopore. Angew. Chem. Int. Ed. 51, 9606–9609 (2012).

Singh, P. R. et al. Pulling peptides across nanochannels: resolving peptide binding and translocation through the hetero-oligomeric channel from Nocardia farcinica. ACS Nano 6, 10699–10707 (2012).

Asandei, A., Rossini, A. E., Chinappi, M., Park, Y. & Luchian, T. Protein nanopore-based discrimination between selected neutral amino acids from polypeptides. Langmuir 33, 14451–14459 (2017).

Movileanu, L. Interrogating single proteins through nanopores: challenges and opportunities. Trends Biotechnol. 27, 333–341 (2009).

Howorka, S. & Siwy, Z. Nanopore analytics: sensing of single molecules. Chem. Soc. Rev. 38, 2360–2384 (2009).

Bush, J. et al. The nanopore mass spectrometer. Rev. Sci. Instrum. 88, 113307 (2017).

Huang, G., Voet, A. & Maglia, G. FraC nanopores with adjustable diameter identify the mass of opposite-charge peptides with 44 dalton resolution. Nat. Commun. 10, 835 (2019).

Branton, D. et al. The potential and challenges of nanopore sequencing. Nat. Biotechnol. 26, 1146–1153 (2008).

Jain, M. et al. Improved data analysis for the MinION nanopore sequencer. Nat. Methods 12, 351 (2015).

Manrao, E. A. et al. Reading DNA at single-nucleotide resolution with a mutant MspA nanopore and phi29 DNA polymerase. Nat. Biotechnol. 30, 349–353 (2012).

Piguet, F. et al. Identification of single amino acid differences in uniformly charged homopolymeric peptides with aerolysin nanopore. Nat. Commun. 9, 966 (2018).

Perkins, S. J. Protein volumes and hydration effects: the calculations of partial specific volumes, neutron scattering matchpoints and 280-nm absorption coefficients for proteins and glycoproteins from amino acid sequences. Eur. J. Biochem. 157, 169–180 (1986).

Robertson, J. W. F. et al. Single-molecule mass spectrometry in solution using a solitary nanopore. Proc. Natl Acad. Sci. USA. 104, 8207–8211 (2007).

Baaken, G. et al. High-resolution size-discrimination of single nonionic synthetic polymers with a highly charged biological nanopore. ACS Nano 9, 6443–6449 (2015).

Chavis, A. E. et al. Single molecule nanopore spectrometry for peptide detection. ACS Sens 2, 1319–1328 (2017).

Iacovache, I. et al. Cryo-EM structure of aerolysin variants reveals a novel protein fold and the pore-formation process. Nat. Commun. 7, 12062 (2016).

Wilson, J., Sarthak, K., Si, W., Gao, L. & Aksimentiev, A. Rapid and accurate determination of nanopore ionic current using a steric exclusion model. ACS Sens 4, 634–644 (2019).

Bhattacharya, S., Yoo, J. & Aksimentiev, A. Water mediates recognition of DNA sequence via ionic current blockade in a biological nanopore. ACS Nano 10, 4644–4651 (2016).

Spicer, C. D. & Davis, B. G. Selective chemical protein modification. Nat. Commun. 5, 4740 (2014).

Taylor, M. T., Nelson, J. E., Suero, M. G. & Gaunt, M. J. A protein functionalization platform based on selective reactions at methionine residues. Nature 562, 563 (2018).

Phillips, J. C. et al. Scalable molecular dynamics with NAMD. J. Comput. Chem. 26, 1781–1802 (2005).

MacKerellA. D. et al. All-atom empirical potential for molecular modeling and dynamics studies of proteins. J. Phys. Chem. B 102, 3586–3616 (1998).

Miyamoto, S. & Kollman, P. A. Settle: an analytical version of the SHAKE and RATTLE algorithm for rigid water models. J. Comput. Chem. 13, 952–962 (1992).

Andersen, H. C. Rattle: a "velocity" version of the shake algorithm for molecular dynamics calculations. J. Comput. Phys. 52, 24–34 (1983).

Darden, T., York, D. & Pedersen, L. Particle mesh Ewald: an Nlog (N) method for Ewald sums in large systems. J. Chem. Phys. 98, 10089–10092 (1993).

Martyna, G. J., Tobias, D. J. & Klein, M. L. Constant pressure molecular dynamics algorithms. J. Chem. Phys. 101, 4177–4189 (1994).

Brünger, A. T. X-PLOR: version 3.1: a system for x-ray crystallography and NMR (Yale University Press, 1992).

Tuckerman, M., Berne, B. J. & Martyna, G. J. Reversible multiple time scale molecular dynamics. J. Chem. Phys. 97, 1990–2001 (1992).

Jorgensen, W. L., Chandrasekhar, J., Madura, J. D., Impey, R. W. & Klein, M. L. Comparison of simple potential functions for simulating liquid water. J. Chem. Phys. 79, 926–935 (1983).

Comer, J. & Aksimentiev, A. Predicting the DNA sequence dependence of nanopore ion current using atomic-resolution Brownian dynamics. J. Phys. Chem. C 116, 3376–3393 (2012).

Aksimentiev, A. & Schulten, K. Imaging α-hemolysin with molecular dynamics: ionic conductance, osmotic permeability, and the electrostatic potential map. Biophys. J. 88, 3745–3761 (2005).

Hanwell, M. D. et al. Avogadro: an advanced semantic chemical editor, visualization, and analysis platform. J. Cheminform. 4, 17 (2012).

Isralewitz, B., Izrailev, S. & Schulten, K. Binding pathway of retinal to bacterio-opsin: a prediction by molecular dynamics simulations. Biophys. J. 73, 2972–2979 (1997).

Grubmüller, H., Heymann, B. & Tavan, P. Ligand binding: molecular mechanics calculation of the streptavidin-biotin rupture force. Science 271, 997–999 (1996).

del Rio Martinez, J. M., Zaitseva, E., Petersen, S., Baaken, G. & Behrends, J. C. Automated formation of lipid membrane microarrays for ionic single-molecule sensing with protein nanopores. Small 11, 119–125 (2015).

Baaken, G., Ankri, N., Schuler, A.-K., Rühe, J. & Behrends, J. C. Nanopore-based single-molecule mass spectrometry on a lipid membrane microarray. ACS Nano 5, 8080–8088 (2011).
Acknowledgements
This work was supported by the Agence Nationale de la Recherche (ANR) (ANR-17-CE09-0032-01 to A.O. and F.P.; ANR-17-CE09-0044-02 to P.M., J.P. and A.O.), by the Direction Générale de l'Armement (the French Defence Procurement Agency, no. 2017 60 0042 to A.O. and H.O.) and by the Region Ile-de-France in the framework of DIM ResPore (no. 2017-05 to A.O., H.O., P.M. and J.P.). F.P. was supported by Bpifrance (i-Lab 2018 Dreampore). K.S. and A.A. were supported by the National Institutes of Health grants R01-HG007406 and P41-GM104601 and the National Science Foundation grant PHY-1430124. K.S. and A.A. gratefully acknowledge supercomputer time provided through the XSEDE Allocation Grant MCA05S028 and the Blue Waters Sustained Petascale Computer System at the University of Illinois at Urbana-Champaign. T.E. was a fellow in the International Research Training Group 1642 'Soft Matter Science' of the Deutsche Forschungsgemeinschaft (DFG). We thank F. Gisou van der Goot (Ecole Polytechnique Federale de Lausanne, Switzerland) for providing the pET22b-proAL plasmid containing the pro-aerolysin sequence. We thank M. Pastoriza-Gallego for producing recombinant wild-type pro-aerolysin. We thank G. Baaken, E. Zaitseva and S. Petersen for technical advice and help.
Ethics declarations
Competing interests
A.O., J.P. and P.M. are co-founders of DreamPore S.A.S., and F.P. is the head of research development at DreamPore S.A.S. J.C.B. is a co-founder of Ionera Technologies GmbH, Freiburg, Germany and of Nanion Technologies GmbH, Munich, Germany. All other authors have no competing interests.
Additional information
Publisher's note Springer Nature remains neutral with regard to jurisdictional claims in published maps and institutional affiliations.
Integrated supplementary information
Supplementary information
About this article
Cite this article
Ouldali, H., Sarthak, K., Ensslen, T. et al. Electrical recognition of the twenty proteinogenic amino acids using an aerolysin nanopore. Nat Biotechnol 38, 176–181 (2020). https://doi.org/10.1038/s41587-019-0345-2
Received:

Revised:

Accepted:

Published:

Issue Date:

DOI: https://doi.org/10.1038/s41587-019-0345-2