Access options
Subscribe to Journal
Get full journal access for 1 year
$59.00
only $4.92 per issue
All prices are NET prices.
VAT will be added later in the checkout.
Tax calculation will be finalised during checkout.
Rent or Buy article
Get time limited or full article access on ReadCube.
from$8.99
All prices are NET prices.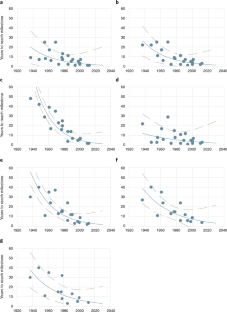 References
1.

Carlson, R. Biosecur. Bioterror. 1, 203–214 (2003).

2.

Carlson, R. Nat. Biotechnol. 27, 1091–1094 (2009).

3.

Comin, D. & Hobijn, B. Am. Econ. Rev. 100, 2031–2059 (2010).

4.

Desjardins, J. World Economic Forum https://www.weforum.org/agenda/2018/02/the-rising-speed-of-technological-adoption (2018).

5.

Adli, M. Nat. Commun. 9, 1911 (2018).

6.

Hatada, I. & Horii, T. Endocr. J. 63, 105–110 (2016).

7.

Khan, S. et al. J. Biomed. Sci. 25, 29 (2018).

8.

Lander, E. S. Cell 164, 18–28 (2016).
Acknowledgements
We thank L. MacMillan for assistance in statistical analysis and N. Gunther for assistance in formatting. We also thank J. K. Middleton at Battelle Memorial Institute for project support. Work was supported by the US Department of Homeland Security prime contract FA8075-14-D-0003/DO 0010 to Battelle Memorial Institute.
Ethics declarations
Competing interests
The authors declare no competing interests.
Supplementary information
About this article
Cite this article
Jackson, S.S., Sumner, L.E., Garnier, C.H. et al. The accelerating pace of biotech democratization. Nat Biotechnol 37, 1403–1408 (2019). https://doi.org/10.1038/s41587-019-0339-0