Abstract
Here we describe TRACE (T7 polymerase-driven continuous editing), a method that enables continuous, targeted mutagenesis in human cells using a cytidine deaminase fused to T7 RNA polymerase. TRACE induces high rates of mutagenesis over multiple cell generations in genes under the control of a T7 promoter integrated in the genome. We used TRACE in a MEK1 inhibitor-resistance screen, and identified functionally correlated mutations.
Access options
Subscribe to Journal
Get full journal access for 1 year
$59.00
only $4.92 per issue
All prices are NET prices.
VAT will be added later in the checkout.
Tax calculation will be finalised during checkout.
Rent or Buy article
Get time limited or full article access on ReadCube.
from$8.99
All prices are NET prices.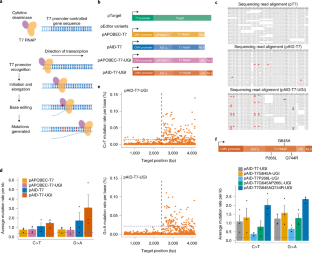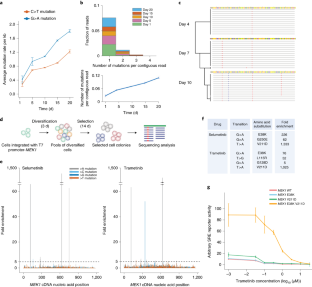 Data availability
The sequencing data supporting the findings of this study are available in NCBI BioProject database with accession number PRJNA555784.
Code availability
All custom code will be available upon request.
References
1.

Farzadfard, F. & Lu, T. K. Emerging applications for DNA writers and molecular recorders. Science 361, 870–875 (2018).

2.

Esvelt, K. M., Carlson, J. C. & Liu, D. R. A system for the continuous directed evolution of biomolecules. Nature 472, 499–503 (2011).

3.

Su, T. et al. A CRISPR-Cas9 assisted non-homologous end-joining strategy for one-step engineering of bacterial genome. Genome Sci. Rep. 6, 37895 (2016).

4.

Hess, G. T. et al. Directed evolution using dCas9-targeted somatic hypermutation in mammalian cells. Nat. Methods 13, 1036–1042 (2016).

5.

Halperin, S. O. et al. CRISPR-guided DNA polymerases enable diversification of all nucleotides in a tunable window. Nature 560, 248–252 (2018).

6.

Moore, C. L., Papa, L. J. 3rd & Shoulders, M. D. A processive protein chimera introduces mutations across defined DNA regions in vivo. J. Am. Chem. Soc. 140, 11560–11564 (2018).

7.

Alexander, D. L. et al. Random mutagenesis by error-prone pol plasmid replication in Escherichia coli. Methods Mol. Biol.1179, 31–44 (2014).

8.

Ravikumar, A., Arzumanyan, G. A., Obadi, M. K. A. & Liu, C. C. Scalable, continuous evolution of genes at mutation rates above genomic error thresholds. Cell 175, 1–12 (2018).

9.

Chamberlin, M., Kingston, R., Gilman, M., Wiggs, J. & deVera, A. Isolation of bacterial and bacteriophage RNA polymerases and their use in synthesis of RNA in vitro. Methods Enzymol. 101, 540–568 (1983).

10.

Lieber, A., Kiessling, U. & Strauss, M. High level gene expression in mammalian cells by a nuclear T7-phase RNA polymerase. Nucleic Acids Res. 17, 8485–8493 (1989).

11.

Ghaderi, M. et al. Construction of an eGFP expression plasmid under control of T7 promoter and IRES Sequence for assay of T7 RNA polymerase activity in mammalian cell lines. Iran. J. Cancer Prev. 7, 137–141 (2014).

12.

Komor, A. C., Kim, Y. B., Packer, M. S., Zuris, J. A. & Liu, D. R. Programmable editing of a target base in genomic DNA without double-stranded DNA cleavage. Nature 533, 420–424 (2016).

13.

Schirmer, M. et al. Insight into biases and sequencing errors for amplicon sequencing with the Illumina MiSeq platform. Nucleic Acids Res. 43, e37 (2015).

14.

Imburgio, D., Rong, M., Ma, K. & McAllister, W. T. Studies of promoter recognition and start site selection by T7 RNA polymerase using a comprehensive collection of promoter variants. Biochemistry 39, 10419–10430 (2000).

15.

Guillerez, J., Lopez, P. J., Proux, F., Launay, H. & Dreyfus, M. A mutation in T7 RNA polymerase that facilitates promoter clearance. Proc. Natl Acad. Sci. USA 102, 5958–5963 (2005).

16.

Bonner, G., Lafer, E. M. & Sousa, R. Characterization of a set of T7 RNA polymerase active site mutant. J. Biol. Chem. 269, 25120–25128 (1994).

17.

Boulin, J. C. et al. Mutants with higher stability and specific activity from a single thermosensitive variant of T7 RNA polymerase. Protein Eng Des. Sel. 26, 725–734 (2013).

18.

Glaser, A., McColl, B. & Vadolas, J. GFP to BFP conversion: a versatile assay for the quantification of CRISPR/Cas9-mediated genome editing. Mol. Ther. Nucleic Acids 5, e334 (2016).

19.

Jakociunas, T., Pedersen, L. E., Lis, A. V., Jensen, M. K. & Keasling, J. D. CasPER, a method for directed evolution in genomic contexts using mutagenesis and CRISPR/Cas9. Metab. Eng. 48, 288–296 (2018).

20.

Spanjaard, B. et al. Simultaneous lineage tracing and cell-type identification using CRISPR-Cas9-induced genetic scars. Nat. Biotechnol. 36, 469–473 (2018).

21.

Gaudelli, N. M. et al. Programmable base editing of A*T to G*C in genomic DNA without DNA cleavage. Nature 551, 464–471 (2017).

22.

Schaefer, M. R. et al. A novel trafficking signal within the HLA-C cytoplasmic tail allows regulated expression upon differentiation of macrophages. J. Immunol. 180, 7804–7817 (2008).

23.

Liu, Y. et al. CRISPR activation screens systematically identify factors that drive neuronal fate and reprogramming. Cell Stem Cell 23, 758–771 (2018).

24.

Carpenter, A. E. et al. CellProfiler: image analysis software for identifying and quantifying cell phenotypes. Genome Biol. 7, R100 (2006).

25.

Landini, G., Randell, D. A., Fouad, S. & Galton, A. Automatic thresholding from the gradients of region boundaries. J. Microsc. 265, 185–195 (2017).

26.

Langmead, B. & Salzberg, S. L. Fast gapped-read alignment with Bowtie 2. Nat. Methods 9, 357–359 (2012).

27.

Martin, A. & Scharff, M. D. Somatic hypermutation of the AID transgene in B and non-B cells. Proc. Natl Acad. Sci. USA 99, 12304–12308 (2002).
Acknowledgements
We thank Y. Jiang for help with generating figures, and J. Strecker for purified TN5 transposase. F.C. acknowledges support from Eric and Wendy Schmidt as funders of the Schmidt Fellows Program at the Broad Institute. This work was supported by the NIH Director's Early Independence Award (DP5-OD024583) to F.C. H.C. is supported by The Lalor Foundation. S.L. is supported by a Molecular Biophysics Training Grant (NIH/National Institute of General Medical Sciences T32 GM008313) and the National Science Foundation (NSF) Graduate Research Fellowship Program. K.G. is supported under Graduate Fellowships from the Fannie and John Hertz Foundation, and the Charles Stark Draper Laboratory. A.L. is supported by a Paul and Daisy Soros Fellowship for New Americans and the NSF Graduate Research Fellowship Program.
Ethics declarations
Competing interests
Some of the authors (H.C., S.L., S.P., K.G. and F.C.) have filed a patent related to this work.
Additional information
Publisher's note Springer Nature remains neutral with regard to jurisdictional claims in published maps and institutional affiliations.
Integrated supplementary information
Supplementary information
Supplementary Figures 1–8 and Supplementary Tables 1–6
About this article
Cite this article
Chen, H., Liu, S., Padula, S. et al. Efficient, continuous mutagenesis in human cells using a pseudo-random DNA editor. Nat Biotechnol 38, 165–168 (2020). https://doi.org/10.1038/s41587-019-0331-8
Received:

Accepted:

Published:

Issue Date: