Abstract
Type I CRISPR–Cas systems are the most abundant adaptive immune systems in bacteria and archaea1,2. Target interference relies on a multi-subunit, RNA-guided complex called Cascade3,4, which recruits a trans-acting helicase-nuclease, Cas3, for target degradation5,6,7. Type I systems have rarely been used for eukaryotic genome engineering applications owing to the relative difficulty of heterologous expression of the multicomponent Cascade complex. Here, we fuse Cascade to the dimerization-dependent, non-specific FokI nuclease domain8,9,10,11 and achieve RNA-guided gene editing in multiple human cell lines with high specificity and efficiencies of up to ~50%. FokI–Cascade can be reconstituted via an optimized two-component expression system encoding the CRISPR-associated (Cas) proteins on a single polycistronic vector and the guide RNA (gRNA) on a separate plasmid. Expression of the full Cascade–Cas3 complex in human cells resulted in targeted deletions of up to ~200 kb in length. Our work demonstrates that highly abundant, previously untapped type I CRISPR–Cas systems can be harnessed for genome engineering applications in eukaryotic cells.
Relevant articles
Open Access articles citing this article.
Marius Rutkauskas

,

Inga Songailiene

…

Ralf Seidel

Nature Communications Open Access 03 December 2022

Evan A. Schwartz

,

Tess M. McBride

…

David W. Taylor

Nature Communications Open Access 20 May 2022

Keishi Osakabe

,

Naoki Wada

…

Yuriko Osakabe

Communications Biology Open Access 06 November 2020
Access options
Subscribe to Nature+
Get immediate online access to Nature and 55 other Nature journal
Subscribe to Journal
Get full journal access for 1 year
$99.00
only $8.25 per issue
All prices are NET prices.
VAT will be added later in the checkout.
Tax calculation will be finalised during checkout.
Buy article
Get time limited or full article access on ReadCube.
$32.00
All prices are NET prices.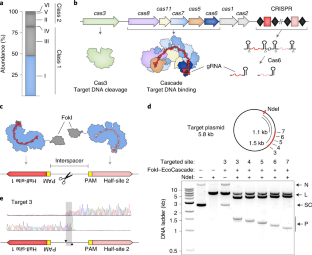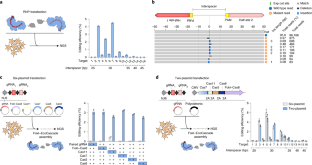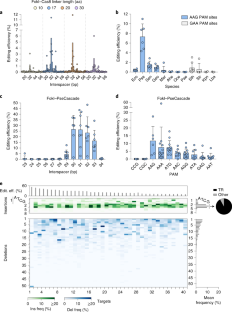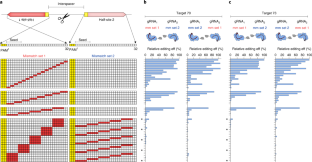 Data availability
The datasets generated during and/or analyzed during the current study are available from the corresponding author on reasonable request as well as under the BioProject ID PRJNA573067.
References
Makarova, K. S. et al. An updated evolutionary classification of CRISPR–Cas systems. Nat. Rev. Microbiol. 13, 722–736 (2015).

Crawley, A. B., Henriksen, J. R. & Barrangou, R. CRISPRdisco: an automated pipeline for the discovery and analysis of CRISPR-Cas systems. CRISPR J. 1, 171–181 (2018).

Brouns, S. J. J. et al. Small CRISPR RNAs guide antiviral defense in prokaryotes. Science 321, 960–964 (2008).

Wiedenheft, B. et al. Structures of the RNA-guided surveillance complex from a bacterial immune system. Nature 477, 486–489 (2011).

Sinkunas, T. et al. In vitro reconstitution of Cascade-mediated CRISPR immunity in Streptococcus thermophilus. EMBO J. 32, 385–394 (2013).

Hochstrasser, M. L. et al. CasA mediates Cas3-catalyzed target degradation during CRISPR RNA-guided interference. Proc. Natl Acad. Sci. USA 111, 6618–6623 (2014).

Xiao, Y., Luo, M., Dolan, A. E., Liao, M. & Ke, A. Structure basis for RNA-guided DNA degradation by Cascade and Cas3. Science S2211–1247, eaat0839–12 (2018).

Urnov, F. D., Rebar, E. J., Holmes, M. C., Zhang, H. S. & Gregory, P. D. Genome editing with engineered zinc finger nucleases. Nat. Rev. Genet. 11, 636–646 (2010).

Joung, J. K. & Sander, J. D. TALENs: a widely applicable technology for targeted genome editing. Nat. Rev. Mol. Cell Biol. 14, 49–55 (2013).

Guilinger, J. P., Thompson, D. B. & Liu, D. R. Fusion of catalytically inactive Cas9 to FokI nuclease improves the specificity of genome modification. Nat. Biotechnol. 32, 577–582 (2014).

Tsai, S. Q. et al. Dimeric CRISPR RNA-guided FokI nucleases for highly specific genome editing. Nat. Biotechnol. 32, 569–576 (2014).

Koonin, E. V., Makarova, K. S. & Zhang, F. Diversity, classification and evolution of CRISPR-Cas systems. Curr. Opin. Microbiol 37, 67–78 (2017).

Hille, F. et al. The biology of CRISPR-Cas: backward and forward. Cell 172, 1239–1259 (2018).

Jore, M. M. et al. Structural basis for CRISPR RNA-guided DNA recognition by Cascade. Nat. Struct. Mol. Biol. 18, 529–536 (2011).

Redding, S. et al. Surveillance and processing of foreign DNA by the Escherichia coli CRISPR-Cas System. Cell 163, 854–865 (2015).

Jung, C. et al. Massively parallel biophysical analysis of CRISPR-Cas complexes on next generation sequencing chips. Cell 170, 35–47.e13 (2017).

Dillard, K. E. et al. Assembly and translocation of a CRISPR-Cas primed acquisition complex. Cell 175, 934–946.e15 (2018).

Szczelkun, M. D. et al. Direct observation of R-loop formation by single RNA-guided Cas9 and Cascade effector complexes. Proc. Natl Acad. Sci. USA 111, 9798–9803 (2014).

Gomaa, A. A. et al. Programmable removal of bacterial strains by use of genome-targeting CRISPR-Cas systems. mBio 5, e00928–13 (2014).

Rath, D., Amlinger, L., Hoekzema, M., Devulapally, P. R. & Lundgren, M. Efficient programmable gene silencing by Cascade.Nucleic Acids Res. 43, 237–246 (2015).

Pyne, M. E., Bruder, M. R., Moo-Young, M., Chung, D. A. & Chou, C. P. Harnessing heterologous and endogenous CRISPR-Cas machineries for efficient markerless genome editing in Clostridium. Sci. Rep. 6, 25666 (2016).

Christian, M. et al. Targeting DNA double-strand breaks with TAL effector nucleases. Genetics 186, 757–761 (2010).

Jackson, R. N. et al. Structural biology. Crystal structure of the CRISPR RNA-guided surveillance complex from Escherichia coli. Science 345, 1473–1479 (2014).

Mulepati, S., Héroux, A. & Bailey, S. Structural biology. Crystal structure of a CRISPR RNA-guided surveillance complex bound to a ssDNA target. Science 345, 1479–1484 (2014).

Hayes, R. P. et al. Structural basis for promiscuous PAM recognition in type I-E Cascade from E. coli. Nature 530, 499–503 (2016).

Zhao, H. et al. Crystal structure of the RNA-guided immune surveillance Cascade complex in Escherichia coli. Nature 515, 147–150 (2014).

Sashital, D. G., Wiedenheft, B. & Doudna, J. A. Mechanism of foreign DNA selection in a bacterial adaptive immune system. Mol. Cell 46, 606–615 (2012).

Westra, E. R. et al. CRISPR immunity relies on the consecutive binding and degradation of negatively supercoiled invader DNA by Cascade and Cas3. Mol. Cell 46, 595–605 (2012).

van Overbeek, M. et al. DNA repair profiling reveals nonrandom outcomes at Cas9-mediated breaks. Mol. Cell 63, 633–646 (2016).

Hochstrasser, M. L. & Doudna, J. A. Cutting it close: CRISPR-associated endoribonuclease structure and function. Trends Biochem. Sci. 40, 58–66 (2015).

Westra, E. R. et al. Cascade-mediated binding and bending of negatively supercoiled DNA. RNA Biol. 9, 1134–1138 (2012).

Kim, J. H. et al. High cleavage efficiency of a 2A peptide derived from porcine teschovirus-1 in human cell lines, zebrafish and mice. PLoS ONE 6, e18556 (2011).

Liu, Z. et al. Systematic comparison of 2A peptides for cloning multi-genes in a polycistronic vector. Sci. Rep. 7, 2193 (2017).

Zetsche, B. et al. Cpf1 is a single RNA-guided endonuclease of a class 2 CRISPR-Cas system. Cell 163, 759–771 (2015).

Fineran, P. C. et al. Degenerate target sites mediate rapid primed CRISPR adaptation. Proc. Natl Acad. Sci. USA 111, E1629–E1638 (2014).

Leenay, R. T. et al. Identifying and visualizing functional PAM diversity across CRISPR-Cas systems. Mol. Cell 62, 137–147 (2016).

Semenova, E. et al. Interference by clustered regularly interspaced short palindromic repeat (CRISPR) RNA is governed by a seed sequence. Proc. Natl Acad. Sci. USA 108, 10098–10103 (2011).

Tsai, S. Q. et al. GUIDE-seq enables genome-wide profiling of off-target cleavage by CRISPR-Cas nucleases. Nat. Biotechnol. 33, 187–197 (2015).

Dolan, A. E. et al. Introducing a spectrum of long-range genomic deletions in human embryonic stem cells using type I CRISPR-Cas. Mol. Cell 74, 936–950.e5 (2019).

Mulepati, S. & Bailey, S. In Vitro reconstitution of an Escherichia coli RNA-guided immune system reveals unidirectional, ATP-dependent degradation of DNA target. J. Biol. Chem. 288, 22184–22192 (2013).

Tamulaitis, G., Venclovas, Č. & Siksnys, V. Type III CRISPR-Cas immunity: major differences brushed aside. Trends Microbiol. 25, 49–61 (2017).

Klompe, S. E., Vo, P. L. H., Halpin-Healy, T. S. & Sternberg, S. H. Transposon-encoded CRISPR-Cas systems direct RNA-guided DNA integration. Nature 571, 219–225 (2019).

Capes-Davis, A. et al. Check your cultures! A list of cross-contaminated or misidentified cell lines. Int. J. Cancer 127, 1–8 (2010).

Cameron, P. et al. Mapping the genomic landscape of CRISPR-Cas9 cleavage. Nat. Methods 14, 600–606 (2017).
Acknowledgements
We thank employees of Caribou Biosciences for critical reading of the manuscript. J.v.d.O. is supported by the Netherlands Organization for Scientific Research (NWO) through a TOP grant (714.015.001). S.J.J.B. is supported by European Research Council (ERC) Starting grant, number 639707.
Ethics declarations
Competing interests
The authors declare conflicts of interest. P.C., M.M.C., S.E.K., A.M.L., S.C.S., B.V., P.D.D., T.R., B.W.K., D.B.N., R.K., L.M.B., C.W., M.S.T., M.J.I., L.S.E., C.L., A.L.G.O., E.M.S., C.K.F., S.G., S.B.K., A.P.M., and S.H.S. are current or former employees of Caribou Biosciences, a CRISPR genome editing company, and such individuals may own stock or stock options in Caribou Biosciences. Patent applications have been filed describing this work. Correspondence and requests for materials should be addressed to P.C. (pscameron@cariboubio.com) and S.H.S. (shsternberg@gmail.com). All other authors have no competing interests.
Additional information
Publisher's note Springer Nature remains neutral with regard to jurisdictional claims in published maps and institutional affiliations.
Integrated supplementary information
Supplementary information
About this article
Cite this article
Cameron, P., Coons, M.M., Klompe, S.E. et al. Harnessing type I CRISPR–Cas systems for genome engineering in human cells. Nat Biotechnol 37, 1471–1477 (2019). https://doi.org/10.1038/s41587-019-0310-0
Received:

Accepted:

Published:

Issue Date:

DOI: https://doi.org/10.1038/s41587-019-0310-0