Abstract
Adenine base editors comprise an adenosine deaminase, evolved in vitro, and a Cas9 nickase. Here, we show that in addition to converting adenine to guanine, adenine base editors also convert cytosine to guanine or thymine in a narrow editing window (positions 5–7) and in a confined TC*N sequence context. Adenine base editor–induced cytosine substitutions occur independently of adenosine conversions with an efficiency of up to 11.2% and reduce the number of suitable targeting sites for high-specificity base editing.
Access options
Subscribe to Journal
Get full journal access for 1 year
$259.00
only $21.58 per issue
All prices are NET prices.
VAT will be added later in the checkout.
Rent or Buy article
Get time limited or full article access on ReadCube.
from$8.99
All prices are NET prices.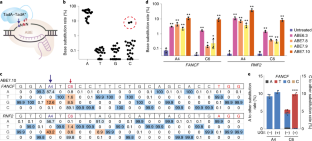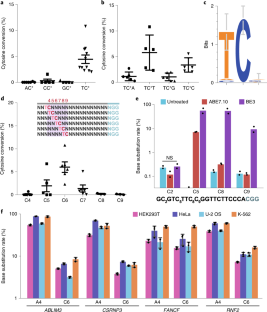 Data availability
High–throughput sequencing data have been deposited in the NCBI Sequence Read Archive database under accession number PRJNA525294.
References
1.

Komor, A. C., Kim, Y. B., Packer, M. S., Zuris, J. A. & Liu, D. R. Programmable editing of a target base in genomic DNA without double-stranded DNA cleavage. Nature 533, 420–424 (2016).

2.

Nishida, K. et al. Targeted nucleotide editing using hybrid prokaryotic and vertebrate adaptive immune systems. Science 353, aaf8729 (2016).

3.

Gaudelli, N. M. et al. Programmable base editing of A•T to G•C in genomic DNA without DNA cleavage. Nature 551, 464–471 (2017).

4.

Liu, Z. et al. Efficient generation of mouse models of human diseases via ABE- and BE-mediated base editing. Nat. Commun. 9, 2338 (2018).

5.

Lee, H. K. et al. Targeting fidelity of adenine and cytosine base editors in mouse embryos. Nat. Commun. 9, 4804 (2018).

6.

Park, J., Lim, K., Kim, J.-S. & Bae, S. Cas-analyzer: an online tool for assessing genome editing results using NGS data. Bioinformatics 33, 286–288 (2017).

7.

Hwang, G.-H. et al. Web-based design and analysis tools for CRISPR base editing. BMC Bioinforma. 19, 542 (2018).

8.

Ma, Y. et al. Targeted AID-mediated mutagenesis (TAM) enables efficient genomic diversification in mammalian cells. Nat. Methods 13, 1029–1035 (2016).

9.

Bae, S., Park, J. & Kim, J.-S. Cas-OFFinder: a fast and versatile algorithm that searches for potential off-target sites of Cas9 RNA-guided endonucleases. Bioinformatics 30, 1473–1475 (2014).

10.

Koblan, L. W. et al. Improving cytidine and adenine base editors by expression optimization and ancestral reconstruction. Nat. Biotechnol. 36, 843–846 (2018).

11.

Kuratani, M. et al. Crystal structure of tRNA adenosine deaminase (TadA) from Aquifex aeolicus. J. Biol. Chem. 280, 16002–16008 (2005).

12.

Wang, X. et al. Efficient base editing in methylated regions with a human APOBEC3A-Cas9 fusion. Nat. Biotechnol. 36, 946–949 (2018).

13.

Kosicki, M., Tomberg, K. & Bradley, A. Repair of double-strand breaks induced by CRISPR-Cas9 leads to large deletions and complex rearrangements. Nat. Biotechnol. 36, 765–771 (2018).

14.

Kim, D. et al. Genome-wide target specificities of CRISPR RNA-guided programmable deaminases. Nat. Biotechnol. 35, 475–480 (2017).

15.

Liang, P. et al. Genome-wide profiling of adenine base editor specificity by EndoV-seq. Nat. Commun. 10, 67 (2019).

16.

Kim, D., Kim, D., Lee, G., Cho, S.-I. & Kim, J.-S. Genome-wide target specificity of CRISPR RNA-guided adenine base editors. Nat. Biotechnol. 37, 430–435 (2019).

17.

Jin, S. et al. Cytosine, but not adenine, base editors induce genome-wide off-target mutations in rice. Science 364, 292–295 (2019).

18.

Zuo, E. et al. Cytosine base editor generates substantial off-target single-nucleotide variants in mouse embryos. Science 364, 289–292 (2019).

19.

Grünewald, J. et al. Transcriptome-wide off-target RNA editing induced by CRISPR-guided DNA base editors. Nature 569, 433–437 (2019).

20.

Zhou, C. et al. Off-target RNA mutation induced by DNA base editing and its elimination by mutagenesis. Nature 571, 275–278 (2019).

21.

Lee, C. et al. CRISPR-Pass: gene rescue of nonsense mutations using adenine base editors. Mol. Ther. 27, 1364–1371 (2019).

22.

Cho, S. W. et al. Analysis of off-target effects of CRISPR/Cas-derived RNA-guided endonucleases and nickases. Genome Res. 24, 132–141 (2014).
Acknowledgements
We thank G.-H. Hwang for his support on bioinformatics analysis; J.-S. Woo and S.-N. Lee for supplying purified ABE proteins. This research was supported by grants from IBS (no. IBS-R021-D1 to J.S.K.), the National Research Foundation of Korea (grant nos. 2017R1D1A1B03035094, 2017R1E1A1A01074529 and 2018M3A9H3021707 to J.K.H. and 2018M3A9H3022412 to S.B.) and the Next Generation BioGreen 21 Program (no. PJ01319301), Korea Healthcare Technology R&D Project (no. HI16C1012) and Technology Innovation Program (no. 20000158) to S.B.
Ethics declarations
Competing interests
S.B., J.-S.K., H.S.K. and Y.K.J. have filed a patent application based on this work.
Additional information
Publisher's note Springer Nature remains neutral with regard to jurisdictional claims in published maps and institutional affiliations.
Integrated supplementary information
Supplementary information
Supplementary Figs. 1–13.
About this article
Cite this article
Kim, H.S., Jeong, Y.K., Hur, J.K. et al. Adenine base editors catalyze cytosine conversions in human cells. Nat Biotechnol 37, 1145–1148 (2019). https://doi.org/10.1038/s41587-019-0254-4
Received:

Accepted:

Published:

Issue Date: