Abstract
Targeting membrane proteins could improve the efficacy of T cell–based immunotherapies. To facilitate the identification of T cell targets, we developed a hybrid genetic screening system where the Sleeping Beauty (SB) transposon and single guide RNA cassette are nested in an adeno-associated virus (AAV). SB-mediated genomic integration of the single guide RNA cassette enables efficient gene editing in primary murine T cells as well as a screen readout. We performed in vivo AAV–SB-CRISPR screens for membrane protein targets in CD8+ T cells in mouse models of glioblastoma (GBM). We validated screen hits by demonstrating that adoptive transfer of CD8+ T cells with Pdia3, Mgat5, Emp1 or Lag3 gene editing enhances the survival of GBM-bearing mice in both syngeneic and T-cell receptor transgenic models. Transcriptome profiling, single cell sequencing, cytokine assays and T cell signaling analysis showed that Pdia3 editing in T cells enhances effector functions. Engineered PDIA3 mutant EGFRvIII chimeric antigen T cells are more potent in antigen-specific killing of human GBM cells.
Access options
Subscribe to Journal
Get full journal access for 1 year
$59.00
only $4.92 per issue
All prices are NET prices.
VAT will be added later in the checkout.
Tax calculation will be finalised during checkout.
Rent or Buy article
Get time limited or full article access on ReadCube.
from$8.99
All prices are NET prices.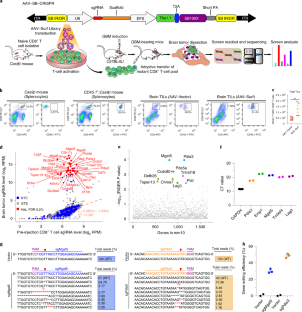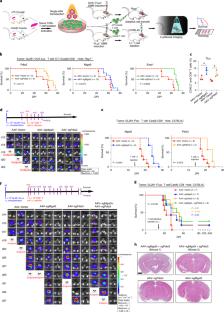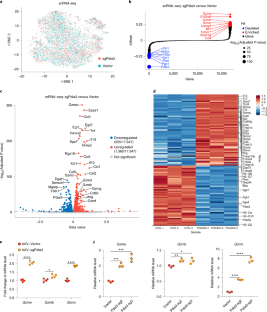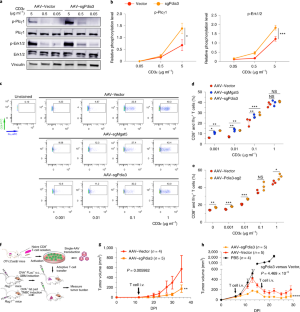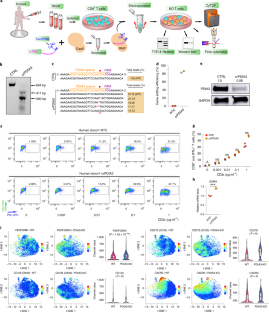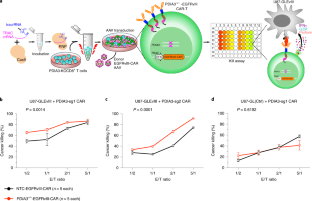 Data availability
Source data and statistics for non-NGS experiments such as tumor studies, flow cytometry, T7E1, qPCR, protein experiments and coculture assays are provided in an Excel table as Source Data. Genome sequencing data are deposited to the Sequence Read Archive with accession number PRJNA553676. Other data, reagents, methods, computational code and materials that support the findings of this research are available from the corresponding author upon reasonable request.
Code availability
Custom code used to support the findings of this research is available from the corresponding author upon reasonable request.
References
1.

Chen, D. S. & Mellman, I. Oncology meets immunology: the cancer-immunity cycle. Immunity 39, 1–10 (2013).

2.

Tumeh, P. C. et al. PD-1 blockade induces responses by inhibiting adaptive immune resistance. Nature 515, 568 (2014).

3.

Kvistborg, P. et al. Anti-CTLA-4 therapy broadens the melanoma-reactive CD8(+) T cell response. Sci. Transl. Med. 6, 254ra128 (2014).

4.

Ribas, A. Tumor immunotherapy directed at PD-1. New Engl. J. Med. 366, 2517–2519 (2012).

5.

Pardoll, D. M. The blockade of immune checkpoints in cancer immunotherapy. Nat. Rev. Cancer 12, 252–264 (2012).

6.

Omuro, A. et al. Nivolumab with or without ipilimumab in patients with recurrent glioblastoma: results from exploratory phase I cohorts of CheckMate 143. Neuro Oncol. 20, 674–686 (2018).

7.

O'Rourke, D. M. et al. A single dose of peripherally infused EGFRvIII-directed CAR T cells mediates antigen loss and induces adaptive resistance in patients with recurrent glioblastoma. Sci. Transl. Med. 9, eaaa0984 (2017).

8.

Chow, R. D. et al. AAV-mediated direct in vivo CRISPR screen identifies functional suppressors in glioblastoma. Nat. Neurosci. 20, 1329–1341 (2017).

9.

Wang, G. et al. Mapping a functional cancer genome atlas of tumor suppressors in mouse liver using AAV-CRISPR-mediated direct in vivo screening. Sci. Adv. 4, eaao5508 (2018).

10.

Mates, L. et al. Molecular evolution of a novel hyperactive Sleeping Beauty transposase enables robust stable gene transfer in vertebrates. Nat. Genet. 41, 753–761 (2009).

11.

Colella, P., Ronzitti, G. & Mingozzi, F. Emerging issues in AAV-mediated in vivo gene therapy. Mol. Ther. Methods Clin. Dev. 8, 87–104 (2018).

12.

Wang, D., Tai, P. W. L. & Gao, G. P. Adeno-associated virus vector as a platform for gene therapy delivery. Nat. Rev. Drug Discov. 18, 358–378 (2019).

13.

Platt, R. J. et al. CRISPR–Cas9 knockin mice for genome editing and cancer modeling. Cell 159, 440–455 (2014).

14.

Hogquist, K. A. et al. T-cell receptor antagonist peptides induce positive selection. Cell 76, 17–27 (1994).

15.

Workman, C. J., Dugger, K. J. & Vignali, D. A. Cutting edge: molecular analysis of the negative regulatory function of lymphocyte activation gene-3. J. Immunol. 169, 5392–5395 (2002).

16.

Workman, C. J. et al. Lymphocyte activation gene-3 (CD223) regulates the size of the expanding T cell population following antigen activation in vivo. J. Immunol. 172, 5450–5455 (2004).

17.

Anderson, A. C., Joller, N. & Kuchroo, V. K. Lag-3, Tim-3, and TIGIT: co-inhibitory receptors with specialized functions in immune regulation. Immunity 44, 989–1004 (2016).

18.

Huang, C. T. et al. Role of LAG-3 in regulatory T cells. Immunity 21, 503–513 (2004).

19.

Smith, L. K. et al. Interleukin-10 directly inhibits CD8(+) T cell function by enhancing N-glycan branching to decrease antigen sensitivity. Immunity 48, 299–312 e295 (2018).

20.

Shibui, A. et al. Alteration of immune responses by N-acetylglucosaminyltransferase V during allergic airway inflammation. Allergol. Int. 60, 345–354 (2011).

21.

Morgan, R. et al. N-acetylglucosaminyltransferase V (Mgat5)-mediated N-glycosylation negatively regulates Th1 cytokine production by T cells. J. Immunol. 173, 7200–7208 (2004).

22.

Sugiura, K. & Stock, C. C. Studies in a tumor spectrum. II. The effect of 2,4,6-triethylenimino-s-triazine on the growth of a variety of mouse and rat tumors. Cancer 5, 979–991 (1952).

23.

Louveau, A. et al. Structural and functional features of central nervous system lymphatic vessels. Nature 523, 337–341 (2015).

24.

Schlager, C. et al. Effector T-cell trafficking between the leptomeninges and the cerebrospinal fluid. Nature 530, 349 (2016).

25.

Khalil, D. N., Smith, E. L., Brentjens, R. J. & Wolchok, J. D. The future of cancer treatment: immunomodulation, CARs and combination immunotherapy. Nat. Rev. Clin. Oncol. 13, 273–290 (2016).

26.

Ribas, A. et al. Pembrolizumab versus investigator-choice chemotherapy for ipilimumab-refractory melanoma (KEYNOTE-002): a randomised, controlled, phase 2 trial. Lancet Oncol. 16, 908–918 (2015).

27.

Preusser, M., Lim, M., Hafler, D. A., Reardon, D. A. & Sampson, J. H. Prospects of immune checkpoint modulators in the treatment of glioblastoma. Nat. Rev. Neurol. 11, 504–514 (2015).

28.

Cloughesy, T. F. et al. Neoadjuvant anti-PD-1 immunotherapy promotes a survival benefit with intratumoral and systemic immune responses in recurrent glioblastoma. Nat. Med. 25, 477–486 (2019).

29.

Li, B. et al. Comprehensive analyses of tumor immunity: implications for cancer immunotherapy. Genome Biol. 17, 174 (2016).

30.

Reardona, D. A. et al. Randomized phase 3 study evaluating the efficacy and safety of nivolumab vs bevacizumab in patients with recurrent glioblastoma: Checkmate 143. Neuro Oncol. 19, 21–21 (2017).

31.

Agarwalla, P., Barnard, Z., Fecci, P., Dranoff, G. & Curry, W. T. Sequential immunotherapy by vaccination with GM-CSF-expressing glioma cells and CTLA-4 blockade effectively treats established murine intracranial tumors. J. Immunother. 35, 385–389 (2012).

32.

Fecci, P. E. et al. Systemic CTLA-4 blockade ameliorates glioma-induced changes to the CD4(+) T cell compartment without affecting regulatory T-cell function. Clin. Cancer Res. 13, 2158–2167 (2007).

33.

Mathios, D. et al. Anti-PD-1 antitumor immunity is enhanced by local and abrogated by systemic chemotherapy in GBM. Sci. Transl. Med. 8, 370ra180 (2016).

34.

Saha, D., Martuza, R. L. & Rabkin, S. D. Macrophage polarization contributes to glioblastoma eradication by combination immunovirotherapy and immune checkpoint blockade. Cancer Cell 32, 253–267.e5 (2017).

35.

Kim, J. E. et al. Combination therapy with anti-PD-1, anti-TIM-3, and focal radiation results in regression of murine gliomas. Clin. Cancer Res. 23, 124–136 (2017).

36.

Dai, H., Wang, Y., Lu, X. & Han, W. Chimeric antigen receptors modified T-cells for cancer therapy. J. Natl Cancer Inst. 108, djv439 (2016).

37.

Brown, C. E. et al. Regression of glioblastoma after chimeric antigen receptor T-cell therapy. N. Engl. J. Med. 375, 2561–2569 (2016).

38.

Pellegatta, S. et al. Constitutive and TNFɑ-inducible expression of chondroitin sulfate proteoglycan 4 in glioblastoma and neurospheres: implications for CAR-T cell therapy. Sci. Transl. Med. 10, eaao2731 (2018).

39.

Mount, C. W. et al. Potent antitumor efficacy of anti-GD2 CAR T cells in H3-K27M(+) diffuse midline gliomas. Nat. Med. 24, 572–579 (2018).

40.

Bernards, R. Finding effective cancer therapies through loss of function genetic screens. Curr. Opin. Genet. Dev. 24, 23–29 (2014).

41.

Okada, M. et al. Blockage of core fucosylation reduces cell-surface expression of PD-1 and promotes anti-tumor immune responses of T cells. Cell Rep. 20, 1017–1028 (2017).

42.

Shifrut, E. et al. Genome-wide CRISPR screens in primary human T cells reveal key regulators of immune function. Cell 175, 1958–1971.e15 (2018).

43.

Ting, P. Y. et al. Guide Swap enables genome-scale pooled CRISPR–Cas9 screening in human primary cells. Nat. Methods 15, 941–946 (2018).

44.

Zhou, P. et al. In vivo discovery of immunotherapy targets in the tumour microenvironment. Nature 506, 52–57 (2014).

45.

Chen, R. et al. In vivo RNA interference screens identify regulators of antiviral CD4(+) and CD8(+) T cell differentiation. Immunity 41, 325–338 (2014).

46.

Shalem, O. et al. Genome-scale CRISPR–Cas9 knockout screening in human cells. Science 343, 84–87 (2014).

47.

Demetriou, M., Granovsky, M., Quaggin, S. & Dennis, J. W. Negative regulation of T-cell activation and autoimmunity by Mgat5 N-glycosylation. Nature 409, 733–739 (2001).

48.

Granovsky, M. et al. Suppression of tumor growth and metastasis in Mgat5-deficient mice. Nat. Med. 6, 306–312 (2000).

49.

Doench, J. G. et al. Rational design of highly active sgRNAs for CRISPR–Cas9-mediated gene inactivation. Nat. Biotechnol. 32, 1262–1267 (2014).

50.

Uren, A. G. et al. A high-throughput splinkerette-PCR method for the isolation and sequencing of retroviral insertion sites. Nat. Protoc. 4, 789–798 (2009).

51.

Martin, M. Cutadapt removes adapter sequences from high-throughput sequencing reads. EMBnet.journal 17, 10–12 (2011).

52.

Langmead, B., Trapnell, C., Pop, M. & Salzberg, S. L. Ultrafast and memory-efficient alignment of short DNA sequences to the human genome. Genome Biol. 10, R25 (2009).

53.

Li, H. & Durbin, R. Fast and accurate short read alignment with Burrows–Wheeler transform. Bioinformatics 25, 1754–1760 (2009).

54.

Li, H. et al. The Sequence Alignment/Map format and SAMtools. Bioinformatics 25, 2078–2079 (2009).

55.

Koboldt, D. C. et al. VarScan: variant detection in massively parallel sequencing of individual and pooled samples. Bioinformatics 25, 2283–2285 (2009).

56.

Bray, N. L., Pimentel, H., Melsted, P. & Pachter, L. Near-optimal probabilistic RNA-seq quantification. Nat. Biotechnol. 34, 525–527 (2016).

57.

Pimentel, H., Bray, N. L., Puente, S., Melsted, P. & Pachter, L. Differential analysis of RNA-seq incorporating quantification uncertainty. Nat. Methods 14, 687–690 (2017).

58.

Huang da, W., Sherman, B. T. & Lempicki, R. A. Systematic and integrative analysis of large gene lists using DAVID bioinformatics resources. Nat. Protoc. 4, 44–57 (2009).

59.

Jiang, P. et al. Signatures of T cell dysfunction and exclusion predict cancer immunotherapy response. Nat. Med. 24, 1550–1558 (2018).
Acknowledgements
We thank C. Fuchs, D. Hafler, R. Montgomery, D. Rimm and M. Gunel for discussions. We thank S. Lam, L. Shen, Z. Bai, H. Ye, R. Kim and other members of the Chen laboratory, as well as various colleagues in the Department of Genetics, Systems Biology Institute, Cancer Systems Biology Center, MCGD Program, Immunobiology Program, BBS Program, Cancer Center and Stem Cell Center at Yale for assistance and/or discussion. We thank the Center for Genome Analysis, the Center for Molecular Discovery, Pathology Tissue Services, Histology Services, the High Performance Computing Center, West Campus Analytical Chemistry Core and West Campus Imaging Core, the Mass Cytometry Core and Keck Biotechnology Resource Laboratory at Yale for technical support. S.C. is supported by Yale SBI/Genetics Startup Fund, the NIH/NCI (grant nos. DP2CA238295, R01CA231112, U54CA209992-8697, R33CA225498, RF1048811, P50CA196530-A10805, P50CA121974-A08306), the Damon Runyon Dale Frey Award (grant no. DFS-13-15), the Melanoma Research Alliance (grant nos. 412806, 16-003524), St-Baldrick's Foundation (grant no. 426685), the Breast Cancer Alliance, the Cancer Research Institute (CLIP), AACR (grant nos. 499395, 17-20-01-CHEN), The Mary Kay Foundation (grant no. 017-81), The V Foundation (grant no. V2017-022), the Ludwig Family Foundation, DoD (grant no. W81XWH-17-1-0235), the Sontag Foundation and the Chenevert Family Foundation. G.W. is supported by CRI Irvington and RJ Anderson Fellowships. X.D. is supported by a Revson Fellowship. M.B.D., R.D.C. and J.J.P. are supported by the Yale MSTP training grant from the NIH (grant no. T32GM007205).
Ethics declarations
Competing interests
A patent application has been filed related to the data in this manuscript.
Additional information
Publisher's note Springer Nature remains neutral with regard to jurisdictional claims in published maps and institutional affiliations.
Integrated supplementary information
Supplementary information
About this article
Cite this article
Ye, L., Park, J.J., Dong, M.B. et al. In vivo CRISPR screening in CD8 T cells with AAV–Sleeping Beauty hybrid vectors identifies membrane targets for improving immunotherapy for glioblastoma. Nat Biotechnol 37, 1302–1313 (2019). https://doi.org/10.1038/s41587-019-0246-4
Received:

Accepted:

Published:

Issue Date: