Abstract
Chemical and optogenetic methods for post-translationally controlling protein function have enabled modulation and engineering of cellular functions. However, most of these methods only confer single-input, single-output control. To increase the diversity of post-translational behaviors that can be programmed, we built a system based on a single protein receiver that can integrate multiple drug inputs, including approved therapeutics. Our system translates drug inputs into diverse outputs using a suite of engineered reader proteins to provide variable dimerization states of the receiver protein. We show that our single receiver protein architecture can be used to program a variety of cellular responses, including graded and proportional dual-output control of transcription and mammalian cell signaling. We apply our tools to titrate the competing activities of the Rac and Rho GTPases to control cell morphology. Our versatile tool set will enable researchers to post-translationally program mammalian cellular processes and to engineer cell therapies.
Your institute does not have access to this article
Relevant articles
Open Access articles citing this article.
Michael J. Ziegler

,

Klaus Yserentant

…

Richard Wombacher

Nature Chemical Biology Open Access 21 December 2021

Sailan Shui

,

Pablo Gainza

…

Bruno E. Correia

Nature Communications Open Access 01 October 2021
Access options
Subscribe to Nature+
Get immediate online access to the entire Nature family of 50+ journals
Subscribe to Journal
Get full journal access for 1 year
$99.00
only $8.25 per issue
All prices are NET prices.
VAT will be added later in the checkout.
Tax calculation will be finalised during checkout.
Buy article
Get time limited or full article access on ReadCube.
$32.00
All prices are NET prices.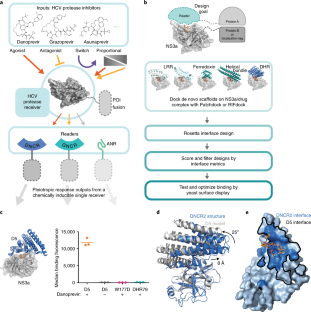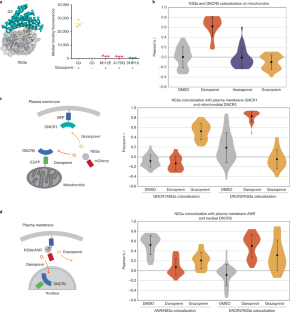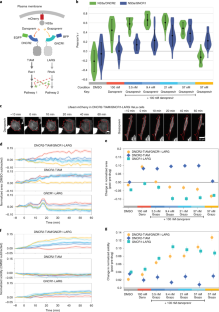 Data availability
The atomic coordinates and experimental data of the DNCR2/danoprevir/NS3a crystal structure have been deposited in the Protein Data Bank (ID 6N4N). Illumina data are deposited in the Sequence Read Archive under accession number SRP126450. Key DNA constructs are deposited in Addgene. All plasmid sequences are available in this Benchling project: https://benchling.com/s/seq-OJeDzb2IUfv5dpTIXfro.
References
Antebi, Y. E. et al. Combinatorial signal perception in the BMP pathway. Cell 170, 1184–1196.e24 (2017).

Giorgetti, L. et al. Noncooperative interactions between transcription factors and clustered DNA binding sites enable graded transcriptional responses to environmental inputs. Mol. Cell 37, 418–428 (2010).

Freed, D. M. et al. EGFR ligands differentially stabilize receptor dimers to specify signaling kinetics. Cell 171, 683–695.e18 (2017).

Daniel, R., Rubens, J. R., Sarpeshkar, R. & Lu, T. K. Synthetic analog computation in living cells. Nature 497, 619–623 (2013).

Weinberg, B. H. et al. Large-scale design of robust genetic circuits with multiple inputs and outputs for mammalian cells. Nat. Biotechnol. 35, 453–462 (2017).

Stanton, B. Z., Chory, E. J. & Crabtree, G. R. Chemically induced proximity in biology and medicine. Science 359, eaao5902 (2018).

Banaszynski, L. A., Chen, L.-C., Maynard-Smith, L. A., Ooi, A. G. L. & Wandless, T. J. A rapid, reversible, and tunable method to regulate protein function in living cells using synthetic small molecules. Cell 126, 995–1004 (2006).

Chung, H. K. et al. Tunable and reversible drug control of protein production via a self-excising degron. Nat. Chem. Biol. 11, 713–720 (2015).

Lin, M. Z. & Tsien, R. Y. TimeSTAMP tagging of newly synthesized proteins. Curr. Protoc. Protein Sci. Chapter 26, Unit 26.5–26.5.11 (2010).

Tague, E. P., Dotson, H. L., Tunney, S. N., Sloas, D. C. & Ngo, J. T. Chemogenetic control of gene expression and cell signaling with antiviral drugs. Nat. Methods 15, 519–522 (2018).

Jacobs, C. L., Badiee, R. K. & Lin, M. Z. StaPLs: versatile genetically encoded modules for engineering drug-inducible proteins. Nat. Methods 15, 523–526 (2018).

Spencer, D. M., Wandless, T. J., Schreiber, S. L. & Crabtree, G. R. Controlling signal transduction with synthetic ligands. Science 262, 1019–1024 (1993).

Liang, F.-S., Ho, W. Q. & Crabtree, G. R. Engineering the ABA plant stress pathway for regulation of induced proximity. Sci. Signal. 4, rs2–rs2 (2011).

Miyamoto, T. et al. Rapid and orthogonal logic gating with a gibberellin-induced dimerization system. Nat. Chem. Biol. 8, 465–470 (2012).

Hill, Z. B., Martinko, A. J., Nguyen, D. P. & Wells, J. A. Human antibody-based chemically induced dimerizers for cell therapeutic applications. Nat. Chem. Biol. 14, 112–117 (2018).

Gao, Y. et al. Complex transcriptional modulation with orthogonal and inducible dCas9 regulators. Nat. Methods 13, 1043 EP–1041049 (2016).

Gao, X. J., Chong, L. S., Kim, M. S. & Elowitz, M. B. Programmable protein circuits in living cells. Science 361, 1252–1258 (2018).

Fleishman, S. J. et al. RosettaScripts: a scripting language interface to the Rosetta macromolecular modeling suite. PLoS ONE 6, e20161 (2011).

Park, K. et al. Control of repeat-protein curvature by computational protein design. Nat. Struct. Mol. Biol. 22, 167–174 (2015).

Brunette, T. J. et al. Exploring the repeat protein universe through computational protein design. Nature 528, 580–584 (2015).

King, I. C. et al. Precise assembly of complex beta sheet topologies from de novo designed building blocks. eLife 4, e11012 (2015).

Schneidman-Duhovny, D., Inbar, Y., Nussinov, R. & Wolfson, H. J. PatchDock and SymmDock: servers for rigid and symmetric docking. Nucleic Acids Res. 33, 7 (2005).

Romano, K. P. et al. The molecular basis of drug resistance against hepatitis C virus NS3/4A protease inhibitors. PLoS Pathog. 8, e1002832 (2012).

Soumana, D. I., Ali, A. & Schiffer, C. A. Structural analysis of asunaprevir resistance in HCV NS3/4A protease. ACS Chem. Biol. 9, 2485–2490 (2014).

Dou, J. et al. De novo design of a fluorescence-activating β-barrel. Nature 561, 485–491 (2018).

Kügler, J. et al. High affinity peptide inhibitors of the hepatitis C virus NS3-4A protease refractory to common resistant mutants. J. Biol. Chem. 287, 39224–39232 (2012).

Cunningham-Bryant, D. et al. A chemically disrupted proximity system for controlling dynamic cellular processes. J. Am. Chem. Soc. 141, 3352–3355 (2019).

Suh, B.-C., Inoue, T., Meyer, T. & Hille, B. Rapid chemically induced changes of PtdIns(4,5)P2 gate KCNQ ion channels. Science 314, 1454–1457 (2006).

Chavez, A. et al. Highly efficient Cas9-mediated transcriptional programming. Nat. Methods 12, 326–328 (2015).

Qi, L. S. et al. Repurposing CRISPR as an RNA-guided platform for sequence-specific control of gene expression. Cell 152, 1173–1183 (2013).

Loew, R., Heinz, N., Hampf, M., Bujard, H. & Gossen, M. Improved Tet-responsive promoters with minimized background expression. BMC Biotechnol. 10, 81 (2010).

Zalatan, J. G. et al. Engineering complex synthetic transcriptional programs with CRISPR RNA scaffolds. Cell 160, 339–350 (2015).

MacKay, J. L. & Kumar, S. Simultaneous and independent tuning of RhoA and Rac1 activity with orthogonally inducible promoters. Integr. Biol. (Camb.) 6, 885–894 (2014).

de Leuw, P. & Stephan, C. Protease inhibitor therapy for hepatitis C virus-infection. Expert Opin. Pharmacother. 19, 577–587 (2018).

Di Stasi, A. et al. Inducible apoptosis as a safety switch for adoptive cell therapy. N. Engl. J. Med. 365, 1673–1683 (2011).

Stavrou, M. et al. A rapamycin-activated caspase 9-based suicide gene. Mol. Ther. 26, 1266–1276 (2018).

Wu, C.-Y., Roybal, K. T., Puchner, E. M., Onuffer, J. & Lim, W. A. Remote control of therapeutic T cells through a small molecule–gated chimeric receptor. Science 350, aab4077–aab4077 (2015).

Rose, J. C. et al. A computationally engineered RAS rheostat reveals RAS-ERK signaling dynamics. Nat. Chem. Biol. 13, 119–126 (2017).

Deaner, M. & Alper, H. S. Systematic testing of enzyme perturbation sensitivities via graded dCas9 modulation in Saccharomyces cerevisiae. Metab. Eng. 40, 14–22 (2017).

Escalante-Chong, R. et al. Galactose metabolic genes in yeast respond to a ratio of galactose and glucose. Proc. Natl Acad. Sci. USA 112, 1636–1641 (2015).

Morsut, L. et al. Engineering customized cell sensing and response behaviors using synthetic notch receptors. Cell 164, 780–791 (2016).

Wittekind, M., Weinheimer, S. & Zhang, Y. Modified forms of hepatitis C NS3 protease for facilitating inhibitor screening and structural studies of protease:inhibitor complexes. US patent 6,800,456 (2004).

Tsao, K.-L., Debarbieri, B., Michel, H. & Waugh, D. S. A versatile plasmid expression vector for the production of biotinylated proteins by site-specific, enzymatic modification in Escherichia coli. Gene 169, 59–64 (1996).

Fleishman, S. J. et al. Computational design of proteins targeting the conserved stem region of influenza hemagglutinin. Science 332, 816–821 (2011).

Otwinowski, Z. & Minor, W. Processing of X-ray diffraction data collected in oscillation mode. Meth. Enzymol. 276, 307–326 (1997).

Romano, K. P., Ali, A., Royer, W. E. & Schiffer, C. A. Drug resistance against HCV NS3/4A inhibitors is defined by the balance of substrate recognition versus inhibitor binding. Proc. Natl Acad. Sci. USA 107, 20986–20991 (2010).

Emsley, P., Lohkamp, B., Scott, W. G. & Cowtan, K. Features and development of Coot. Acta Crystallogr. D 66, 486–501 (2010).

Collaborative Computational Project, Number 4. The CCP4 suite: programs for protein crystallography. Acta Crystallogr. D 50, 760–763 (1994).

Chen, T. S., Palacios, H. & Keating, A. E. Structure-based redesign of the binding specificity of anti-apoptotic Bcl-x(L). J. Mol. Biol. 425, 171–185 (2013).

Dutta, S., Chen, T. S. & Keating, A. E. Peptide ligands for pro-survival protein Bfl-1 from computationally guided library screening. ACS Chem. Biol. 8, 778–788 (2013).

Foight, G. W., Chen, T. S., Richman, D. & Keating, A. E. Enriching peptide libraries for binding affinity and specificity through computationally directed library design. Methods Mol. Biol. 1561, 213–232 (2017).

Procko, E. et al. Computational design of a protein-based enzyme inhibitor. J. Mol. Biol. 425, 3563–3575 (2013).

Berger, S. et al. Computationally designed high specificity inhibitors delineate the roles of BCL2 family proteins in cancer. eLife 5, e20352 (2016).

Fowler, D. M., Araya, C. L., Gerard, W. & Fields, S. Enrich: software for analysis of protein function by enrichment and depletion of variants. Bioinformatics 27, 3430–3431 (2011).

Costes, S. V. et al. Automatic and quantitative measurement of protein–protein colocalization in live cells. Biophys. J. 86, 3993–4003 (2004).

Barry, D. J., Durkin, C. H., Abella, J. V. & Way, M. Open source software for quantification of cell migration, protrusions, and fluorescence intensities. J. Cell Biol. 209, 163–180 (2015).

Matreyek, K. A., Stephany, J. J. & Fowler, D. M. A platform for functional assessment of large variant libraries in mammalian cells. Nucleic Acids Res. 45, e102 (2017).

Untergasser, A. et al. Primer3—new capabilities and interfaces. Nucleic Acids Res. 40, e115–e115 (2012).

Livak, K. J. & Schmittgen, T. D. Analysis of relative gene expression data using real-time quantitative PCR and the 2−ΔΔCT method. Methods 25, 402–408 (2001).
Acknowledgements
We acknowledge the Institute for Protein Design Protein Production Core for production of proteins. We thank D. Fowler and J. Zalatan and their laboratories for helpful discussions and materials, G. Butterfield and J. Nelson for assistance with Illumina sequencing, and E. Dieter (UW, Seattle) and J. Rose (UW, Seattle) for construction of stable cell line resources. This work was supported by the NIH (grant no. R01GM086858 (D.J.M.) and grant no. S10 OD016240 (UW W.M. Keck Center)). D.B. acknowledges support from HHMI. Design calculations were facilitated though the use of advanced computational, storage and networking infrastructure provided by the Hyak supercomputer system at the University of Washington. We are grateful to the staff at Advanced Light Source beamlines BL 8.2.1 and 8.2.2 for assistance with synchrotron data collection. G.W.F. and Z.W. were funded by Washington Research Foundation Innovation Postdoctoral Fellowships.
Ethics declarations
Competing interests
The authors G.W.F., Z.W., C.T.W., P.J.G., D.C.-B., K.P., D.B. and D.J.M. are inventors on US Patent application 62/775,171, 'Reagents and Methods for Controlling Protein Function and Interaction', submitted by the University of Washington.
Additional information
Publisher's note: Springer Nature remains neutral with regard to jurisdictional claims in published maps and institutional affiliations.
Integrated supplementary information
Supplementary information
Supplementary Figs. 1–15, Notes, Tables 1–5 and Design Scripts.
About this article
Cite this article
Foight, G.W., Wang, Z., Wei, C.T. et al. Multi-input chemical control of protein dimerization for programming graded cellular responses. Nat Biotechnol 37, 1209–1216 (2019). https://doi.org/10.1038/s41587-019-0242-8
Received:

Accepted:

Published:

Issue Date:

DOI: https://doi.org/10.1038/s41587-019-0242-8