Abstract
The utility of autologous induced pluripotent stem cell (iPSC) therapies for tissue regeneration depends on reliable production of immunologically silent functional iPSC derivatives. However, rejection of autologous iPSC-derived cells has been reported, although the mechanism underlying rejection is largely unknown. We hypothesized that de novo mutations in mitochondrial DNA (mtDNA), which has far less reliable repair mechanisms than chromosomal DNA, might produce neoantigens capable of eliciting immune recognition and rejection. Here we present evidence in mice and humans that nonsynonymous mtDNA mutations can arise and become enriched during reprogramming to the iPSC stage, long-term culture and differentiation into target cells. These mtDNA mutations encode neoantigens that provoke an immune response that is highly specific and dependent on the host major histocompatibility complex genotype. Our results reveal that autologous iPSCs and their derivatives are not inherently immunologically inert for autologous transplantation and suggest that iPSC-derived products should be screened for mtDNA mutations.
Relevant articles
Open Access articles citing this article.
Na Xie

,

Guobo Shen

…

Li Fu

Signal Transduction and Targeted Therapy Open Access 06 January 2023

Xin He

,

Tailai Du

…

Zhan-Peng Huang

Signal Transduction and Targeted Therapy Open Access 23 April 2022

Giulia Nato

,

Alessandro Corti

…

Lorenzo Magrassi

Scientific Reports Open Access 12 January 2021
Access options
Access Nature and 54 other Nature Portfolio journals
Get Nature+, our best-value online-access subscription
$29.99 per month
cancel any time
Subscribe to this journal
Receive 12 print issues and online access
$209.00 per year
only $17.42 per issue
Rent or buy this article
Get just this article for as long as you need it
$39.95
Prices may be subject to local taxes which are calculated during checkout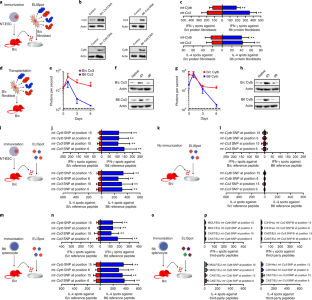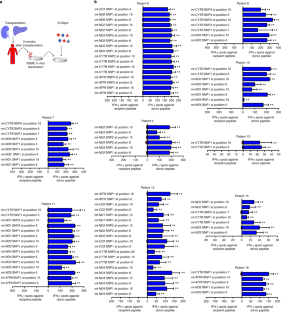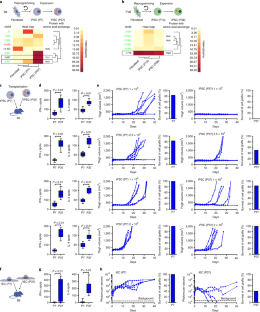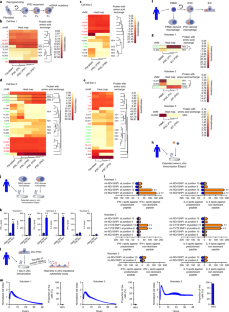 Data availability
All epitope sequences and 20-residue oligomer sequences are presented in the paper. All data supporting the findings of this study are available in the paper and its supplementary information files. Sequencing data are available from the Sequence Read Archive under accession code PRJNA544330.
References
de Almeida, P. E. et al. Transplanted terminally differentiated induced pluripotent stem cells are accepted by immune mechanisms similar to self-tolerance. Nat. Commun. 5, 3903 (2014).

Zhao, T., Zhang, Z. N., Rong, Z. & Xu, Y. Immunogenicity of induced pluripotent stem cells. Nature 474, 212–215 (2011).

Araki, R. et al. Negligible immunogenicity of terminally differentiated cells derived from induced pluripotent or embryonic stem cells. Nature 494, 100–104 (2013).

Guha, P., Morgan, J. W., Mostoslavsky, G., Rodrigues, N. P. & Boyd, A. S. Lack of immune response to differentiated cells derived from syngeneic induced pluripotent stem cells. Cell Stem Cell 12, 407–412 (2013).

Zhao, T. et al. Humanized mice reveal differential immunogenicity of cells derived from autologous induced pluripotent stem cells. Cell Stem Cell 17, 353–359 (2015).

Ji, J. et al. Elevated coding mutation rate during the reprogramming of human somatic cells into induced pluripotent stem cells. Stem Cells 30, 435–440 (2012).

Brown, W. M., George, M. Jr. & Wilson, A. C. Rapid evolution of animal mitochondrial DNA. Proc. Natl Acad. Sci. USA 76, 1967–1971 (1979).

Yakes, F. M. & Van Houten, B. Mitochondrial DNA damage is more extensive and persists longer than nuclear DNA damage in human cells following oxidative stress. Proc. Natl Acad. Sci. USA 94, 514–519 (1997).

Zastawny, T. H. et al. Comparison of oxidative base damage in mitochondrial and nuclear DNA. Free Radic. Biol. Med. 24, 722–725 (1998).

He, Y. et al. Heteroplasmic mitochondrial DNA mutations in normal and tumour cells. Nature 464, 610–614 (2010).

Kang, E. et al. Age-related accumulation of somatic mitochondrial DNA mutations in adult-derived human iPSCs. Cell Stem Cell 18, 625–636 (2016).

Loveland, B., Wang, C. R., Yonekawa, H., Hermel, E. & Lindahl, K. F. Maternally transmitted histocompatibility antigen of mice: a hydrophobic peptide of a mitochondrially encoded protein. Cell 60, 971–980 (1990).

Hanekamp, J. S. et al. Cytoplasmic inheritance of transplantation antigens in animals produced by nuclear transfer. Transplantation 88, 30–37 (2009).

Deuse, T. et al. SCNT-derived ESCs with mismatched mitochondria trigger an immune response in allogeneic hosts. Cell Stem Cell 16, 33–38 (2015).

Yates, A. et al. Ensembl 2016. Nucleic Acids Res. 44, D710–716 (2016).

Lee, A. S. et al. Effects of cell number on teratoma formation by human embryonic stem cells. Cell Cycle 8, 2608–2612 (2009).

Mercer, T. R. et al. The human mitochondrial transcriptome. Cell 146, 645–658 (2011).

Au-Yeung, B. B. et al. A sharp T-cell antigen receptor signaling threshold for T-cell proliferation. Proc. Natl Acad. Sci. USA 111, E3679–3688 (2014).

Shakiba, N. et al. Cell competition during reprogramming gives rise to dominant clones. Science 364, eaan0925 (2019).

Young, M. A. et al. Background mutations in parental cells account for most of the genetic heterogeneity of induced pluripotent stem cells. Cell Stem Cell 10, 570–582 (2012).

Quinlan, A. R. et al. Genome sequencing of mouse induced pluripotent stem cells reveals retroelement stability and infrequent DNA rearrangement during reprogramming. Cell Stem Cell 9, 366–373 (2011).

Laurent, L. C. et al. Dynamic changes in the copy number of pluripotency and cell proliferation genes in human ESCs and iPSCs during reprogramming and time in culture. Cell Stem Cell 8, 106–118 (2011).

Sugiura, M. et al. Induced pluripotent stem cell generation-associated point mutations arise during the initial stages of the conversion of these cells. Stem Cell Reports 2, 52–63 (2014).

Diecke, S. et al. Novel codon-optimized mini-intronic plasmid for efficient, inexpensive, and xeno-free induction of pluripotency. Sci. Rep. 5, 8081 (2015).

Deuse, T. et al. Hypoimmunogenic derivatives of induced pluripotent stem cells evade immune rejection in fully immunocompetent allogeneic recipients. Nat. Biotechnol. 37, 252–258 (2019).

Bolger, A. M., Lohse, M. & Usadel, B. Trimmomatic: a flexible trimmer for Illumina sequence data. Bioinformatics 30, 2114–2120 (2014).

Andrews, R. M. et al. Reanalysis and revision of the Cambridge reference sequence for human mitochondrial DNA. Nat. Genet. 23, 147 (1999).

Langmead, B. & Salzberg, S. L. Fast gapped-read alignment with Bowtie 2. Nat. Methods 9, 357–359 (2012).

Li, H. et al. The Sequence Alignment/Map format and SAMtools. Bioinformatics 25, 2078–2079 (2009).

Koboldt, D. C. et al. VarScan 2: somatic mutation and copy number alteration discovery in cancer by exome sequencing. Genome Res. 22, 568–576 (2012).

Wang, K., Li, M. & Hakonarson, H. ANNOVAR: functional annotation of genetic variants from high-throughput sequencing data. Nucleic Acids Res. 38, e164 (2010).

The UniProt Consortium UniProt: the universal protein knowledgebase. Nucleic Acids Res. 45, D158–D169 (2017).

Fleri, W. et al. The immune epitope database and analysis resource in epitope discovery and synthetic vaccine design. Front. Immunol. 8, 278 (2017).

Kim, Y. et al. Immune epitope database analysis resource. Nucleic Acids Res. 40, W525–530 (2012).
Acknowledgements
We thank C. Pahrmann for cell culture work, assistance with experiments and immunoblots; G. Tediashvili for assistance with the in vivo experiments; and M.S. Mahadevan for computer assistance. Special thanks to R. Jaenisch (MIT, Department of Biology, MIT, Cambridge, MA) for providing the NT-ESCs and to J. Wu (Stanford Cardiovascular Institute, Stanford, CA) and P.-L. So (Stem Cell Core, Gladstone Institutes, San Francsico, CA) for providing the mouse and human iPSCs. Special thanks to D. Sun and X. Wu for their help in developing the targeted mtDNA sequencing and droplet digital PCR assays. We thank R. Nelson and K. Copeland for their support with in vivo imaging and M. Lewis for his support with the Xcelligence experiments. S.S. received research grants from the Deutsche Forschungsgemeinschaft (DFG; grants SCHR992/3-1, SCHR992/4-1), the Fondation Leducq (CDA 2013-2015) and the DZHK (German Center for Cardiovascular Research; grant FKZ 81Z2710105). D.W. was supported by the Max-Kade-Foundation (DFG). M.H.S. received an NIH shared instrumentation grant (1S10OD018040-01). B.P. and Z.K.-Y. were supported by the NIH (grant 1R21AI134127-01). S.A.-E., A. M., Y. Y. and H. V. were supported by National Heart Lung and Blood Institute (NHLBI) Intramural Research Program.
Ethics declarations
Competing interests
The authors declare no competing interests.
Additional information
Publisher's note: Springer Nature remains neutral with regard to jurisdictional claims in published maps and institutional affiliations.
Integrated supplementary information
Supplementary information
About this article
Cite this article
Deuse, T., Hu, X., Agbor-Enoh, S. et al. De novo mutations in mitochondrial DNA of iPSCs produce immunogenic neoepitopes in mice and humans. Nat Biotechnol 37, 1137–1144 (2019). https://doi.org/10.1038/s41587-019-0227-7
Received:

Accepted:

Published:

Issue Date:

DOI: https://doi.org/10.1038/s41587-019-0227-7