Abstract
We have developed a deep generative model, generative tensorial reinforcement learning (GENTRL), for de novo small-molecule design. GENTRL optimizes synthetic feasibility, novelty, and biological activity. We used GENTRL to discover potent inhibitors of discoidin domain receptor 1 (DDR1), a kinase target implicated in fibrosis and other diseases, in 21 days. Four compounds were active in biochemical assays, and two were validated in cell-based assays. One lead candidate was tested and demonstrated favorable pharmacokinetics in mice.
This is a preview of subscription content
Access options
Subscribe to Journal
Get full journal access for 1 year
$99.00
only $8.25 per issue
All prices are NET prices.
VAT will be added later in the checkout.
Tax calculation will be finalised during checkout.
Rent or Buy article
Get time limited or full article access on ReadCube.
from$8.99
All prices are NET prices.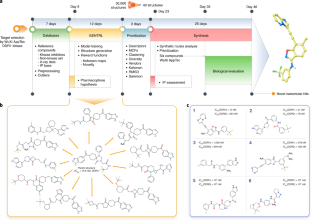 Data availability
All data are available in the main text or the supplementary materials.
References
1.

Paul, S. M. et al. Nat. Rev. Drug Discov. 9, 203–214 (2010).

2.

Avorn, J. N. Engl. J. Med. 372, 1877–1879 (2015).

3.

Goodfellow, I. et al. Generative adversarial nets. in Advances in Neural Information Processing Systems 2672–2680 (2014).

4.

Mamoshina, P. et al. Mol. Pharm. 13, 1445–1454 (2016).

5.

Sanchez-Lengeling, B. & Aspuru-Guzik, A. Science 361, 360–365 (2018).

6.

Kadurin, A. et al. Oncotarget 8, 10883–10890 (2016).

7.

Kadurin, A. et al. Mol. Pharm. 14, 3098–3104 (2017).

8.

Gómez-Bombarelli, R. et al. ACS Cent. Sci. 4, 268–276 (2018).

9.

Putin, E. et al. Mol. Pharm. 15, 4386–4397 (2018).

10.

Putin, E. et al. J. Chem. Inf. Model. 58, 1194–1204 (2018).

11.

Harel, S. & Radinsky, K. Mol. Pharm. 15, 4406–4416 (2018).

12.

Polykovskiy, D. et al. Mol. Pharm. 15, 4398–4405 (2018).

13.

Kuzminykh, D. et al. Mol. Pharm. 15, 4378–4385 (2018).

14.

Segler, M. H. S. et al. Nature 555, 604–610 (2018).

15.

Merk, D. et al. Mol. Inform. 37, 1–2 (2018).

16.

Merk, D. et al. Commun. Chem. 1.1, 68 (2018).

17.

Moll, S. et al. Biochim. Biophys. Acta Mol. Cell Res. https://doi.org/10.1016/j.bbamcr.2019.04.004 (2019).

18.

Richter, H. et al. ACS Chem. Biol. 14, 37–49 (2019).

19.

Elton, D. C. et al. Mol. Syst. Des. Eng. 4, 828–849 (2019).

20.

Irwin, J. J. et al. J. Chem. Inf. Model. 52, 1757–1768 (2012).

21.

Oseledets, I. V. SIAM J. Sci. Comput. 33, 2295–2317 (2011).

22.

Williams, R. J. Mach. Learn. 8, 229–256 (1992).

23.

Brown, N. et al. J. Chem. Inf. Model. 59, 1096–1108 (2018).

24.

Guimaraes, G. L. et al. Objective-Reinforced Generative Adversarial Networks (ORGAN) for sequence generation models. Preprint at https://arxiv.org/abs/1705.10843 (2017).

25.

Sanchez-Lengeling, B. et al. Optimizing distributions over molecular space. An Objective-Reinforced Generative Adversarial Network for Inverse-design Chemistry (ORGANIC). Preprint at https://chemrxiv.org/articles/ORGANIC_1_pdf/5309668 (2017).

26.

Ritter, H. & Kohonen, T. Biol. Cybern. 61, 241–254 (1989).

27.

Sammon, J. W. IEEE Trans. Comput. C-18, 401–409 (1969).

28.

Rappe, A. K. J. Am. Chem. Soc. 114, 10024–10035 (1992).
Acknowledgements
The authors thank T. Oprea (University of New Mexico School of Medicine) for the valuable contributions, review, and assessment of the novelty of the intellectual property generated by GENTRL. The authors would like to thank NVIDIA Corporation and M. Berger for providing early access to the graphics processing equipment used for deep learning applications by Insilico Medicine. The authors acknowledge T. Lu, L. Duan, Y. Hu, and the WuXi AppTec chemistry team for providing chemical synthesis of the presented compounds. The authors thank S. Djuric, whose valuable comments informed further experiments.
Ethics declarations
Competing interests
A. Zhavoronkov, Y.A.I., A. Aliper, M.S.V., V.A.A., A.V.A., V.A.T., D.A.P., M.D.K., A. Zholus, A. Asadulaev, Y.V., A. Zhebrak, R.R.S., L.I.M., and B.A.Z. work for Insilico Medicine, a commercial artificial intelligence company. L.H.L., R.S., D.M., L.X., and T.G. work for WuXi AppTec, a commercial research organization. A.A.-G. is a cofounder and board member of, and consultant for, Kebotix, an artificial intelligence-driven molecular discovery company and a member of the science advisory board of Insilico Medicine.
Additional information
Publisher's note: Springer Nature remains neutral with regard to jurisdictional claims in published maps and institutional affiliations.
Integrated supplementary information
Supplementary information
About this article
Cite this article
Zhavoronkov, A., Ivanenkov, Y.A., Aliper, A. et al. Deep learning enables rapid identification of potent DDR1 kinase inhibitors. Nat Biotechnol 37, 1038–1040 (2019). https://doi.org/10.1038/s41587-019-0224-x
Received:

Accepted:

Published:

Issue Date: