Relevant articles
Open Access articles citing this article.
H. Pieter J. van Veelen

,

Joana Falcão Salles

…

B. Irene Tieleman

Animal Microbiome Open Access 28 July 2022

Hayley B. Hassler

,

Brett Probert

…

Vincent P. Richards

Microbiome Open Access 08 July 2022

Zhiyuan He

,

Yulin Ma

…

Zhijun Cao

Microbiome Open Access 28 May 2022
Access options
Subscribe to Nature+
Get immediate online access to the entire Nature family of 50+ journals
Subscribe to Journal
Get full journal access for 1 year
$99.00
only $8.25 per issue
All prices are NET prices.
VAT will be added later in the checkout.
Tax calculation will be finalised during checkout.
Buy article
Get time limited or full article access on ReadCube.
$32.00
All prices are NET prices.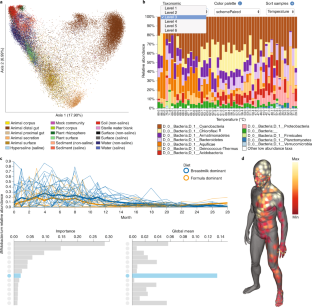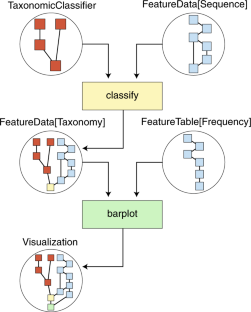 References
Smith, M. I. et al. Science 339, 548–554 (2013).

Gopalakrishnan, V. et al. Science 359, 97–103 (2018).

Gehring, C. A., Sthultz, C. M., Flores-Rentería, L., Whipple, A. V. & Whitham, T. G. Proc. Natl Acad. Sci. USA 114, 11169–11174 (2017).

Lee, K., Pletcher, S. D., Lynch, S. V., Goldberg, A. N. & Cope, E. K. Front. Cell. Infect. Microbiol. 8, 168 (2018).

Metcalf, J. L. et al. Science 351, 158–162 (2016).

Rubin, R. L. et al. Ecol. Appl. 28, 1594–1605 (2018).

Pineda, A., Kaplan, I. & Bezemer, T. M. Trends Plant Sci. 22, 770–778 (2017).

Kapono, C. A. et al. Sci. Rep. 8, 3669 (2018).

Verberkmoes, N. C. et al. ISME J. 3, 179–189 (2009).

Barr, T. et al. Gut Microbes 9, 338–356 (2018).

Callahan, B. J. et al. Nat. Methods 13, 581–3 (2016).

Amir, A. et al. mSystems 2, e00191–16 (2017).

Bokulich, N. A. et al. Microbiome 6, 90 (2018).

Janssen, S. et al. mSystems 3, e00021–18 (2018).

Bokulich, N. A. et al. mSystems 3, e00219–18 (2018).

Bokulich, N. et al. J. Open Source Softw. 3, 934 (2018).

Sedio, B. E., Rojas Echeverri, J. C., Boya, P. C. A. & Wright, S. J. Ecology 98, 616–623 (2017).

Wang, M. et al. Nat. Biotechnol. 34, 828–837 (2016).

Hillmann, B. et al. mSystems 3, e00069–18 (2018).

Truong, D. T. et al. Nat. Methods 12, 902–903 (2015).

Langille, M. G. I. et al. Nat. Biotechnol. 31, 814–821 (2013).

Kluyver, T. et al. Positioning and power in academic publishing: players, agents and agendas. in Proc. 20th International Conference on Electronic Publishing (eds Loizides, F. & Schmidt, B.) 87–90 (IOS Press, 2016).

Amstutz, P. et al. https://doi.org/10.6084/m9.figshare.3115156.v2 (2016).

Gonzalez, A. et al. Nat. Methods 15, 796–798 (2018).

Schloss, P. D. et al. Appl. Environ. Microbiol. 75, 7537–7541 (2009).

McMurdie, P. J. & Holmes, S. PLoS One 8, e61217 (2013).

Huber, W. et al. Nat. Methods 12, 115–121 (2015).

Franzosa, E. A. et al. Nat. Methods 15, 962–968 (2018).

McDonald, D. et al. Gigascience 1, 7 (2012).
Acknowledgements
QIIME 2 development was primarily funded by NSF Awards 1565100 to J.G.C. and 1565057 to R.K. Partial support was also provided by the following: grants NIH U54CA143925 (J.G.C. and T.P.) and U54MD012388 (J.G.C. and T.P.); grants from the Alfred P. Sloan Foundation (J.G.C. and R.K.); ERCSTG project MetaPG (N.S.); the Strategic Priority Research Program of the Chinese Academy of Sciences QYZDB-SSW-SMC021 (Y.B.); the Australian National Health and Medical Research Council APP1085372 (G.A.H., J.G.C., Von Bing Yap and R.K.); the Natural Sciences and Engineering Research Council (NSERC) to D.L.G.; and the State of Arizona Technology and Research Initiative Fund (TRIF), administered by the Arizona Board of Regents, through Northern Arizona University. All NCI coauthors were supported by the Intramural Research Program of the National Cancer Institute. S.M.G. and C. Diener were supported by the Washington Research Foundation Distinguished Investigator Award. Thanks to the Yellowstone Center for Resources for research permit no. 5664 to J.R.S. for Yellowstone access and sample collection. We thank P. J. McMurdie for helpful discussion on the relationships between QIIME 2 and phyloseq. We would like to thank the users of QIIME 1 and 2, whose invaluable feedback has shaped QIIME 2. In particular, we would like to thank A. Abdelfattah (Stockholm University, Sweden), R. C. T. Boutin (University of British Columbia, Canada), D. J. Bradshaw II (Florida Atlantic University Harbor Branch Oceanographic Institute, USA), L. Bullington (MPG Ranch, USA), J. W. Debelius (Karolinska Institutet, Sweden), C. Duvallet (Massachusetts Institute of Technology, USA), E. Korzune Ganda (Cornell University, USA), A. Mahnert (Medical University of Graz, Austria), M. C. Melendrez (St. Cloud State University, USA), D. O'Rourke (University of New Hampshire, USA), A. R. Rivers (USDA ARS, USA), B. Sen (Tianjin University, China), S. Tangedal (Haukeland University Hospital and University of Bergen, Norway), P. J. Torres (San Diego State University, USA) and J. Warren (National Laboratory Service, UK) for writing end-user reviews included in the Supplementary Methods.
Additional information
Editor's Note: This paper has been peer-reviewed.
Supplementary information
Supplementary Figs. 1–3 and Supplementary Methods
Interactive versions of the visualizations presented in Fig. 1. These can be viewed by using QIIME 2, for example at https://view.qiime2.org.
About this article
Cite this article
Bolyen, E., Rideout, J.R., Dillon, M.R. et al. Reproducible, interactive, scalable and extensible microbiome data science using QIIME 2. Nat Biotechnol 37, 852–857 (2019). https://doi.org/10.1038/s41587-019-0209-9
Published:

Issue Date:

DOI: https://doi.org/10.1038/s41587-019-0209-9