Abstract
Spatial mapping of proteins in tissues is hindered by limitations in multiplexing, sensitivity and throughput. Here we report immunostaining with signal amplification by exchange reaction (Immuno-SABER), which achieves highly multiplexed signal amplification via DNA-barcoded antibodies and orthogonal DNA concatemers generated by primer exchange reaction (PER). SABER offers independently programmable signal amplification without in situ enzymatic reactions, and intrinsic scalability to rapidly amplify and visualize a large number of targets when combined with fast exchange cycles of fluorescent imager strands. We demonstrate 5- to 180-fold signal amplification in diverse samples (cultured cells, cryosections, formalin-fixed paraffin-embedded sections and whole-mount tissues), as well as simultaneous signal amplification for ten different proteins using standard equipment and workflows. We also combined SABER with expansion microscopy to enable rapid, multiplexed super-resolution tissue imaging. Immuno-SABER presents an effective and accessible platform for multiplexed and amplified imaging of proteins with high sensitivity and throughput.
Relevant articles
Open Access articles citing this article.
Wei Wang

,

Yat Ho Chan

…

Ruixuan Gao

Nano Convergence Open Access 09 July 2022

Liwei Yang

,

Avery Ball

…

Jun Wang

Nature Communications Open Access 21 June 2022

Archibald Enninful

,

Alev Baysoy

&

Rong Fan

Nature Communications Open Access 16 June 2022
Access options
Subscribe to Nature+
Get immediate online access to the entire Nature family of 50+ journals
Subscribe to Journal
Get full journal access for 1 year
$99.00
only $8.25 per issue
All prices are NET prices.
VAT will be added later in the checkout.
Tax calculation will be finalised during checkout.
Buy article
Get time limited or full article access on ReadCube.
$32.00
All prices are NET prices.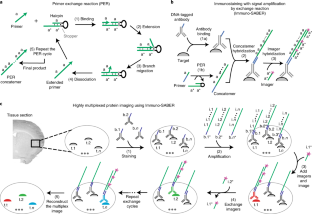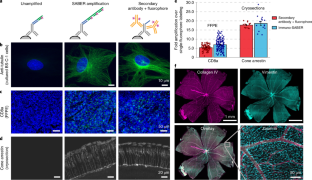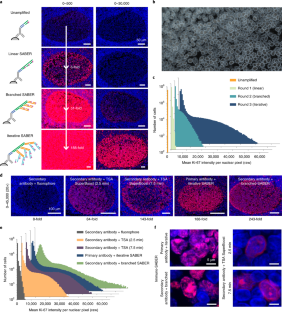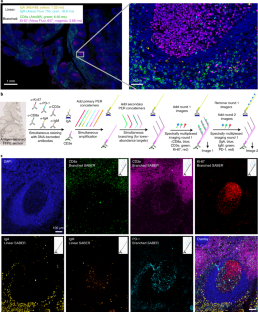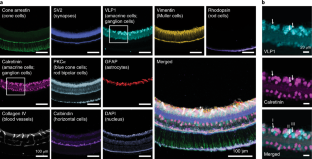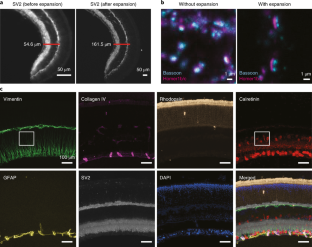 Data availability
The data that support the findings of this study will be provided by the corresponding authors upon reasonable request.
References
Angelo, M. et al. Multiplexed ion beam imaging of human breast tumors. Nat. Med. 20, 436–442 (2014).

Levenson, R. M., Borowsky, A. D. & Angelo, M. Immunohistochemistry and mass spectrometry for highly multiplexed cellular molecular imaging. Lab. Invest. 95, 397–405 (2015).

Giesen, C. W. et al. Highly multiplexed imaging of tumor tissues with subcellular resolution by mass cytometry. Nat. Methods 11, 417–425 (2014).

Wei, L. et al. Super-multiplex vibrational imaging. Nature 544, 465–470 (2017).

Gerdes, M. J. et al. Highly multiplexed single-cell analysis of formalin-fixed, paraffin-embedded cancer tissue. Proc. Natl Acad. Sci. USA 110, 11982–11987 (2013).

Lin, J. R., Fallahi-Sichani, M. & Sorger, P. K. Highly multiplexed imaging of single cells using a high-throughput cyclic immunofluorescence method. Nat. Commun. 6, 8390 (2015).

Lin, J.-R. et al. Highly multiplexed immunofluorescence imaging of human tissues and tumors using t-CyCIF and conventional optical microscopes. eLife 7, e31657 (2018).

Gut, G., Herrmann, M. D. & Pelkmans, L. Multiplexed protein maps link subcellular organization to cellular states. Science 361, eaar7042 (2018).

Wang, Y. et al. Rapid sequential in situ multiplexing with DNA exchange imaging in neuronal cells and tissues. Nano Lett. 17, 6131–6139 (2017).

Schueder, F. et al. Universal super-resolution multiplexing by DNA exchange. Angew. Chem. Int. Ed. Engl. 56, 4052–4055 (2017).

Jungmann, R. et al. Multiplexed 3D cellular super-resolution imaging with DNA-PAINT and Exchange-PAINT. Nat. Methods 11, 313–318 (2014).

Goltsev, Y. et al. Deep profiling of mouse splenic architecture with CODEX multiplexed imaging. Cell 174, 968–981 (2018).

Lundberg, E. et al. Defining the transcriptome and proteome in three functionally different human cell lines. Mol. Syst. Biol. 6, 450 (2010).

Bobrow, M., Litt, G. J., Shaughnessy, K. J., Mayer, P. C. & Conlon, J. The use of catalyzed reporter deposition as a means of signal amplification in a variety of formats. J. Immunol. Methods 150, 145–149 (1992).

Yarilin, D. et al. Machine-based method for multiplex in situ molecular characterization of tissues by immunofluorescence detection. Sci. Rep. 5, 9534 (2015).

Stack, E. C., Foukas, P. G. & Lee, P. P. Multiplexed tissue biomarker imaging. J. Immunother. Cancer 4, 9 (2016).

Schweitzer, B. et al. Immunoassays with rolling circle DNA amplification: a versatile platform for ultrasensitive antigen detection. Proc. Natl Acad. Sci. USA 97, 10113–10119 (2000).

Nagendran, M., Riordan, D. P., Harbury, P. B. & Desai, T. J. Automated cell-type classification in intact tissues by single-cell molecular profiling. eLife 7, e30510 (2018).

Deng, R. et al. DNA-sequence-encoded rolling circle amplicon for single-cell RNA imaging. Chem 4, 1373–1386 (2018).

Chen, Y. et al. Mapping 3D genome organization relative to nuclear compartments using TSA-Seq as a cytological ruler. J. Cell Biol. 217, 4025–4048 (2018).

Pachl, C. et al. Rapid and precise quantification of HIV-1 RNA in plasma using a branched DNA signal amplification assay. J. Acquir. Immune Defic. Syndr. 8, 446 (1995).

Kern, D. et al. An enhanced-sensitivity branched-DNA assay for quantification of human immunodeficiency virus type 1 RNA in plasma. J. Clin. Microbiol. 34, 3196–3202 (1996).

Wang, F. et al. RNAscope: a novel in situ RNA analysis platform for formalin-fixed, paraffin-embedded tissues. J. Mol. Diagn. 14, 22–29 (2012).

Dirks, R. M. & Pierce, N. A. Triggered amplification by hybridization chain reaction. Proc. Natl Acad. Sci. USA 101, 15275–15278 (2004).

Choi, H. M. et al. Programmable in situ amplification for multiplexed imaging of mRNA expression. Nat. Biotechnol. 28, 1208–1212 (2010).

Choi, H. M. T. et al. Third-generation in situ hybridization chain reaction: multiplexed, quantitative, sensitive, versatile, robust. Development 145, dev165753 (2018).

Wang, Y., Xie, W., Kohman, R. E. & Church, G. M. Multiplexed imaging using same species primary antibodies with signal amplification. Preprint at https://doi.org/10.1101/274456 (2018).

Lin, R. et al. A hybridization-chain-reaction-based method for amplifying immunosignals. Nat. Methods 15, 275–278 (2018).

Kishi, J. Y., Schaus, T. E., Gopalkrishnan, N., Xuan, F. & Yin, P. Programmable autonomous synthesis of single-stranded DNA. Nat. Chem. 10, 155–164 (2018).

Kishi, J. Y. et al. SABER amplifies FISH: enhanced multiplexed imaging of RNA and DNA in cells and tissues. Nat. Methods 16, 533–544 (2019).

Chen, F., Tillberg, P. W. & Boyden, E. S. Expansion microscopy. Science 347, 543–548 (2015).

Nave, H., Gebert, A. & Pabst, R. Morphology and immunology of the human palatine tonsil. Anat. Embryol. 204, 367–373 (2001).

Slijkerman, R. W. et al. The pros and cons of vertebrate animal models for functional and therapeutic research on inherited retinal dystrophies. Prog. Retin. Eye Res. 48, 137–159 (2015).

Speel, E. J., Hopman, A. H. & Komminoth, P. Amplification methods to increase the sensitivity of in situ hybridization: play card(s). J. Histochem. Cytochem. 47, 281–288 (1999).

Clutter, M. R., Heffner, G. C., Krutzik, P. O., Sachen, K. L. & Nolan, G. P. Tyramide signal amplification for analysis of kinase activity by intracellular flow cytometry. Cytometry A 77, 1020–1031 (2010).

Zadeh, J. N. et al. NUPACK: analysis and design of nucleic acid systems. J. Comput. Chem. 32, 170–173 (2011).

Uhlen, M. et al. Tissue-based map of the human proteome. Science 347, 1260419 (2015).

Ku, T. et al. Multiplexed and scalable super-resolution imaging of three-dimensional protein localization in size-adjustable tissues. Nat. Biotechnol. 34, 973–981 (2016).

Chen, F. et al. Nanoscale imaging of RNA with expansion microscopy. Nat. Methods 13, 679–684 (2016).

Chang, J. B. et al. Iterative expansion microscopy. Nat. Methods 14, 593–599 (2017).

Truckenbrodt, S. et al. X10 expansion microscopy enables 25-nm resolution on conventional microscopes. EMBO Rep. 19, e45836 (2018).

Dani, A., Huang, B., Bergan, J., Dulac, C. & Zhuang, X. Superresolution imaging of chemical synapses in the brain. Neuron 68, 843–856 (2010).

Moffitt, J. R. et al. High-throughput single-cell gene-expression profiling with multiplexed error-robust fluorescence in situ hybridization. Proc. Natl Acad. Sci. USA 113, 11046–11051 (2016).

Regev, A. et al. The Human Cell Atlas. eLife 6, e27041 (2017).

Snyder, M. M. et al. Mapping the human body at cellular resolution—the NIH Common Fund Human BioMolecular Atlas program. Preprint at https://arxiv.org/abs/1903.07231 (2019).

Stoeckius, M. et al. Simultaneous epitope and transcriptome measurement in single cells. Nat. Methods 14, 865–868 (2017).

Takada, S. E. & Engleman, E. G. Evidence for an association between CD8 molecules and the T cell receptor complex on cytotoxic T cells. J. Immunol. 139, 3231–3235 (1987).

Beck, M. et al. The quantitative proteome of a human cell line. Mol. Syst. Biol. 7, 549 (2011).

Bernstein, H. G. et al. Regional and cellular distribution of neural visinin-like protein immunoreactivities (VILIP-1 and VILIP-3) in human brain. J. Neurocytol. 28, 655–662 (1999).

Haverkamp, S. & Wassle, H. Immunocytochemical analysis of the mouse retina. J. Comp. Neurol. 424, 1–23 (2000).

Pierce, N. A. & Dirks, R. M. A partition function algorithm for nucleic acid secondary structure including pseudoknots. J. Comput. Chem. 24, 1664–1677 2003).

Dirks, R. M. & Pierce, N. A. An algorithm for computing nucleic acid base-pairing probabilities including pseudoknots. J. Comput. Chem. 25, 1295–1304 (2004).

Schindelin, J. et al. Fiji: an open-source platform for biological-image analysis. Nat. Methods 9, 676–682 (2012).

Carpenter, A. E. et al. CellProfiler: image analysis software for identifying and quantifying cell phenotypes. Genome Biol. 7, R100 (2006).

Allan, C. et al. OMERO: flexible, model-driven data management for experimental biology. Nat. Methods 9, 245–253 (2012).

Ronneberger, O., Fischer, P. & Brox, T. U-Net: convolutional networks for biomedical image segmentation. Preprint at https://arxiv.org/abs/1505.04597 (2015).

Ioffe, S. & Szegedy, C. Batch normalization: accelerating deep network training by reducing internal covariate shift. Preprint at https://arxiv.org/abs/1502.03167 (2015).

He, K., Zhang, X., Ren, S. & Sun, J. Deep residual learning for image recognition. Preprint at https://arxiv.org/abs/1512.03385 (2015).
Acknowledgements
We thank C. Cepko, P. Sorger, Z. Maliga and J. Lin for discussion. We thank the Neurobiology Department and the Neurobiology Imaging Facility for instrument support. This facility is supported in part by the Neural Imaging Center as part of NINDS P30 Core Center grant NS072030. We thank M. Manesse, T. Archivald and D. Bowman for help with the FFPE samples, and I. Goldaracena for comments on the manuscript. We thank S. Wang for providing neuronal cultures. This work was supported by grants from the National Institutes of Health (under grants NIH Common Fund 1UG3HL145600/HuBMAP, 1R01EB018659, 1U01MH106011, 1DP1GM133052 and 1R01GM124401), the Office of Naval Research (under grants N00014-16-1-2410, N00014-16-1-2182 and N00014-18-1-2549), the National Science Foundation (under grant CCF-1317291), Harvard Medical School Dean′s Initiative and Wyss Institute′s Molecular Robotics Initiative to P.Y. G.M.C. was supported by NIH grants (R01NS083898, RM1 HG008525 and R01MH113279), and P.S.K. was supported by an NIH grant (1R01MH113349). J.Y.K. was supported by a National Science Foundation Graduate Research Fellowship. B.J.B. was supported by a Damon Runyon Cancer Research Foundation Fellowship. S.W.L. was supported by HHMI and the National Institutes of Health (grant 5K99EY028215-02). W.X., Y.Z. and S.Y. were partially supported by visiting undergraduate student funding from Fudan University, Tsinghua University and Shanghai Jiaotong University, respectively. S.K.S. was supported by long-term postdoctoral fellowships from EMBO (ALTF 1278- 2015) and the Human Frontier Science Program (HFSP) (LT000048/2016-L).
Ethics declarations
Competing interests
S.K.S., Y.W., J.Y.K., B.J.B. and P.Y. are inventors for a US patent application based on this work (PCT/US2018/013019). P.Y. is a co-founder of Ultivue, Inc. and NuProbe Global.
Additional information
Publisher's note: Springer Nature remains neutral with regard to jurisdictional claims in published maps and institutional affiliations.
Integrated supplementary information
Supplementary information
Supplementary Figs. 1–9, Supplementary Tables 1–5 and Supplementary Notes 1–3
Step-by-step instructions for Immuno-SABER
About this article
Cite this article
Saka, S.K., Wang, Y., Kishi, J.Y. et al. Immuno-SABER enables highly multiplexed and amplified protein imaging in tissues. Nat Biotechnol 37, 1080–1090 (2019). https://doi.org/10.1038/s41587-019-0207-y
Received:

Accepted:

Published:

Issue Date:

DOI: https://doi.org/10.1038/s41587-019-0207-y