Abstract
A major challenge for stem cell engineering is achieving a holistic understanding of the molecular networks and biological processes governing cell differentiation. To address this challenge, we describe a computational approach that combines gene expression analysis, previous knowledge from proteomic pathway informatics and cell signaling models to delineate key transitional states of differentiating cells at high resolution. Our network models connect sparse gene signatures with corresponding, yet disparate, biological processes to uncover molecular mechanisms governing cell fate transitions. This approach builds on our earlier CellNet and recent trajectory-defining algorithms, as illustrated by our analysis of hematopoietic specification along the erythroid lineage, which reveals a role for the EGF receptor family member, ErbB4, as an important mediator of blood development. We experimentally validate this prediction and perturb the pathway to improve erythroid maturation from human pluripotent stem cells. These results exploit an integrative systems perspective to identify new regulatory processes and nodes useful in cell engineering.
Access options
Subscribe to Nature+
Get immediate online access to the entire Nature family of 50+ journals
Subscribe to Journal
Get full journal access for 1 year
$99.00
only $8.25 per issue
All prices are NET prices.
VAT will be added later in the checkout.
Tax calculation will be finalised during checkout.
Buy article
Get time limited or full article access on ReadCube.
$32.00
All prices are NET prices.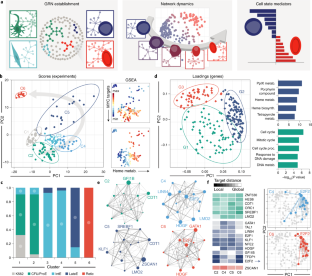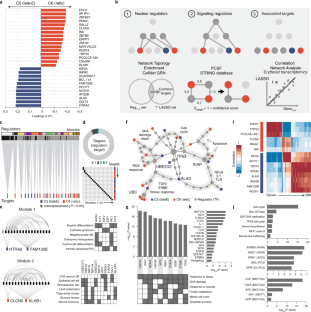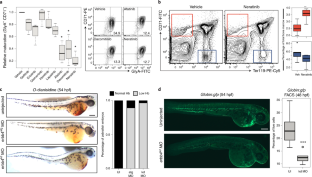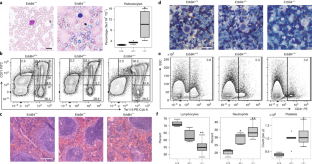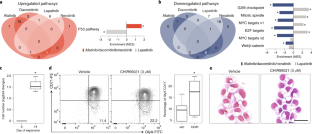 Data availability
All RNA-seq data have been deposited to the GEO database under GSE108128.
References
Westerhoff, H. V. & Palsson, B. O. The evolution of molecular biology into systems biology. Nat. Biotechnol. 22, 1249–1252 (2004).

Morris, S. A. & Daley, G. Q. A blueprint for engineering cell fate: current technologies to reprogram cell identity. Cell Res. 23, 33–48 (2013).

Hanna, J. H., Saha, K. & Jaenisch, R. Pluripotency and cellular reprogramming: facts, hypotheses, unresolved issues. Cell 143, 508–525 (2010).

Cahan, P. et al. CellNet: network biology applied to stem cell engineering. Cell 158, 903–915 (2014).

Morris, S. A. et al. Dissecting engineered cell types and enhancing cell fate conversion via CellNet. Cell 158, 889–902 (2014).

Radley, A. H. et al. Assessment of engineered cells using CellNet and RNA-seq. Nat. Protoc. 12, 1089–1102 (2017).

Setty, M. et al. Wishbone identifies bifurcating developmental trajectories from single-cell data. Nat. Biotechnol. 34, 637–645 (2016).

Shin, J. et al. Single-Cell RNA-Seq with waterfall reveals molecular cascades underlying adult neurogenesis. Cell Stem Cell 17, 360–372 (2015).

Trapnell, C. et al. The dynamics and regulators of cell fate decisions are revealed by pseudotemporal ordering of single cells. Nat. Biotechnol. 32, 1–11 (2014).

Lummertz da Rocha, E. et al. Reconstruction of complex single-cell trajectories using CellRouter. Nat. Commun. 9, 892 (2018).

Dzierzak, E. & Philipsen, S. Erythropoiesis: development and differentiation. Cold Spring Harb Perspect. Med. 3, a011601–a011601 (2013).

Tsai, F. Y. & Orkin, S. H. Transcription factor GATA-2 is required for proliferation/survival of early hematopoietic cells and mast cell formation, but not for erythroid and myeloid terminal differentiation. Blood 89, 3636–3643 (1997).

Cantor, A. B. & Orkin, S. H. Transcriptional regulation of erythropoiesis: an affair involving multiple partners. Oncogene 21, 3368–3376 (2002).

da Cunha, A. F. et al. Global gene expression reveals a set of new genes involved in the modification of cells during erythroid differentiation. Cell Prolif. 43, 297–309 (2010).

Ding, K. et al. Genetic Loci implicated in erythroid differentiation and cell cycle regulation are associated with red blood cell traits. Mayo Clin. Proc. 87, 461–474 (2012).

Li, J. et al. Isolation and transcriptome analyses of human erythroid progenitors: BFU-E and CFU-E. Blood 124, 3636–3645 (2014).

Rylski, M. et al. GATA-1-mediated proliferation arrest during erythroid maturation. Mol. Cell Biol. 23, 5031–5042 (2003).

Goh, S.-H. et al. The human reticulocyte transcriptome. Physiol. Genomics 30, 172–178 (2007).

Ideker, T., Ozier, O., Schwikowski, B. & Siegel, A. F. Discovering regulatory and signalling circuits in molecular interaction networks. Bioinformatics 18, S233–S240 (2002).

Langfelder, P., Mischel, P. S. & Horvath, S. When is hub gene selection better than standard meta-analysis? PLoS ONE 8, e61505 (2013).

Barabási, A.-L., Gulbahce, N. & Loscalzo, J. Network medicine: a network-based approach to human disease. Nat. Rev. Genet. 12, 56–68 (2011).

Takahashi, K. et al. Induction of pluripotent stem cells from adult human fibroblasts by defined factors. Cell 131, 861–872 (2007).

Yu, J. et al. Induced pluripotent stem cell lines derived from human somatic cells. Science 318, 1917–1920 (2007).

Tuncbag, N. et al. Simultaneous reconstruction of multiple signaling pathways via the prize-collecting steiner forest problem. J. Comput. Biol. 20, 124–136 (2013).

Robert-Moreno, A. et al. The notch pathway positively regulates programmed cell death during erythroid differentiation. Leukemia 21, 1496–1503 (2007).

Watanabe, S. et al. Loss of a Rho-regulated actin nucleator, mDia2, impairs cytokinesis during mouse fetal erythropoiesis. Cell Rep. 5, 926–932 (2013).

Tanno, T. et al. High levels of GDF15 in thalassemia suppress expression of the iron regulatory protein hepcidin. Nat. Med. 13, 1096–1101 (2007).

Jacquel, A. et al. Apoptosis and erythroid differentiation triggered by Bcr-Abl inhibitors in CML cell lines are fully distinguishable processes that exhibit different sensitivity to caspase inhibition. Oncogene 26, 2445–2458 (2007).

Zhou, B. P. et al. HER-2/neu induces p53 ubiquitination via Akt-mediated MDM2 phosphorylation. Nat. Cell Biol. 3, 973–982 (2001).

Le, X. F. et al. Heregulin-induced apoptosis is mediated by down-regulation of Bcl-2 and activation of caspase-7 and is potentiated by impairment of protein kinase C alpha activity. Oncogene 20, 8258–8269 (2001).

Holbro, T. et al. The ErbB2/ErbB3 heterodimer functions as an oncogenic unit: ErbB2 requires ErbB3 to drive breast tumor cell proliferation. Proc. Natl Acad. Sci. USA 100, 8933–8938 (2003).

Lee, H.-Y. et al. PPAR-α and glucocorticoid receptor synergize to promote erythroid progenitor self-renewal. Nature 522, 474–477 (2015).

Orkin, S. H. & Zon, L. I. Hematopoiesis: an evolving paradigm for stem cell biology. Cell 132, 631–644 (2008).

Tidcombe, H. et al. Neural and mammary gland defects in ErbB4 knockout mice genetically rescued from embryonic lethality. Proc. Natl Acad. Sci. USA 100, 8281–8286 (2003).

Doulatov, S. et al. Induction of multipotential hematopoietic progenitors from human pluripotent stem cells via respecification of lineage-restricted precursors. Cell Stem Cell 13, 459–470 (2013).

Naresh, A. et al. The ERBB4/HER4 intracellular domain 4ICD is a BH3-only protein promoting apoptosis of breast cancer cells. Cancer Res. 66, 6412–6420 (2006).

Bersell, K., Arab, S., Haring, B. & Kühn, B. Neuregulin1/ErbB4 signaling induces cardiomyocyte proliferation and repair of heart injury. Cell 138, 257–270 (2009).

Li, B., Woo, R.-S., Mei, L. & Malinow, R. The neuregulin-1 receptor erbB4 controls glutamatergic synapse maturation and plasticity. Neuron 54, 583–597 (2007).

Hahn, C.-G. et al. Altered neuregulin 1-erbB4 signaling contributes to NMDA receptor hypofunction in schizophrenia. Nat. Med. 12, 824–828 (2006).

Flanagan, R. J. & Dunk, L. Haematological toxicity of drugs used in psychiatry. Hum. Psychopharmacol. 23, 27–41 (2008).

Hänggi, P. et al. Functional plasticity of the N-methyl-d-aspartate receptor in differentiating human erythroid precursor cells. Am. J. Physiol., Cell Physiol. 308, C993–C1007 (2015).

Kwan, W. et al. The central nervous system regulates embryonic HSPC production via stress-responsive glucocorticoid receptor signaling. Cell Stem Cell 19, 370–382 (2016).

Kuramochi, Y. et al. Cardiac endothelial cells regulate reactive oxygen species-induced cardiomyocyte apoptosis through neuregulin-1beta/erbB4 signaling. J. Biol. Chem. 279, 51141–51147 (2004).

Xu, Z. et al. Neuroprotection by neuregulin-1 following focal stroke is associated with the attenuation of ischemia-induced pro-inflammatory and stress gene expression. Neurobiol. Dis. 19, 461–470 (2005).

van der Harst, P. et al. Seventy-five genetic loci influencing the human red blood cell. Nature 492, 369–375 (2012).

Ludwig, T. E. et al. Derivation of human embryonic stem cells in defined conditions. Nat. Biotechnol. 24, 185–187 (2006).

Sugimura, R. et al. Haematopoietic stem and progenitor cells from human pluripotent stem cells. Nature 545, 432–438 (2017).

Lis, R. et al. Conversion of adult endothelium to immunocompetent haematopoietic stem cells. Nature 545, 439–445 (2017).

Kobayashi, H. et al. Angiocrine factors from Akt-activated endothelial cells balance self-renewal and differentiation of haematopoietic stem cells. Nat. Cell Biol. 12, 1046–1056 (2010).

Shukla, S. et al. Progenitor T-cell differentiation from hematopoietic stem cells using Delta-like-4 and VCAM-1. Nat. Methods 14, 531–538 (2017).

Sato, T. et al. Neuregulin 1 type II-ErbB signaling promotes cell divisions generating neurons from neural progenitor cells in the developing zebrafish brain. PLoS ONE 10, e0127360 (2015).

Faith, J. J. et al. Large-scale mapping and validation of Escherichia coli transcriptional regulation from a compendium of expression profiles. PLoS Biol 5, e8 (2007).

Rosvall, M. & Bergstrom, C. T. An information-theoretic framework for resolving community structure in complex networks. Proc. Natl Acad. Sci. USA 104, 7327–7331 (2007).

Subramanian, A. et al. Gene set enrichment analysis: a knowledge-based approach for interpreting genome-wide expression profiles. Proc. Natl Acad. Sci. USA 102, 15545–15550 (2005).

Liberzon, A. et al. The molecular signatures database hallmark gene set collection. Cell Syst 1, 417–425 (2015).

Ashburner, M. et al. Gene ontology: tool for the unification of biology. The Gene Ontology Consortium. Nat. Genet. 25, 25–29 (2000).

Gene Ontology Consortium. Gene Ontology Consortium: going forward. Nucleic Acids Res. 43, D1049–D1056 (2015).

Tibishirani, R. Regression shrinkage and selection via the lasso. J. R. Stat. Soc. B 58, 267–288 (1996).

Friedman, J., Hastie, T. & Tibshirani, R. Regularization paths for generalized linear models via coordinate descent. J. Stat. Softw. 33, 1–22 (2010).

Lê Cao, K.-A., Boitard, S. & Besse, P. Sparse PLS discriminant analysis: biologically relevant feature selection and graphical displays for multiclass problems. BMC Bioinformatics 12, 253 (2011).

Snel, B., Lehmann, G., Bork, P. & Huynen, M. A. STRING: a web-server to retrieve and display the repeatedly occurring neighbourhood of a gene. Nucleic Acids Res. 28, 3442–3444 (2000).

Szklarczyk, D. et al. The STRING database in 2017: quality-controlled protein–protein association networks, made broadly accessible. Nucleic Acids Res. 45, D362–D368 (2017).

Akhmedov, M. et al. PCSF: an R-package for network-based interpretation of high-throughput data. PLoS Comput. Biol. 13, e1005694 (2017).

Chen, E. Y. et al. Enrichr: interactive and collaborative HTML5 gene list enrichment analysis tool. BMC Bioinformatics 14, 128 (2013).

Vo, L. T. et al. Regulation of embryonic haematopoietic multipotency by EZH1. Nature 553, 506–510 (2018).

Park, I.-H. et al. Reprogramming of human somatic cells to pluripotency with defined factors. Nature 451, 141–146 (2008).

Chadwick, K. et al. Cytokines and BMP-4 promote hematopoietic differentiation of human embryonic stem cells. Blood 102, 906–915 (2003).

Giarratana, M.-C. et al. Proof of principle for transfusion of in vitro-generated red blood cells. Blood 118, 5071–5079 (2011).

North, T. E. et al. Prostaglandin E2 regulates vertebrate haematopoietic stem cell homeostasis. Nature 447, 1007–1011 (2007).

Doulatov, S. et al. Drug discovery for Diamond-blackfan anemia using reprogrammed hematopoietic progenitors. Sci. Transl. Med. 9, eaah5645 (2017).
Acknowledgements
The authors thank G. Corfas (University of Michigan) for sharing the ErbB4−/− HER4heart mutant mice, which were generated in 2003 by M. Gassmann (University of Basel) and colleagues34 and L.I. Zon (Boston Children's Hospital) for the globin:eGFP transgenic fish. The authors also thank P. Eser for the ErbB inhibitor library and T. Rosanwo for cells and reagents, as well as R. Mathieu and the BCH Flow Cytometry Core, J. Osborne, B. Joughin, J. Das and A. Zweemer for technical advice. This work is supported by grants to G.Q.D. from the NIH National Institute of Diabetes and Digestive and Kidney Diseases (nos. R24-DK092760, U54DK110805) and National Heart, Lung, and Blood Institute (Progenitor Cell Translation Consortium, no. U01HL134812; and nos. R01-HL04880 and NIH R24-OD017870-01). Additional support was given to D.A.L. from NIH National Institute of General Medical Sciences (no. R01-GM069668). M.A.K. is supported by a NIH T32 Training Grant from BWH Hematology. L.T.V. was supported by the NSF Graduate Research Fellowship. J.M.F. is supported by a NIH T32 Training Grant from the NHLBI. T.E.N. is a Leukemia and Lymphoma Society Scholar. G.Q.D. is an associate member of the Broad Institute and was supported by the Howard Hughes Medical Institute and the Manton Center for Orphan Disease Research.
Ethics declarations
Competing interests
The authors declare no competing interests.
Additional information
Publisher's note: Springer Nature remains neutral with regard to jurisdictional claims in published maps and institutional affiliations.
Integrated supplementary information
Supplementary information
Supplementary Tables 1–13
About this article
Cite this article
Kinney, M.A., Vo, L.T., Frame, J.M. et al. A systems biology pipeline identifies regulatory networks for stem cell engineering. Nat Biotechnol 37, 810–818 (2019). https://doi.org/10.1038/s41587-019-0159-2
Received:

Accepted:

Published:

Issue Date:

DOI: https://doi.org/10.1038/s41587-019-0159-2
This article is cited by
Edroaldo Lummertz da Rocha
Caroline Kubaczka
George Q. Daley

Nature Cell Biology (2022)